Styling with Trays
The serving tray has become more then just a way to serve up your favourite drinks or hors d'oeuvres. Of course a beautiful serving tray can still be used and appreciated for its traditional purposes, but we encourage you to embrace their versatility as a styling piece and way to enhance your decor. We love styling a coffee table with a serving tray adorned with interesting accent pieces and we have had a lot of requests lately for trays to use on ottomans.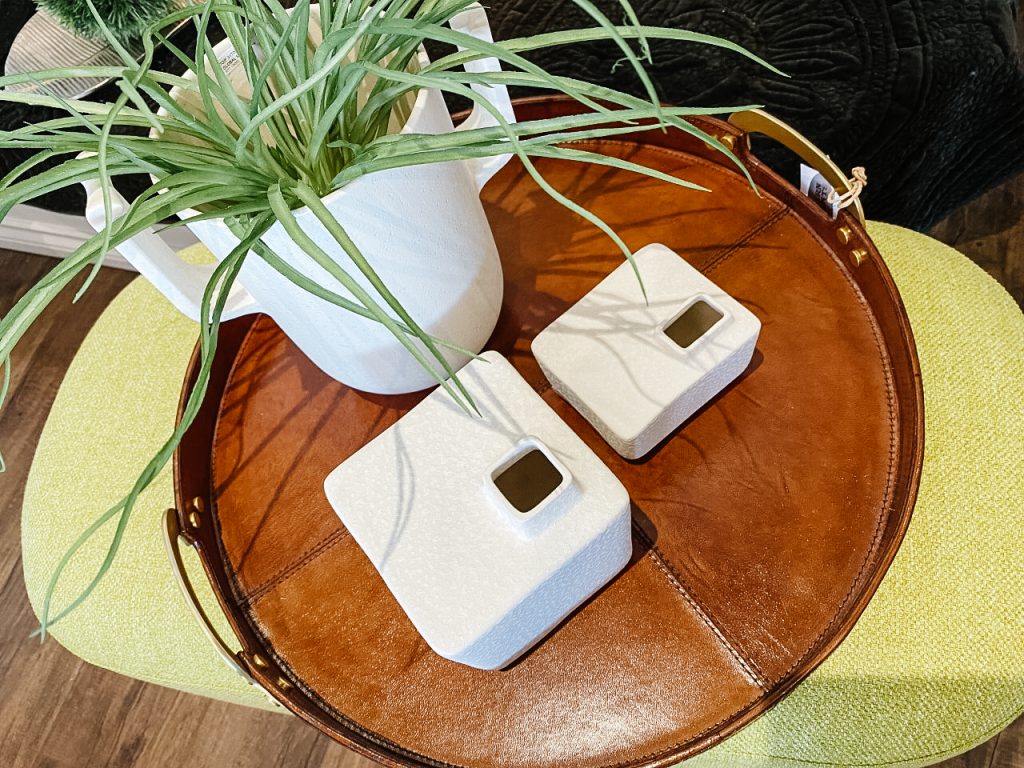 Arranging items on a serving tray instantly creates that feeling of organization and when you repeat some of the same colours, textures, and even shapes found in the rest of your space on your tray you will end up with a space that is unified and put together.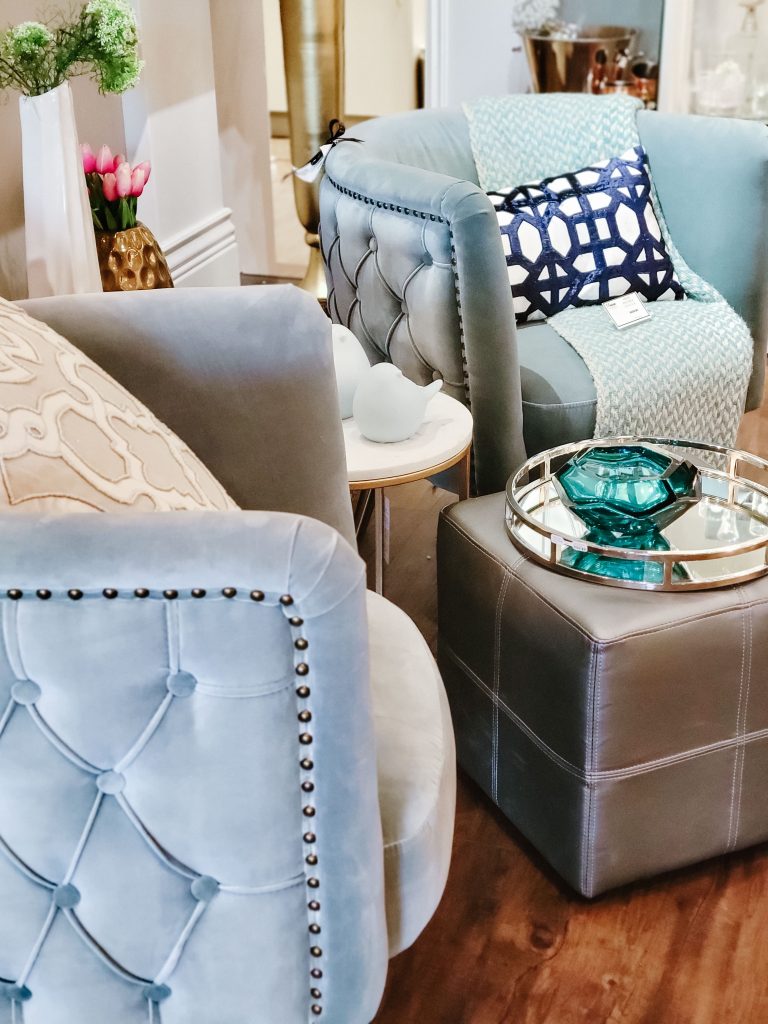 On a more practical note your decorative "trayscape" can be easily moved the minute you need to use the coffee table or ottoman for something else or you can substitute items in and out of the tray as seasons or occasions change. Or when you just have to add in that new accent piece from Modern Accents.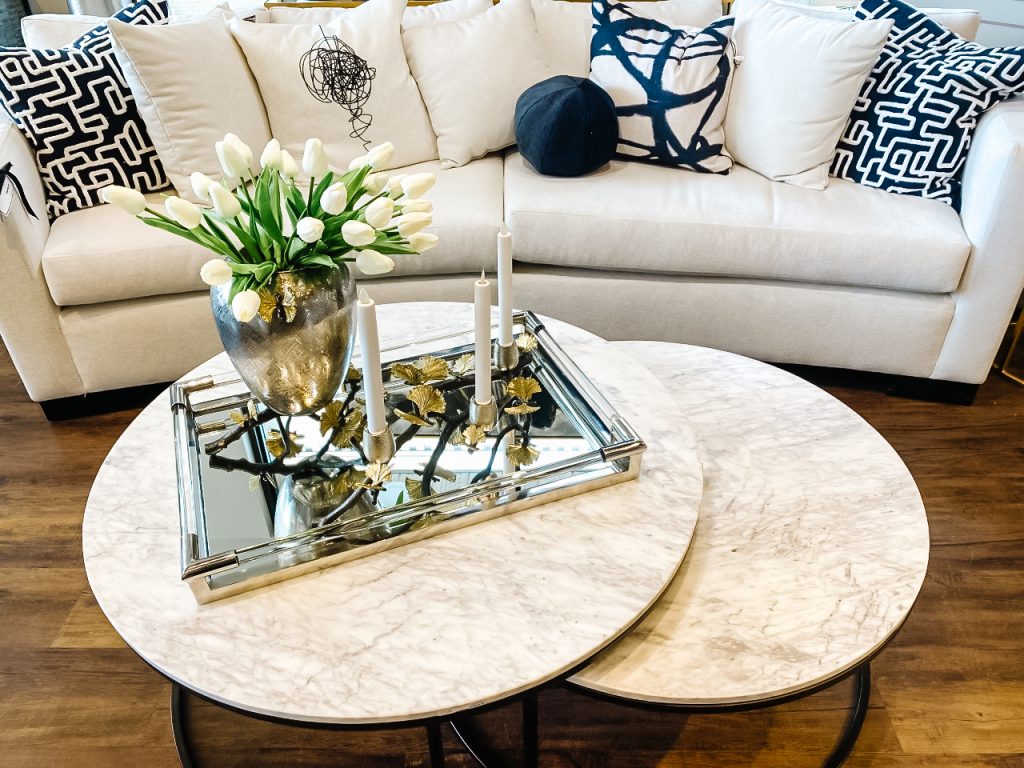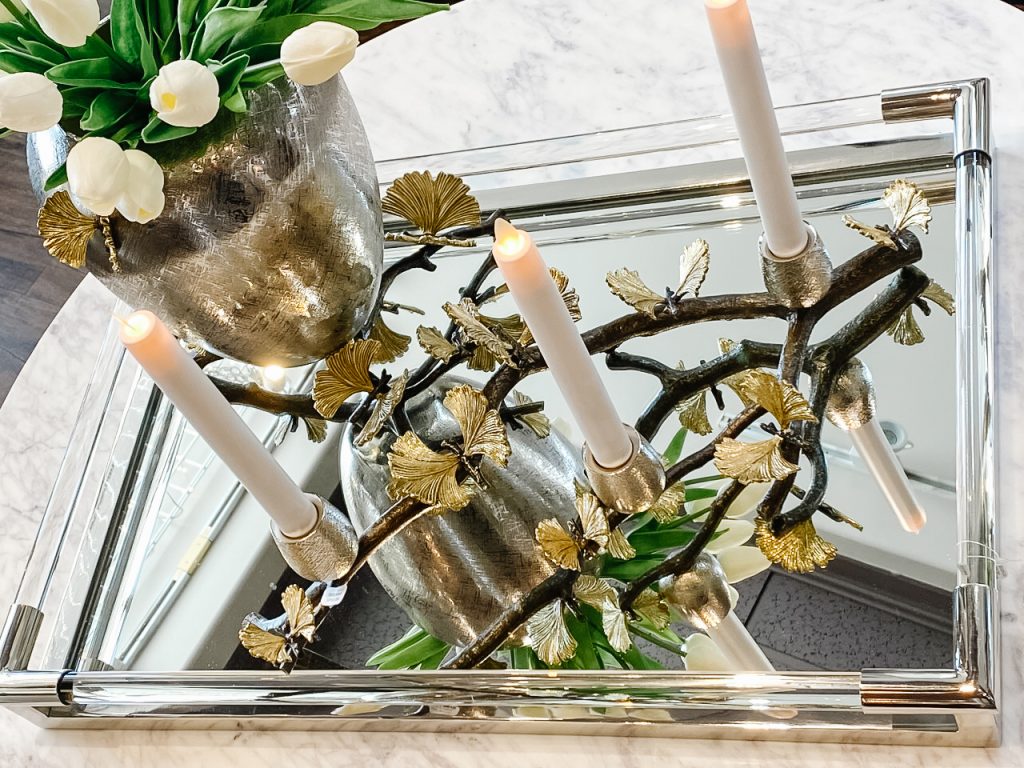 With so many different tray styles, shapes ands sizes, and then the combinations of things you can style them with, the possibilities are truly endless. We suggest the most important rule to follow is to personalize the tray you select with items that reflect who you are and what your home decor vibe is.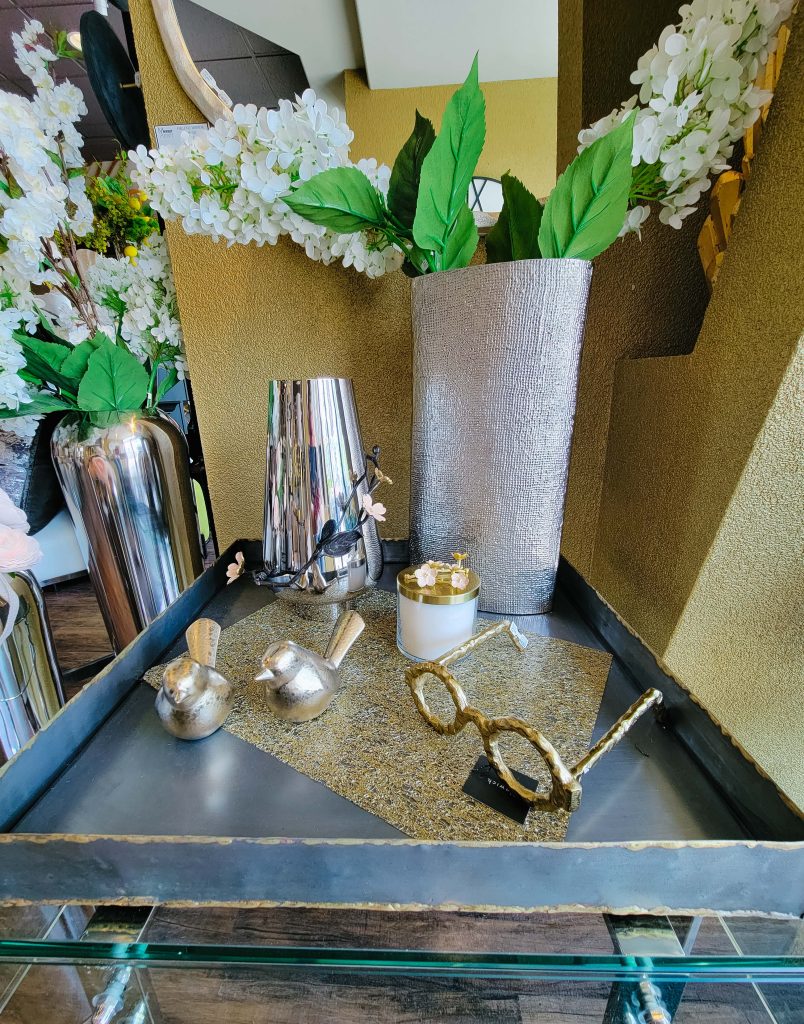 You could choose to keep things monochromatic and play with objects with different textures.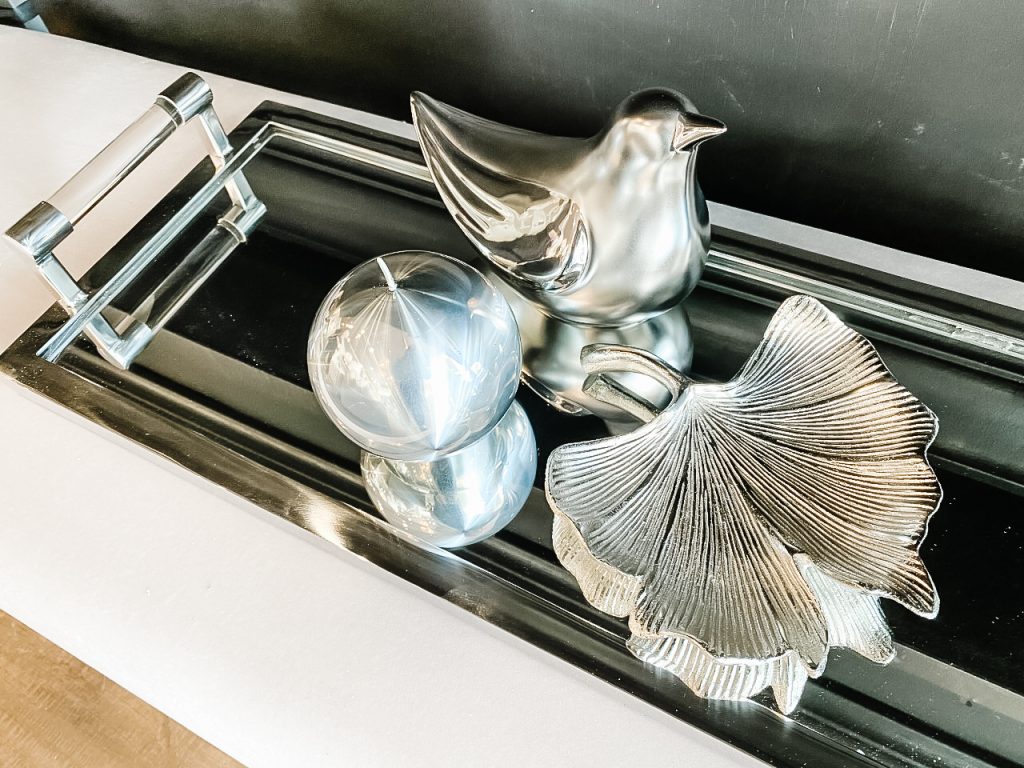 Or use your tray to add a pop of colour to your space. In this case, below, the stunning glass bottle with watery blues, infused in it, definitely pops and becomes a conversation piece as well as a way to tie together other blue accents in the room. Consider too that the reflective surface of the tray as well as the metallic decorative floral pieces will also work to reflect and enhance the colour even more.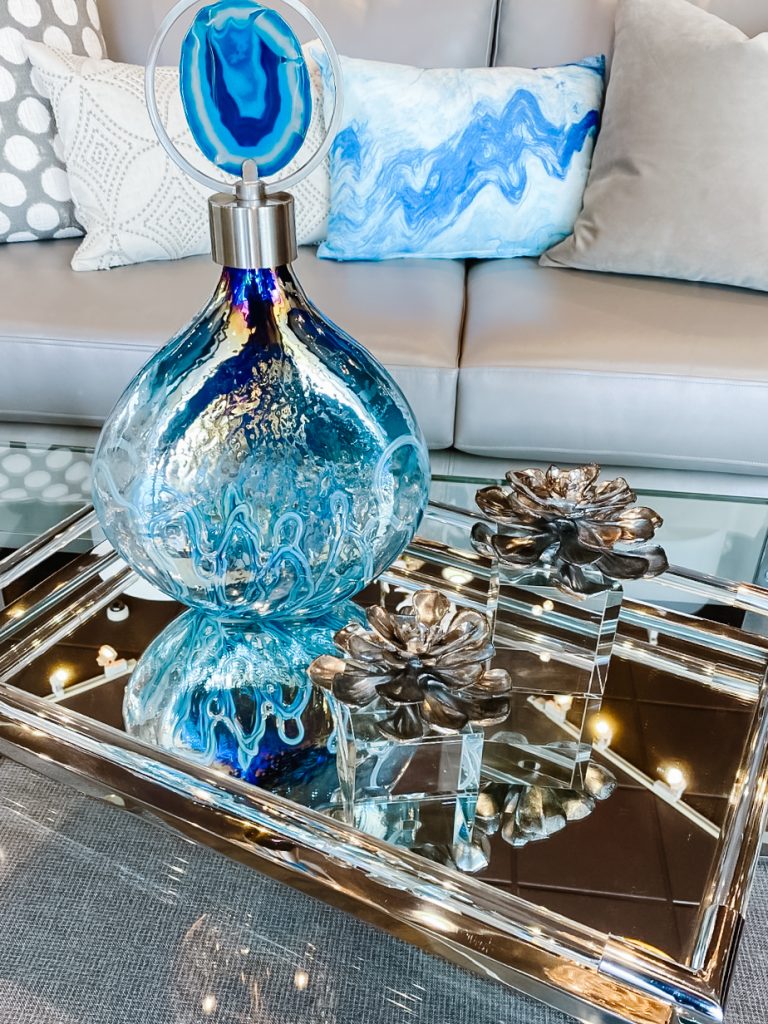 In the above arrangement as well as this one below notice that we have also played with height. Your trays will be more interesting and dynamic when you select items of varying height.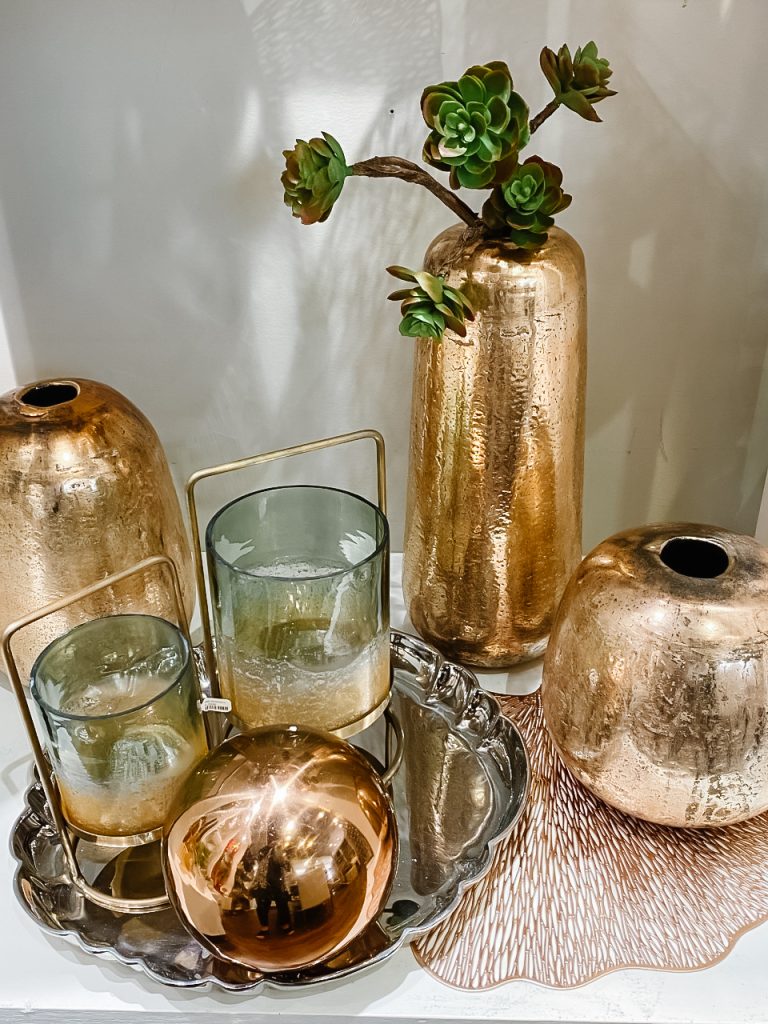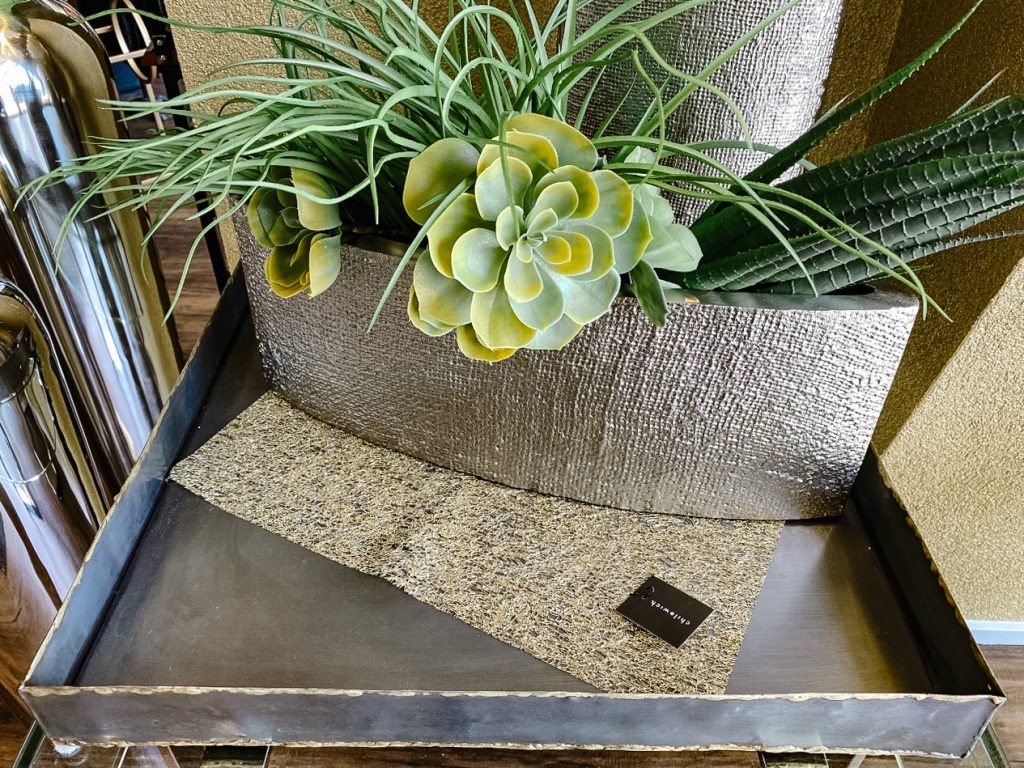 It could also be the perfect place to introduce some natural elements or florals and we love these examples showing how different shaped trays might work on on ottoman. The smaller round tray could allow for room to put your wine glass or coffee, but also give you room to put up your feet on one side of the ottoman. The larger rectangular tray on the other-hand gives you more room for cocktails or creates a lovely styled centrepiece for your room.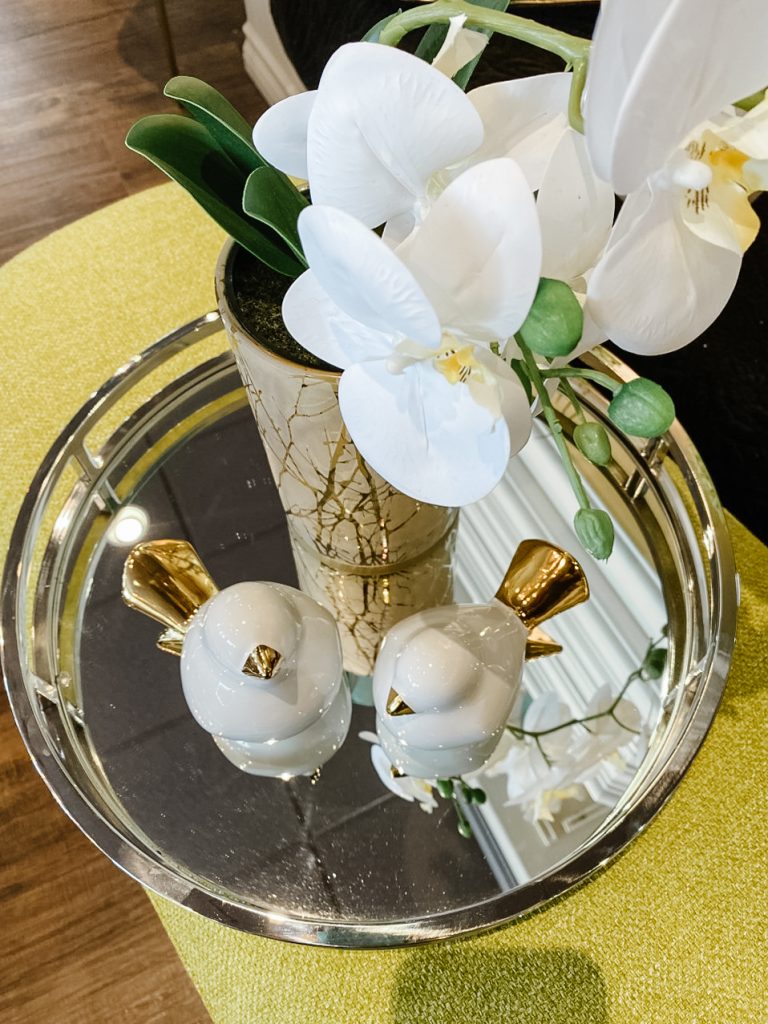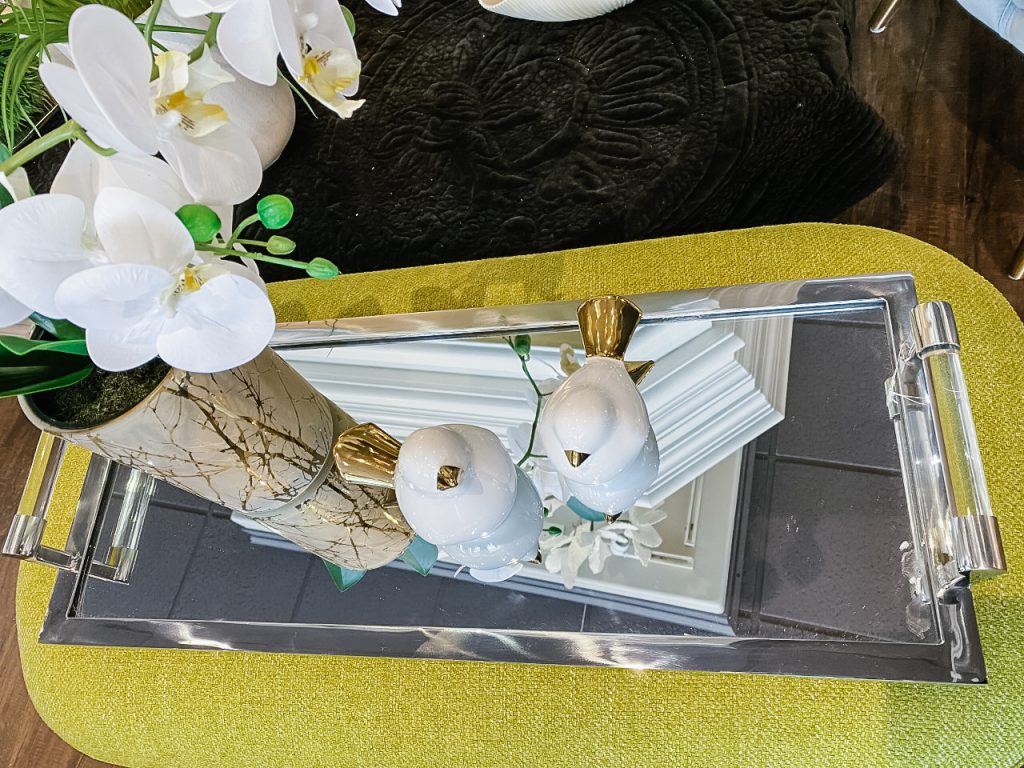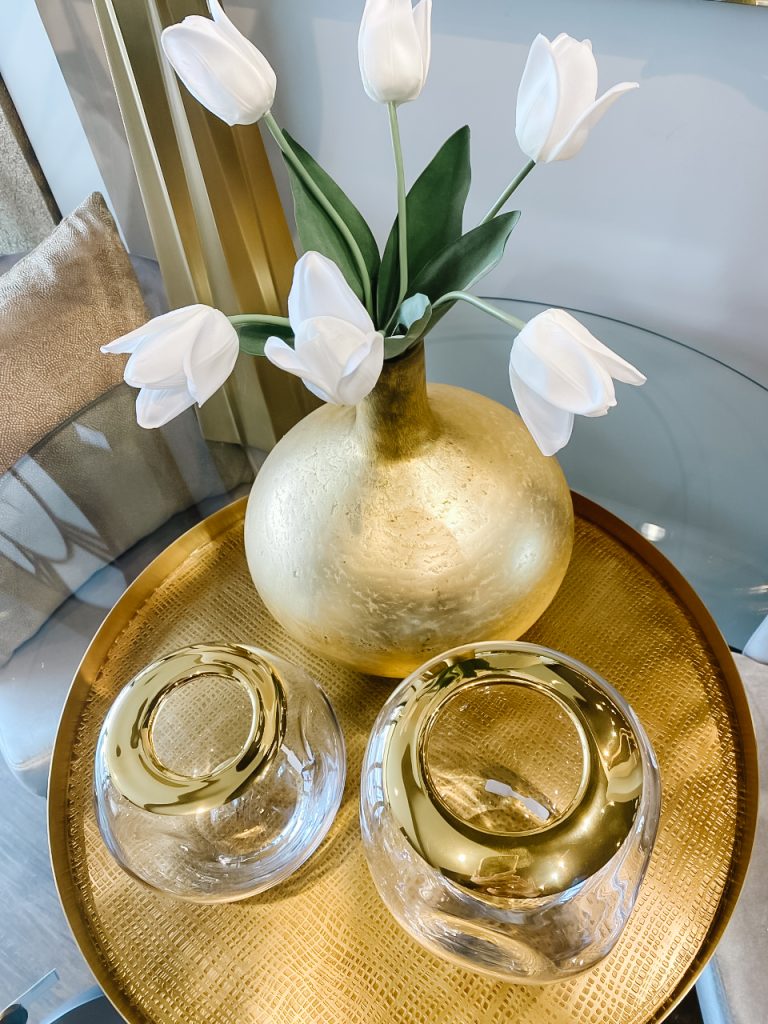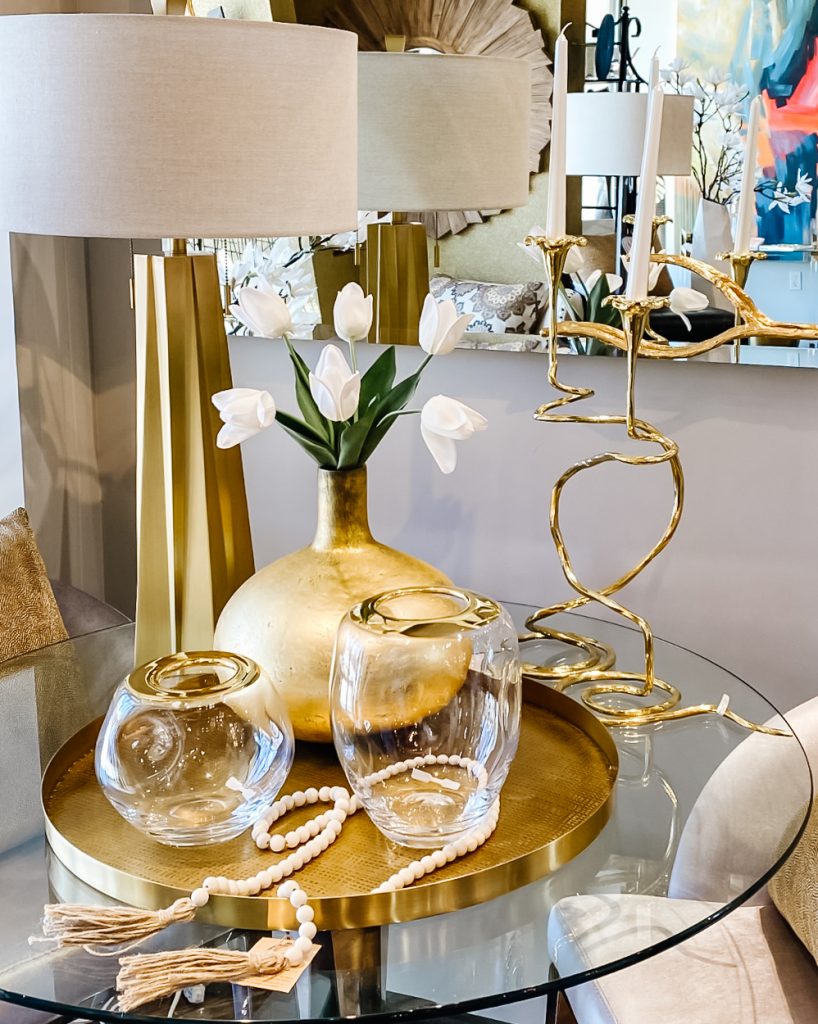 A golden tray to compliment a gold accented space. Interesting contrasts between more rough textured surfaces and sleek smooth surface are at play here. When choosing a serving tray also consider the surface you are placing it on as you will create interest when you place a hard material like metal or glass on a softer fabric upholstered ottoman.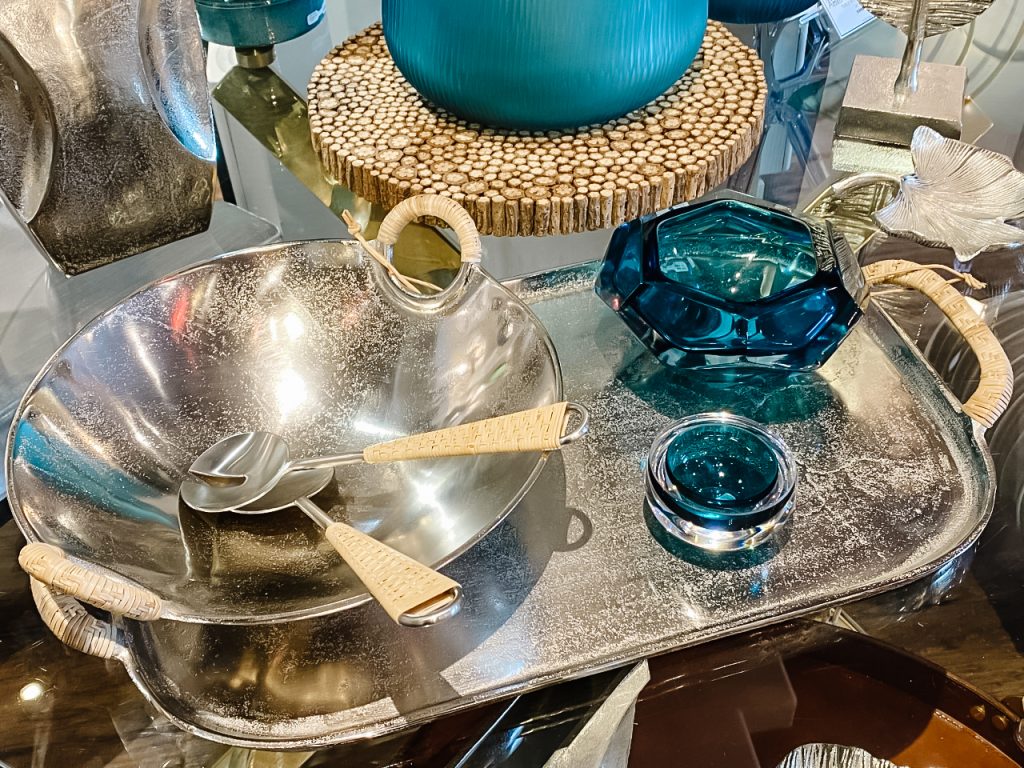 Even when you use your trays in a utilitarian way for serving there is no reason why you can't do some styling on the side. A little pop of coloured glass or perhaps a candle will add some ambiance to whatever you are serving. Even when you don't have guests these serving pieces are beautiful as decorative pieces displayed on a dining table or kitchen island.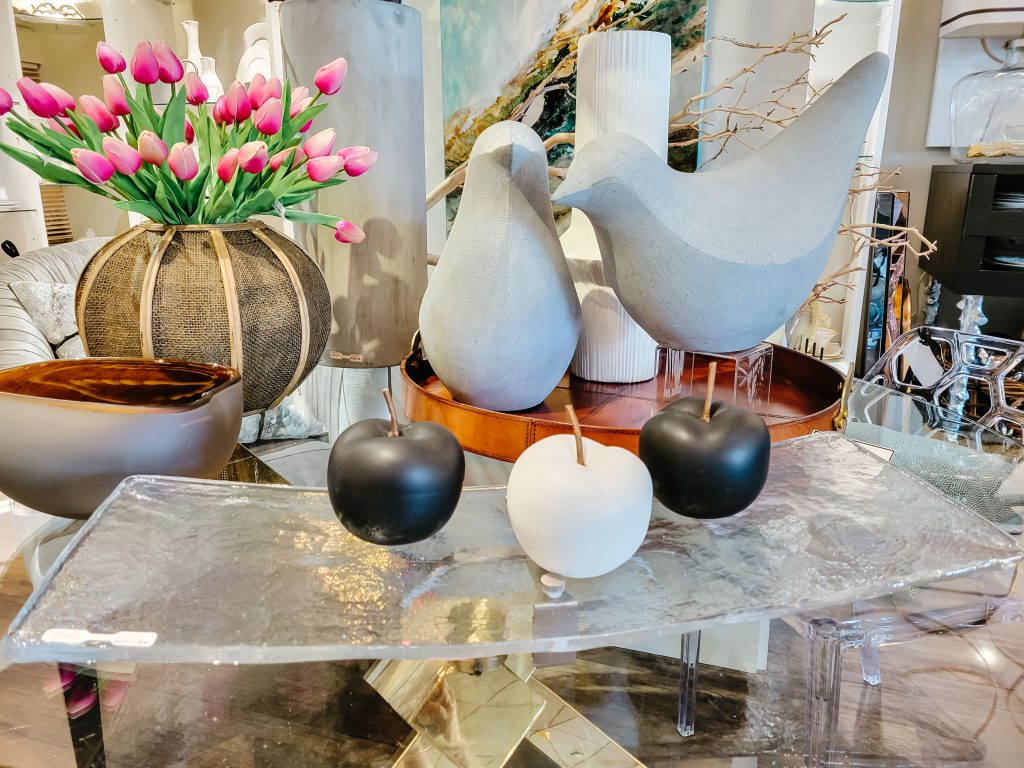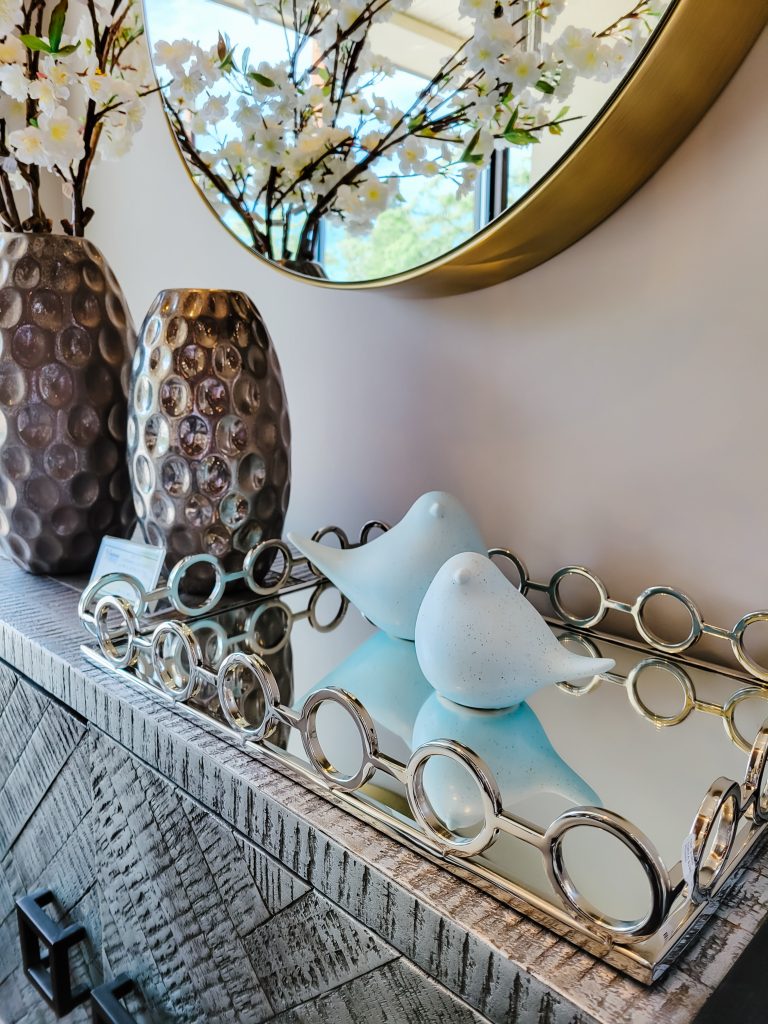 These are just some of the trays and styling accents we have in store. We hope our ideas will have you serving up some beautiful design.