10 Summer Settings
Whether you are looking forward to entertaining guests this summer or just want to put a little summer spin on your everyday table settings and dinnerware selections we have you covered with some great ideas and tableware in store. There is a look for everyone and every occasion from casual to elegant and everything in between.
Blue and White
There is something about the crisp contrast of blue and white that feels like summer. Perhaps it is a lighter alternative to black and white or that nod to that nautical look that it gives, especially here with the gold accents and fun little golden knot napkin ties. We have incorporated silver accents, here as well, for some additional interest. The layered textures and fun play with both botanical and geometric patterns make for a classy summer setting.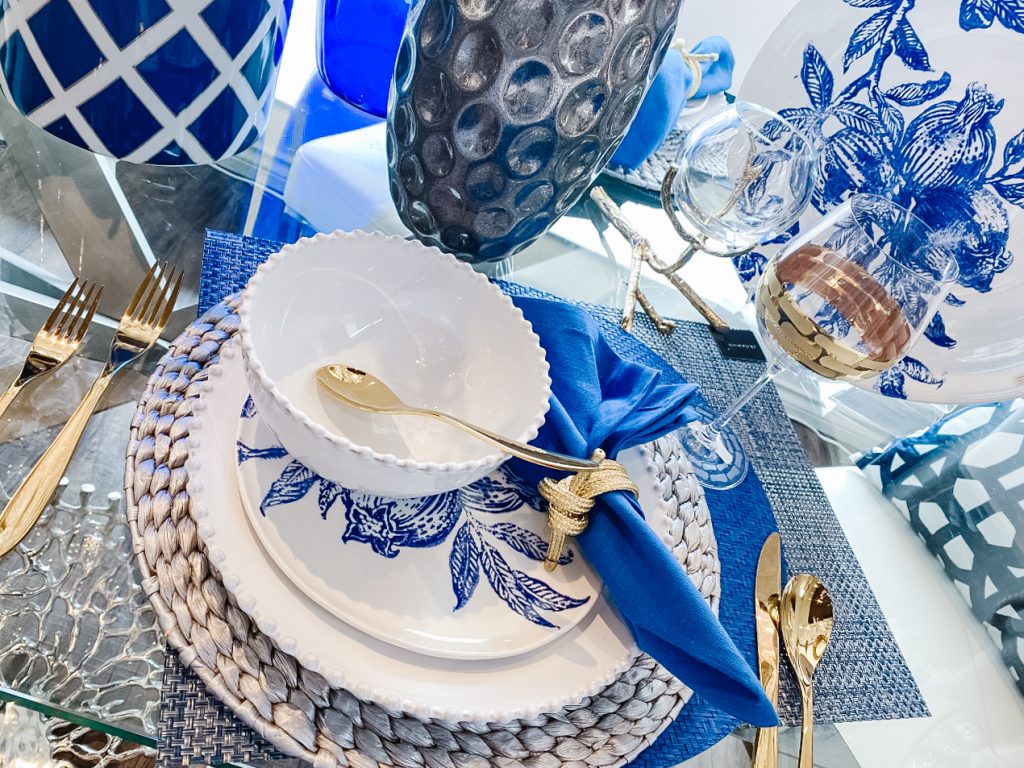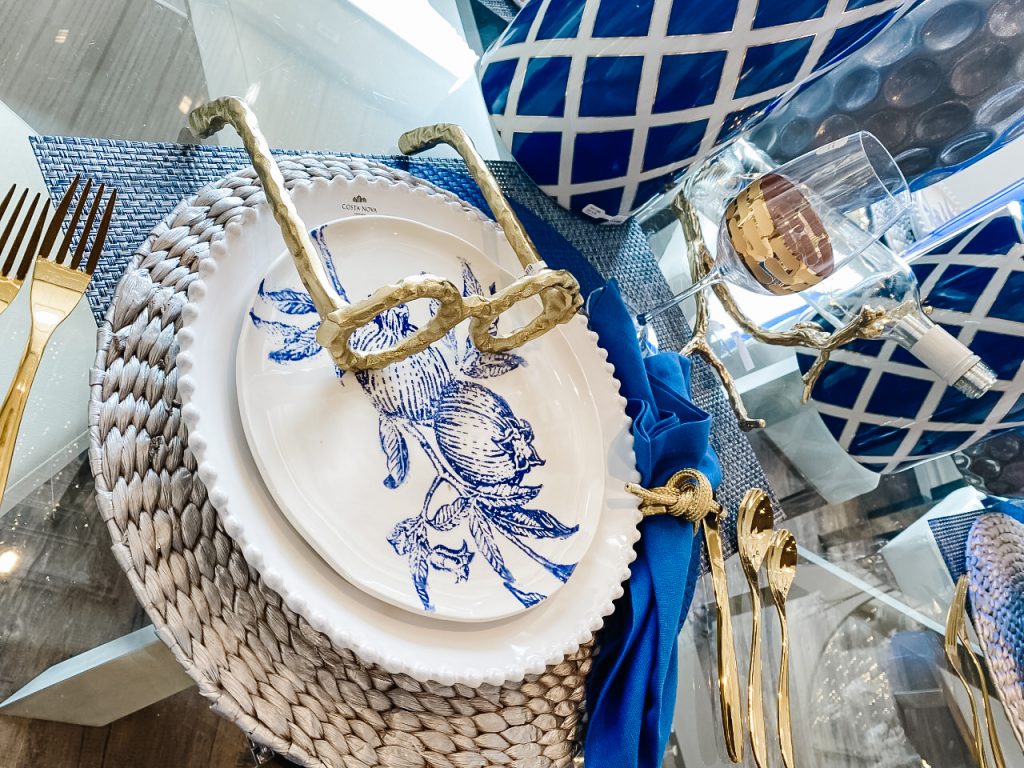 Cool Blues
If this summer is anything like last we will eventually want to cool things off. Icy blues and cool silver tones are a win here and are stunning too! This bright blue is a nice way to brighten up your neutrals for the season and add a pop of colour to your otherwise monochromatic or all white decor. This setting also plays with that summer sunlight. The reflective and textured surfaces of the metal pieces, including the charger, flatware, napkin ring and leaf platter, bring some much loved light to this tablescape. Try using metallic accent pieces, yourself, especially when you want to accentuate those bright pops of colour as they will be reflected as well.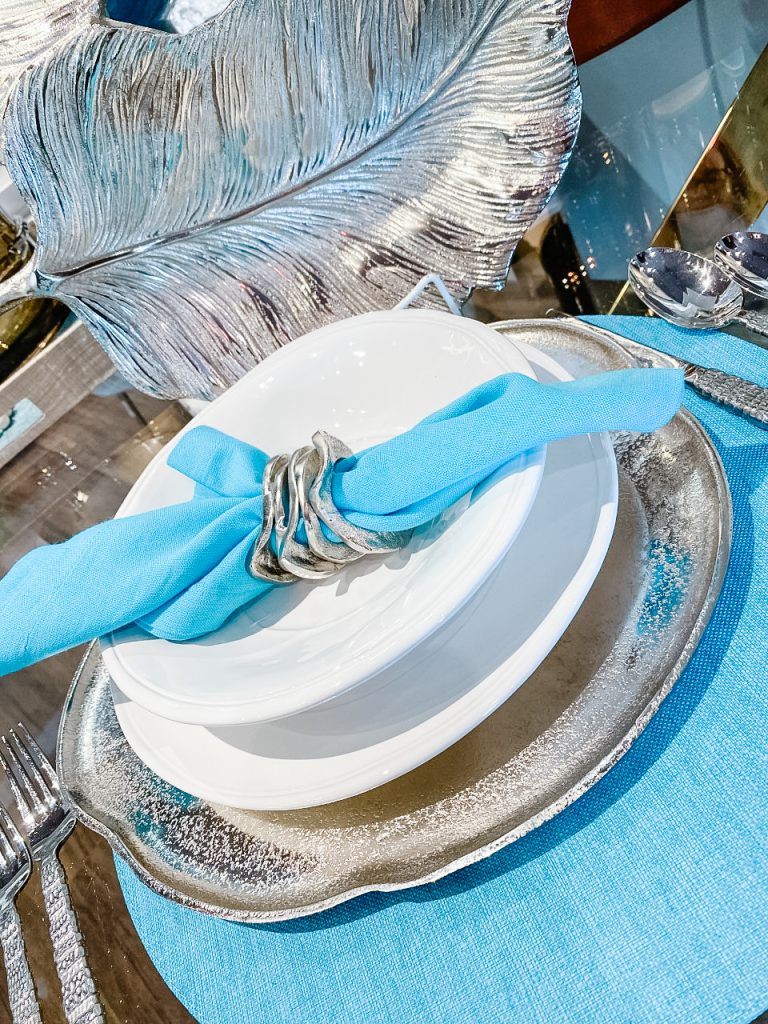 Summer Spice
Let's warm things up now! Warm spicy colours and terracotta are sizzling for 2022 so why not sprinkle them into your summer settings? Before we sprinkle on the spice though, we first have to mention that we are in love with this dinnerware. It is the perfect neutral set that can be dressed up or down depending on the occasion and it just feels earthy and works so beautifully with other natural elements like wood and these warm orange tones. This look also works with that mid-century modern trend that is so popular right now and because the dinnerware is so plain you can get away with shaking things up with a bolder pattern in the placemat.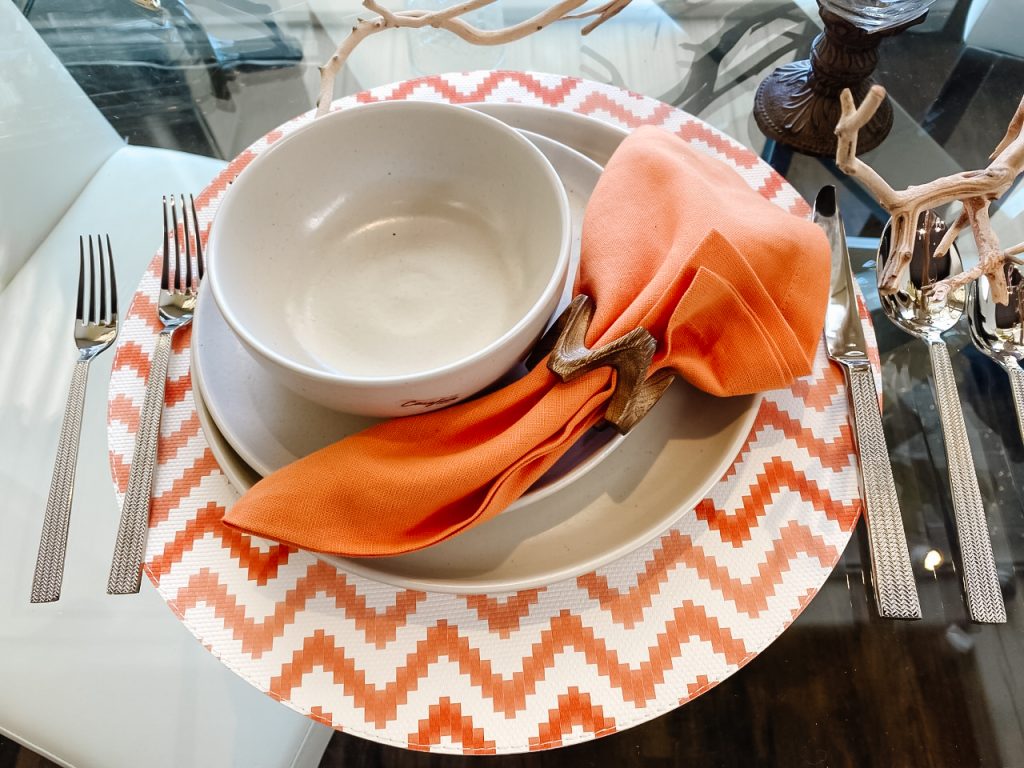 Bohemian Summer
This setting emphasizes how you can change up your look by using the same dinnerware, but switching out some of the details like the napkin ring or adding in some different layers like the rattan leaf-like placemat/charger and brown/bronze pieces. There is so much rich texture here and that bee just makes it a quintessential summer setting. Perhaps we might even call it Bohemian with its casual artisan feel.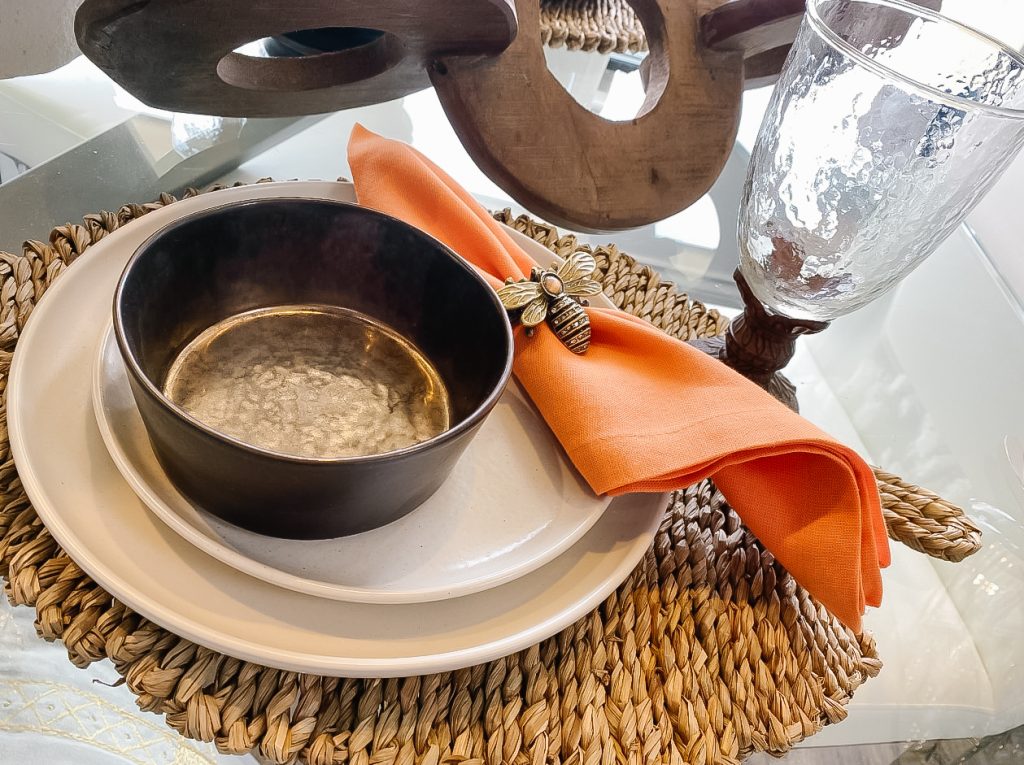 Modern Picks
We've handpicked a combination of modern and sleek pieces for this setting. Yes it is a little more formal in black, white and glamourous gold, but there is no reason you can't throw in some fun elements like the little black apple and glasses, perhaps you could say they are "sunnies", for an Okanagan summer.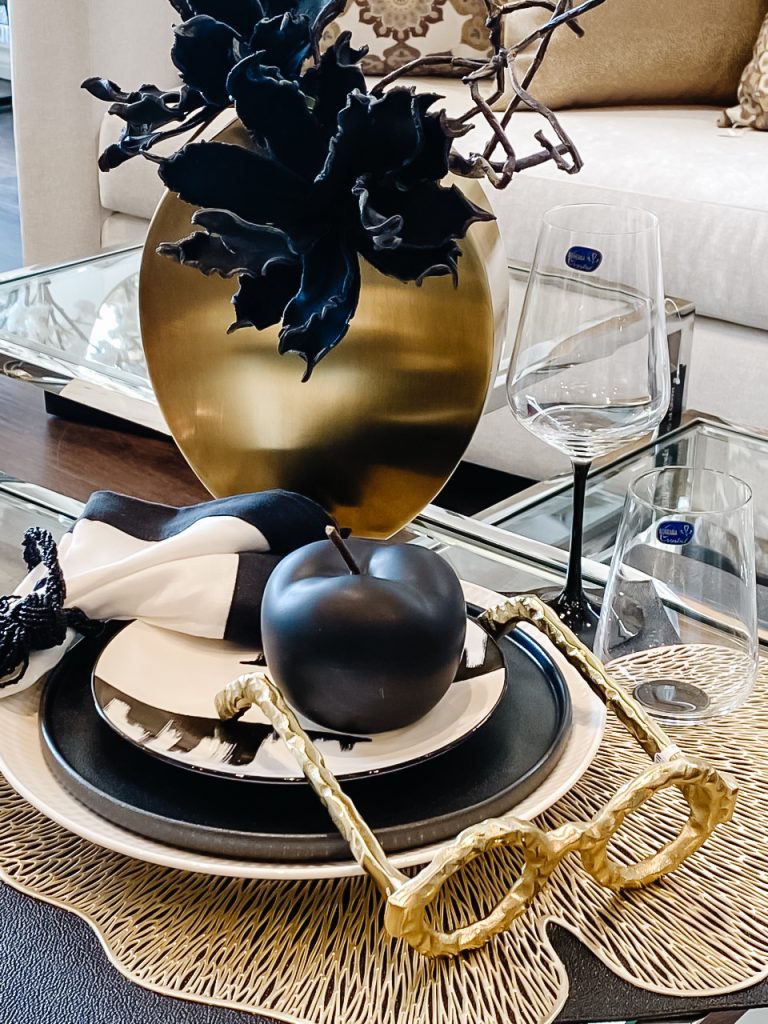 Colour Pop
Yes the dinnerware is black, but you will really appreciate the lack of colour when you start layering and accessorizing with pops of bright colour. We also can't ignore the fact that the matte texture and dark colour of these pieces are an amazing canvas to showcase those beautiful dishes you will create this summer with that fresh Okanagan produce. If you are a cook or foodie this dinnerware is a must!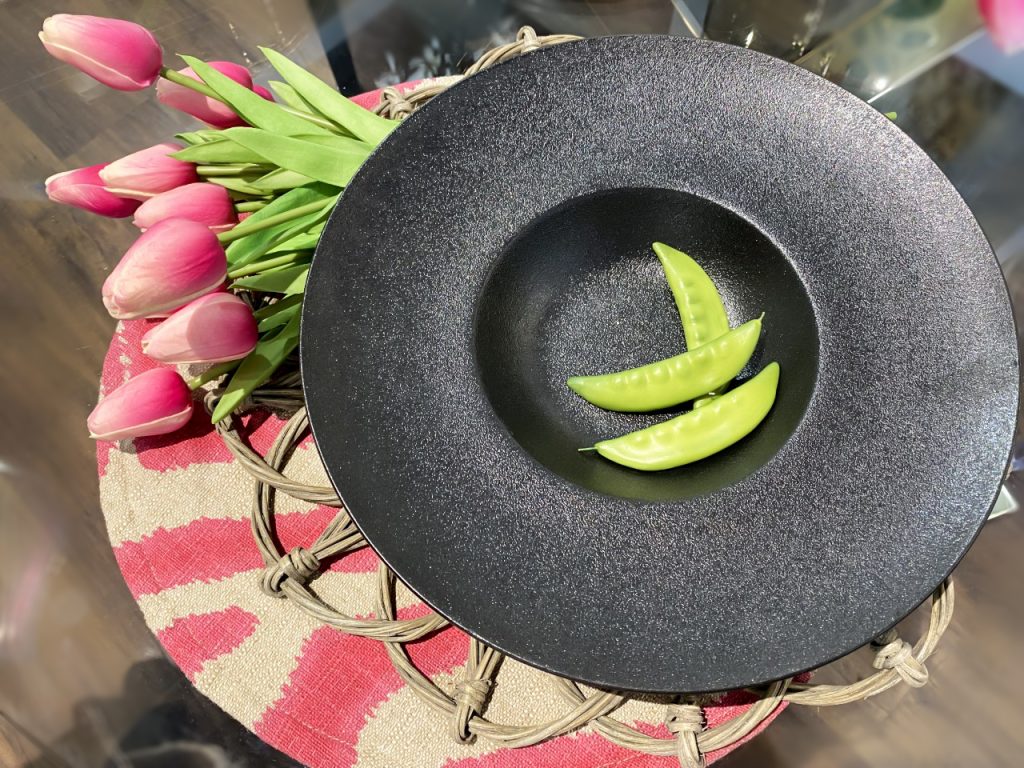 Garden Glam
Fly away to a glamourous version of a summer garden with this Golden Ginkgo dinnerware from Michael Aram. The setting is made even more glamourous with all the other golden layers underneath it and even the flatware and gold embellished napkins. Also don't forget that your intimate summer garden soirée will need some ambiance with candlelight. These flickering LED candlesticks are so realistic and a safer alternative to real flame.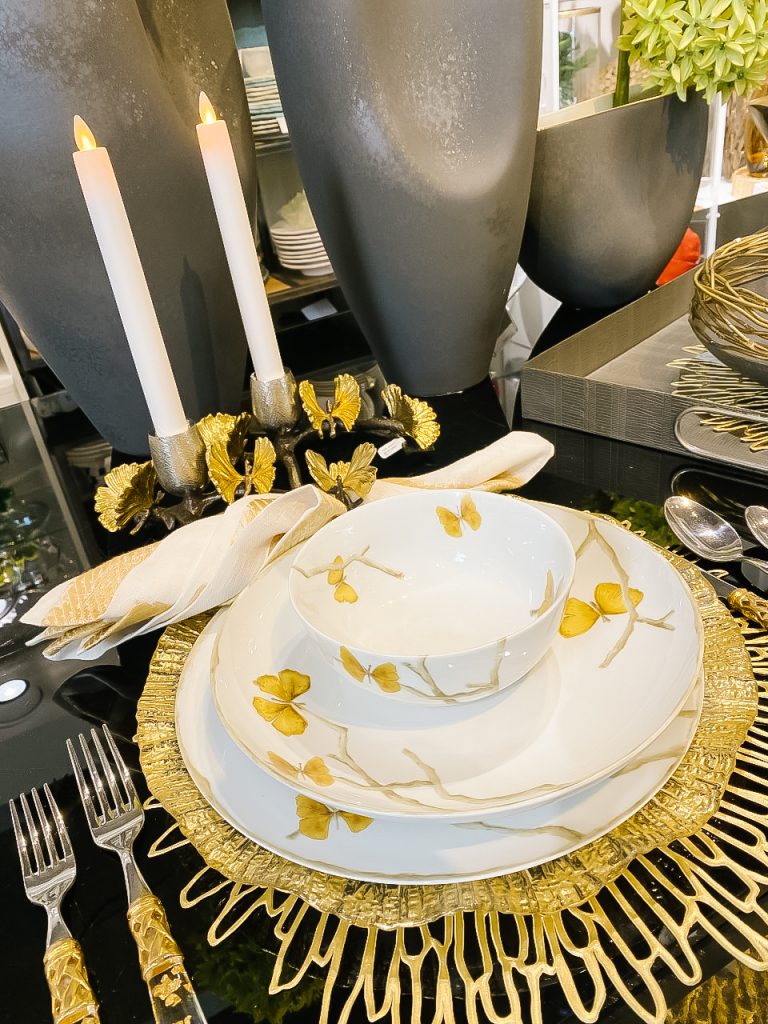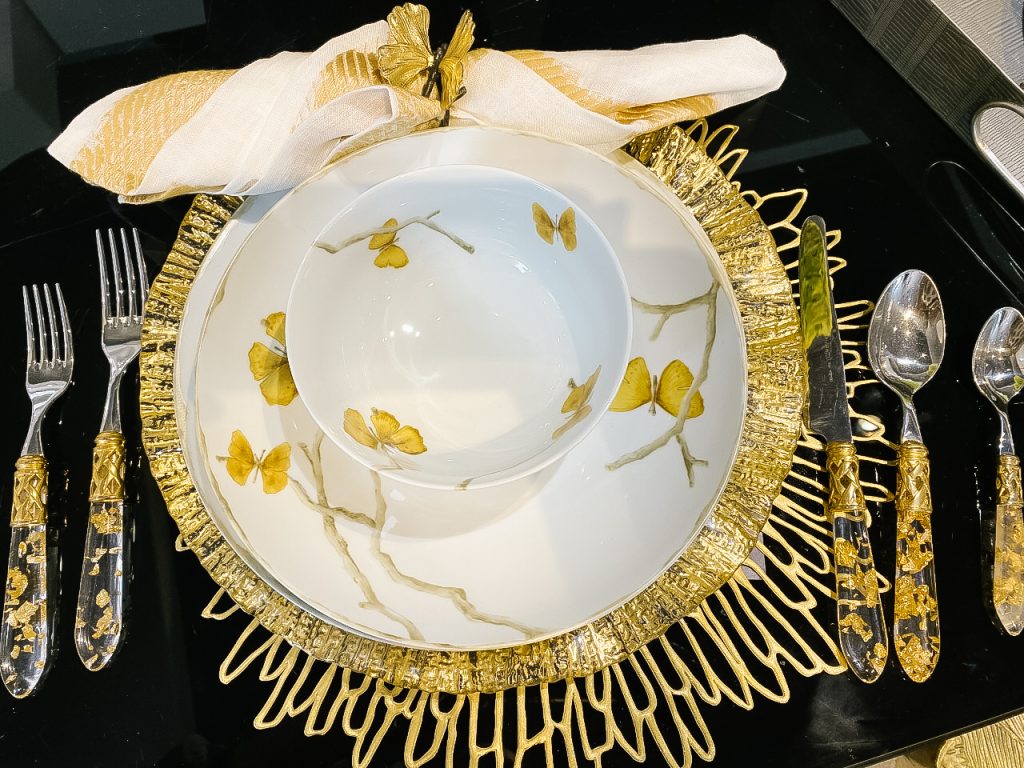 Here we have created a similar setting on a stunning serving tray. Now you can easily move your elegant setting to wherever your heart desires. This will take your idea of a "TV tray" dinner up a couple notches!!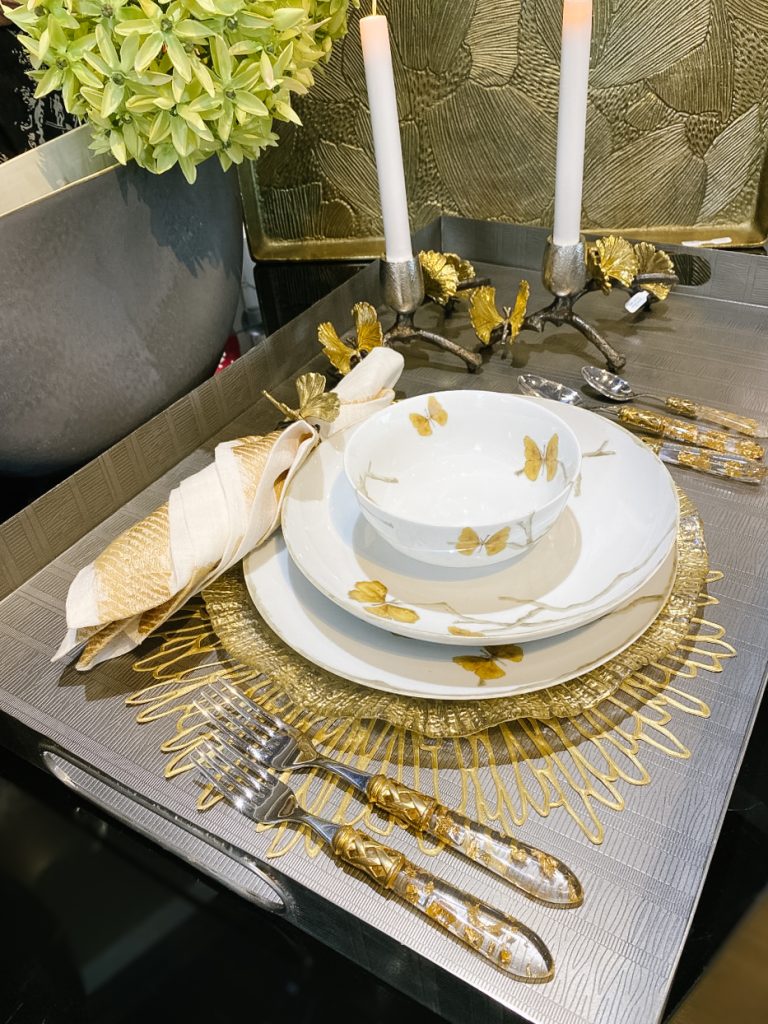 Pretty Picnic
Now we are moving to a slightly more casual look, but how pretty. Doesn't gingham pattern make you think of a summer picnic? Oh and this soft green colour is so refreshing especially when paired with this crisp white dinnerware. We think everyone should have a set of white dishes as they are so versatile when it comes to styling with different colours and other elements. We love the edging detail on these ones that add that pretty factor and a little something extra to the overall look. We've also added in the log slice charger to warm up the look and bring in a natural element. It would look great for an outdoor setting or if you want to give an indoor gathering the feeling of being outdoors. Our glassware selection here is fun for summer too with white polka dots.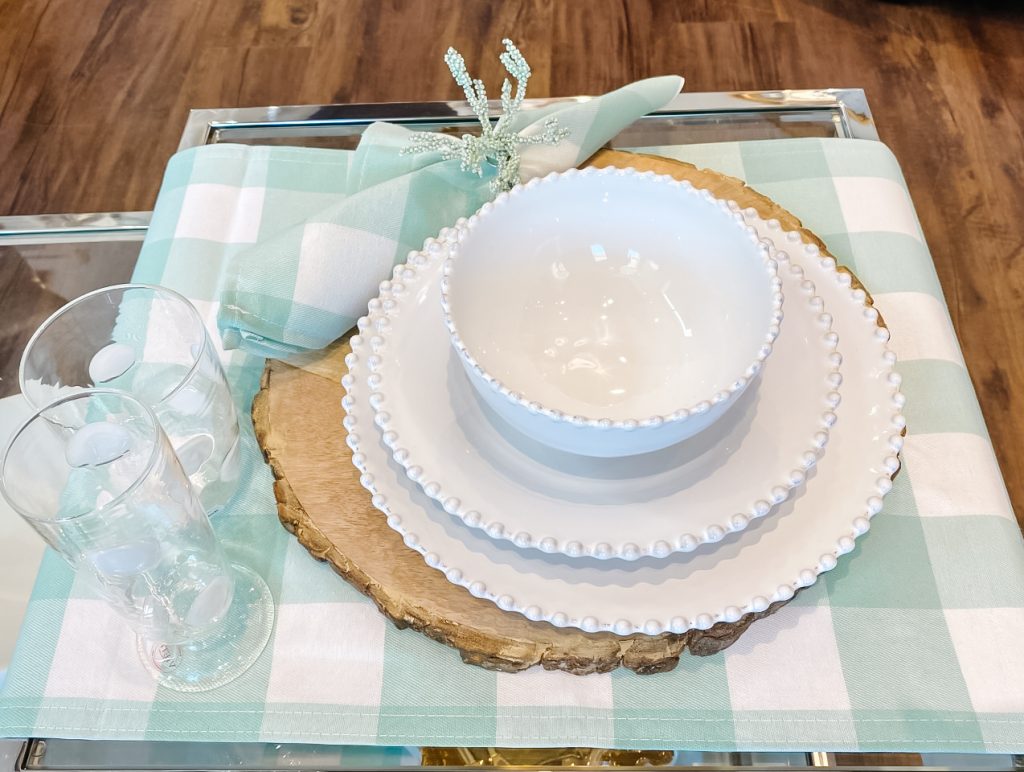 At the Beach
Our summer setting roundup wouldn't be complete without a visit to the beach. Watery hues and dinnerware the colour of a white sandy beach come together to take you there. But what a beautiful beach it is with no need to dust any sand off your feet. There is just enough subtle suggestion that we are at the lake or coast without it looking kitschy. Its really a perfect setting to welcome your guests for a little lake life in the Okanagan or to help you wind or maybe "wine" down after a fun day at the actual beach.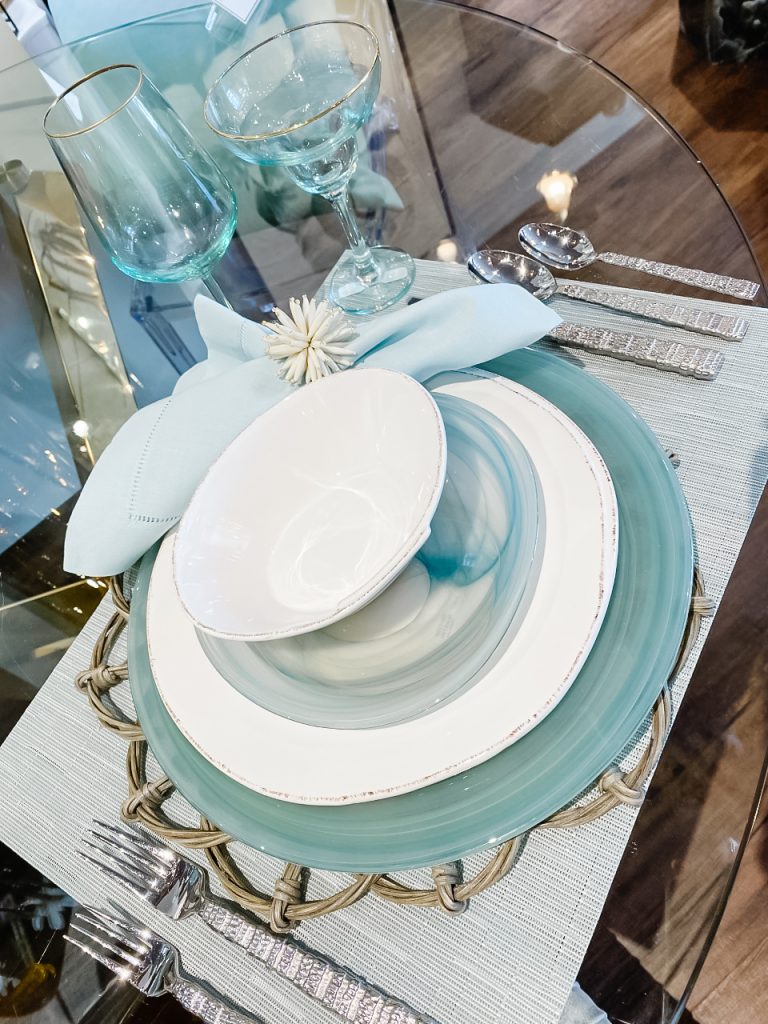 Fresh Lemons
What is more refreshing then a summer lemonade on the patio?!? Where there is lemonade there must be lemons and wow is this motif ever trending this spring and summer. The bright yellow just makes you feel good and refreshed. We've layered these with a bright green placemat and yellow gingham fabric napkins to carry through with our bright and cheery theme. Notice we've also framed our beautiful accent plate by placing it on a black dinnerplate. Something you could, try with other similar accent plates. We also want to mention that if you are already familiar with or even have dinnerware from Vietri, these are a new collection called Limoni meant to compliment some of their other dinnerware collections so you will receive pieces with that same beautiful Italian craftsmanship. These lemons will be sweet with your lemonade!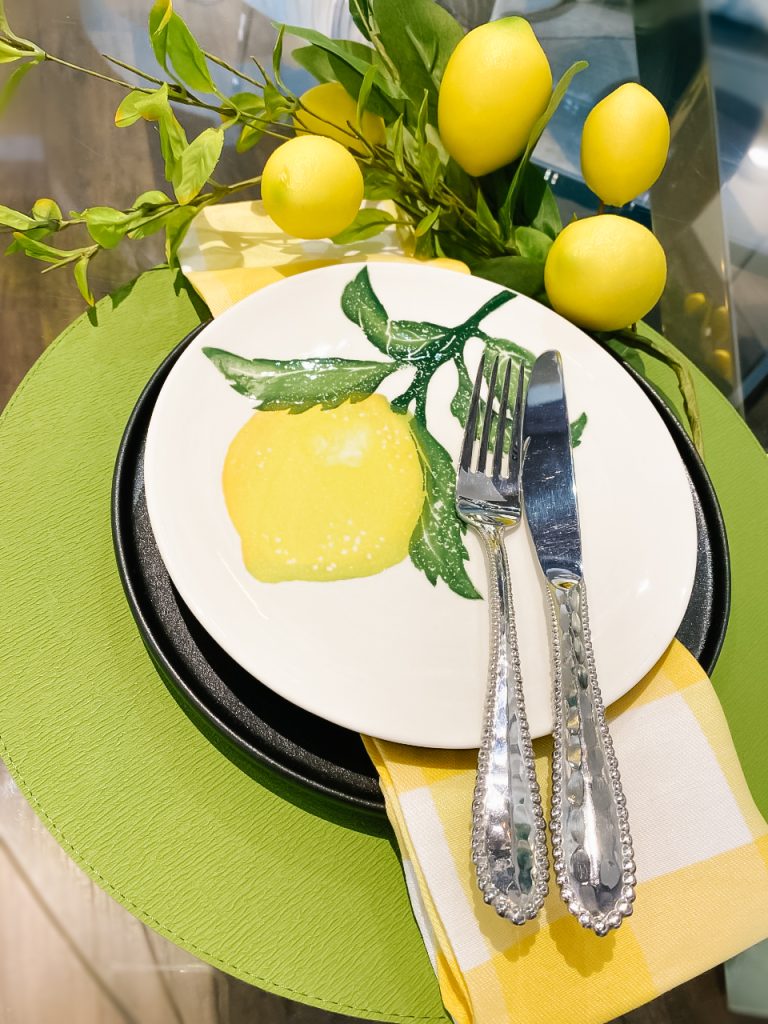 Now it is your turn to create a setting of your very own. Feel free to replicate one of ours or we can help you create a completely different look just by interchanging some of the same elements and dinnerware we have shared here. The possibilities are infinate! Wishing you a fun filled summer of settings!