Making Spirits Bright
Crisper air, shorter days, and greyer skies signal that winter is around the corner, but before any winter blues take hold we are making spirits bright with all that makes this time of year so magical. It really has been like Christmas around here over the last several weeks as we have delighted in the unpacking of boxes full of newly arrived holiday decor, plenty of amazing gift ideas and even new furniture pieces and spectacular items to dress your tables for holiday celebrations. As we style the store with all these items and ideas we do not loose sight of the fact that many of these pieces will become part of a special holiday season that is uniquely yours. What brightens your spirit at this time of year?
Perhaps it is setting the mood for bringing those most important to you together in celebration. Here are some amazing table setting ideas to do just that. These tables each have unique adornments and look for the accent plates, layers of placemats and chargers to elevate the elegance, and speaking of spirits, lets not forget the glassware for your favourite Christmas drinks. Last but certainly not least, the personality of each of these tables comes through with the decorative accents, centrepieces, twinkling lights in some cases and candlelight in others, and then even some little gifts or special ornaments for your guests at each place setting.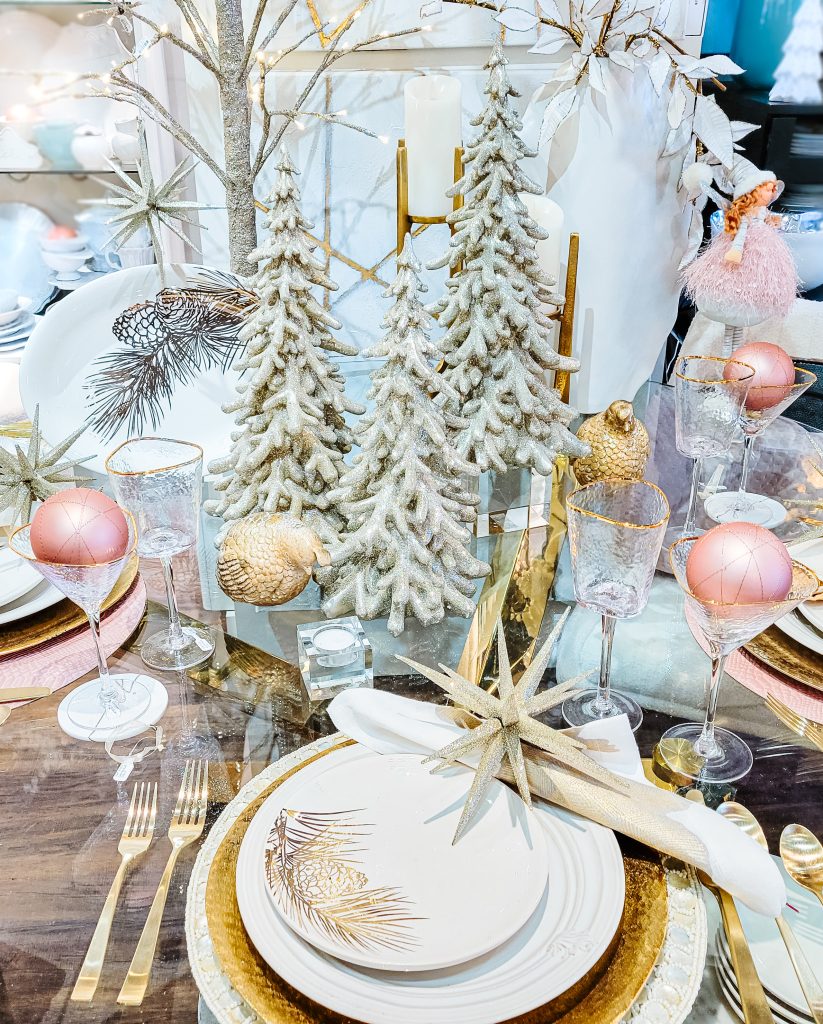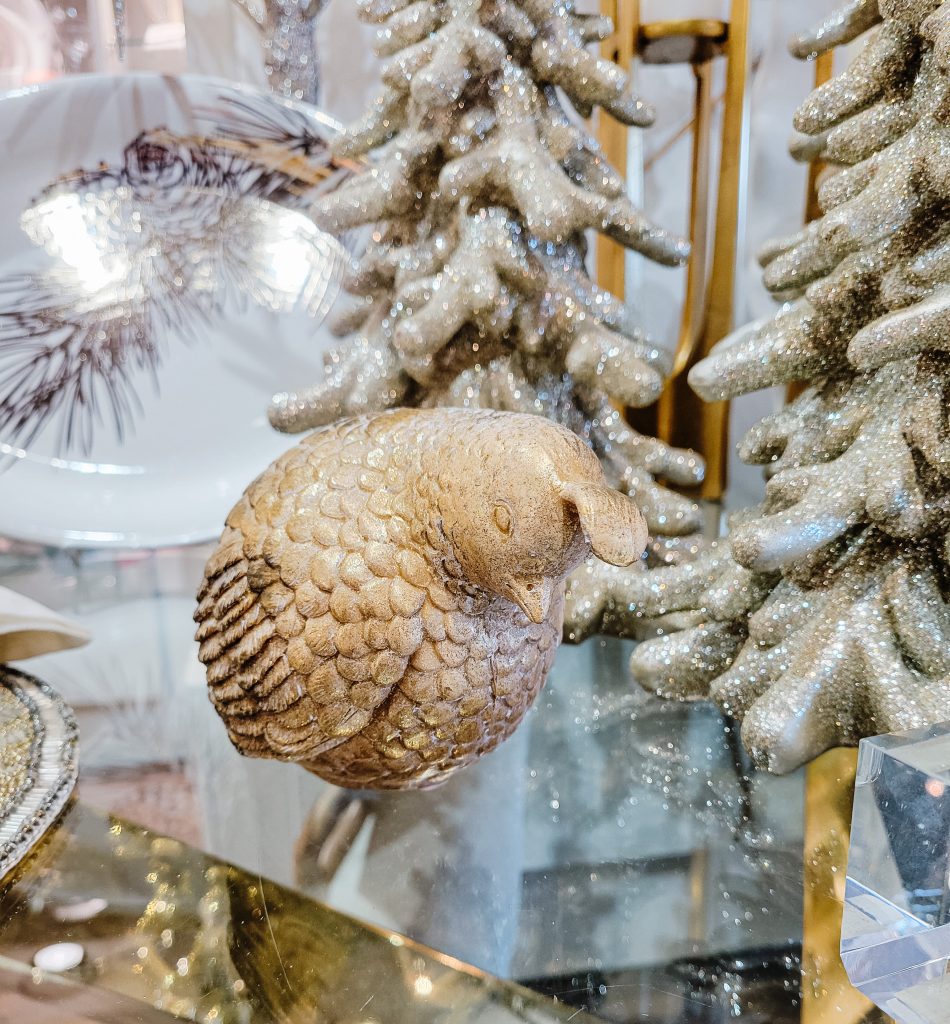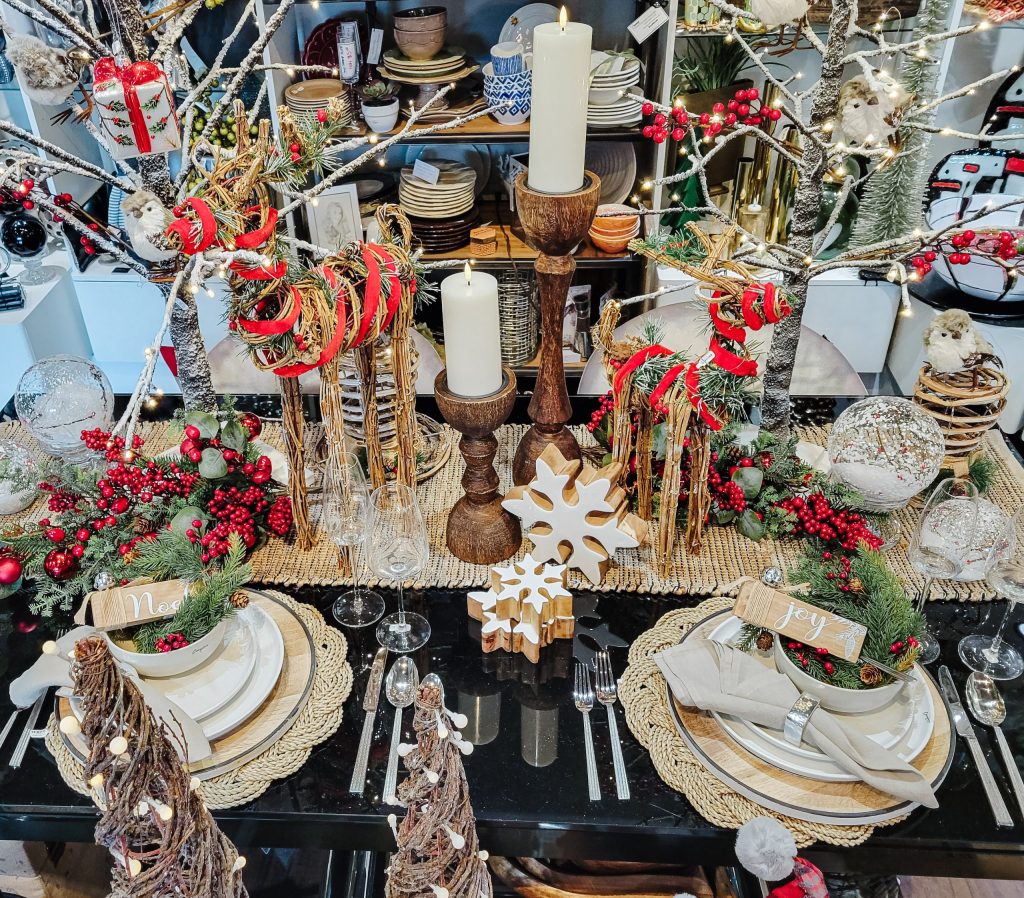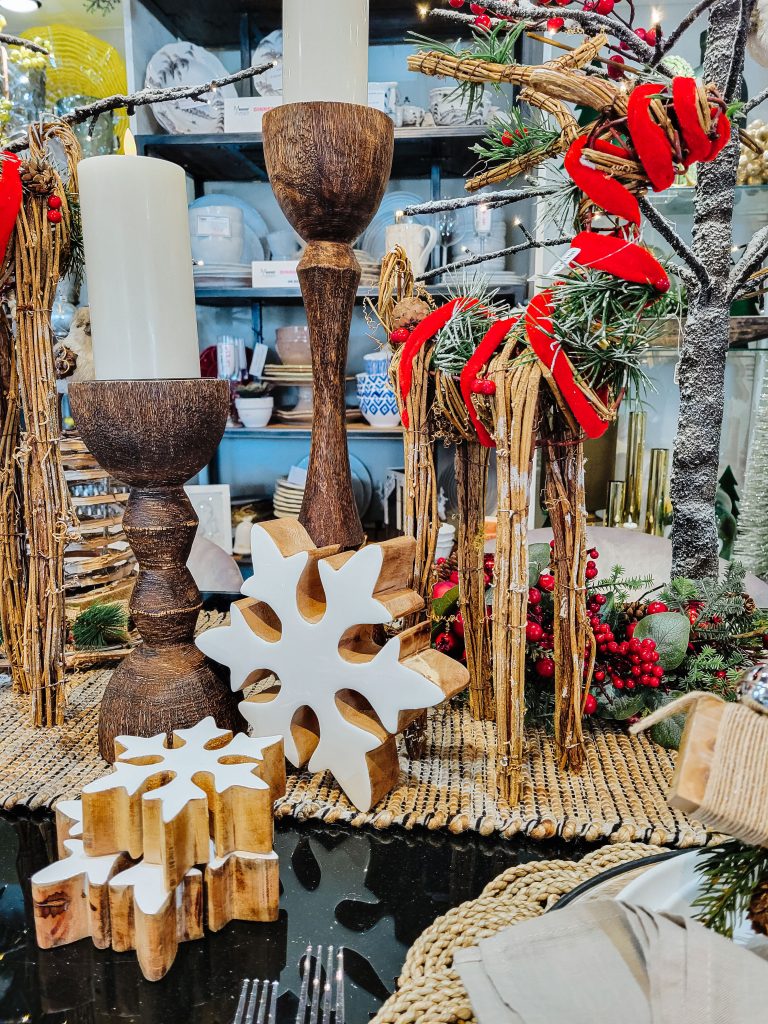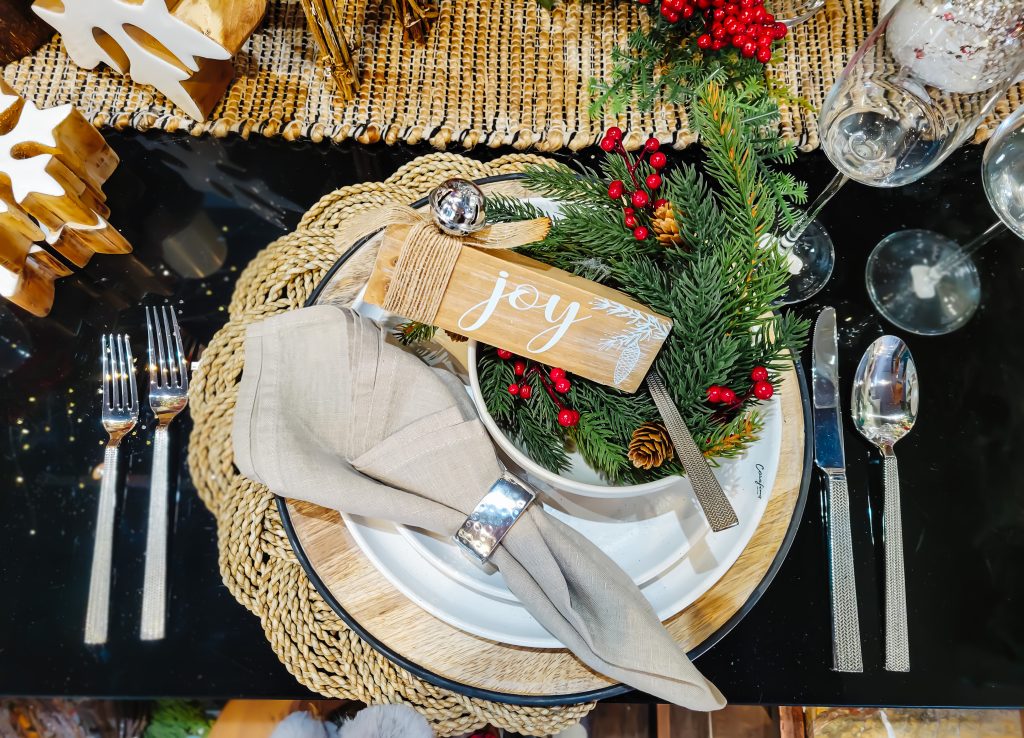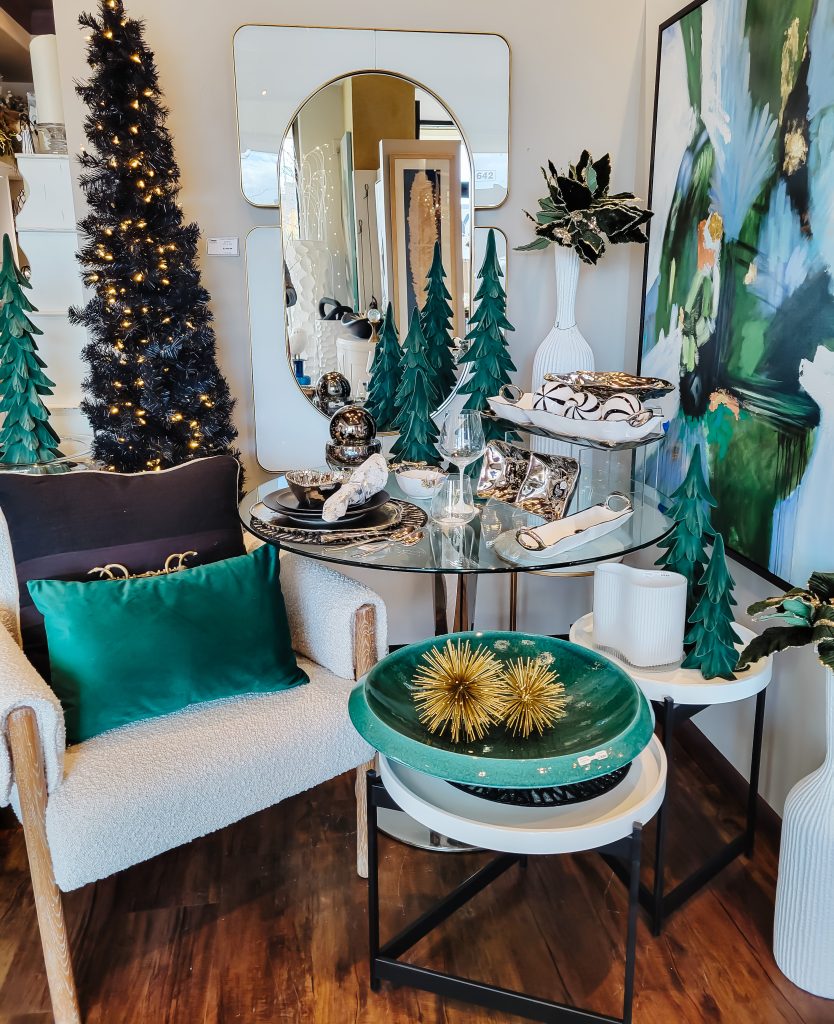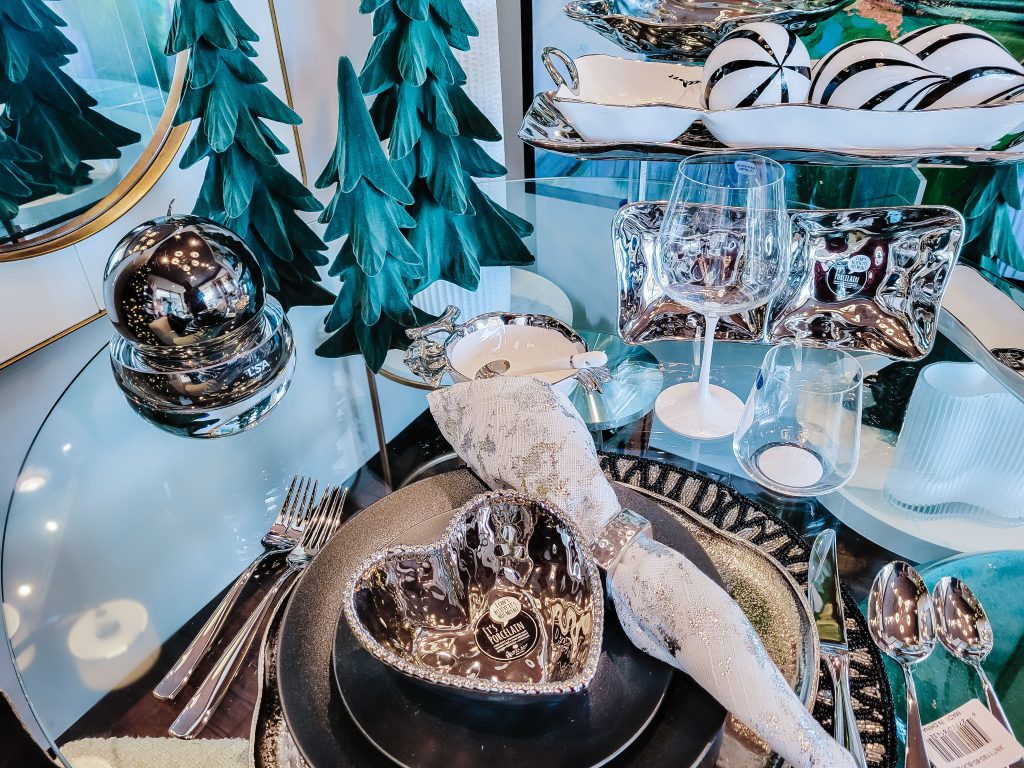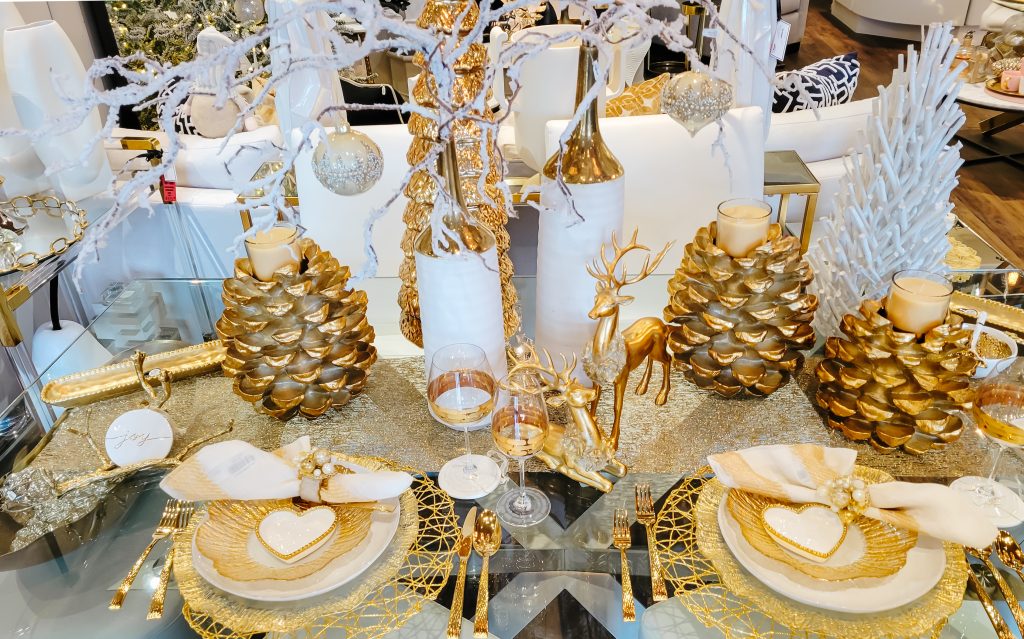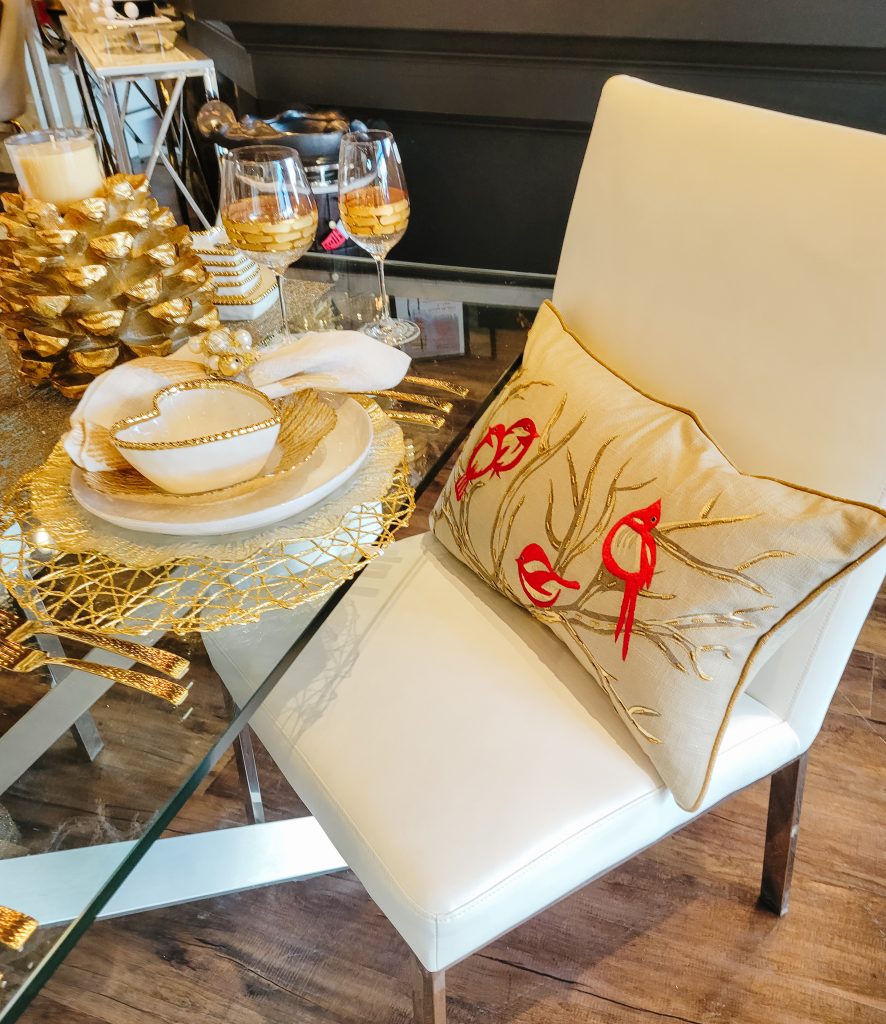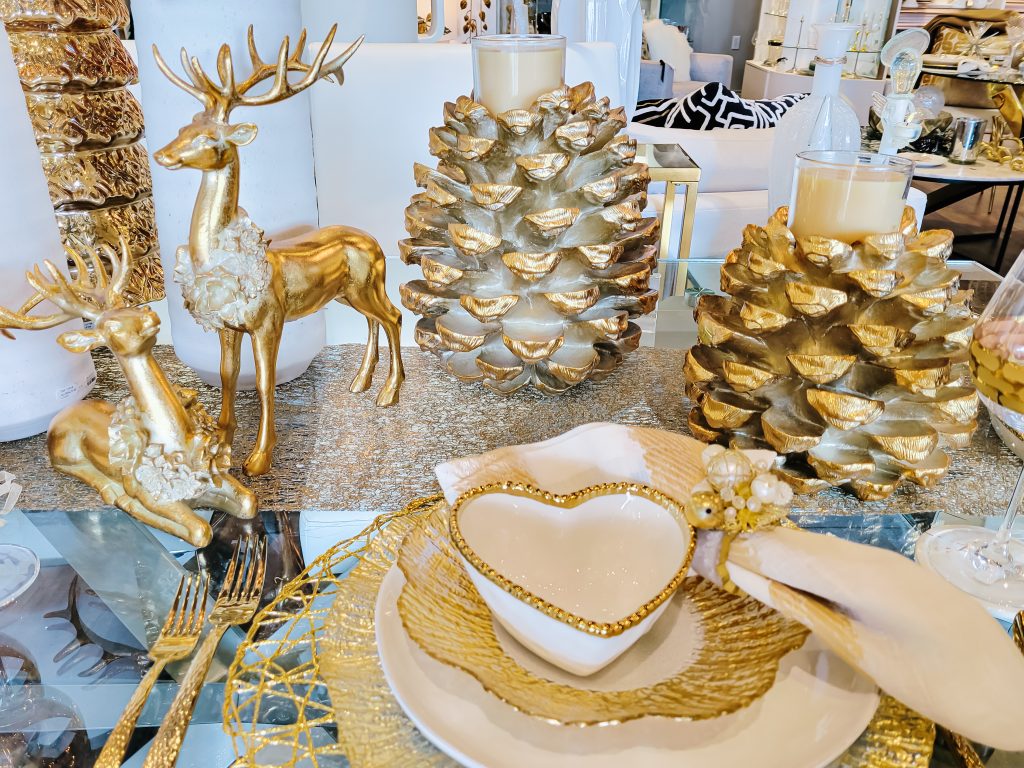 For some, your favourite part of the winter may just be simply curling up on your favourite accent chair or sofa and enjoying a cozy evening in. Give yourself the gift of surrounding yourself with pieces you love. Here are some of our favourite new arrivals to create those cozy vibes and holiday ambiance.
These marble tables with the striking black base and gold trim would make a stunning addition to your holiday interiors and beyond. Just the right amount of holiday elegance is added with golden holiday florals and this elegant Aram candleholder.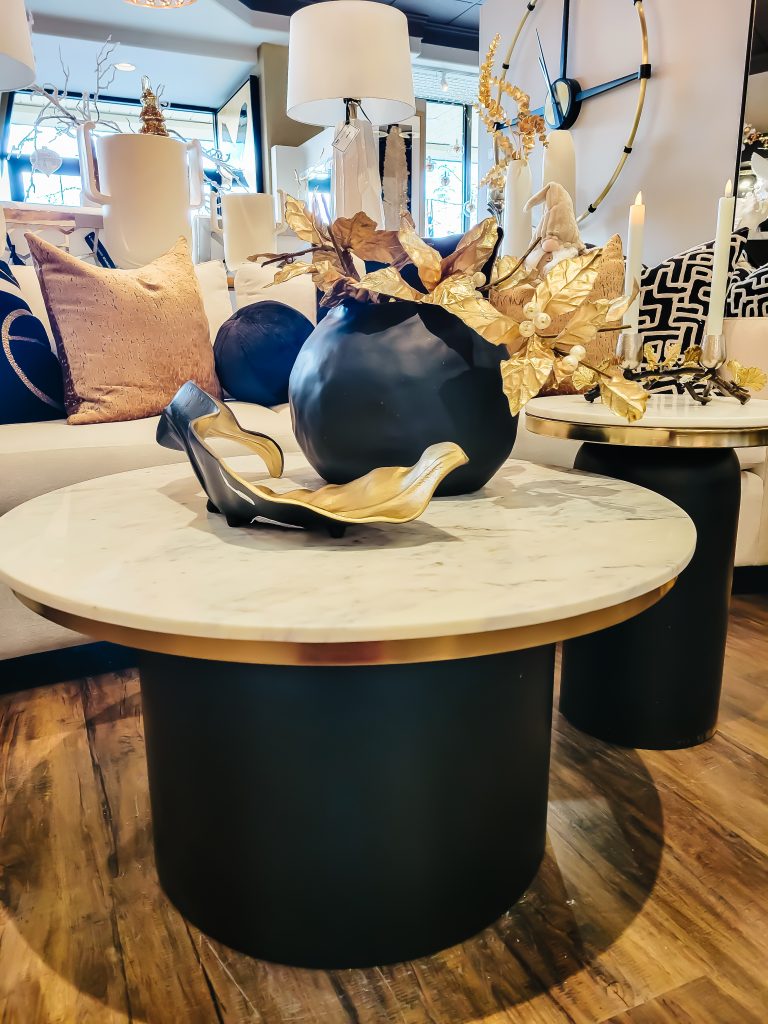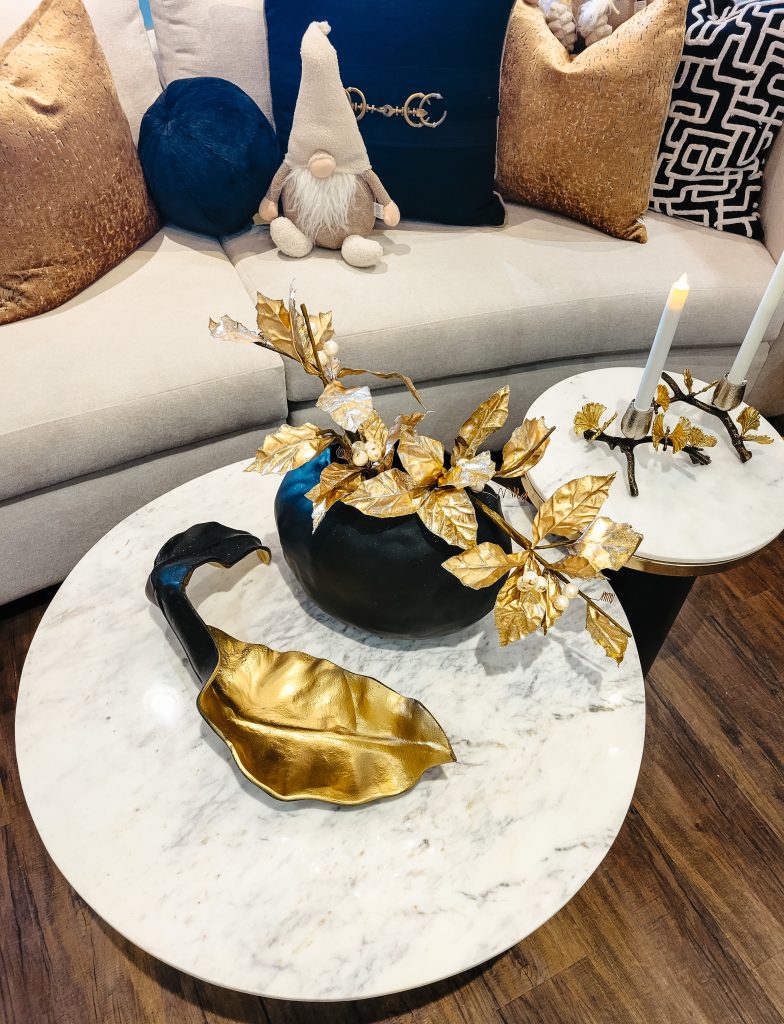 Can you ever have too many cozy throw pillows? There are no need for excuses when it comes to piling on the cozy textures and patterns at this time of year. Do what makes you feel good when you come in from the elements outdoors. We also love these little drink tables for your hot cocoa or favourite cocktail. These are also so perfect for entertaining extra guests or what a great gift idea!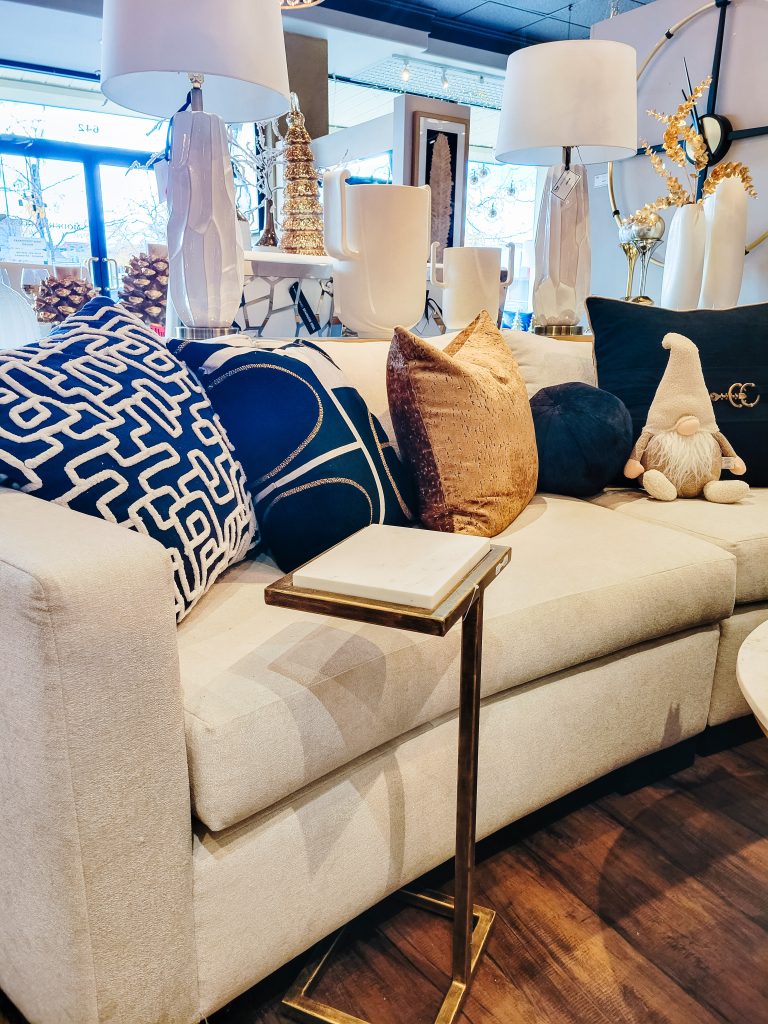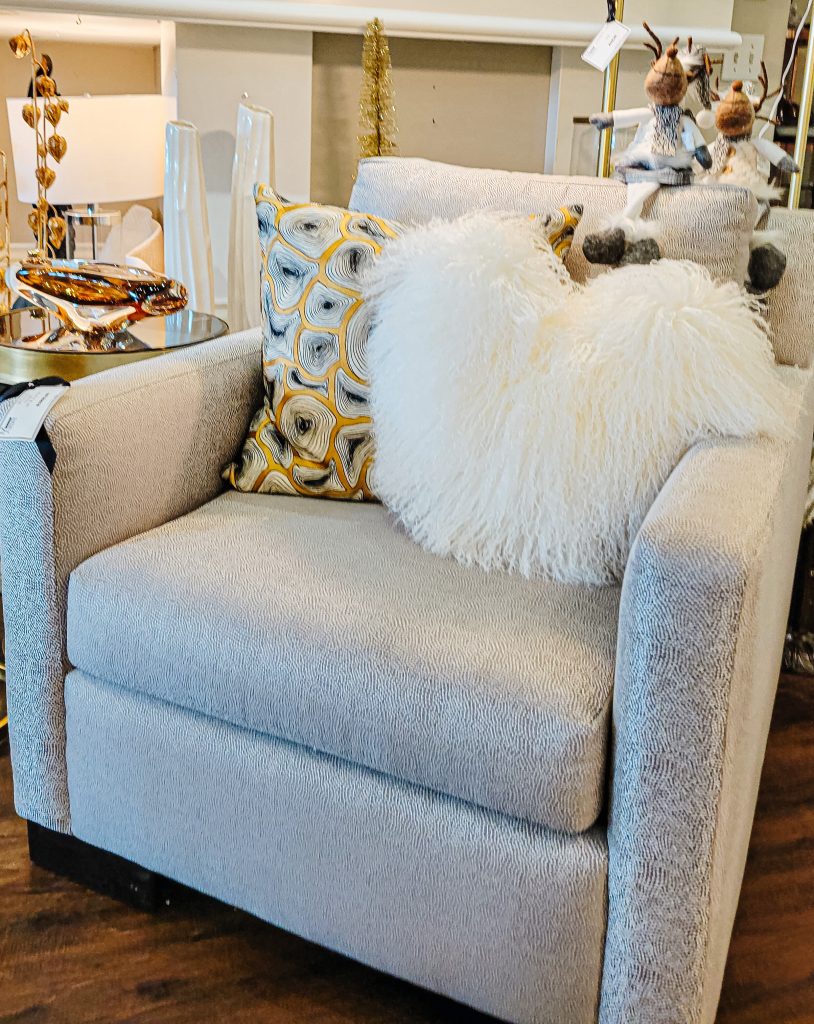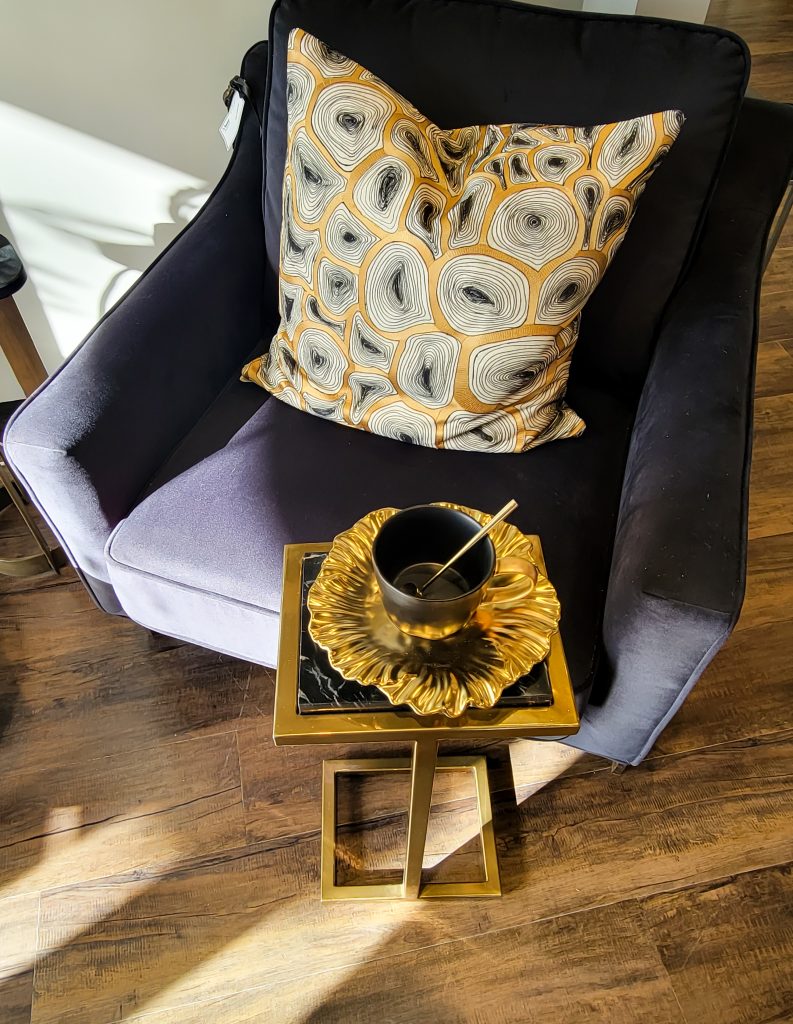 We love the warmth that wood accents bring, especially along with frosty holiday whites and twinkling lights. This combination of pieces brings to mind the feeling that you are in a modern ski lodge. Who wouldn't want to enjoy these views "apres ski?!?" These beautiful mirrors work to reflect the other beautiful accents in the space, and that extra light in the winter is always welcome.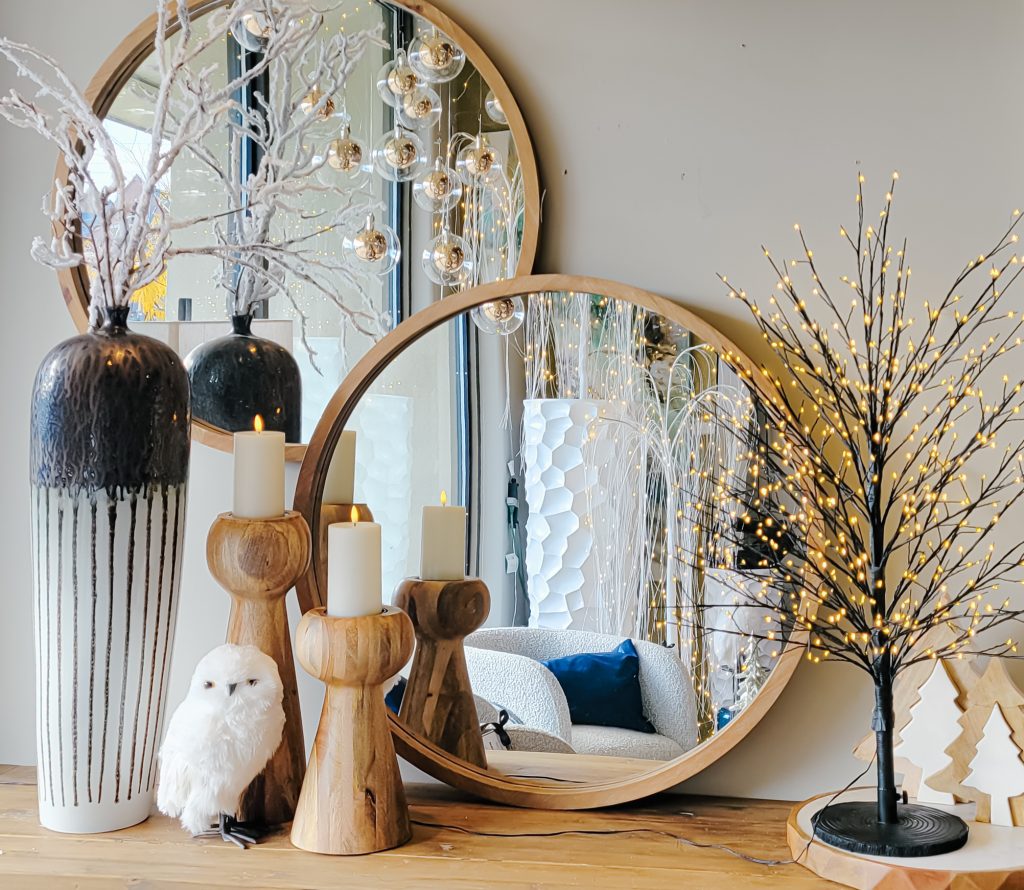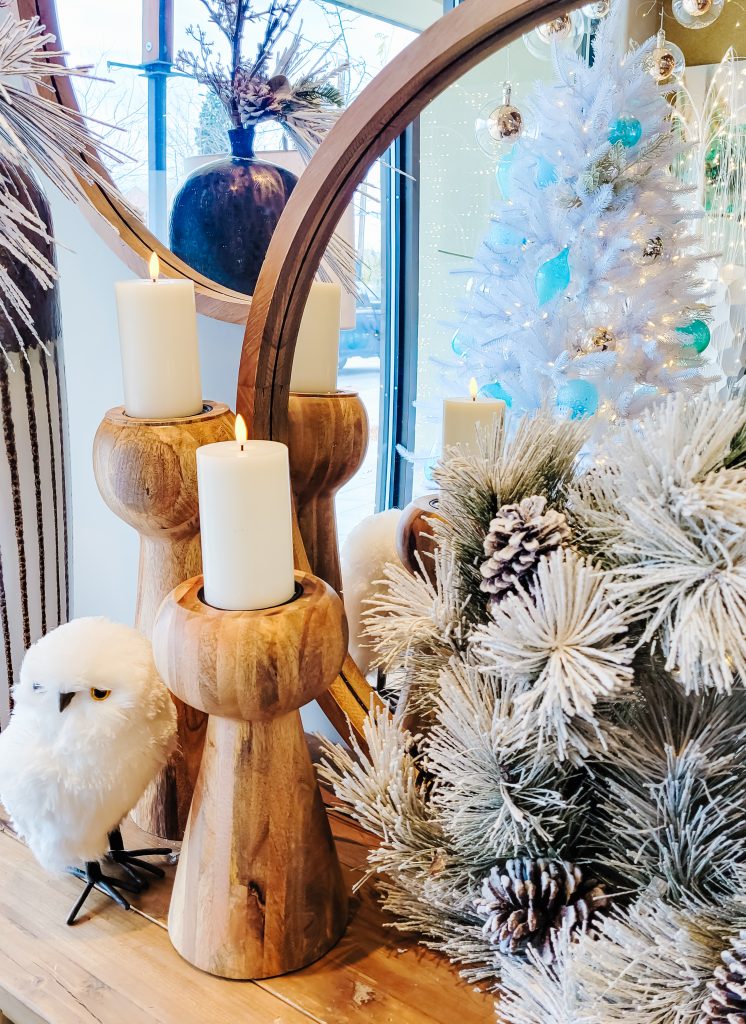 If something more modern and golden is more your style this mirror below will do an amazing job of reflecting your holiday decor.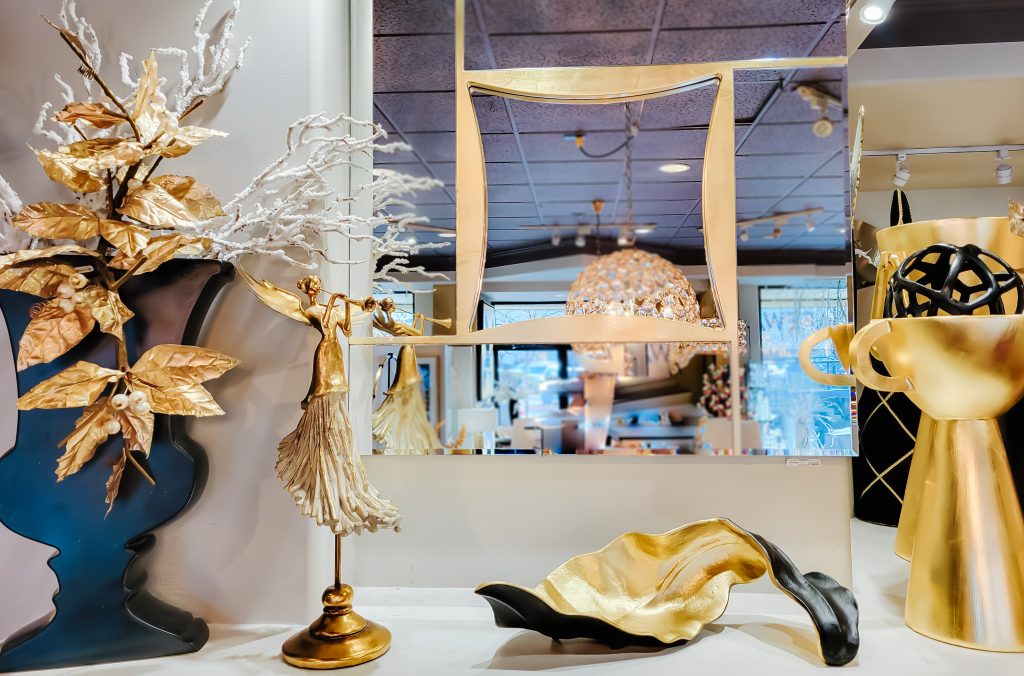 Okay let's face it there is something special and magical about putting up that Christmas tree. Even if you aren't really a winter person it becomes something to look forward to and brings life to your indoors, somehow. We always look forward to putting them and inspiring our clients with new looks for their own trees and even helping them decide on a new tree for their space as we do sell these too.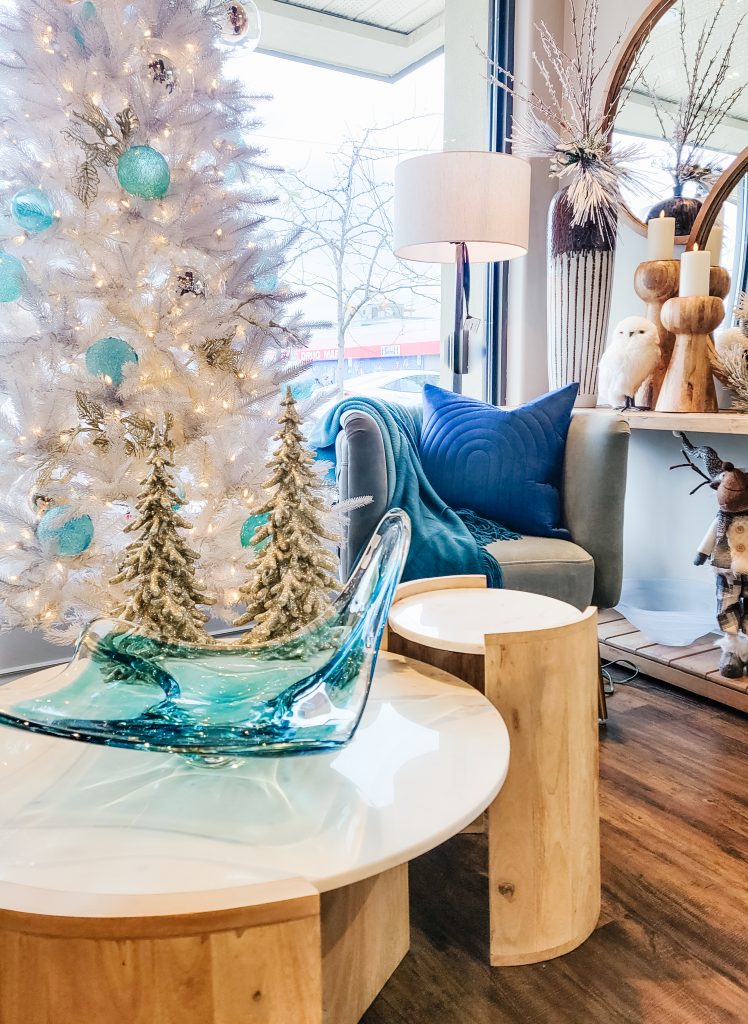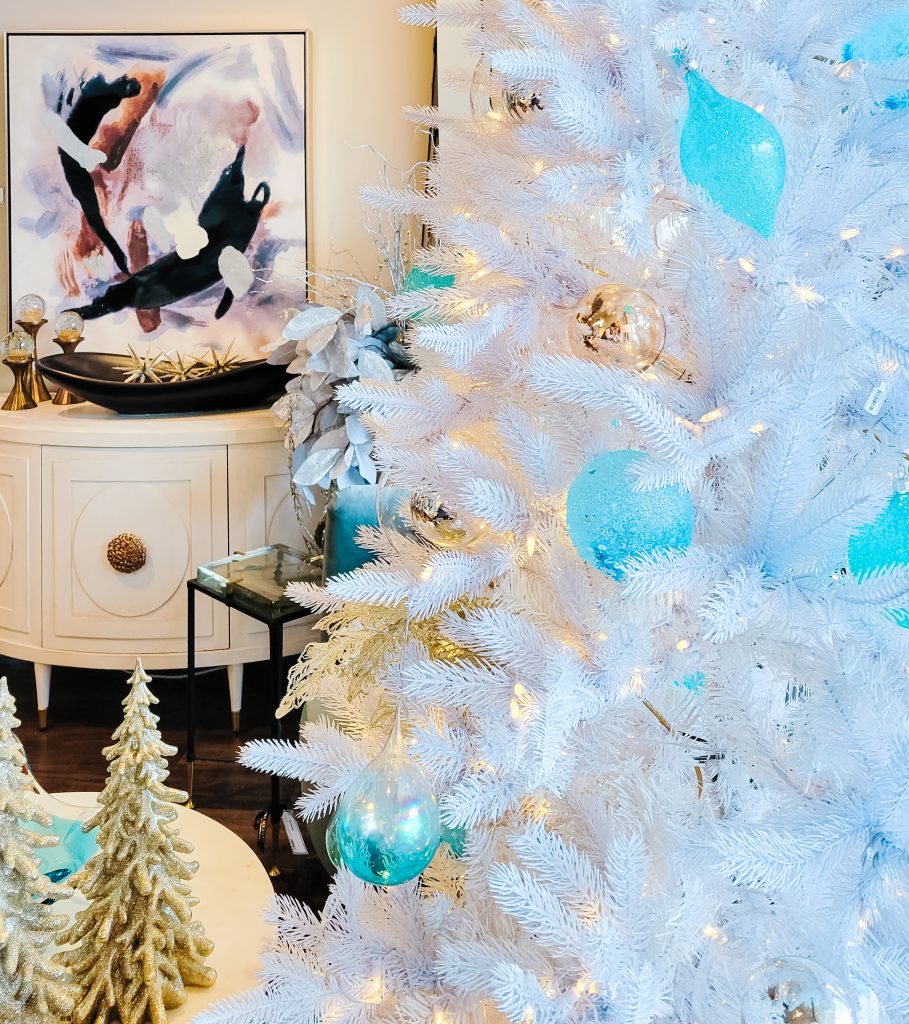 The white tree above adorned in blue and gold glass ornaments is so whimsical and fresh and this black pencil tree is modern, makes a statement, and is perfect for a smaller space. We have it decorated with fun little brass instruments and green and gold ornaments and poinsettias. The little saxophones and other instrument ornaments each come in a little gift box making them a lovely gift for the musical people in your lives.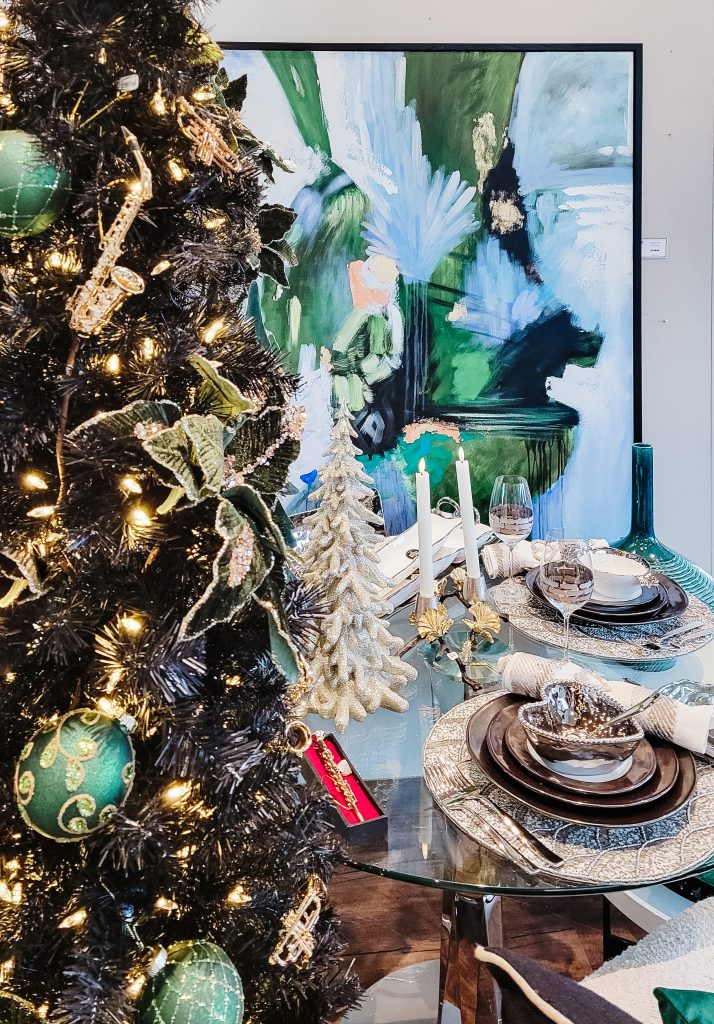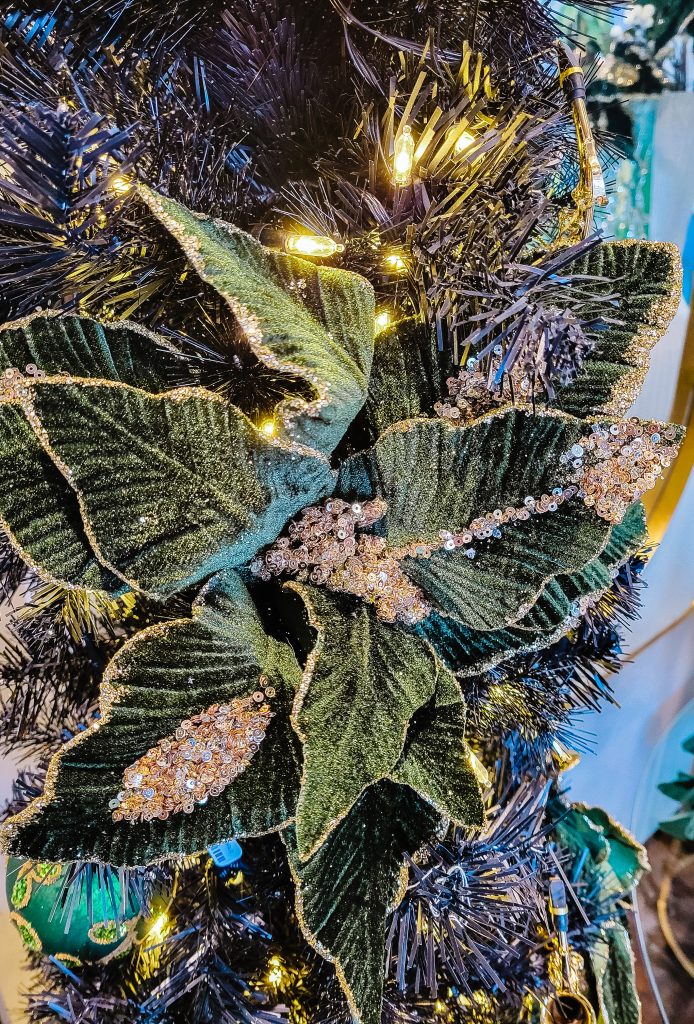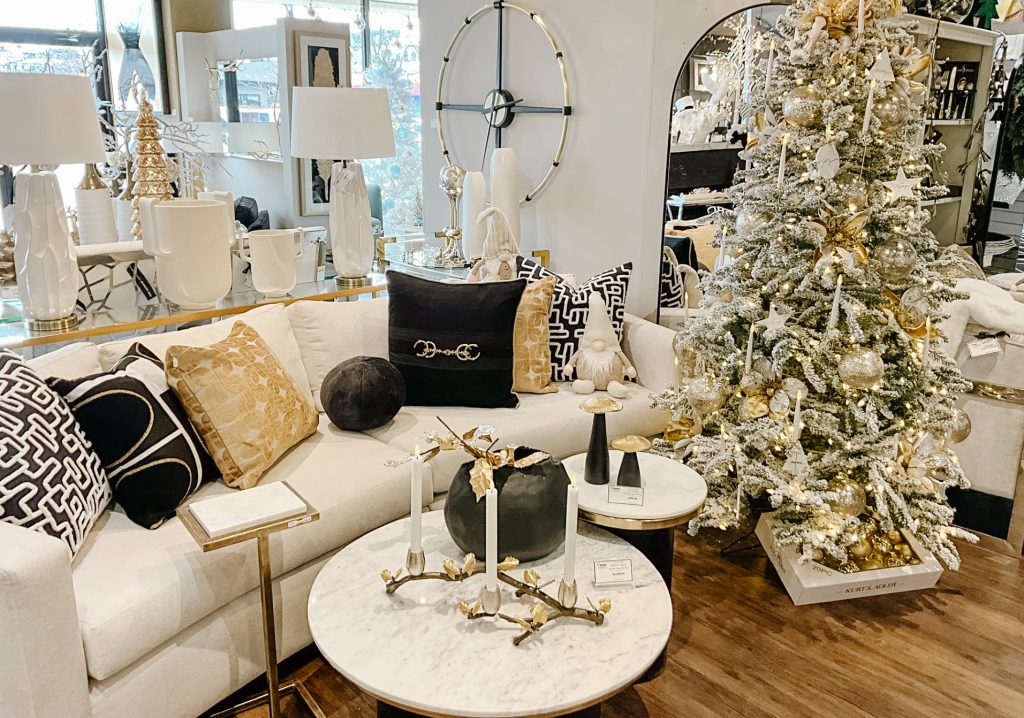 Feel at home for the holidays with this whole package including this gorgeous flocked tree. As you glance around this vignette there are so many special pieces. The ornaments with the holiday sentiments like Joy and Merry written on them have already been very popular.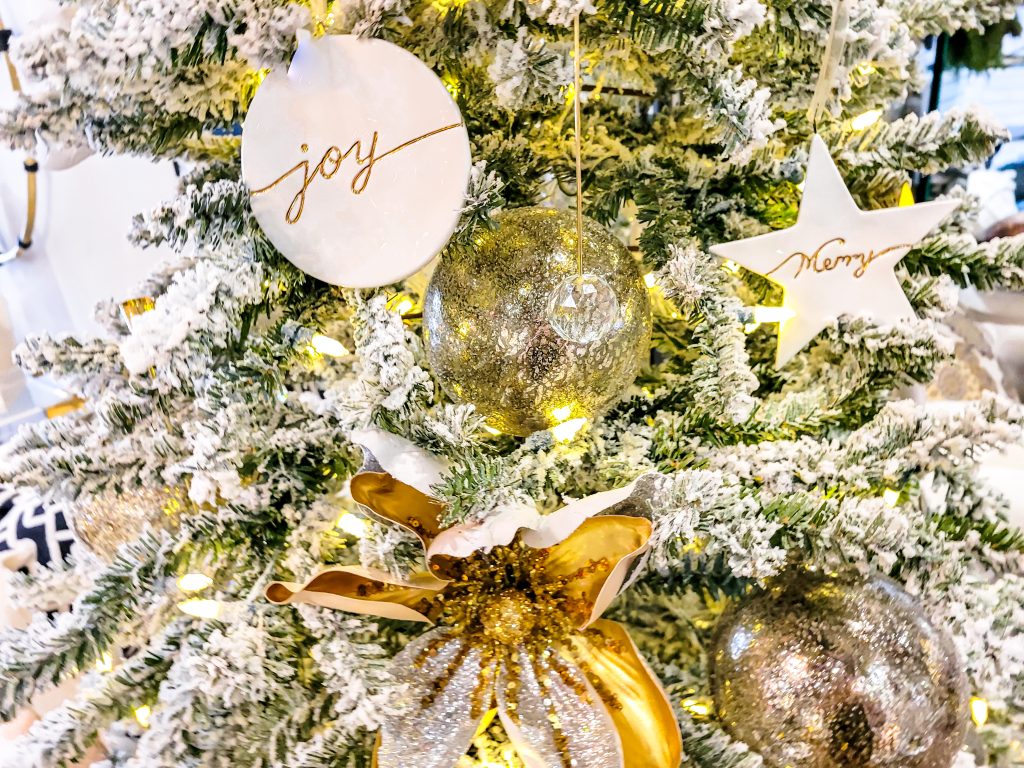 Another client favourite are these LED candles. They are a throw-back to Christmases past, but with a modern twist. Of course the holidays wouldn't be the same without the lights so we will finish off by sharing more of our favourite ways to literally make the season bright.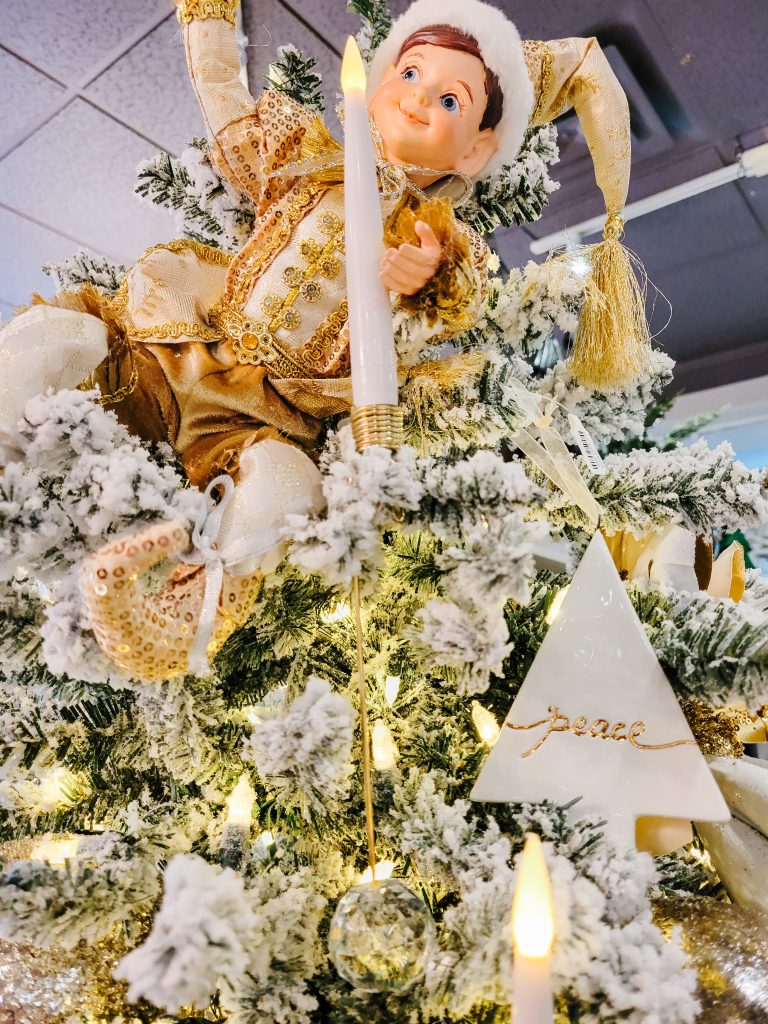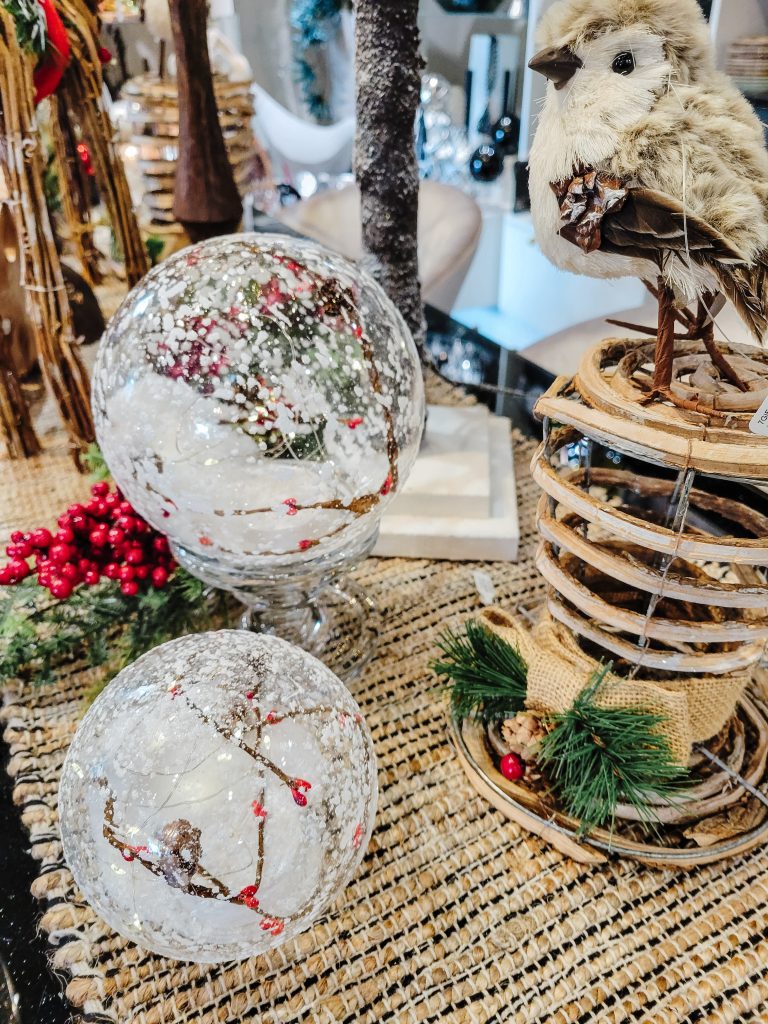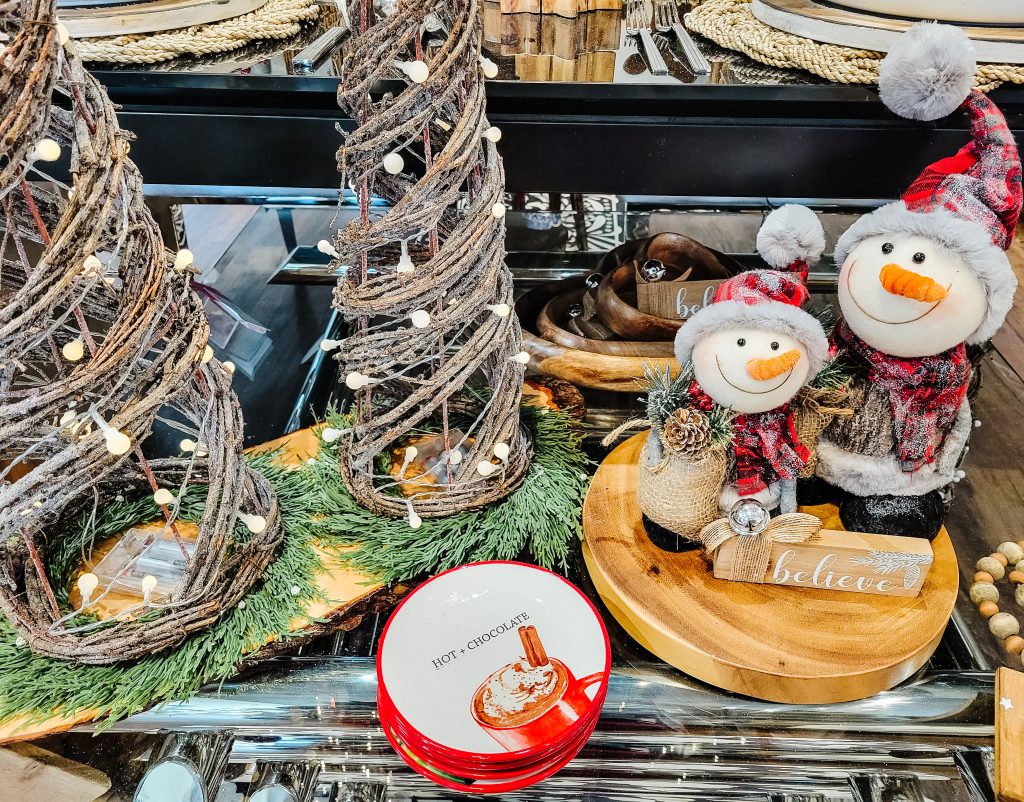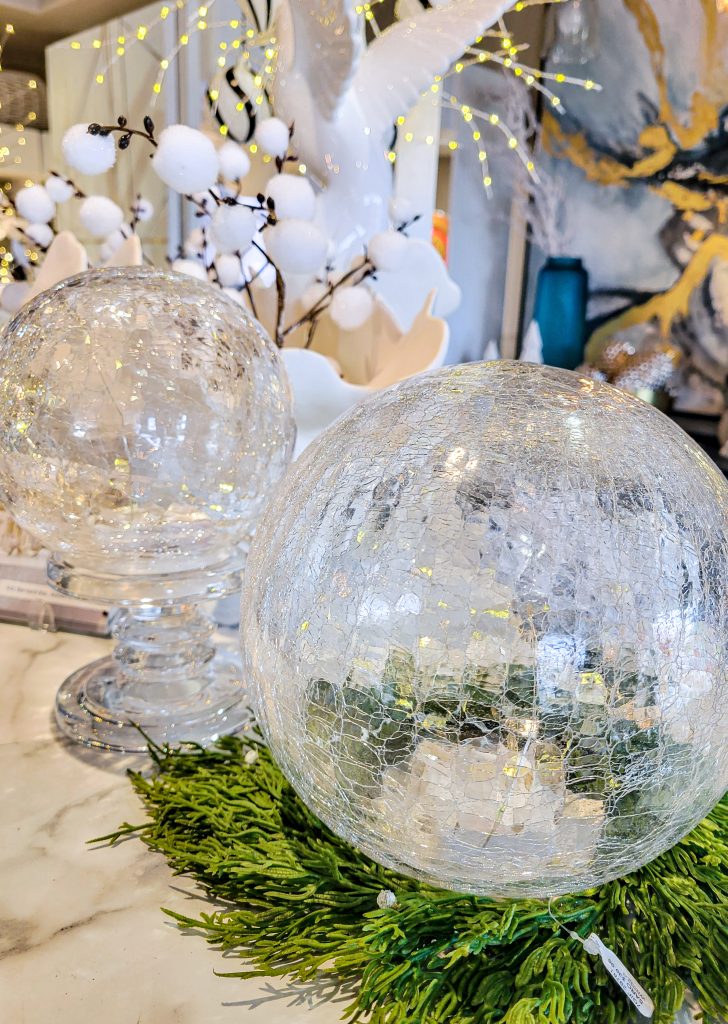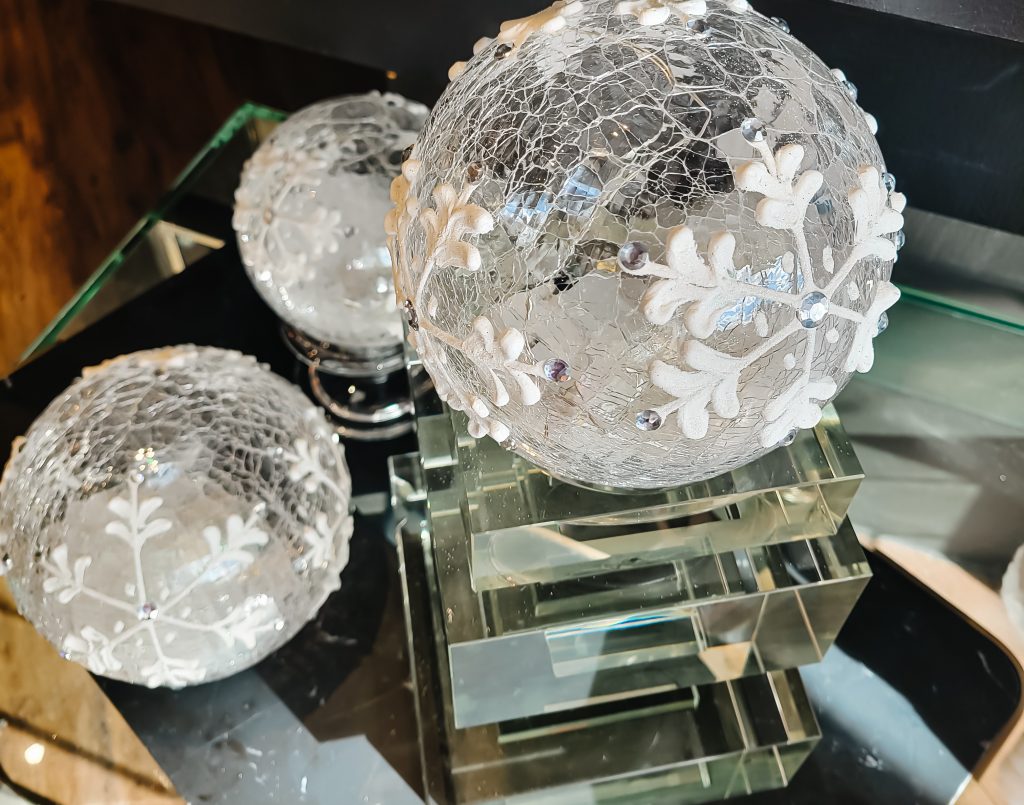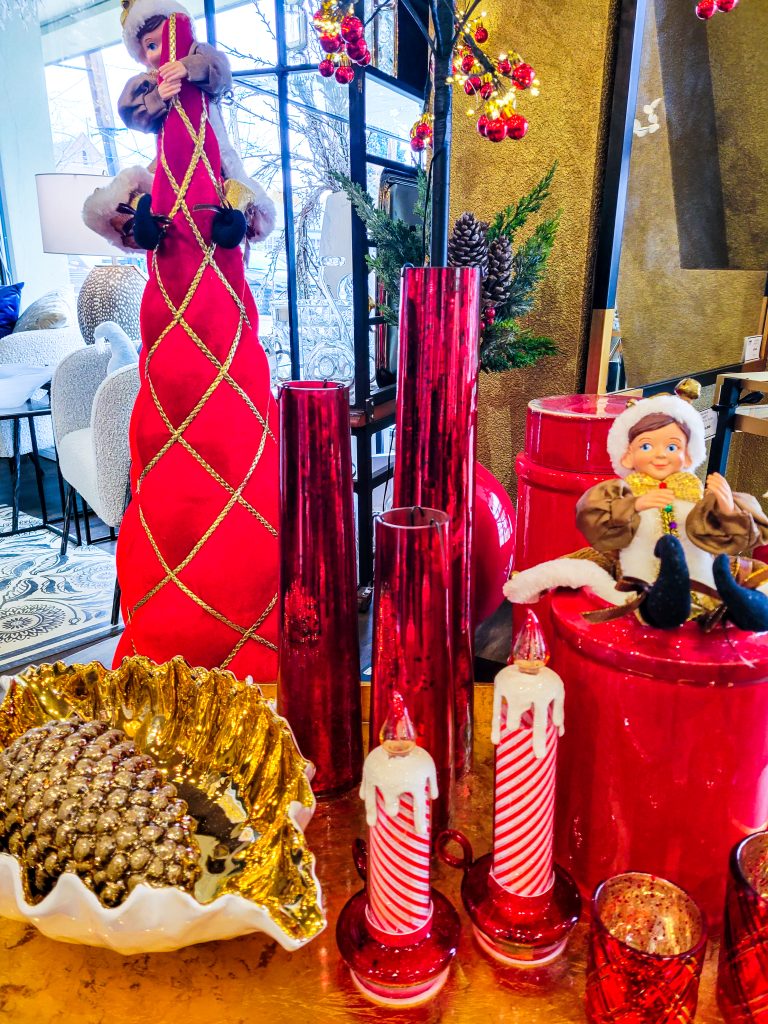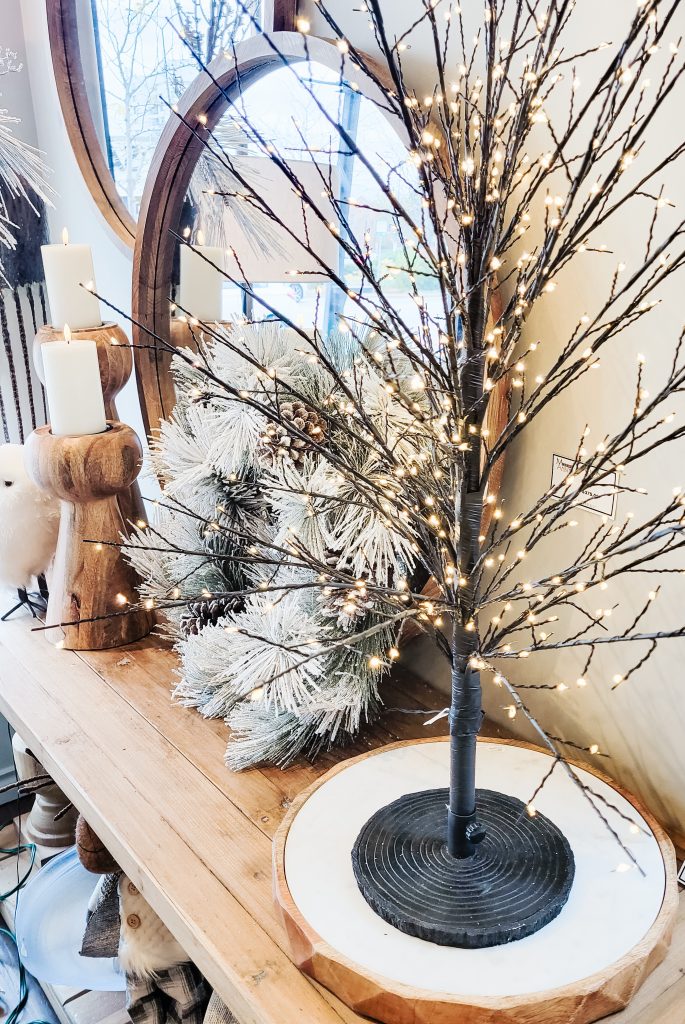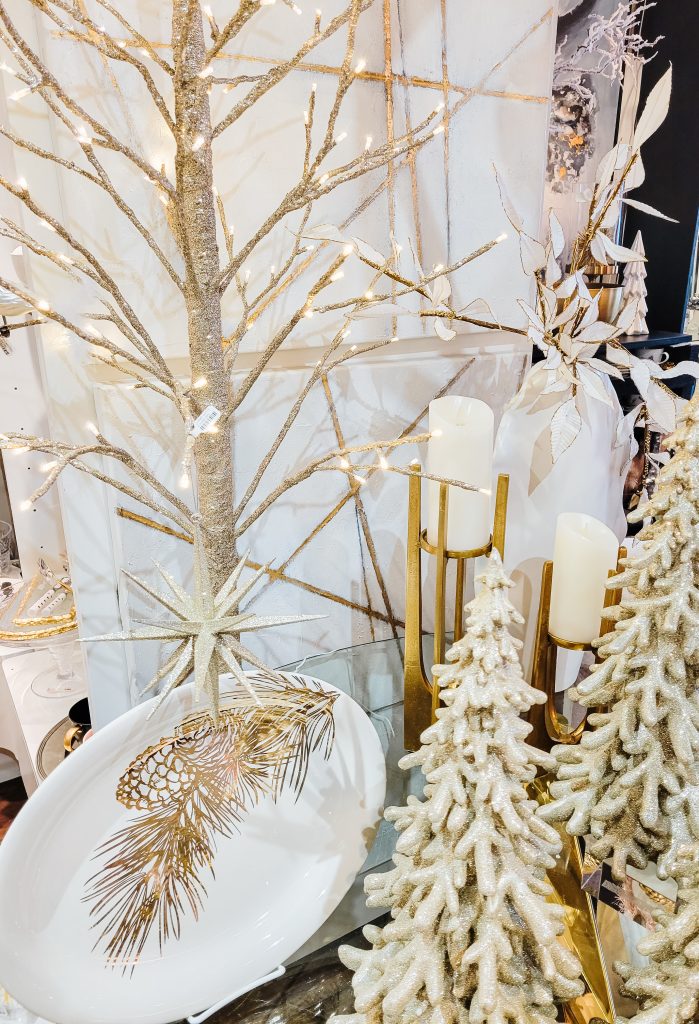 We look forward to being part of making your holiday season special and beautiful. We have only shown a few highlights of what we have in store, and there will be more items on the way, so please do stop by and follow along on our social media feeds.