Harvest Settings
Let's enjoy the Okanagan harvest! If you call the Okanagan home or even just love to visit here you probably already appreciate all the fresh produce and amazing dishes that can be prepared with it at this time of year. Are you picturing the delicious spread? What does the tablescape look like? We love to celebrate the presentation of food as much as the food itself and we are sharing some of our favourite dinnerware collections and sharing some inspiration on how to use chargers, placemats and table linens to take your fall menu to the next level.
A Taste of Italy
The Tuscan collection from Arte Italica is classic and can transition from traditional to contemporary, and from casual to formal.  This handmade Italian dinnerware, combines white ceramic with a signature pewter trim. We imagine this collection on a beautiful harvest table in a vineyard, but even it you don't have a vineyard at your disposal you can always recreate a similar ambiance at home, or use punches of bright colour, like we have done below, to hold on a little longer to the summer sun.
Don't forget the chargers when you are setting your spread. They are that little extra bit of pizzazz and elegance that will make your tablesetting fabulous. The ones you select can actually set the theme and feel of your overall table style. Here we have used a charger from the same Tuscan collection as the plates and bowl, but also keep in mind that you could layer it with dinnerware you already have. It's all about creating an interesting layered look. If you are a practical thinker chargers are also a win. Using them will add an extra layer of protection from spills for your favourite tablecovers and placemats.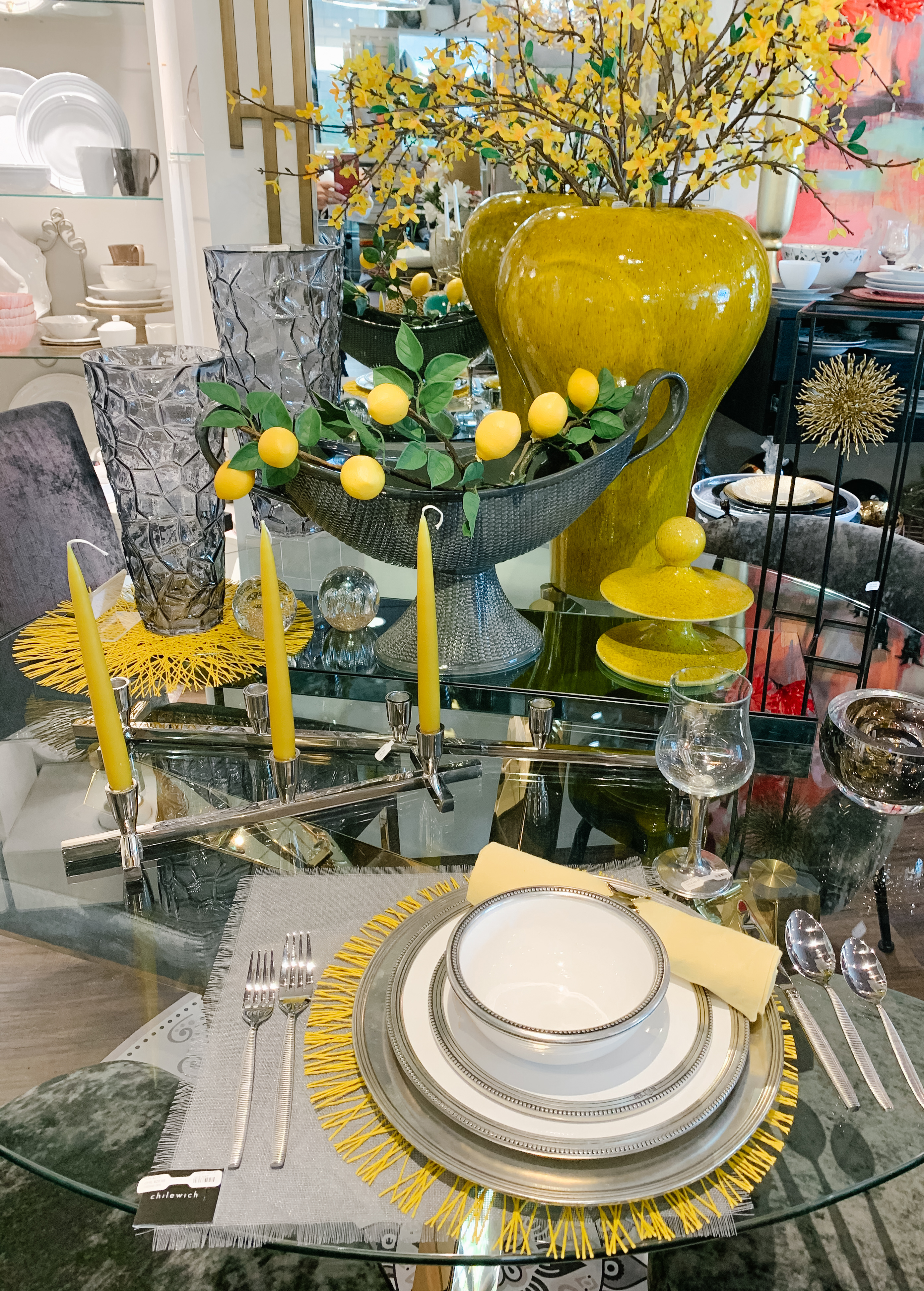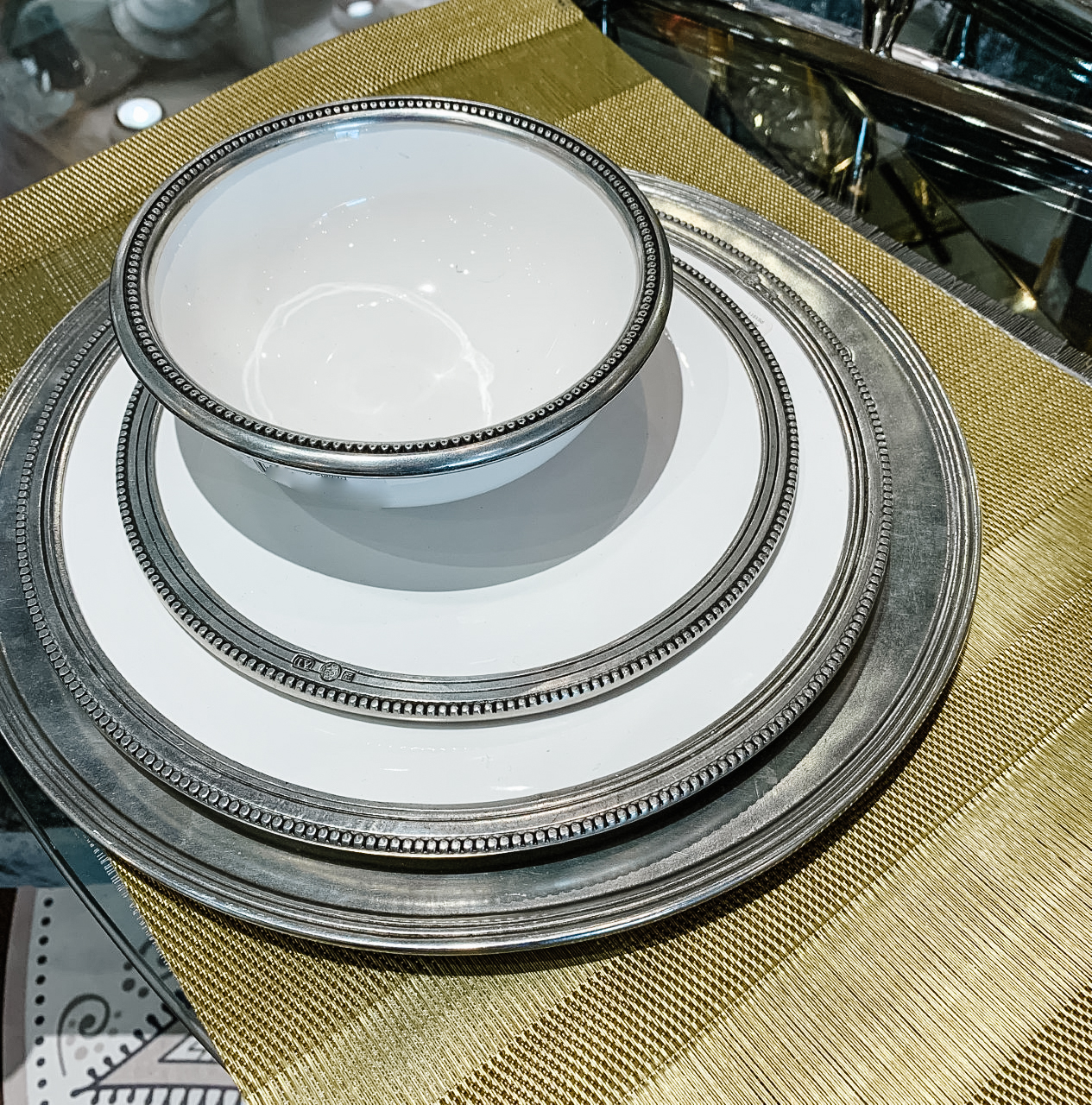 Serving up Personality
This is where your table gets personality and you can have fun expressing your own unique flair for design. We showed you above how you can use layers all from the same collection, but here below we have played with different pieces from varying dinnerware and charger collections. Consider contrasting both tone and texture and no, you don't have to  use just one placemat per setting. Overlaying one placemat over another can create a stunning effect. Even try pulling together opposites like traditional pieces with modern ones, shiny surfaces and ones that are more matte.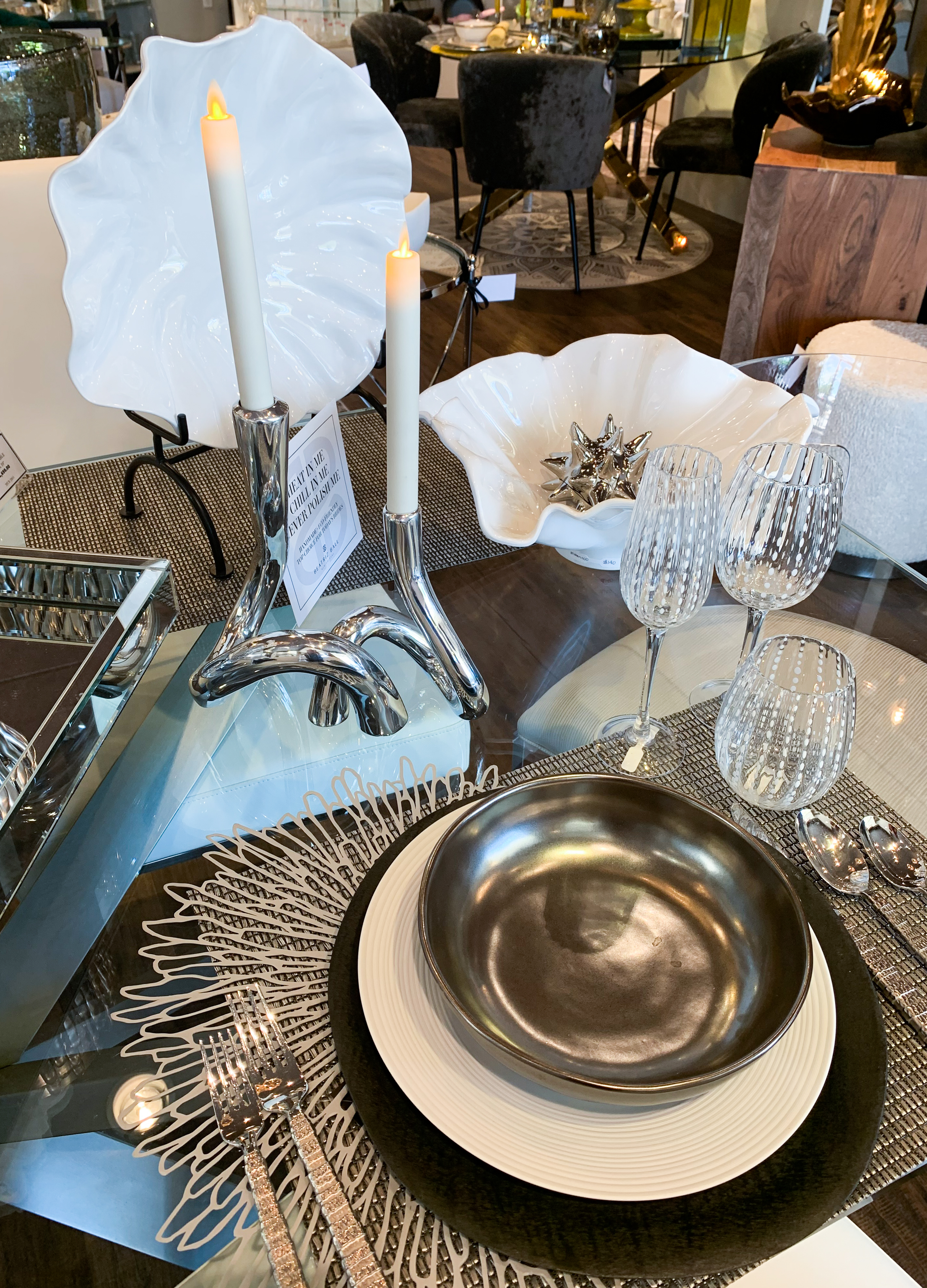 The same placemat setting appears quite different when we switch up the dinnerware pieces and charger below.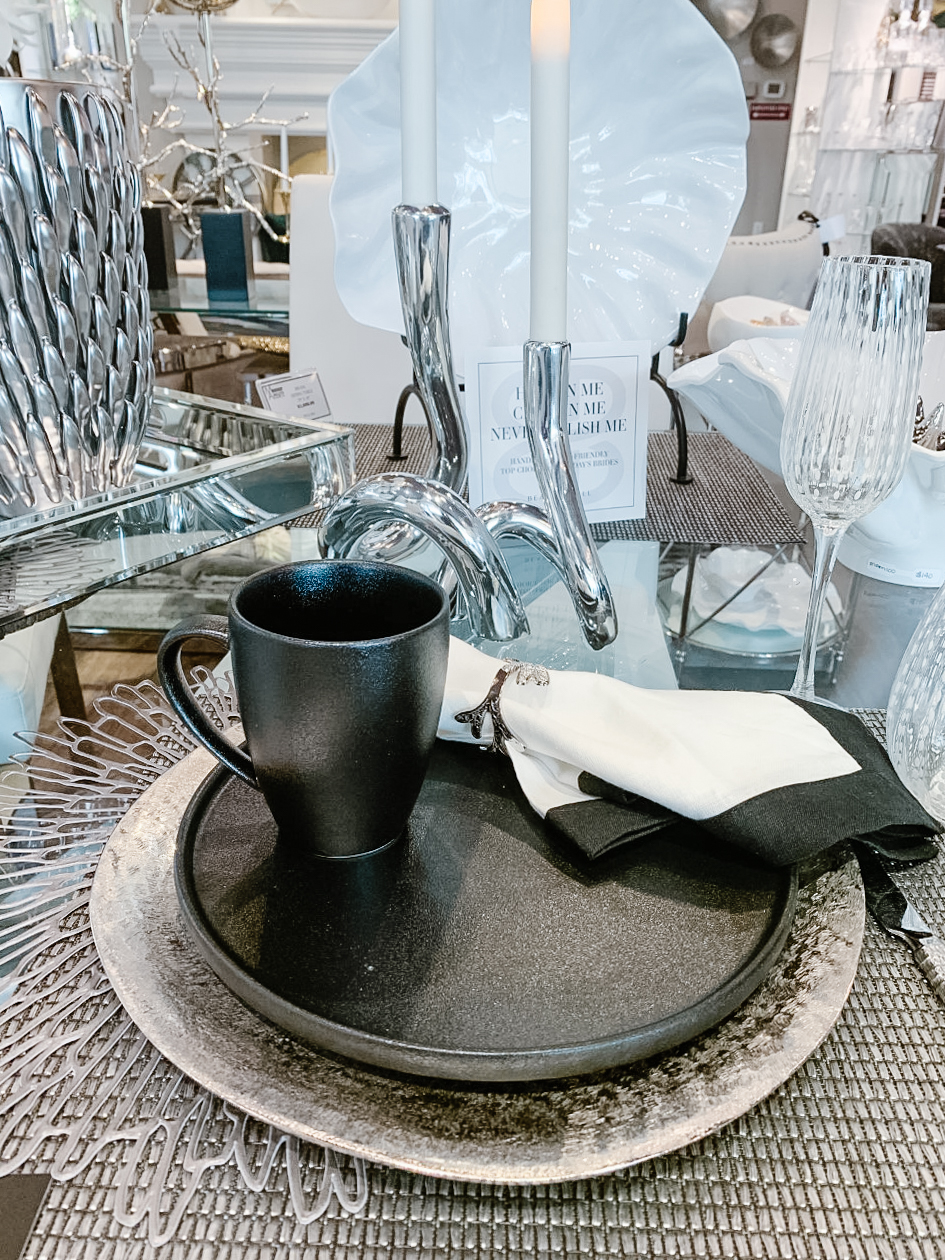 These chargers are some of our favourites available in charcoal, silver and gold. They work well with so many different types of dinnerware. In a sense they can be dressed up or dressed down. They glimmer and their non-perfect shape and texture could  be the little bit of unique that your tablescape needs.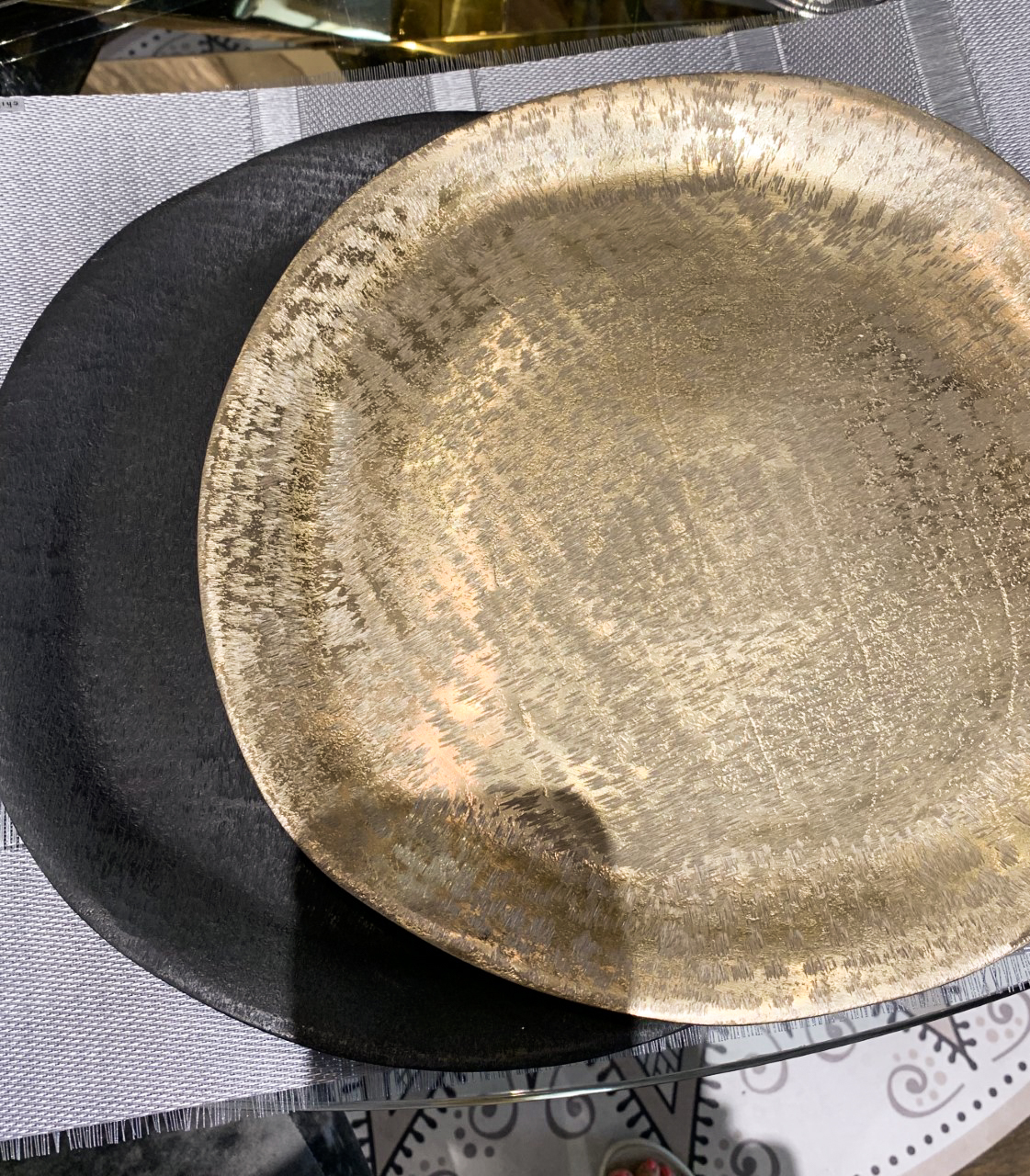 From the Earth
We are celebrating the food grown from the earth so why not display your food creations on earth tones? Aptly named Earth Glass, this dinnerware collection from Vietri, really does capture the essence of the minerals of the earth. Metals added to spinning glass results in a beautiful molten effect making each piece one-of-a-kind and yes there is even a charger. The white Lastra dinner plate also from Vietri brings light to this setting, something definitely worth considering when you are layering glass pieces.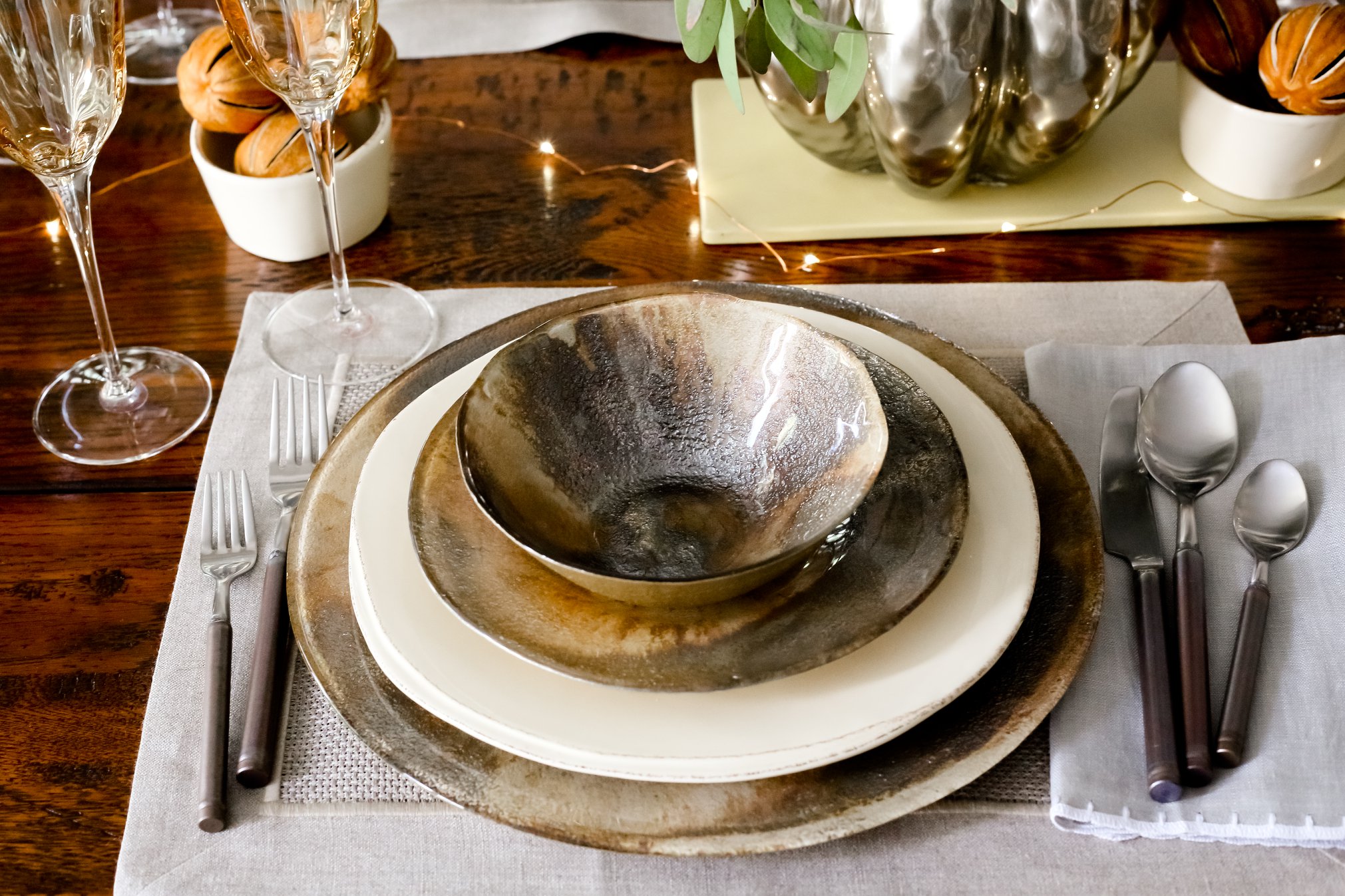 Photo credit: Vietri
Notice how we have used the Earth Glass pieces this time with alternating muted sliver/grey and gold layers. The dinner plate and salad plate, this time, are from the Cast Iron collection designed by Michael Aram. Its tactile nature compliments the Vietri pieces so well. We also would be remiss if we didn't mention the beautiful placemats as well. Again we used more than one, a rectangular gold one from Chilewich as the base and then this gorgeous silver woven matt as an added bit of texture on top of that.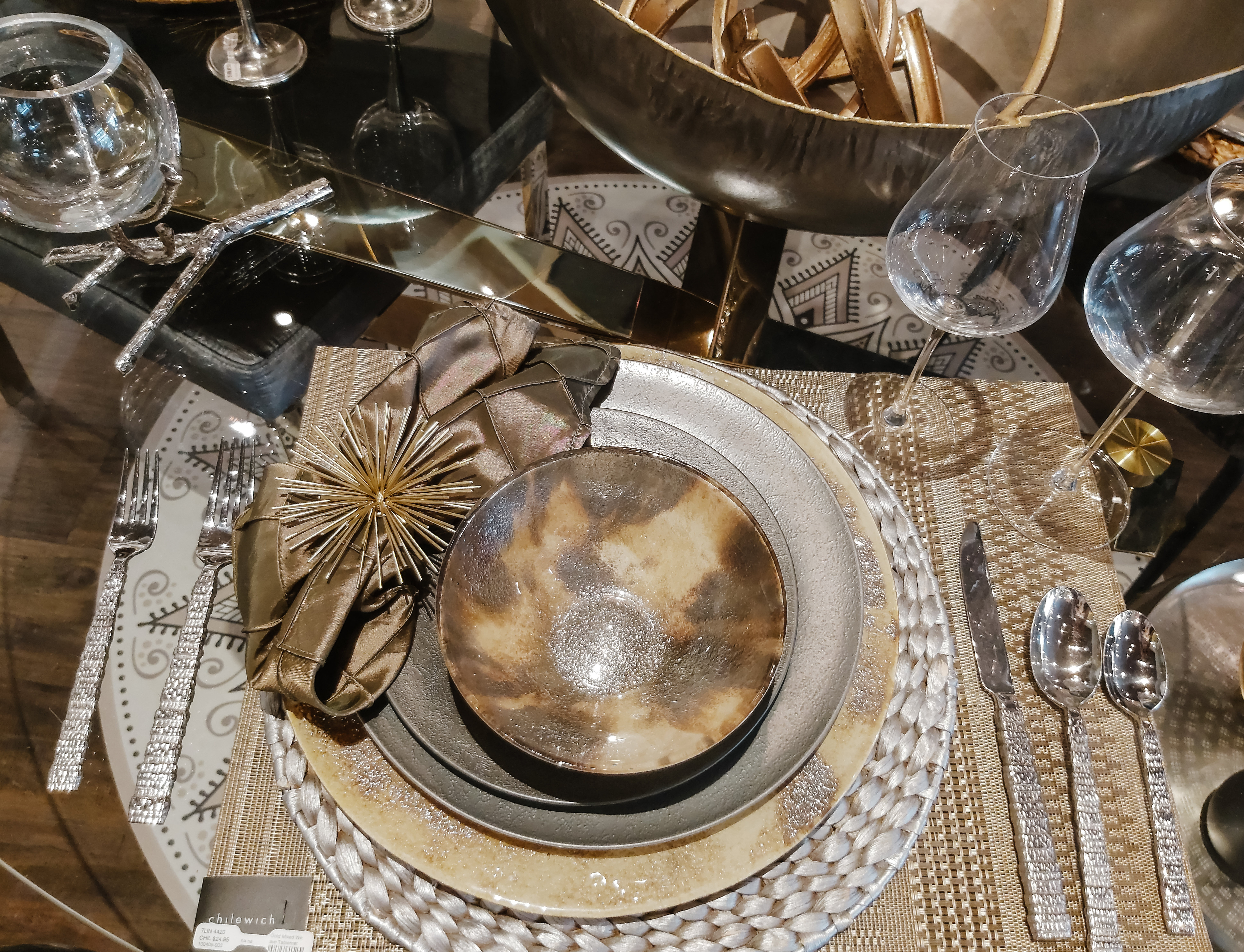 Speaking of earth tones we couldn't resist including pieces from the Lagoa Collection of Cost Nova below. Perfectly imperfect in shape and naturally tactile, this collection pairs elements of artisanal feel with modern finishes. If you are a foodie or chef, I think you will agree, that they make the perfect blank canvas for food styling. Also because of their simplicity and neutral tones you can be creative in selecting other tabletop pieces with standout texture and colour. Pops of orange for fall perhaps? And how about these wooden trays that do double duty as a charger and serving tray.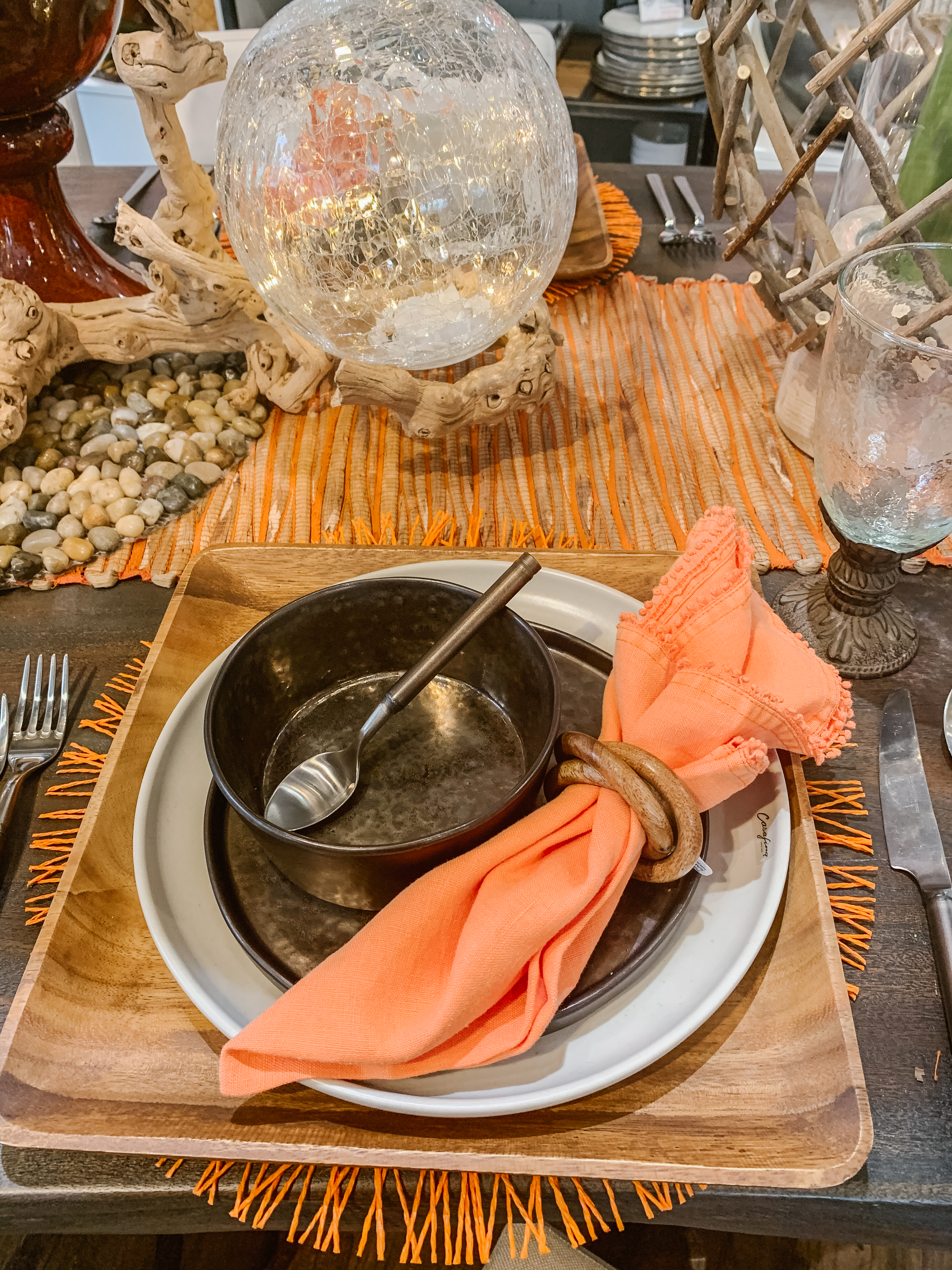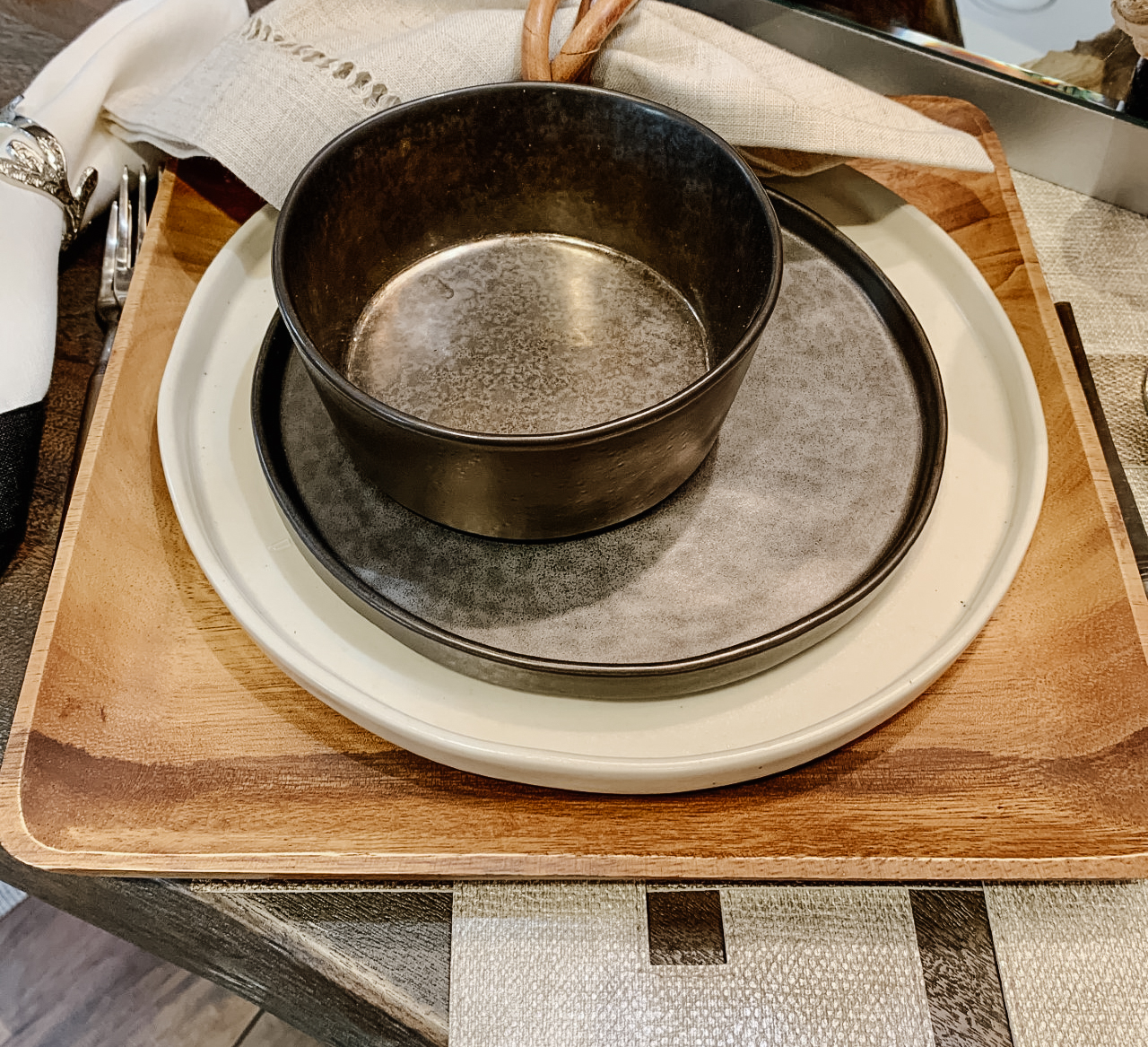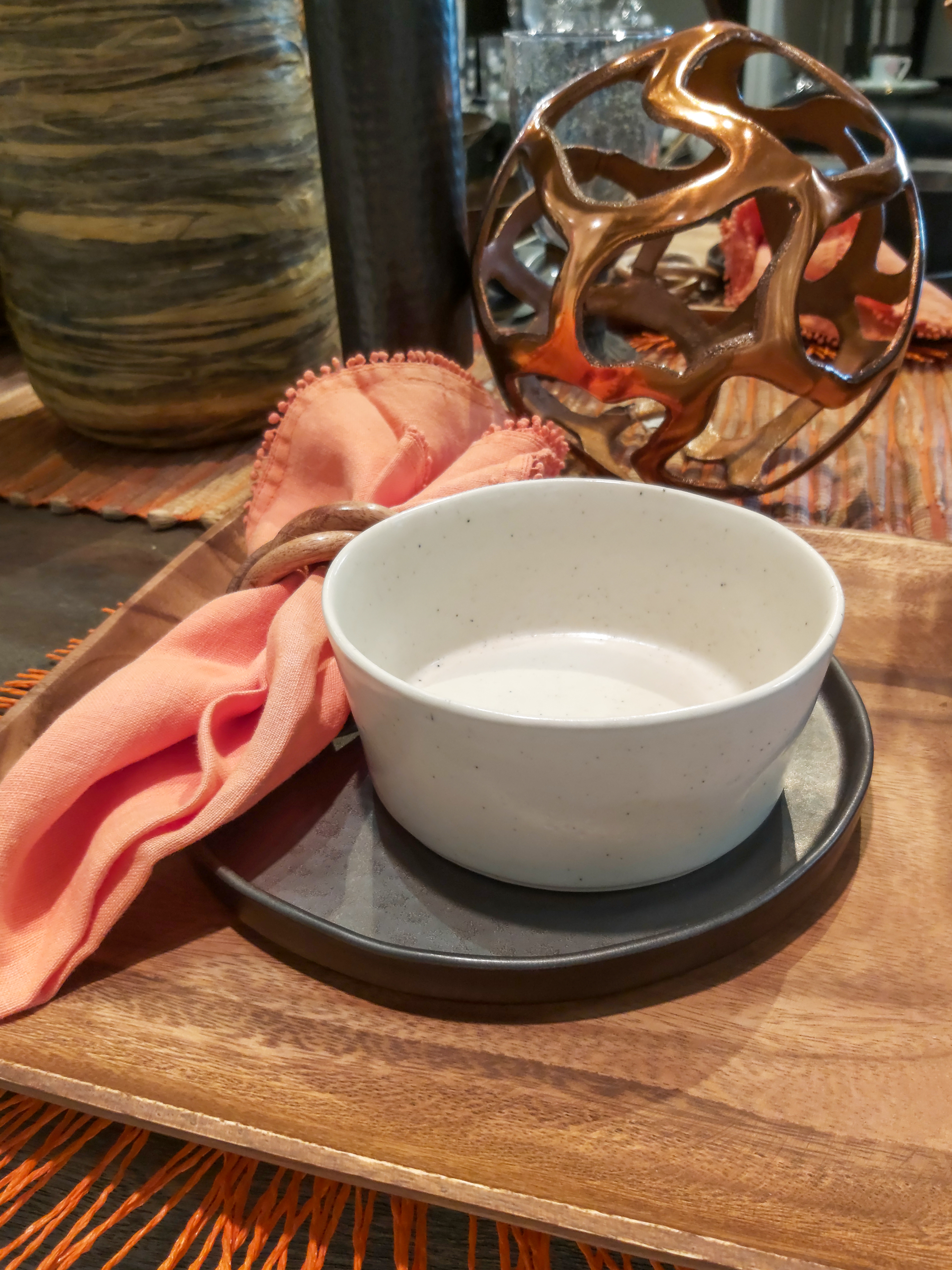 Glitz and Glamour
Gatherings may have to remain a little smaller this fall, but they can still be glamourous and these settings gilded in gold are luxurious. You will feel like you are at a 5 star restaurant at home. Oh maybe home is your favourite 5 star place to eat, if there is a cook in your midst, and if not even take out will look amazing on these place settings. The key here is to enjoy your tableware, no matter the occasion.
Pictured here are some more Vietri pieces and the unexpected wins again. The pairing of the Two-Tone Glass contemporary pieces with the more ornately designed Incanto white dinnerware is stunning.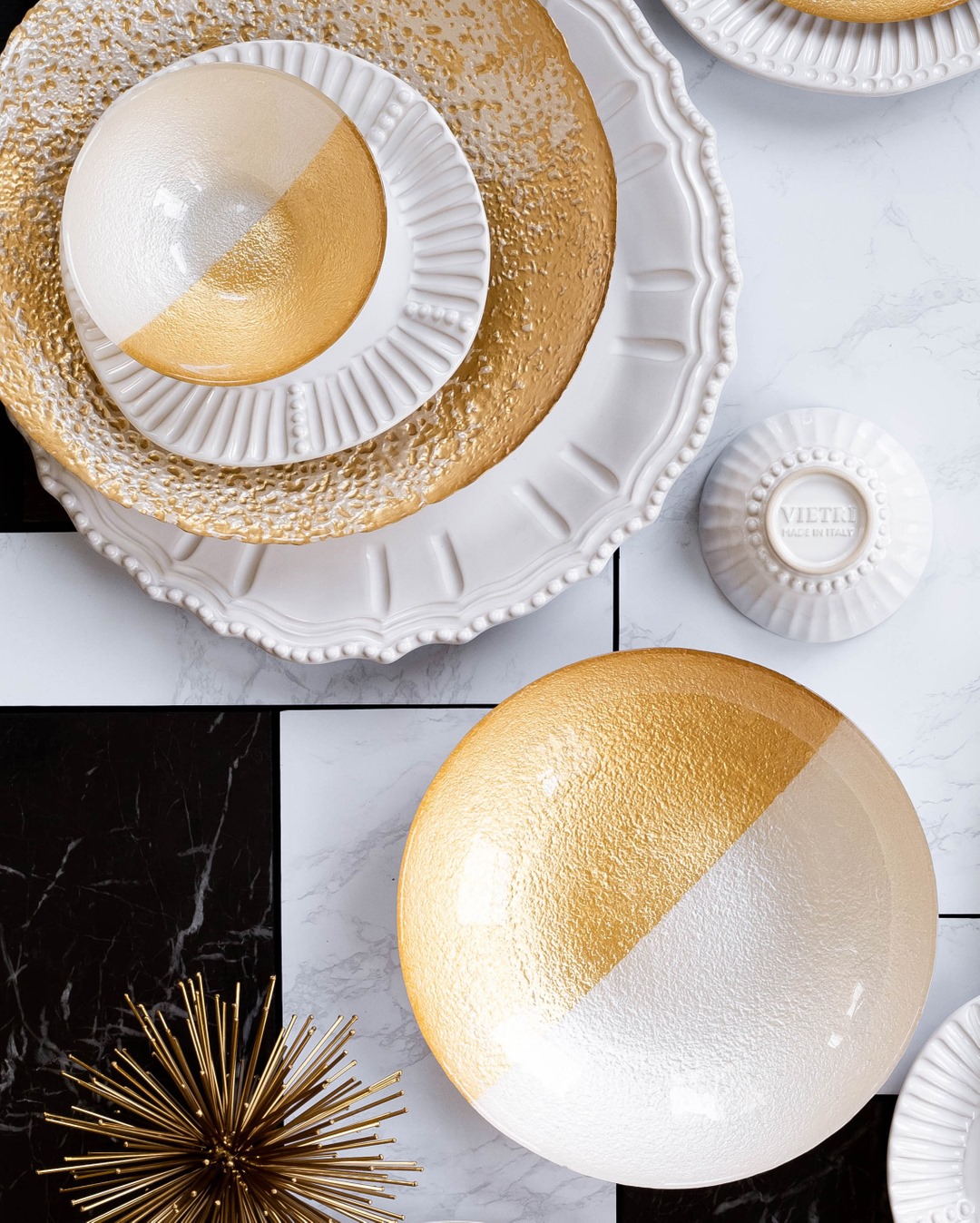 Photo credit: Vietri
This time note all the table bling. From the layered gold placemats to the flatware, charger, salad/desert plate, napkin and napkin ring, and glass with gold embellishment. Every detail counts. Also note that the base layer this time is a square rather then the traditional rectangular placemat you might expect. This is just one of the details that gives this a little modern edge.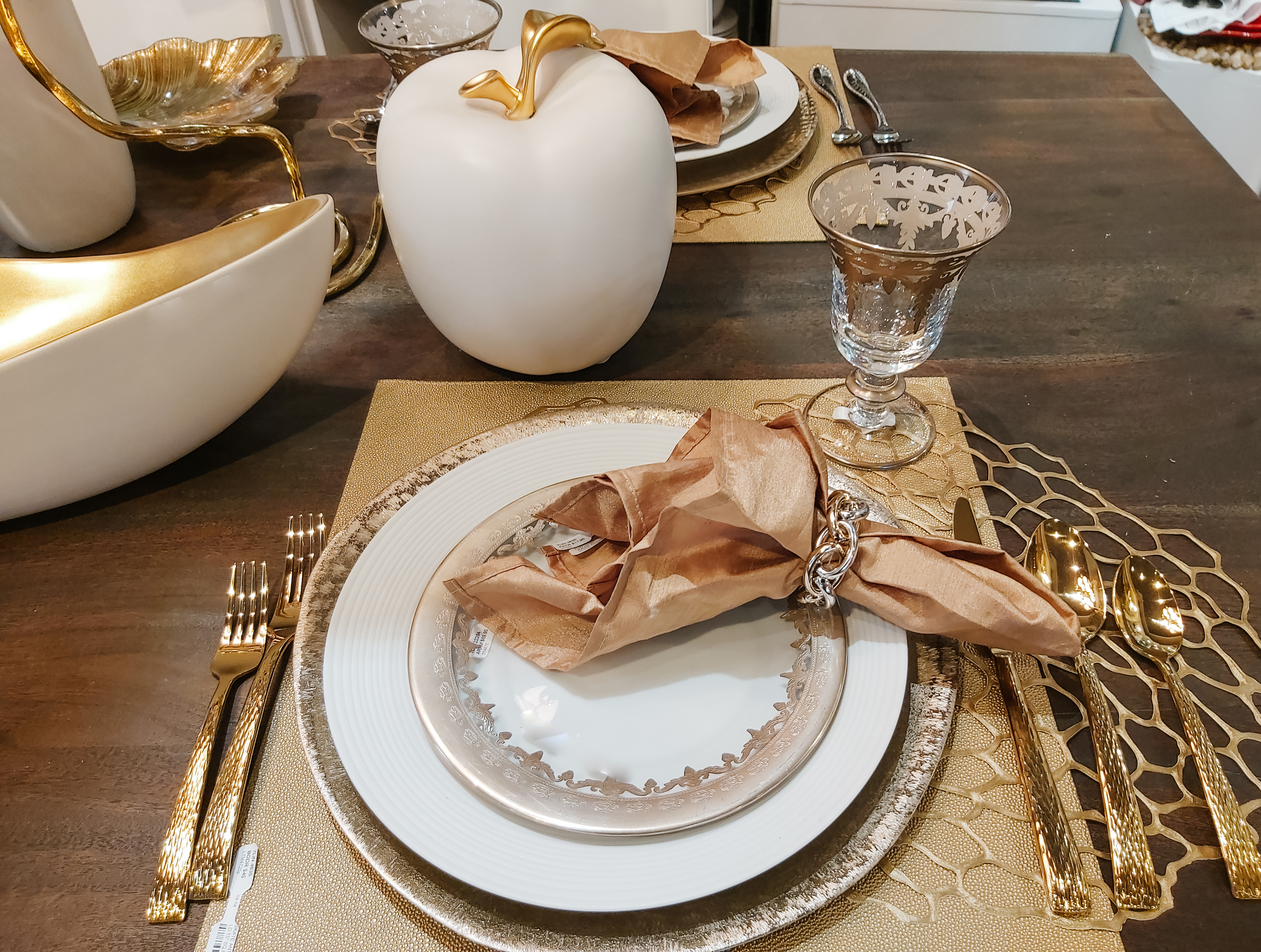 Now that you have been inspired with ways to layer your individual place settings, there is even more fun to be had in adding the rest of your tabletop decor and serving pieces. We can help with that too!