Vignettes to Inspire Your New Look
Are you ready for a new look? Whether you are moving into a new place or hoping to refresh your current one, Modern Accents has a ton of inspiration within our store. Our passion goes beyond just having all the home decor and furnishings available for you to choose from within our doors. We love pulling all the pieces together to create inspiring vignettes. We get that sometimes it is hard to visualize how pieces might work together so we are constantly trying new things and new combinations in the store to show you the possibilities. Here are some of the latest looks.
Got the Blues
These blues are the ones you will want to stick around and frankly the soothing watery blues in this vignette will have you feeling zen and wanting to sit down and stay awhile. The soft velvet accents chairs with tufted detail and nail trim on the back were the inspiration for the rest of the accents selected for this little sitting area.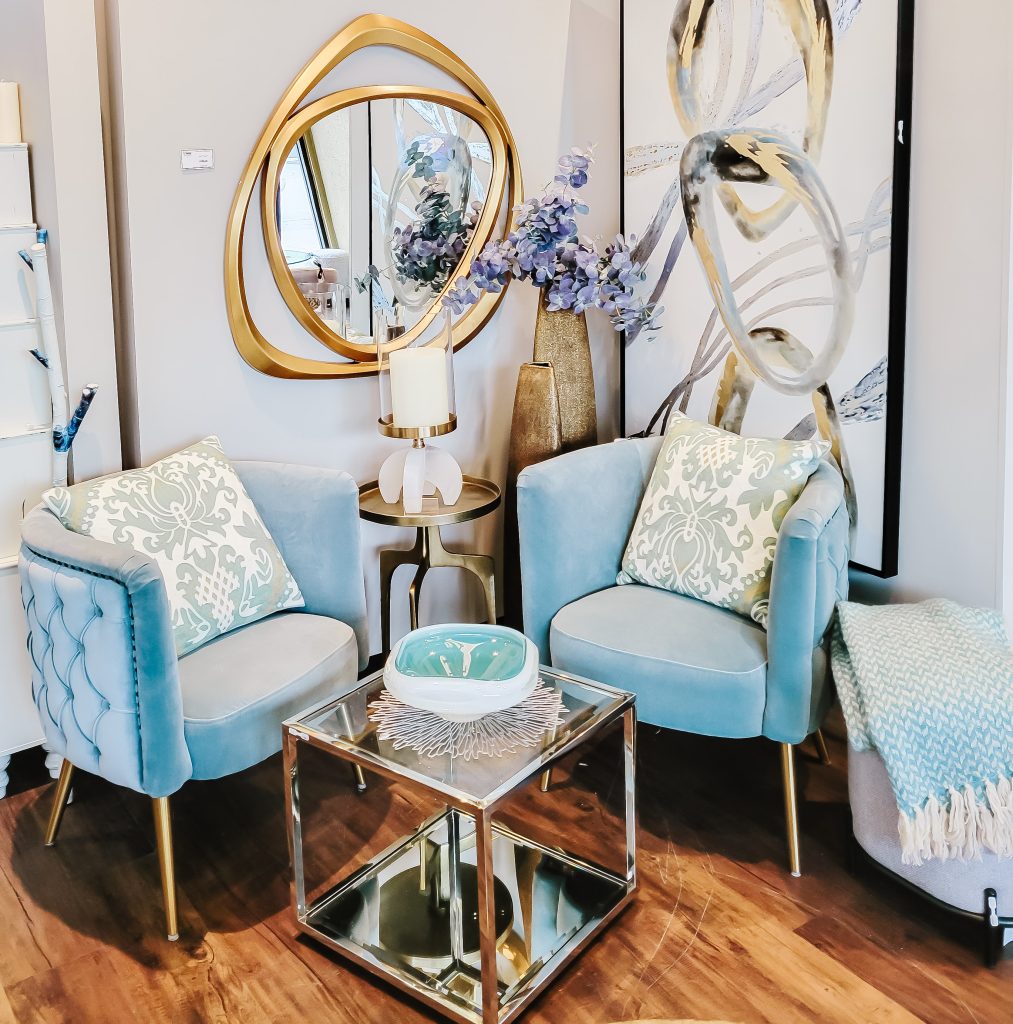 The details:
For those throw pillow addicts out there, here is one more. You can never have too may right? This one works perfectly here to pull the blue from the accent chairs and the gold from the other accents in the space and the design is exquisite.
Pulling everything together as somewhat of a focal point is this gorgeous glass bowl in swirling aqua blues and white and it is anchored interestingly on the glass table below with the simple addition of a silver organically shaped placemat underneath it. Its those little details that make all the difference in finishing a space.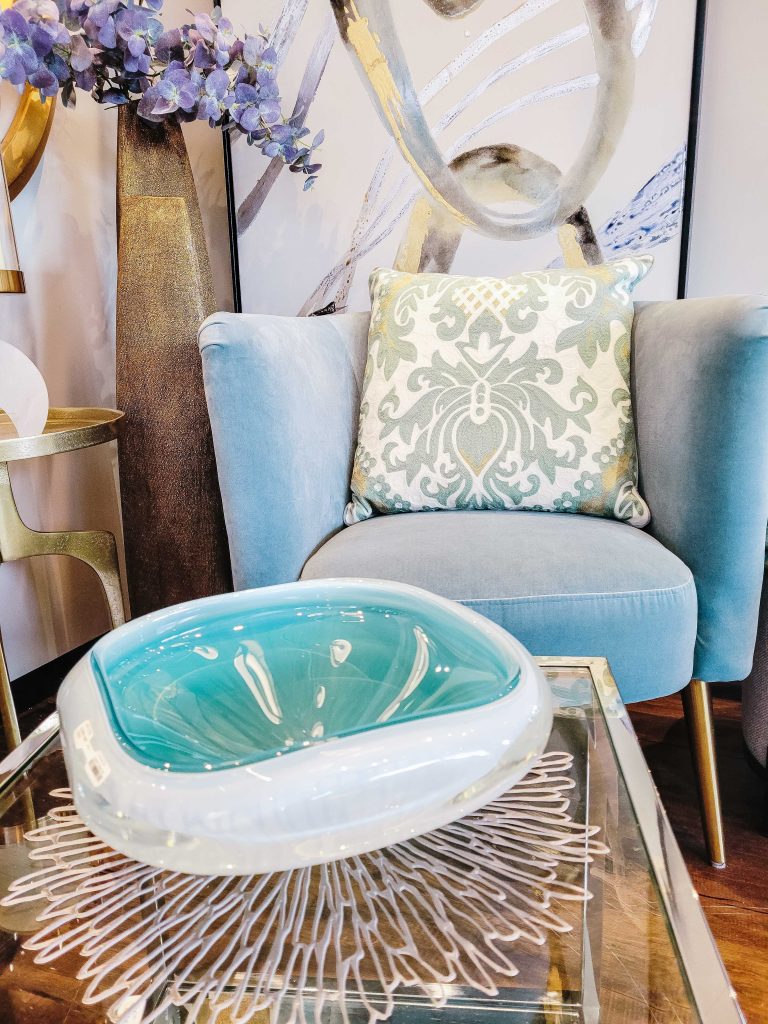 We have used gold and white accents and even a few touches of silver to give the space a little glitz and glamour. We also love the play of the textured gold floor vases with the more smooth and sleek surfaces of the gold mirror, candleholder, and coffee table. Also note the fun little side table in gold. A nice piece for a small sitting area or other small space or nook.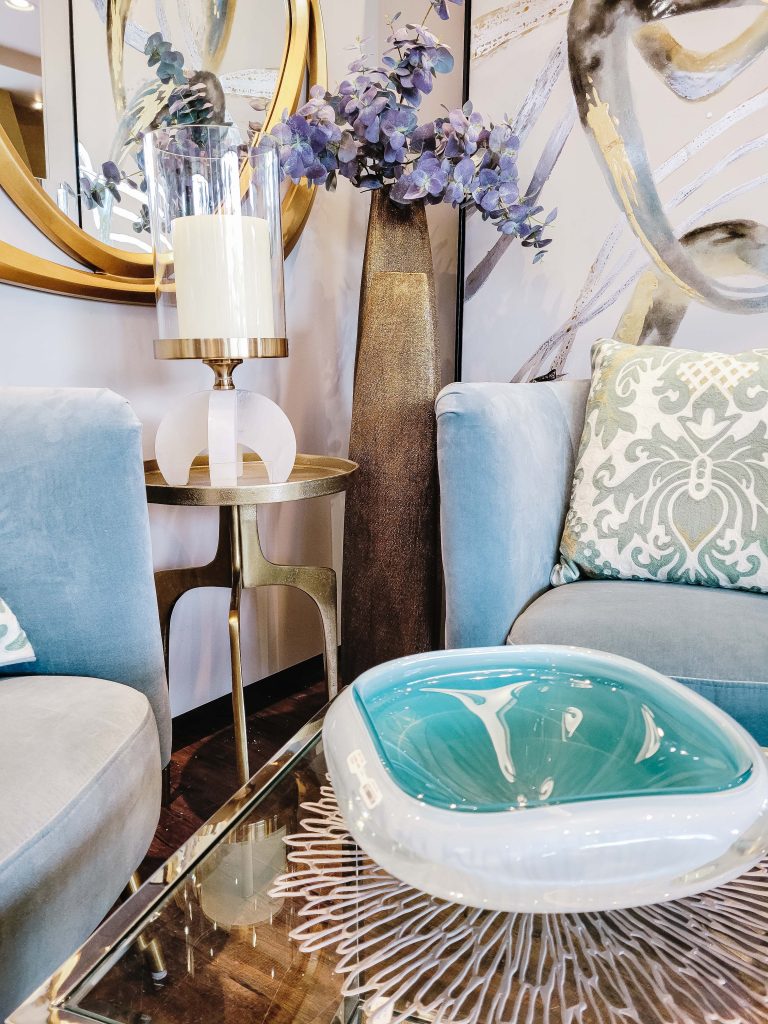 Last but not least is the new arrival modern wall art. The movement and colours tie in perfectly with our other pieces and makes the space come alive. Keep in mind that an art piece like this could actually be the inspiration for your new look, ie the jumping off point for choosing all the other elements for your room.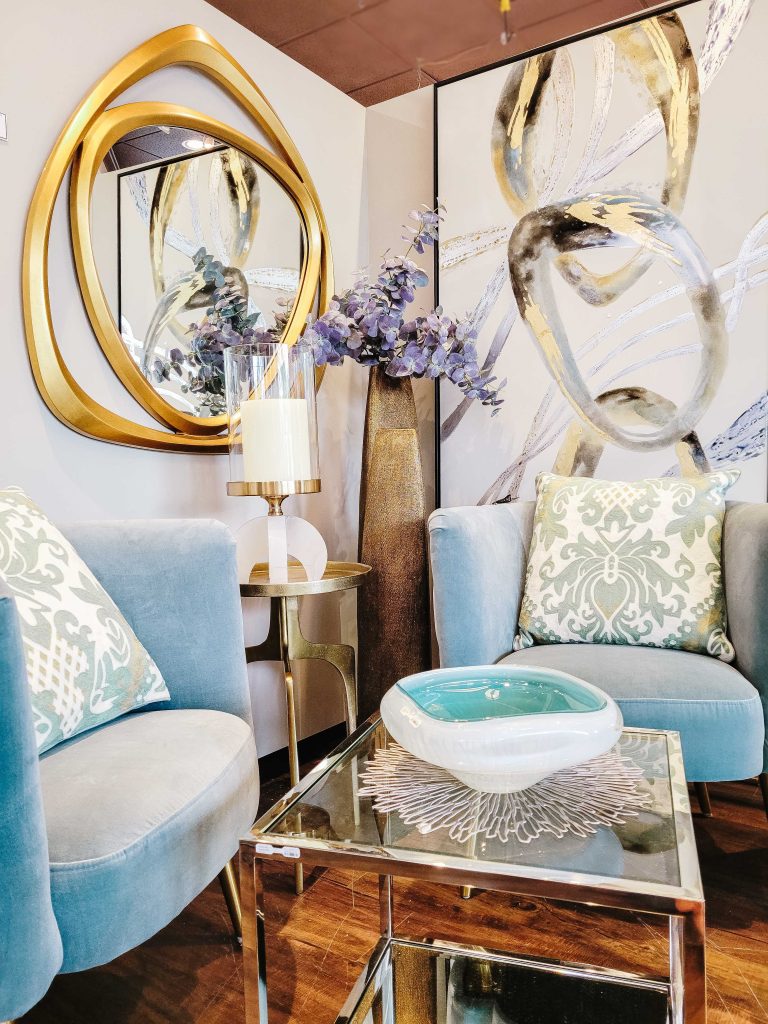 Artistic and Eclectic
This one feels like it has a story to tell. This vignette has an eclectic feel combining interesting geometric patterns with various artistic elements and pops of vibrant colour in the artwork in the background. A collection really of someones' favourite things and isn't that what a living space should be.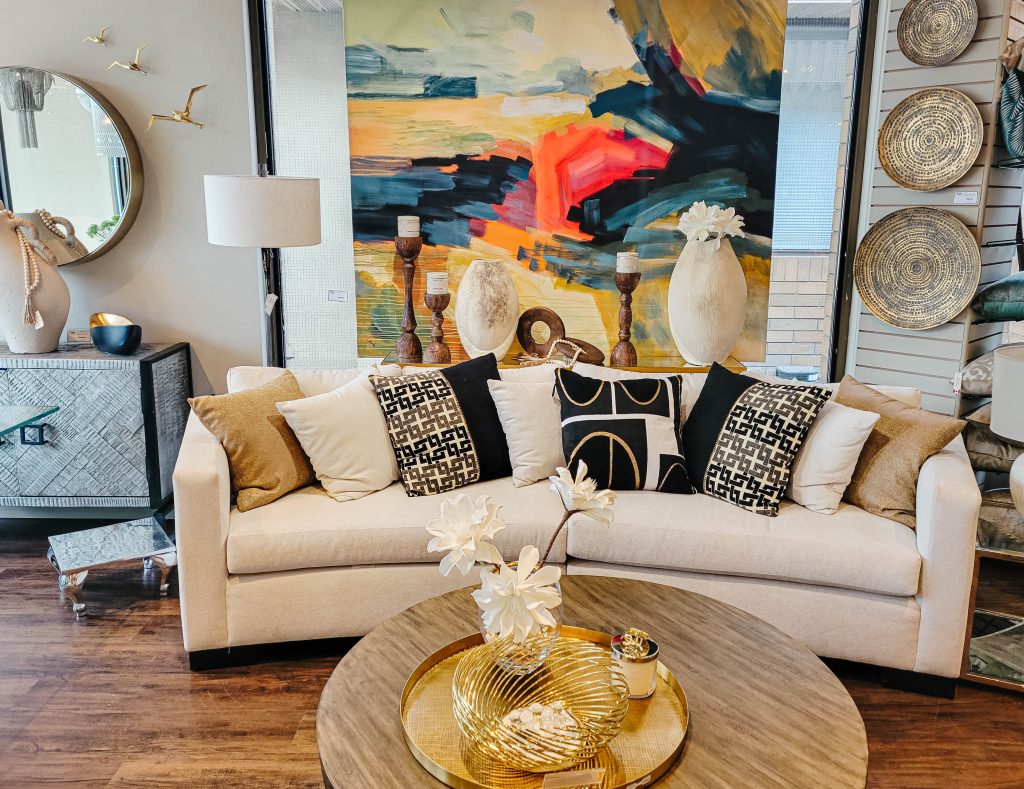 The details:
We have to start with the honorable mention of the curves in this space. One of our favourite furniture pieces in the store right now is this curved sofa and the round drum table is a perfect fit for it. A great way to unify pieces in a space is to repeat similar shapes throughout it and we have done that here by choosing round and curved accents for the tabletop decor, wall decor and even on one of the throw pillows.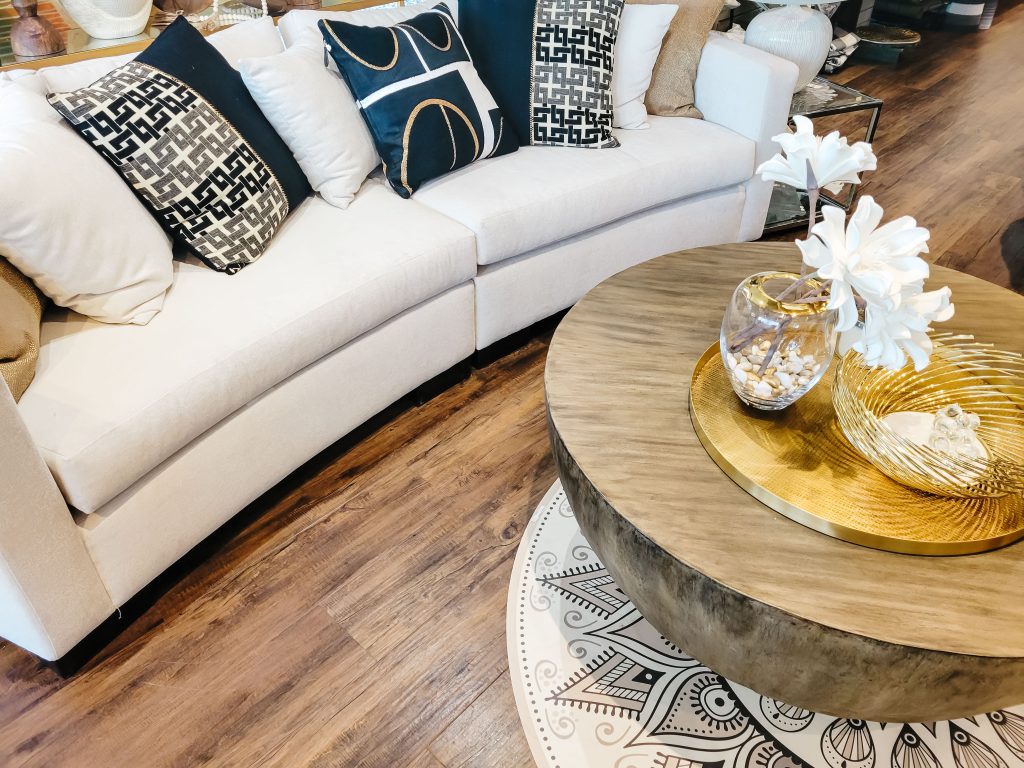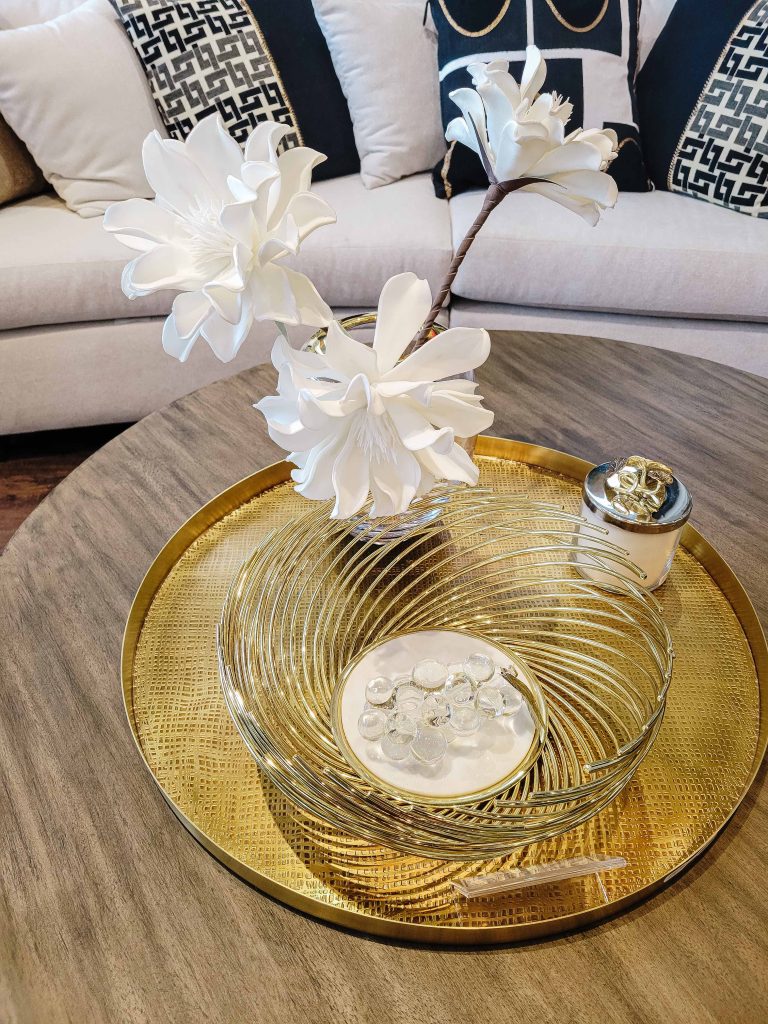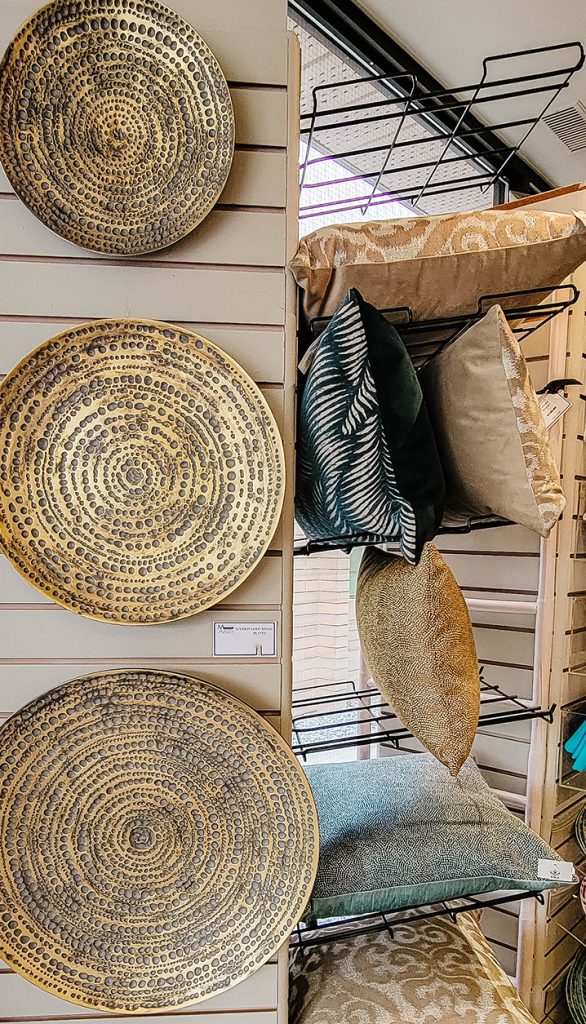 We also have to bring your attention to the patterned vinyl rug on the floor. We design these spaces from the ground up.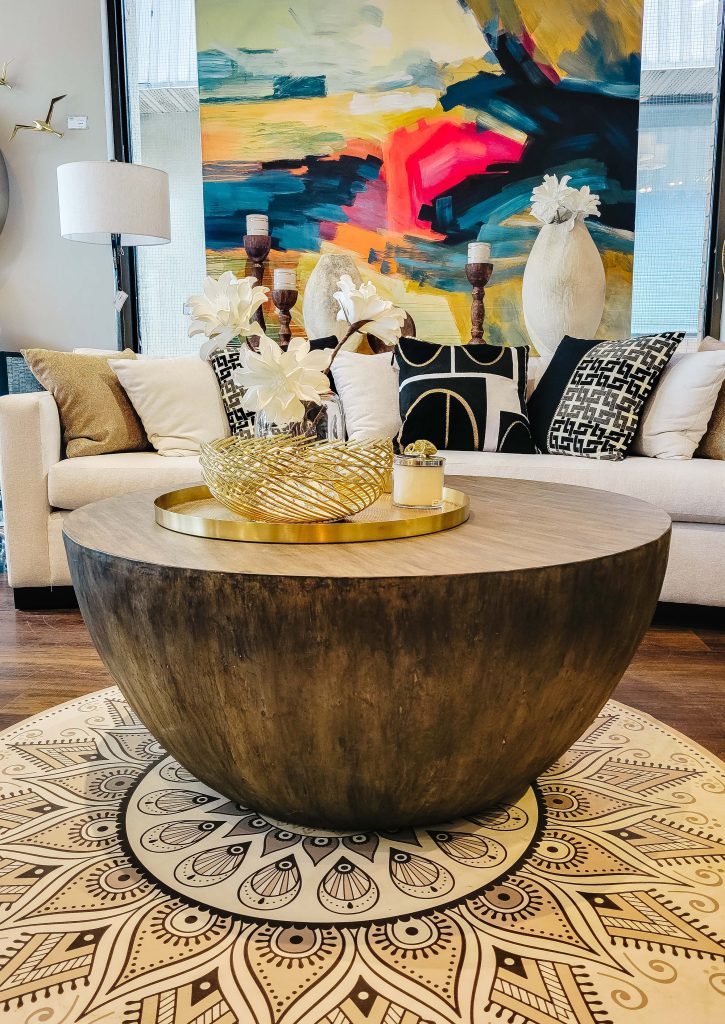 Yep more throw pillows to choose from! The black, white and gold pop on this cream sofa.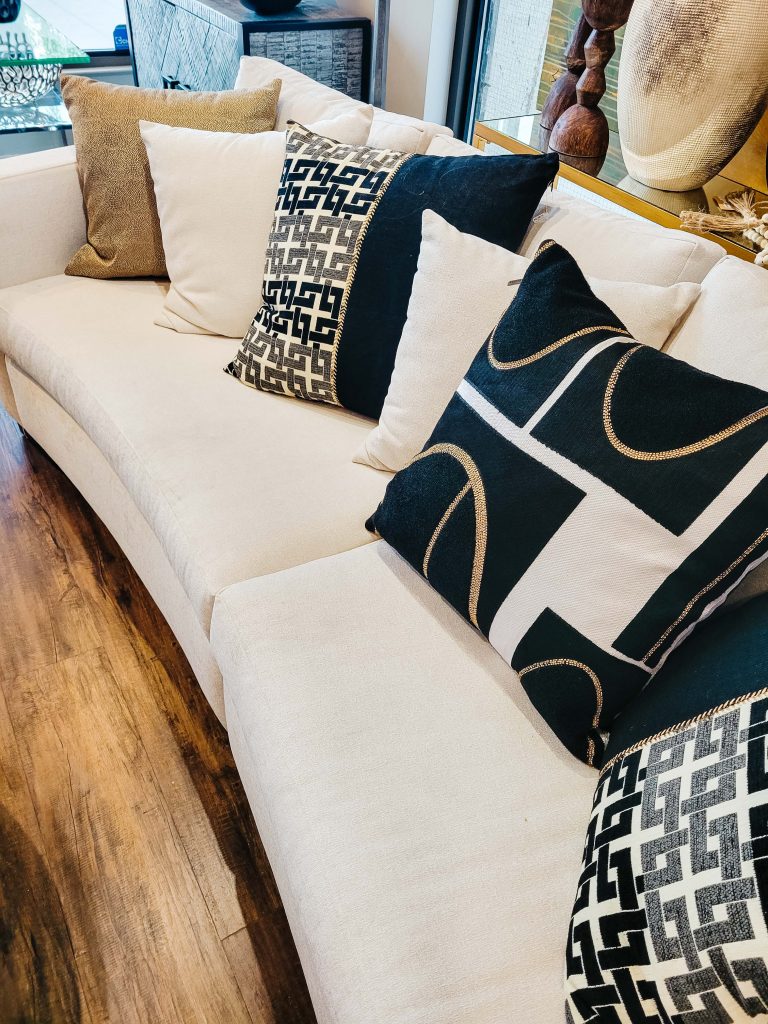 What a way to add some vibrant colour to your room! The brushstrokes of this piece also add some interesting texture to the wall. The table top pieces in the foreground almost become part of the art creating some wonderful dimension to the overall feel of the space.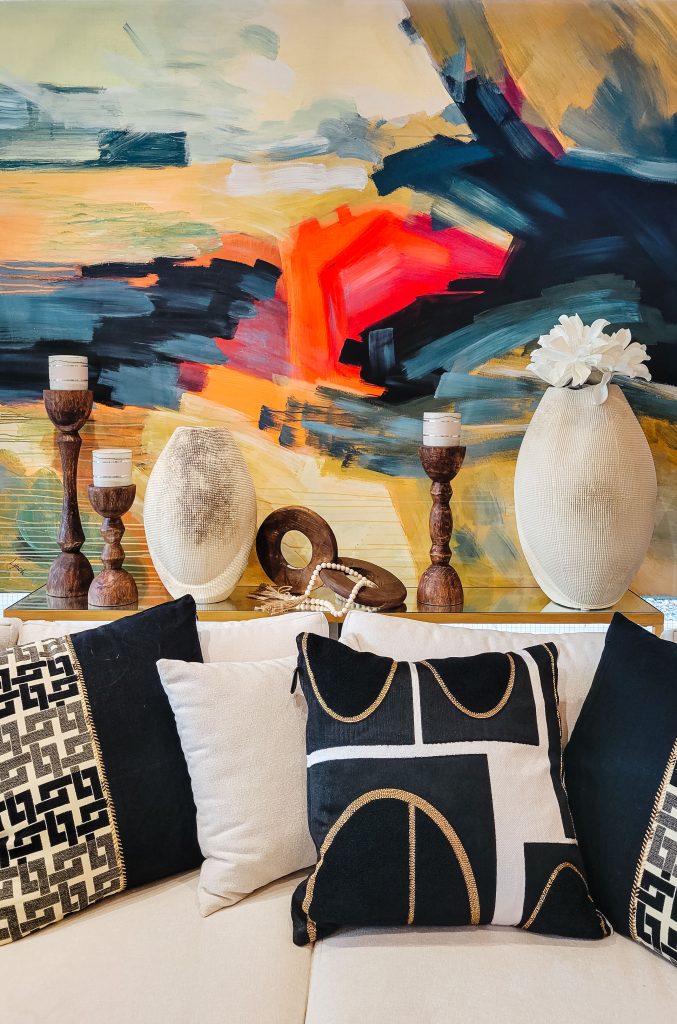 Not Just a Bar Cart
Sometimes it isn't a whole room that you are trying to piece together. It might just be part of a room or in this case a beautiful little setup for a bar area. How nice would this be in a small condo or living area where you you want to set up a glamorous little serving area for cocktails , appetizers or desserts even. The common thread here is gold and translucent services, but we also love how we have thrown a little curve ball to shake things up in the form of the boxwood ball.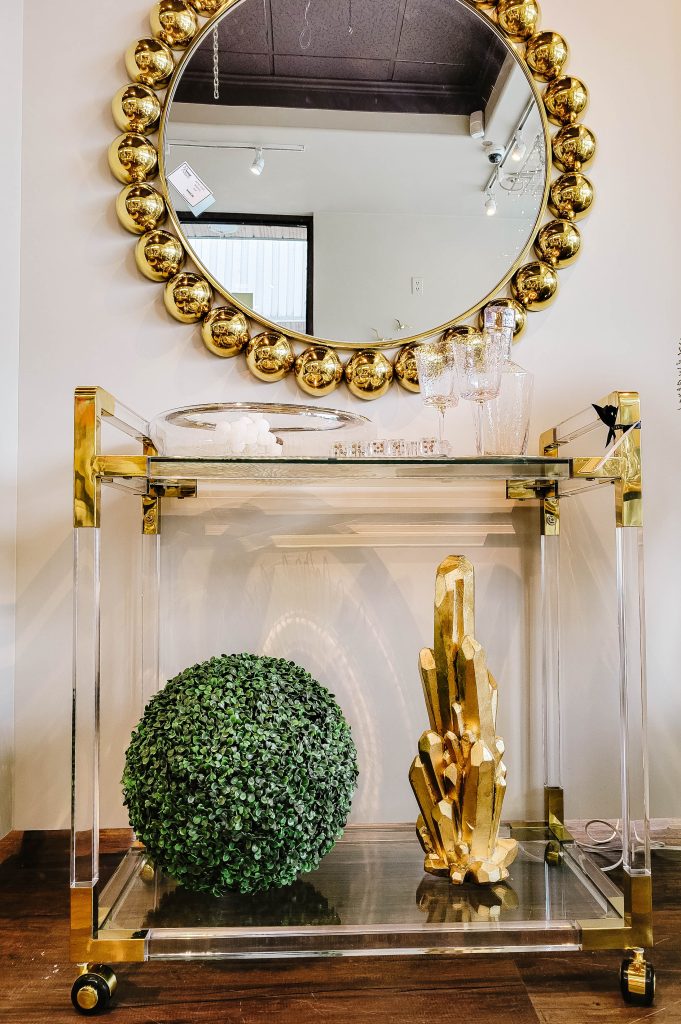 The details:
A little infusion of nature's green softens the look a bit and honestly you just can't go wrong with pops of comforting green in your space.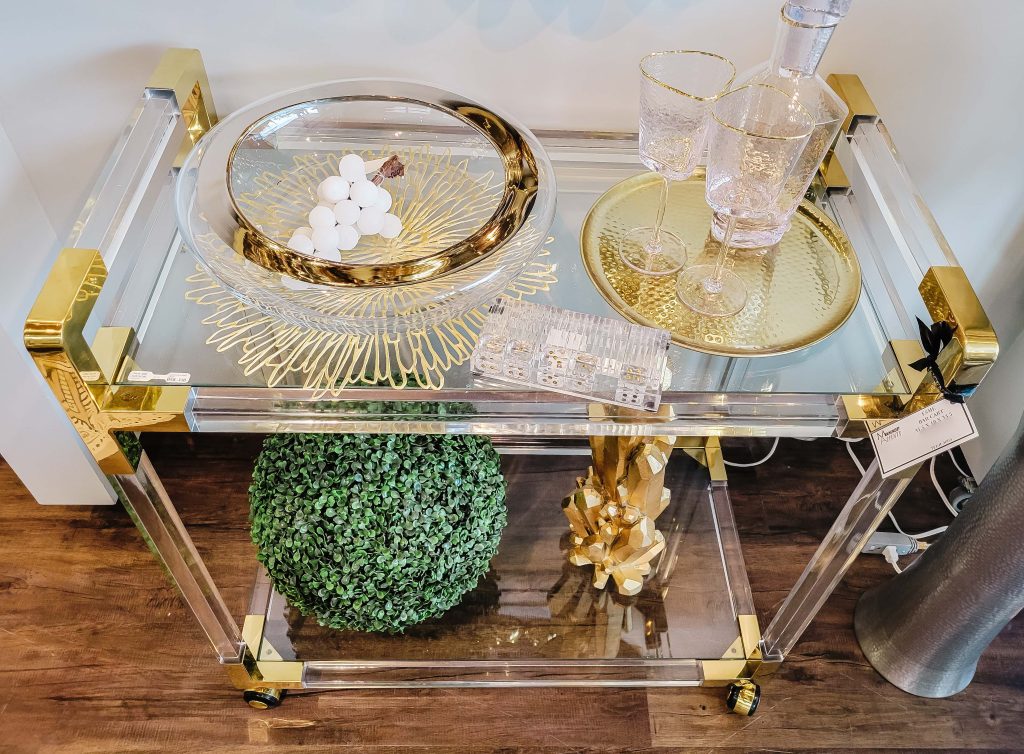 The addition of the mirror above the car makes it a dedicated space rather then just a temporary spot for a bar cart. It now looks put together and like it belongs there with the mirror. And what a stunning mirror it is with its bold spherical frame.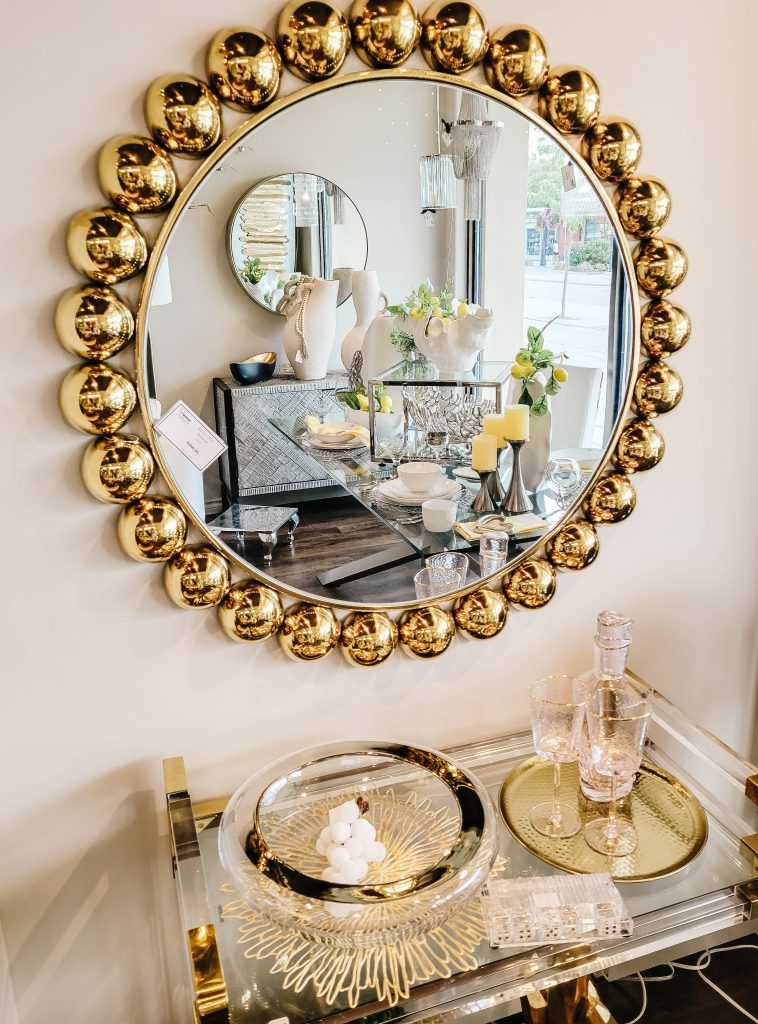 A bar cart wouldn't be complete without some beautiful glassware. These pieces are stunning with their interesting shape, textured glass surface and golden accents. This little setup is an invitation to display your beautiful glassware instead of hiding it away when it isn't in use.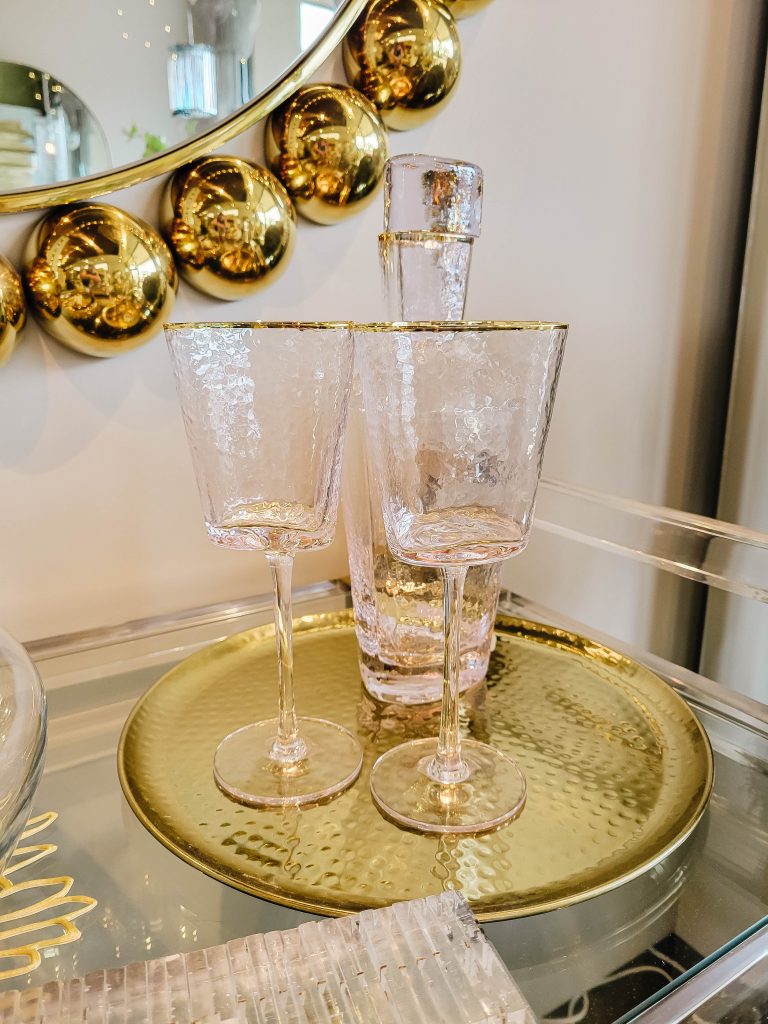 The gold round tray and gold rimmed glass bowl tie in more of the gold and are also stunning, but the icing on the cake or on this bar cart are the small details that give it some personality, ie. the white glass grapes and the glass and gold dice.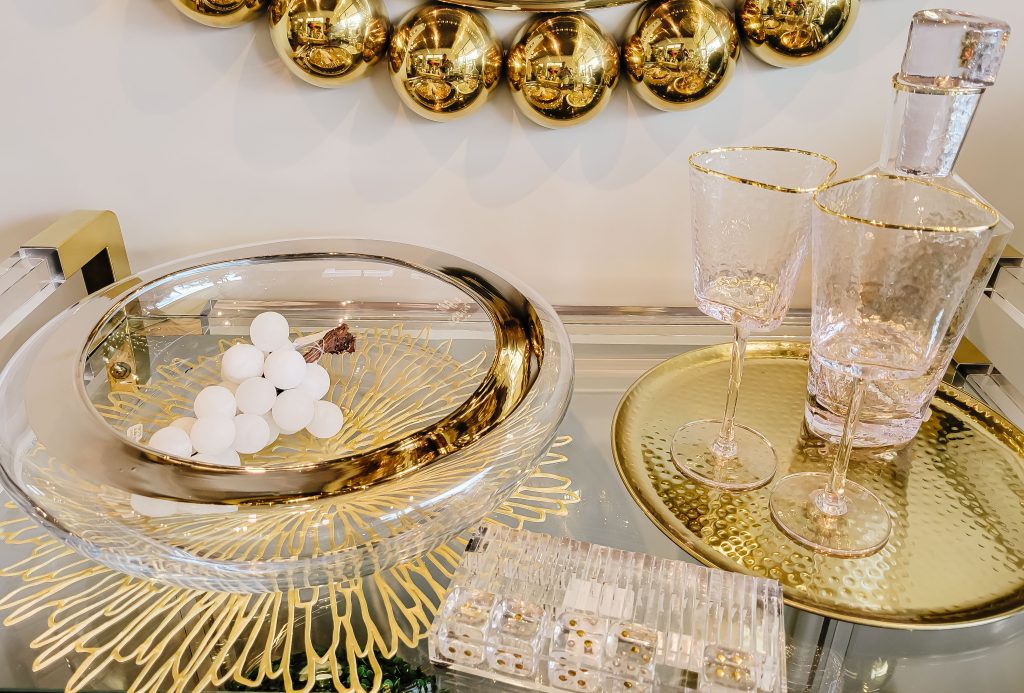 Modern Living
This vignette showcases the modern look that we love so much here at Modern Accents. It celebrates contrasts and texture and a mix of textiles and materials. Again we have considered everything from the floor covering to the wall surfaces and everything in between.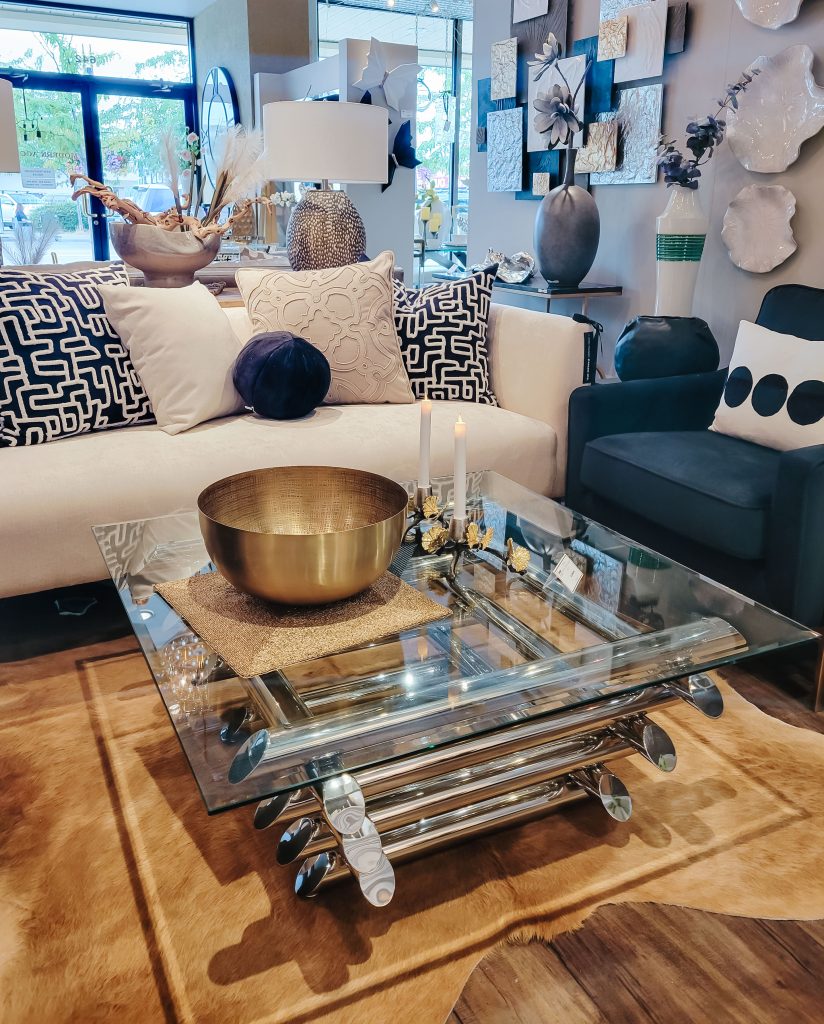 The details:
A neutral sofa makes a blank canvas for many possibilities and this time we chose striking pillows in black and off-white/cream. Don't you love the little round one?
A glass table also lends itself to some amazing options for styling and we have endless pieces to style with like this glistening golden bowl and Michael Aram Golden Ginkgo candleholders.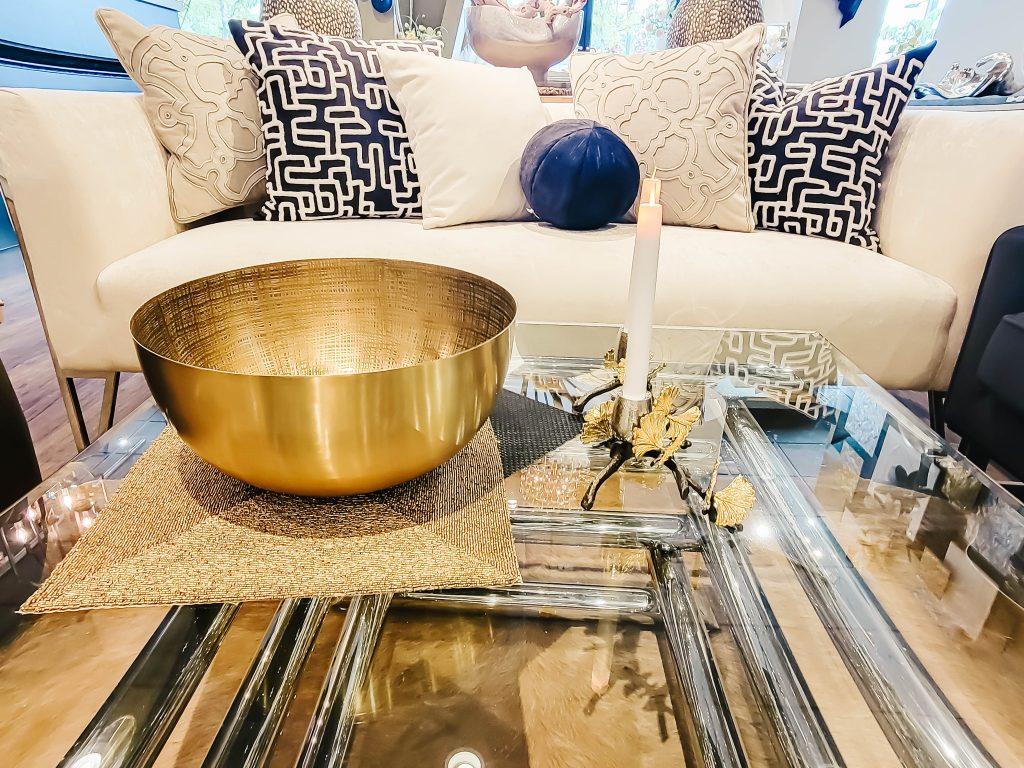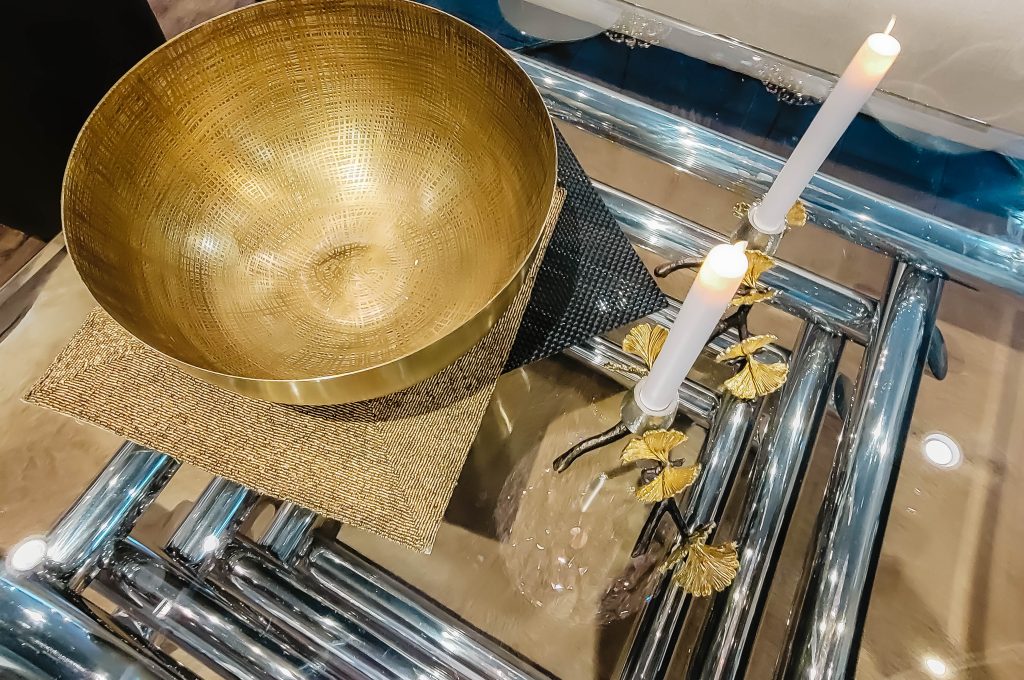 We also can't forget to mention the coffee table. It is a statement piece for sure with its tiered frame in stainless steel. Not to be upstaged by the sofa with its metal accents and tufted detailing.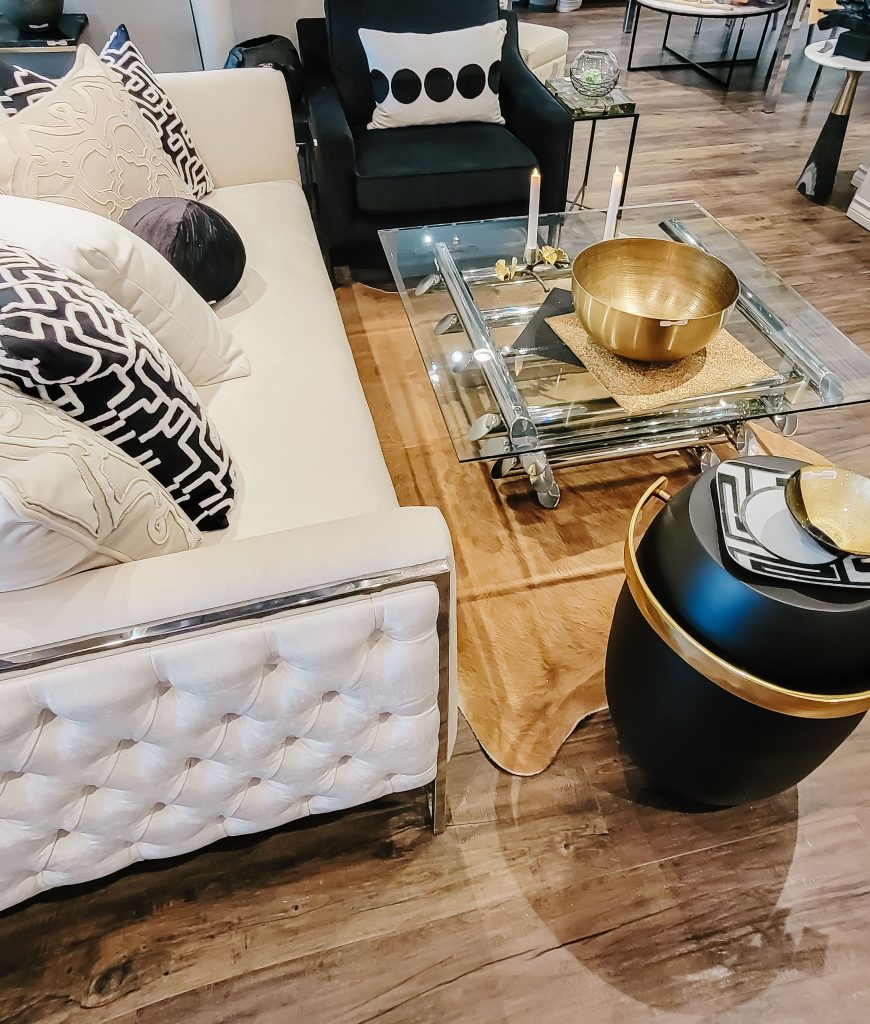 Often clients come to us looking for side tables and we have plenty of those, but we love to boast about this next piece. This round almost barrel like piece is so functional yet also beautiful and unique. It can be used as a side table for sure, but moved around so easily with its golden handle to sit next to a guest for a favourite beverage or appetizer and then moved somewhere else to display your favourite accents later.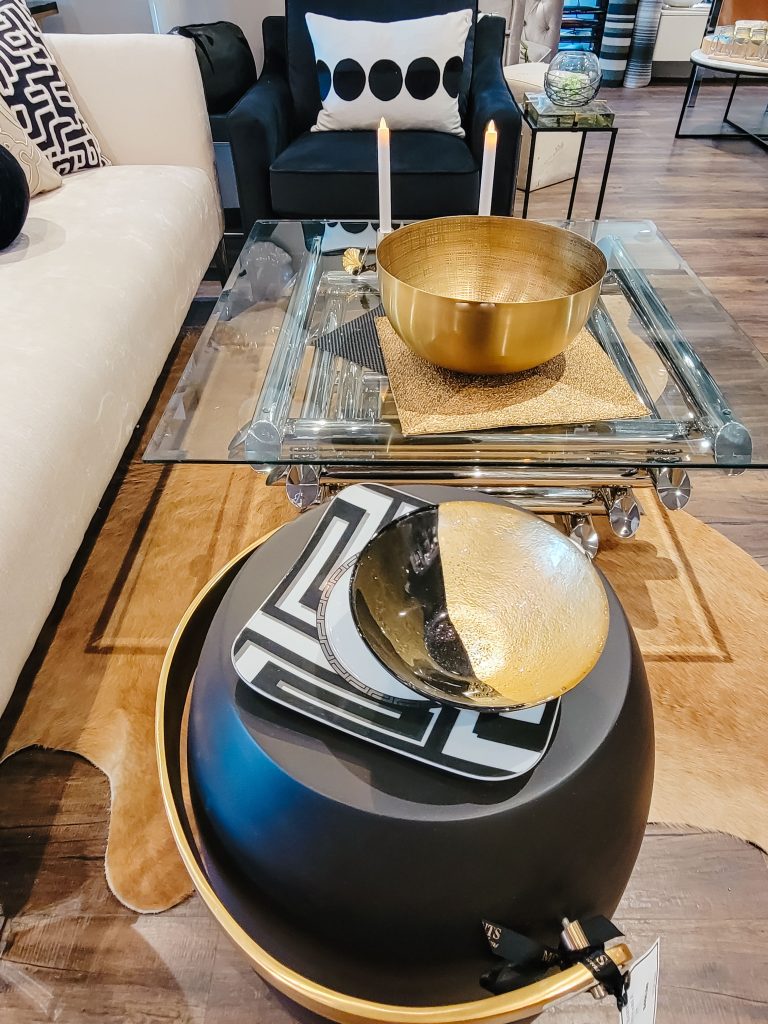 Grounding the whole look is one of our cowhide rugs in golden tones that again unifies this modern living space.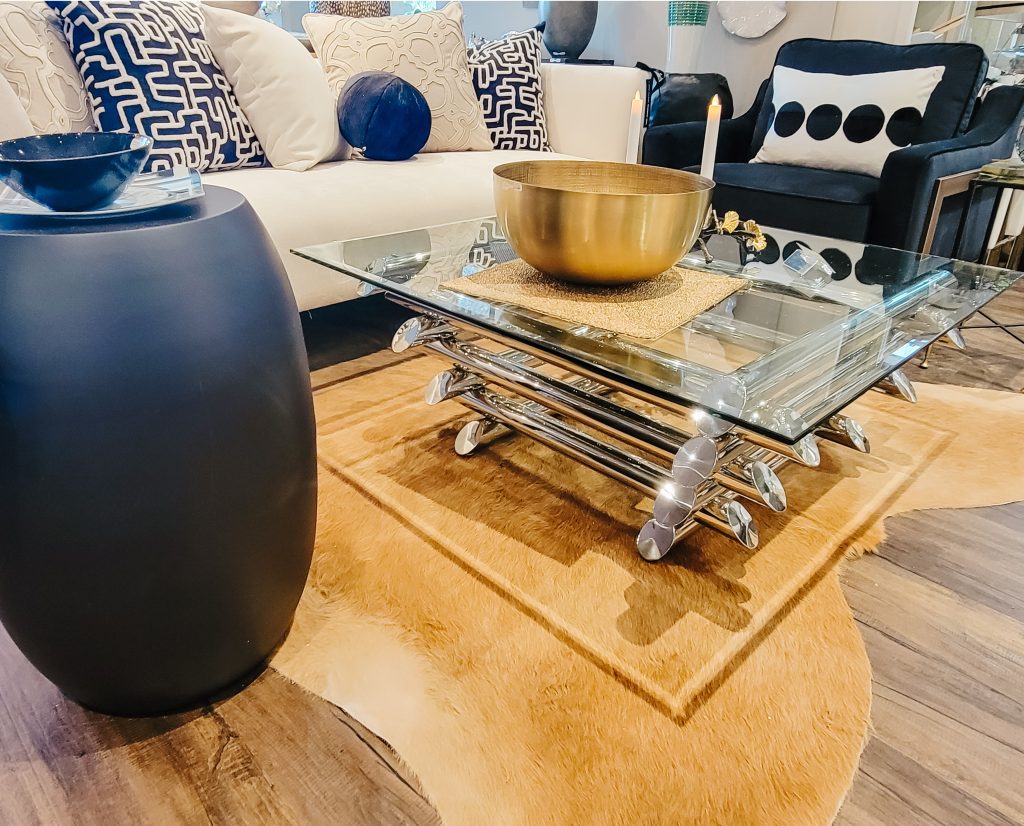 Speaking of unifying the space, how perfect is this wall feature for this space? It incorporates all the colours and tones in the rest of the space and with its interesting textured panels, it pops. A modern marble console table and some wow accent pieces make the final dramatic impact on this space.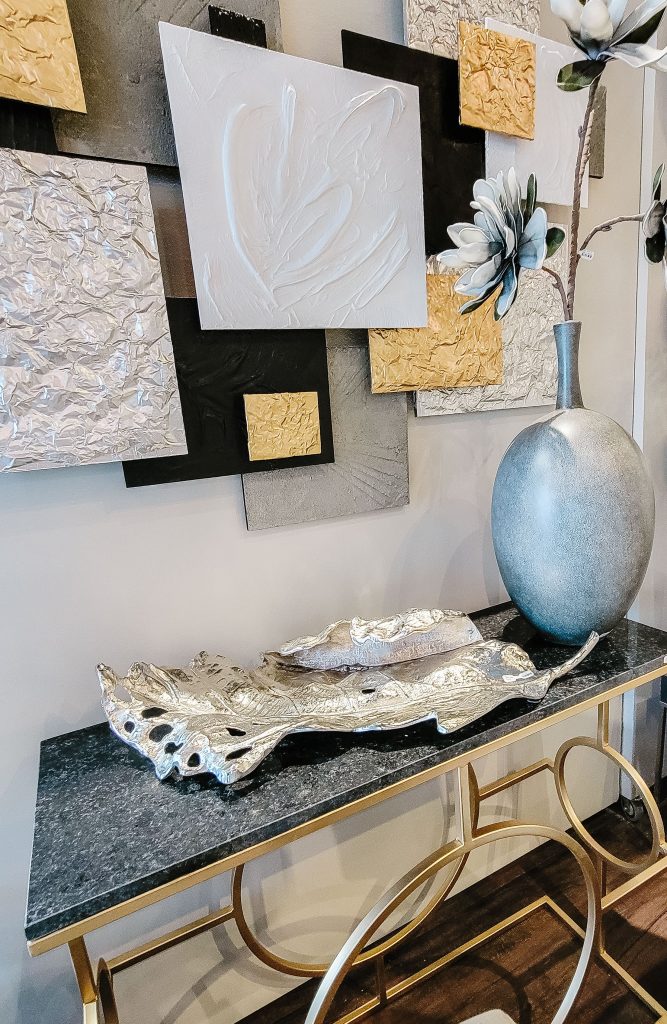 These are only four of the many looks we have created and there are many more to come. Even within these current vignettes we will switch pieces in and out to alter the feel. Stop in and we can even do it along with you to get the perfect look that you love or even better yet have us come and visit your space for a personalized home design consultation. We do those too and would love to help you transition your look or create something brand new.