The Art of Hanging your Wall Art
Artwork brings personality to your home. The pieces you choose tell a story about you, your tastes, your travels, and what inspires you. Quite often artwork is the last thing that goes up in a room, but we actually encourage you to select the artwork first and use that to help guide the rest of your decor and inspire your colour and material choices for the room. Rather than pulling a single colour from the artwork in your accents use all the colours in the art to guide the room's full colour palette. The repetition of the green, white, grey and yellow/gold hues in the accessories and throw pillows on the sofa, increase the impact of the painting on the wall. Also consider the balance of colour when complimenting your artwork with accessories and furnishings. Try to keep the same balance of colours as in the art. If there is just a little bit of gold in the painting, add just a touch of gold in your accents.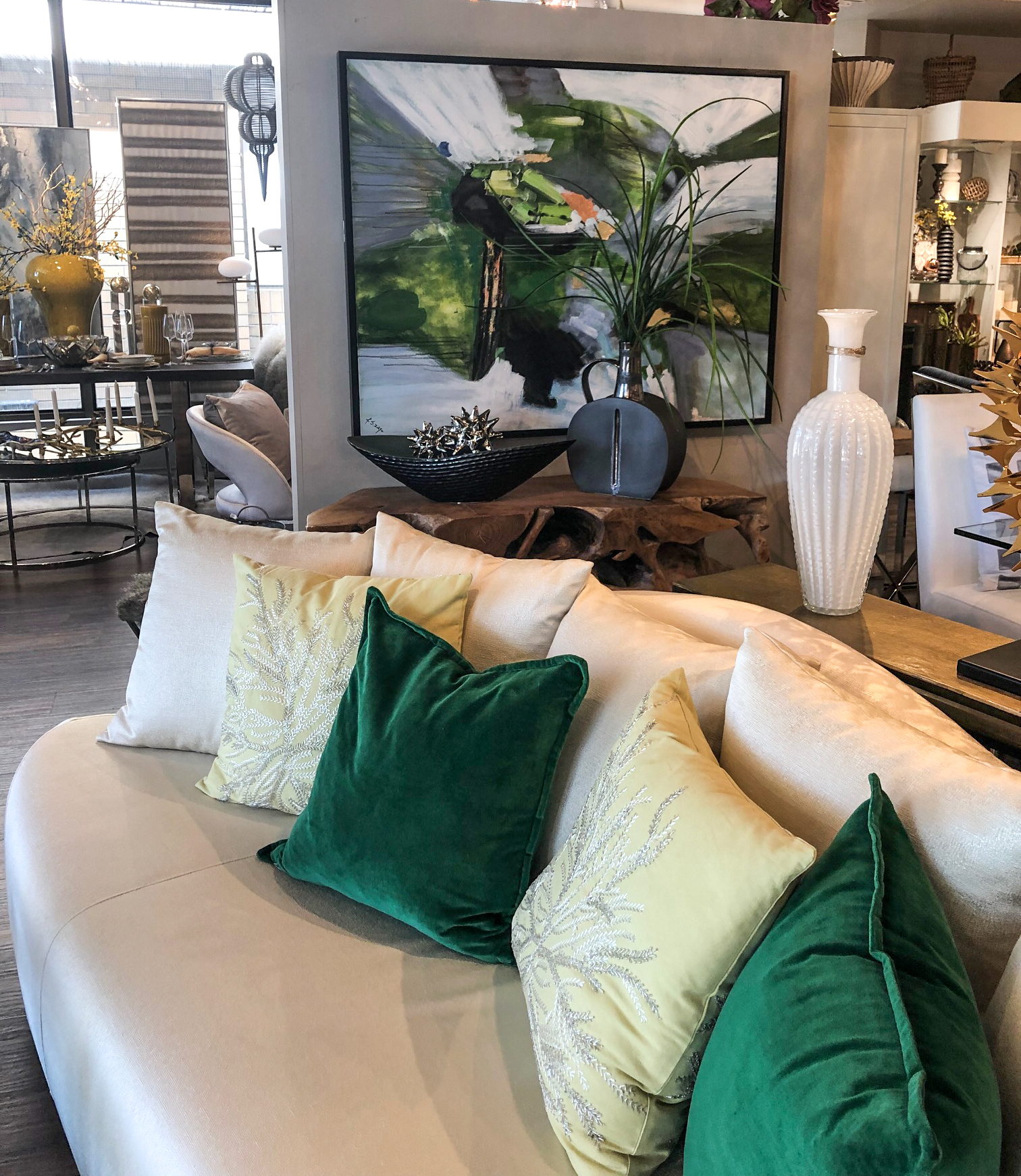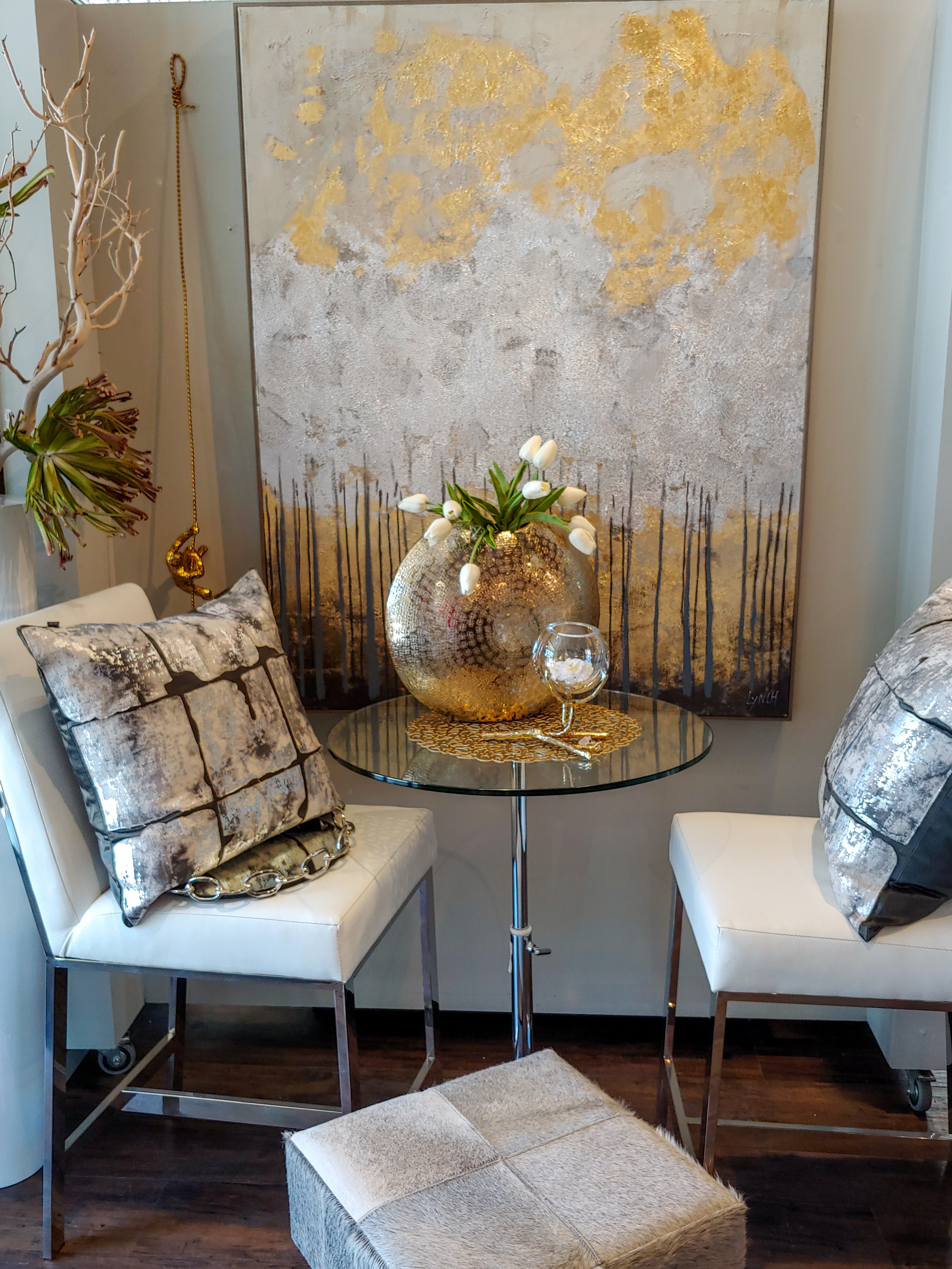 Your room may require more than one work of art to tie everything together so how do you create a cohesive look when obviously every work is different? We suggest you use works by the same artist or works that have a common style. Both these pieces are by Canadian artist Patrick St Germain and a similar abstract style is used in both pieces.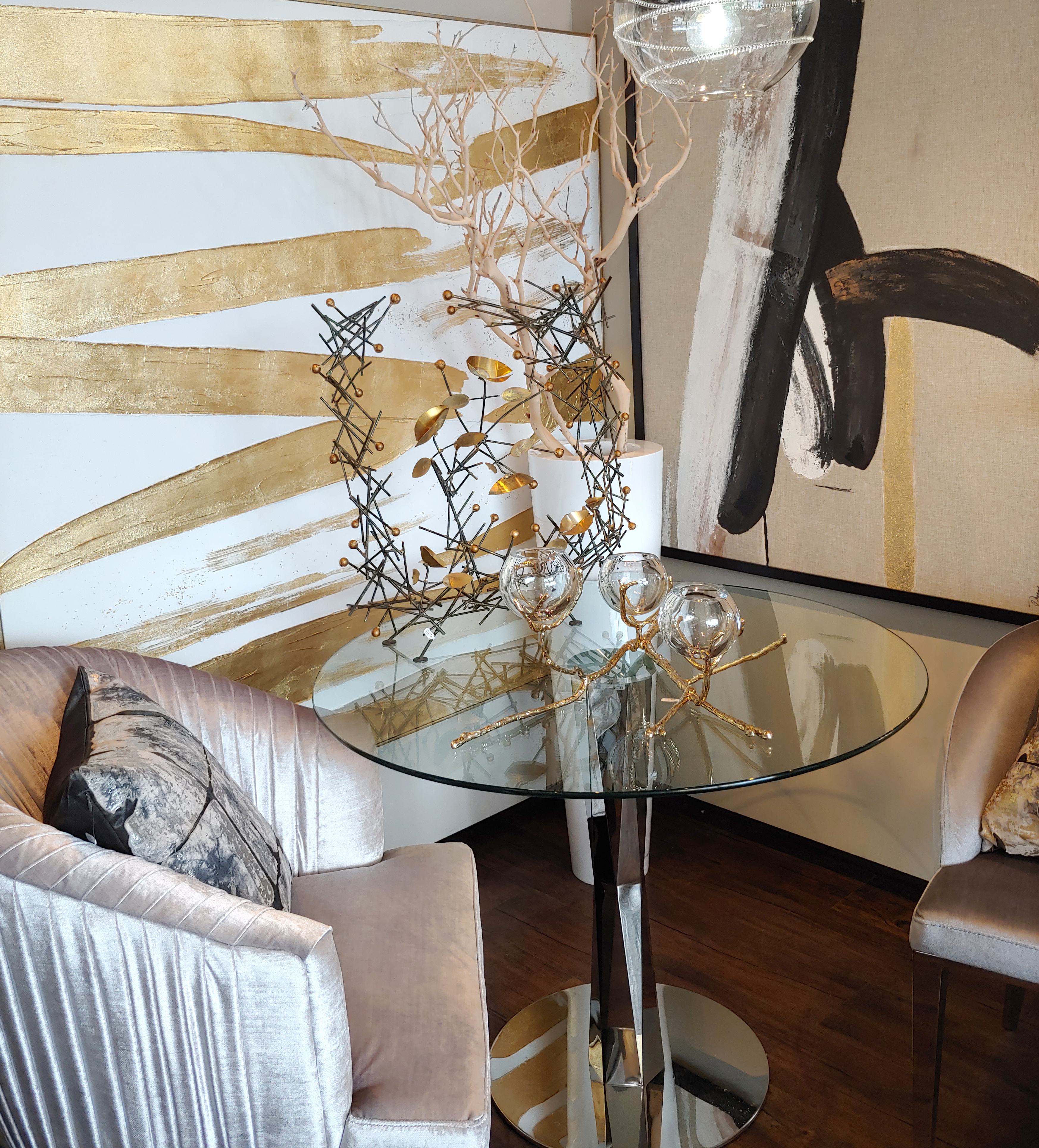 You will also notice that we have repeated similar tones and lines in the accessories that complete the look and tie everything together. We have repeated this concept of reflecting similar colours and lines in the vignettes below.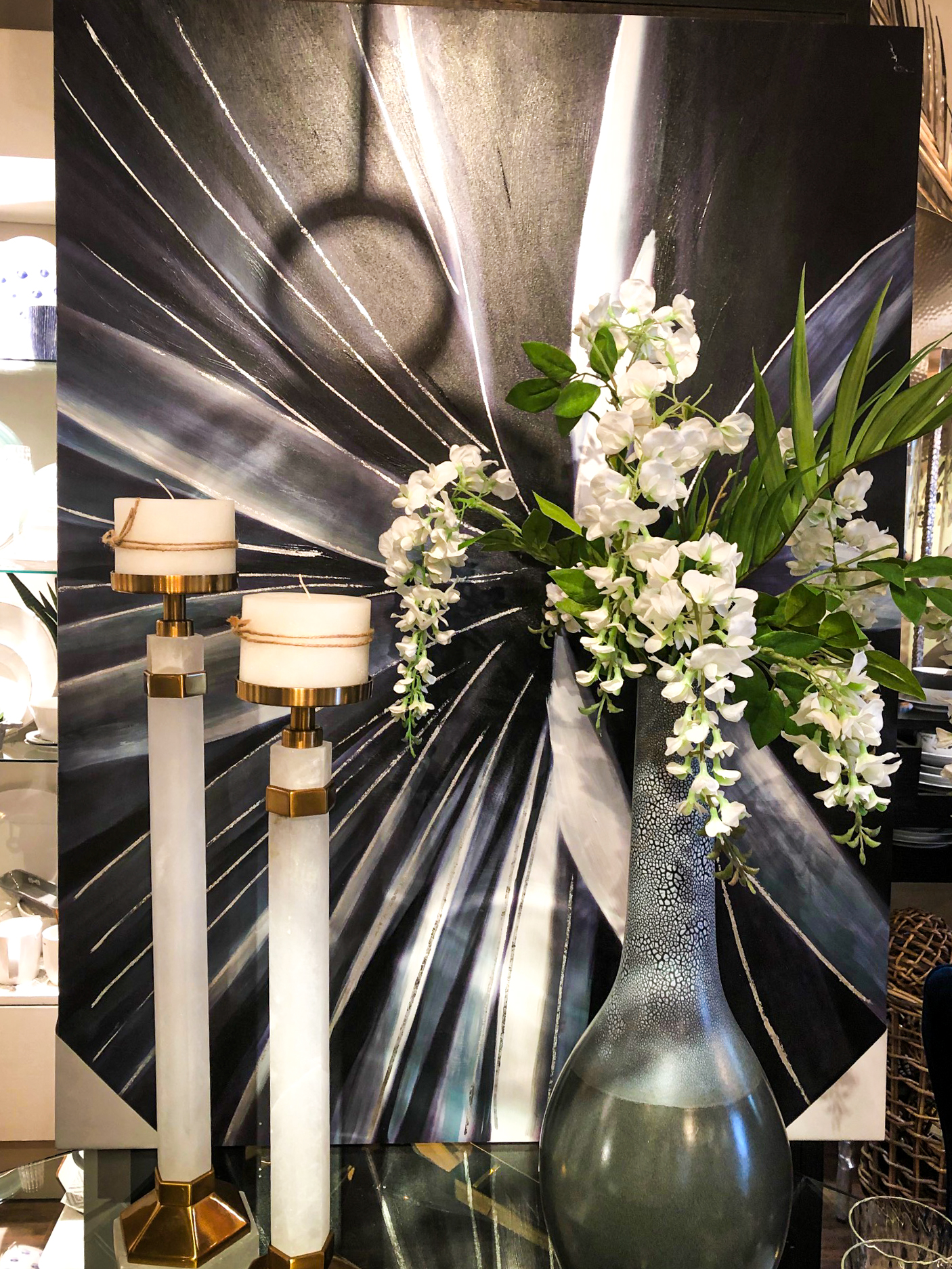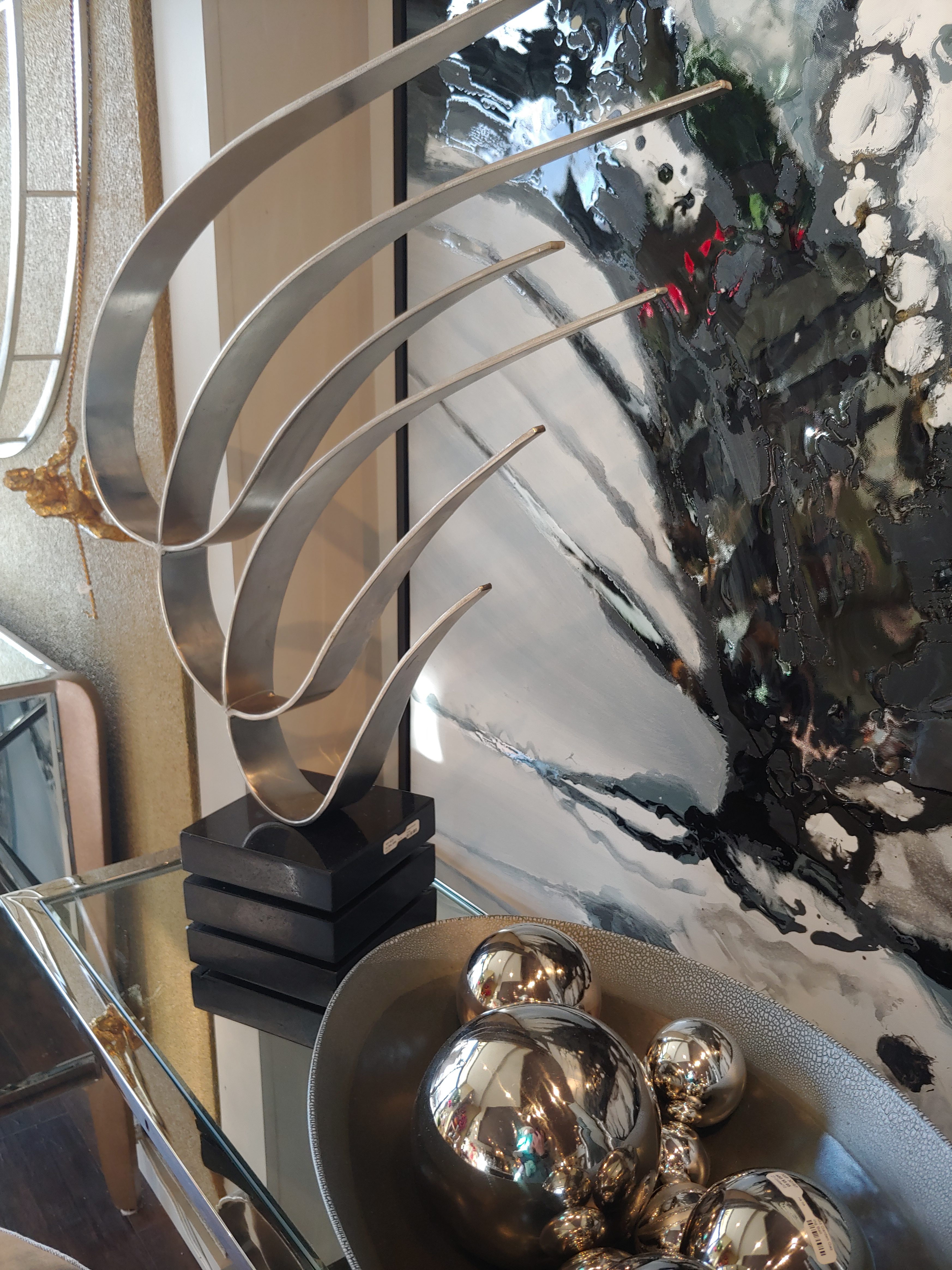 So now that we have told you to repeat the colours in your artwork in your room we are now going to say the opposite just to keep you on your toes. That is what is so great about interior design. Rules are made to be broken and there are so many different ways to approach the decor in your home. Sometimes you can support art by showing some restraint and letting the artwork be the star in the room. By keeping your furnishings, wall colour, rug, and other accents in a monochromatic colour scheme you give the eye a place to rest and allow it to focus in on the detail and vibrance of a really impactful piece of art.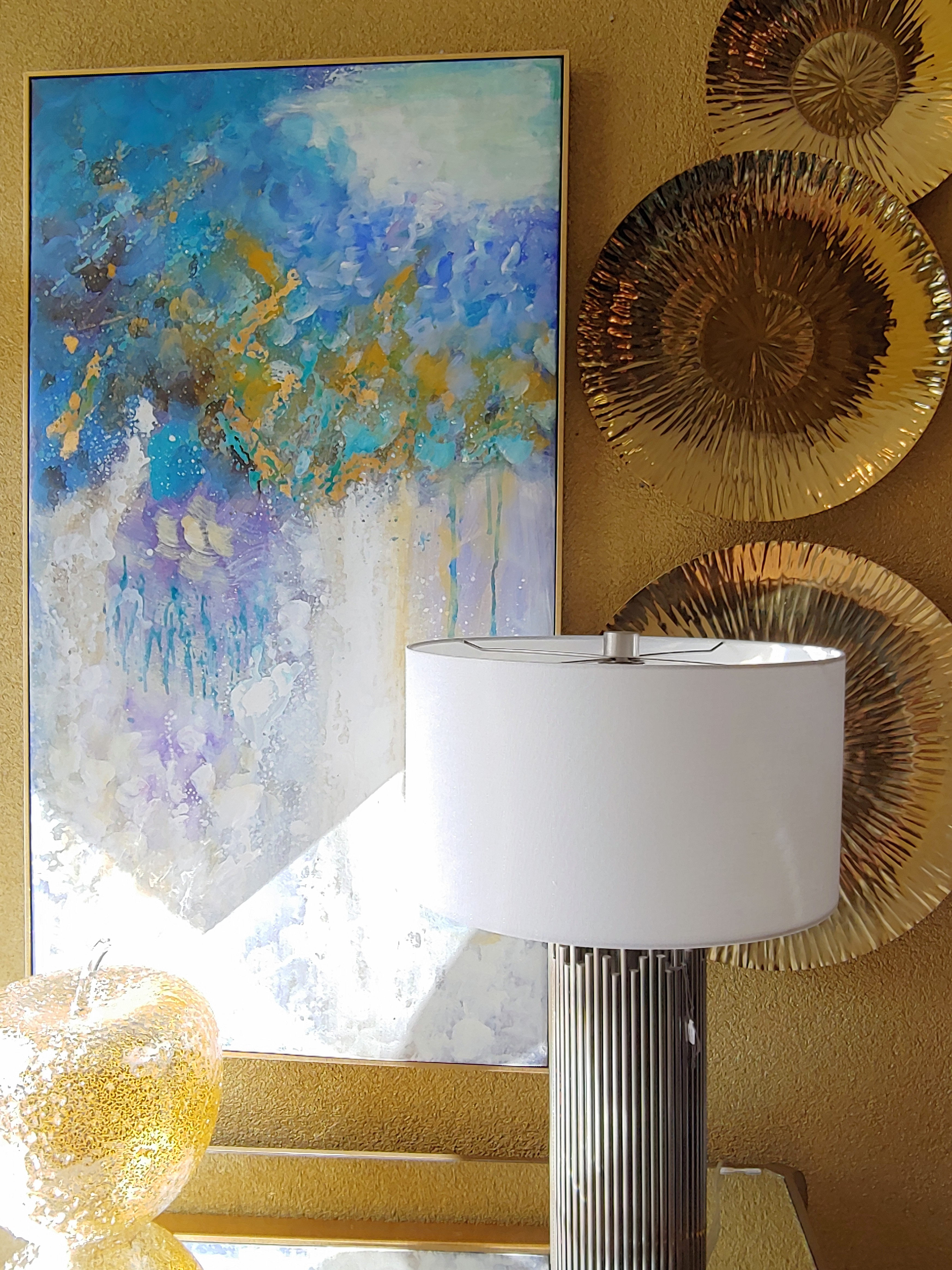 Okay, now that you have selected the art, don't be that person that has a bunch of art and pictures sitting in a closet, because you are too afraid to commit to hanging them. Here are a few tips to help guide you and ensure your walls are reflecting your style and personality.
Consider the size of your artwork and your wall. This is a case of size really does matter. A rule of thumb is to have your artwork fill two-thirds to three-quarters of the wall. Your modern art pieces in particular are more dramatic when they are really big and fill the wall.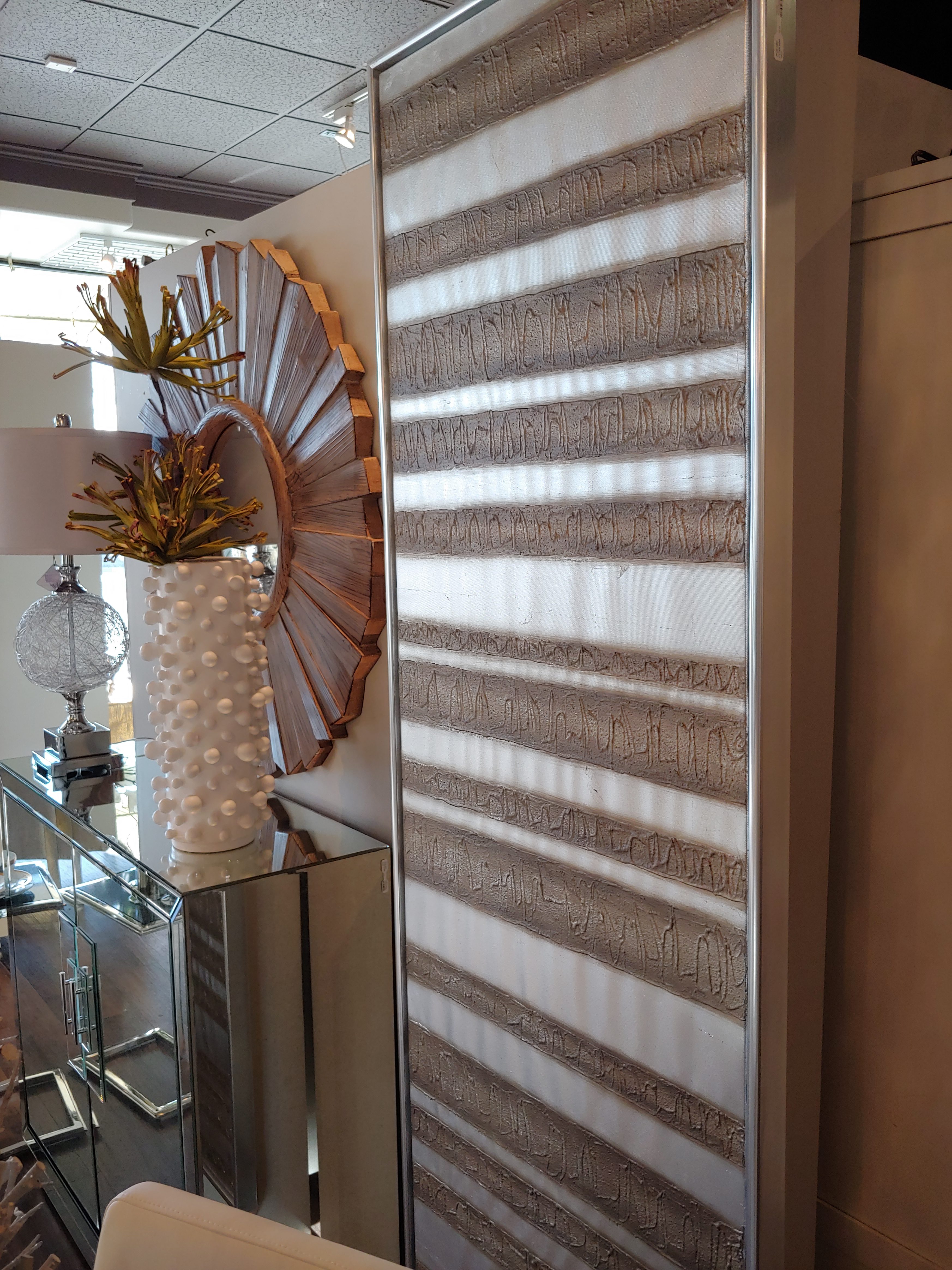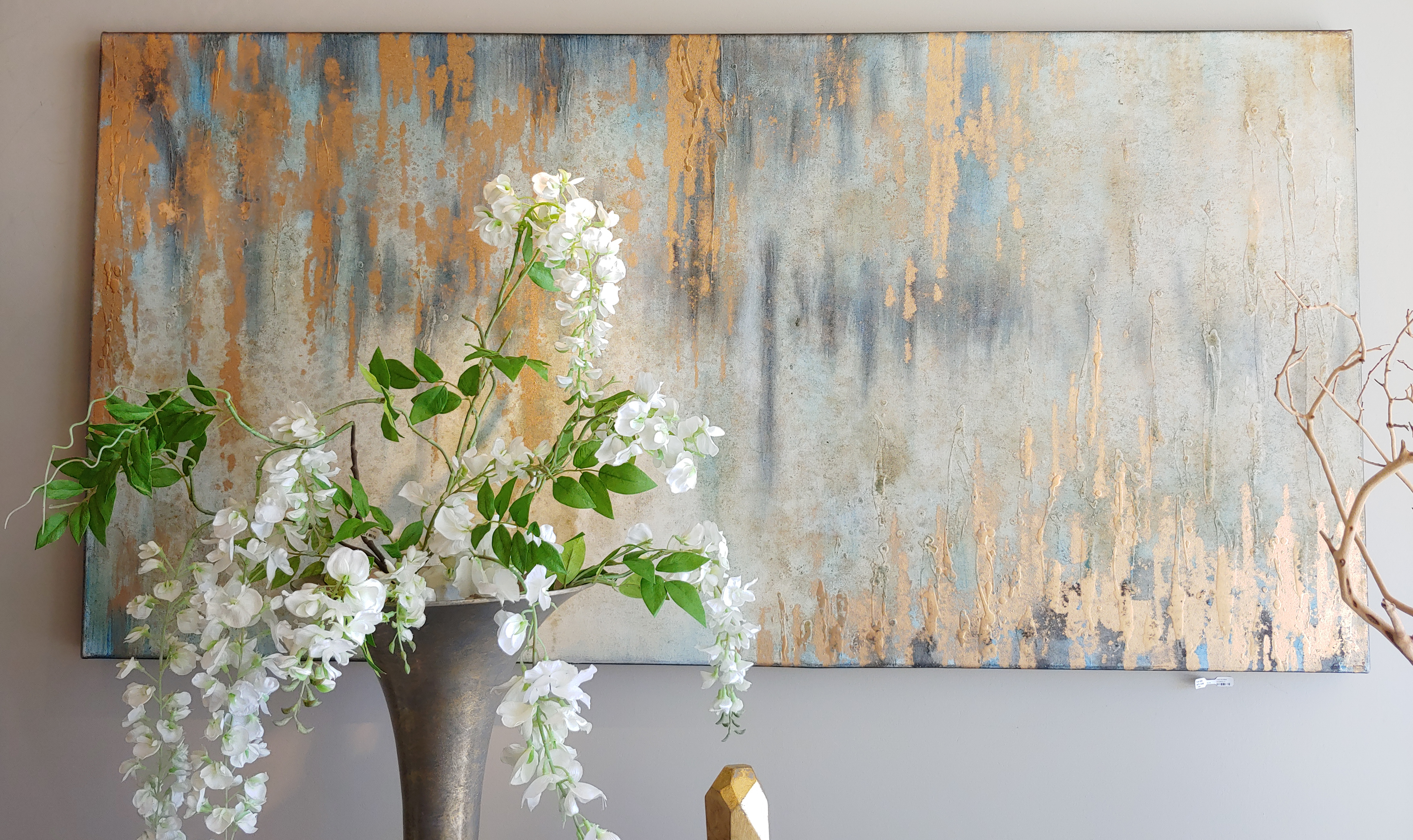 Another important tip is to center your art at eye level. Ask yourself if you will usually be standing or sitting in the space and select your eye-level accordingly. Also when hanging art above a sofa or another piece of furniture, like a console table, keep the bottom edge of the frame 6 to 12 inches above the furniture.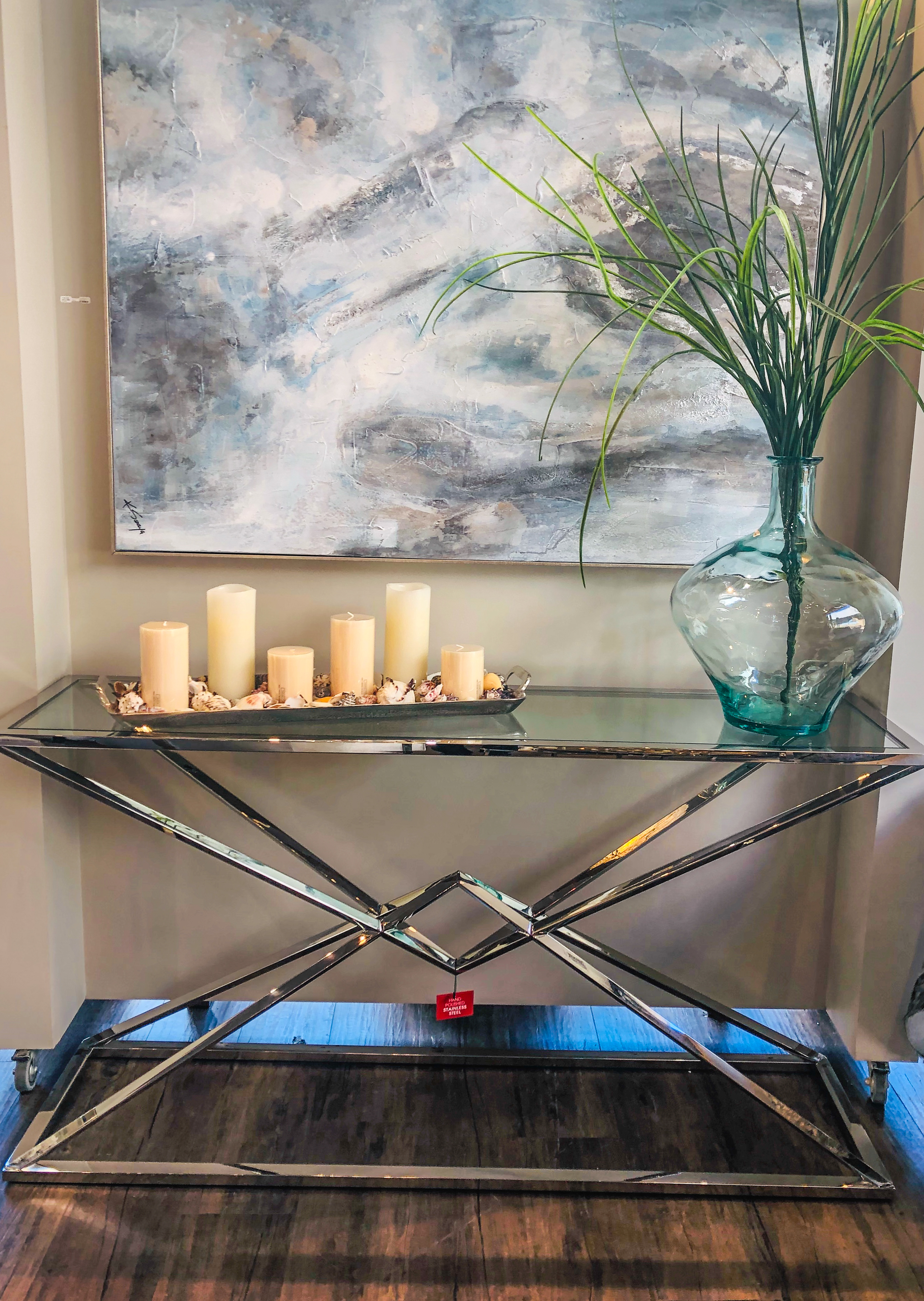 You probably selected the artwork because you loved the colours and details so why not reflect them in a dramatic way with the placement of mirrors on the walls adjacent to your painting. This also  creates that flow and consistancy in a room without the need for an additional painting.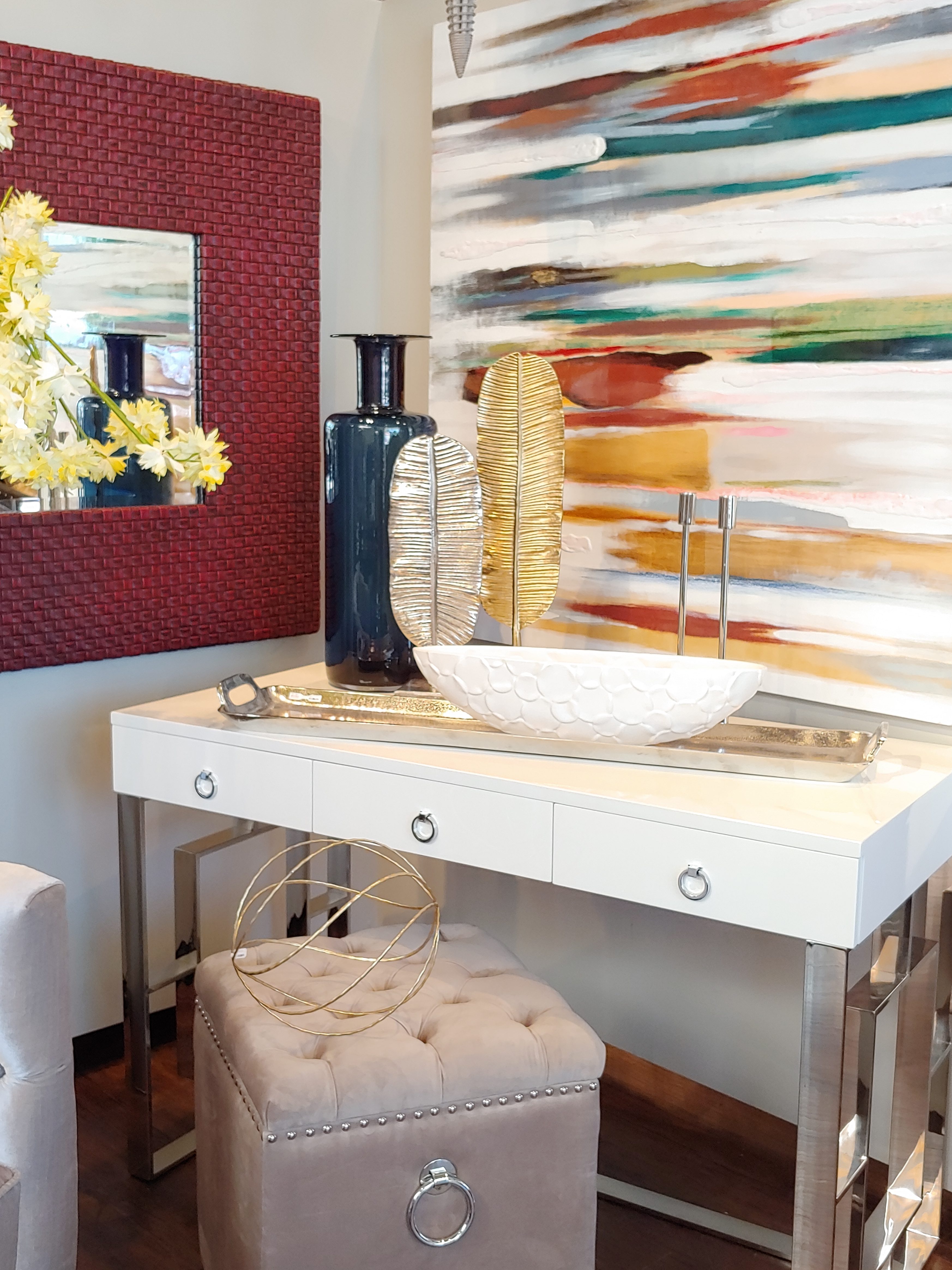 You can also choose to not even hang the art at all. No don't keep it in the closet, but do lean artwork against a wall in some areas or layer several pieces on a mantel or console table for a stylish display. Be creative in your arrangements and think outside the box. We even found this interesting article on Houzz that may inspire you to hang your art off centre. Off Centre Art Hits The Mark for Energizing Design.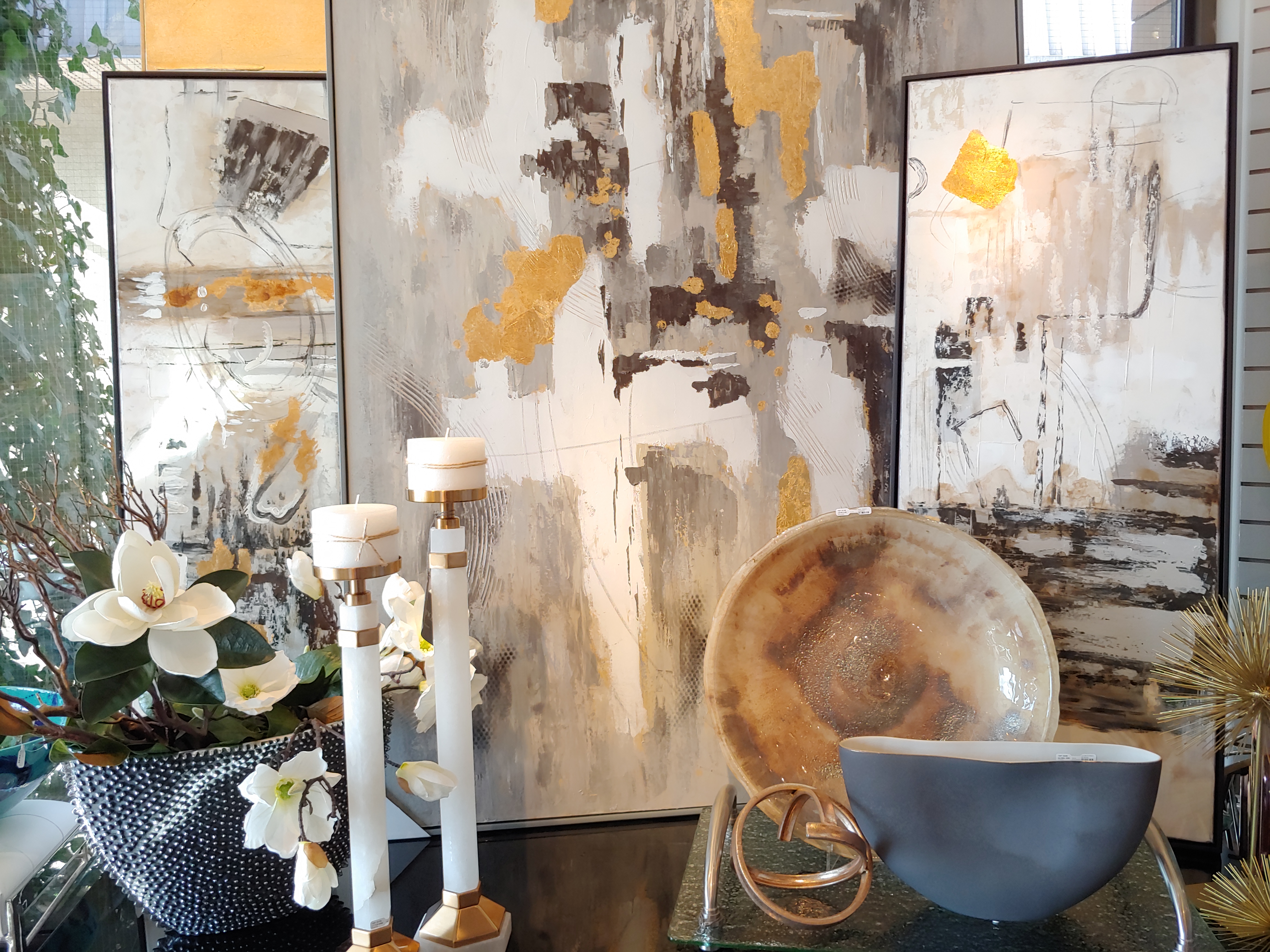 Finally hang art in every room in your home. Don't forget the bathroom, bedroom and even the entrance-way or kitchen. All of your rooms deserve some personality. And above all else pick artwork you love. Don't just pick something that happens to match your sofa.
Stop in to Modern Accents to see our current selection of wall art and accessories. It is always changing and we can also help you source the perfect piece if you don't find what you are looking for in the store.