Thanksgiving Table Traditions
What does Thanksgiving mean to you? It's usually the time of year when we take some extra time to focus on all the things we are thankful for and express our gratitude for those who make our lives better. More often than not it is also one of those holidays most associated with a celebration of food, which in turn makes it a celebration of your table. One of our favourite traditions is creating some fabulous tablescapes to inspire yours.
Harvest Table
Living in the Okanagan I think many of you will agree that we can be very thankful for all the fresh produce and beautiful nature we are surrounded by and this table is inspired by all of this. The use of gourds and berries on a fall table might not be new, but placed in this amazing boat shaped vessel, that runs almost the full length of a dining table, is really epic and makes for an impactful centrepiece. It also has a low enough profile that your guests can easily converse and toast to their gratitude for each other.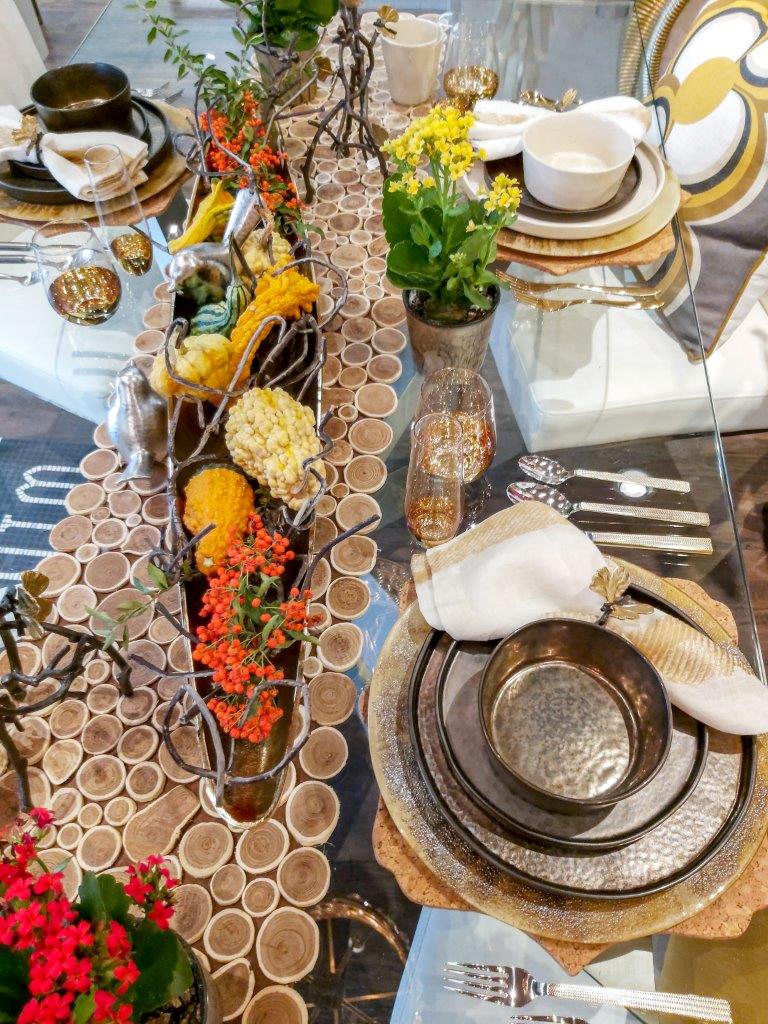 The wooden runner makes for the perfect backdrop and ties all the natural elements and hues together. We love the contrast, texture and pattern it creates, especially on this glass table.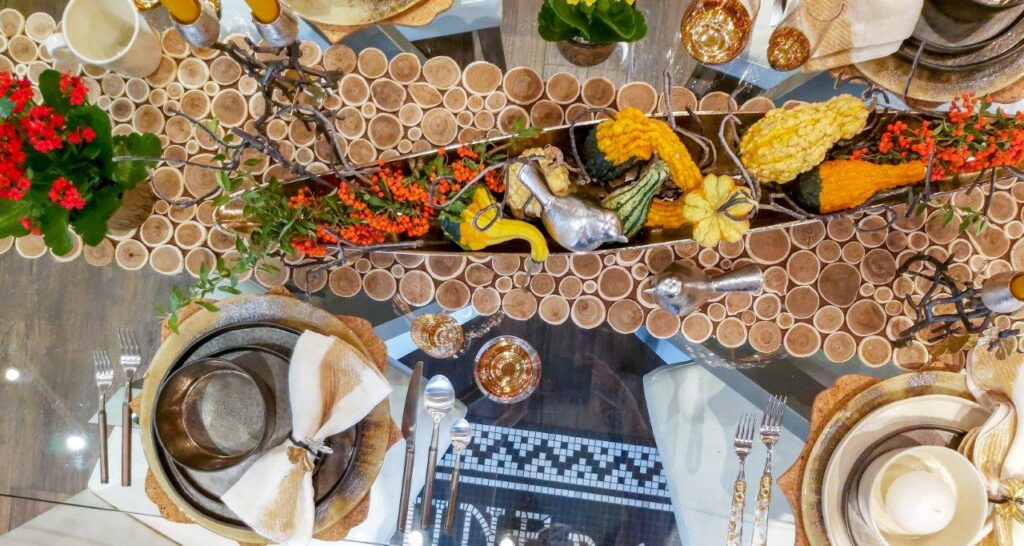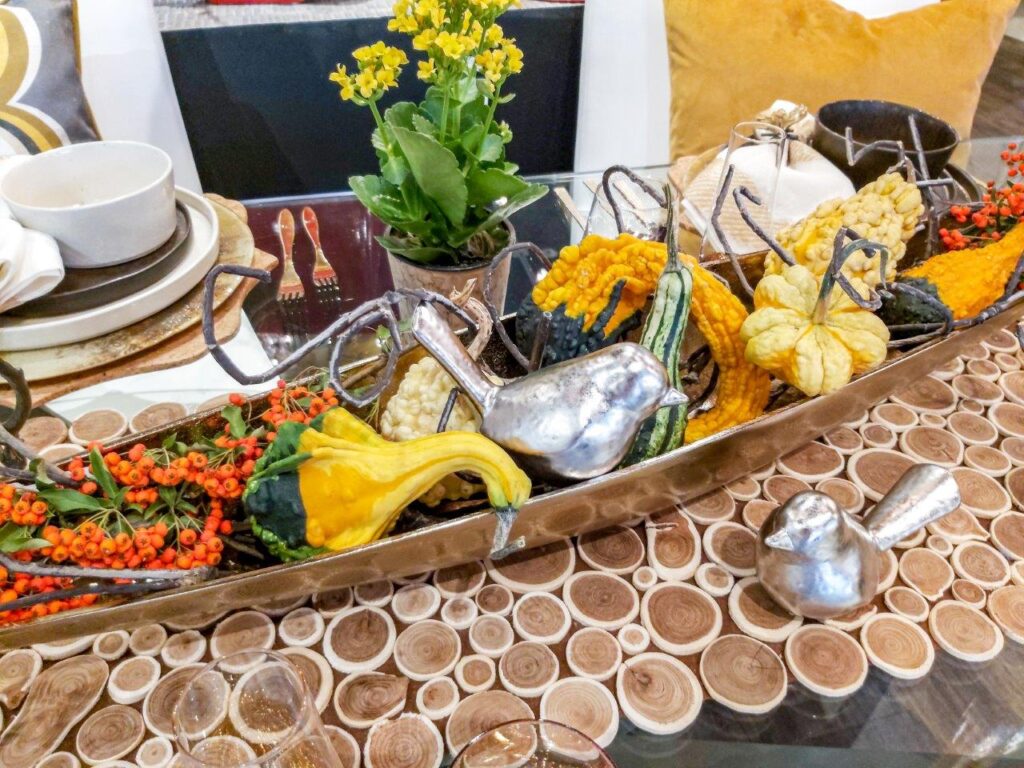 We selected dinnerware in neutral and earth tones to stay on theme. The pieces from Costa Nova's Lagoa collection are available in both the lighter natural stone and the dark bronze and showcase the hand thrown, pottery look. We love them mixed and matched with each other and also here with the Earth Glass chargers from Vietri and the cork chargers layered below that. The layers almost mimic the look of the small log cuts that make up the runner.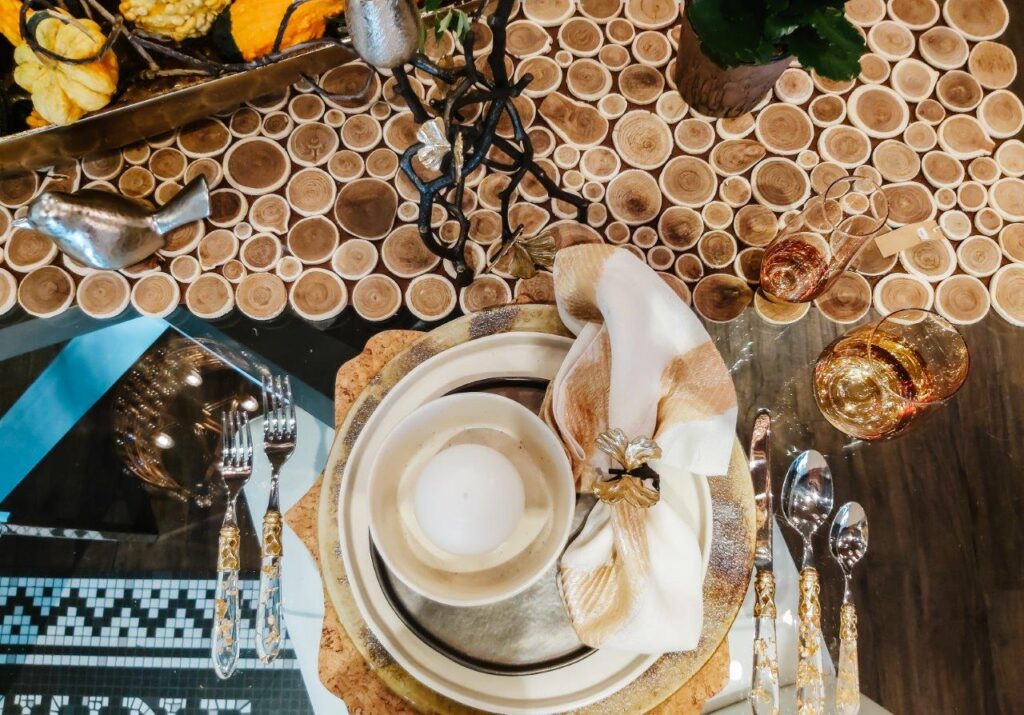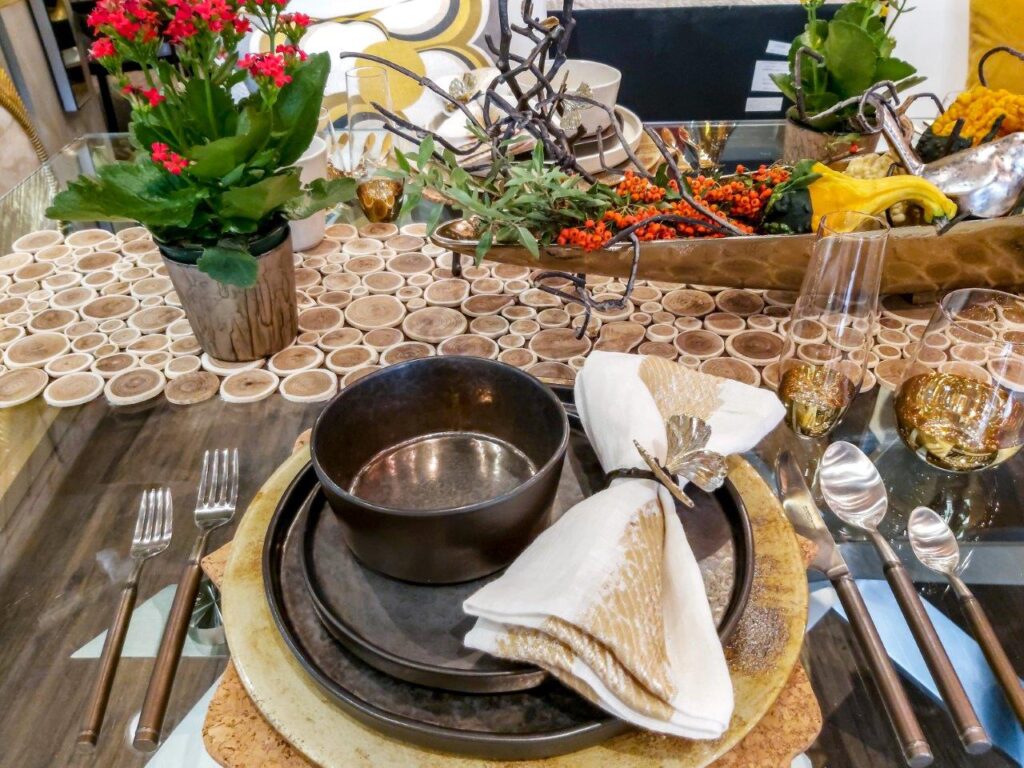 Every celebration needs a little bling so there are touches of gold brought in through the glasses, flatware, napkins and napkinholders.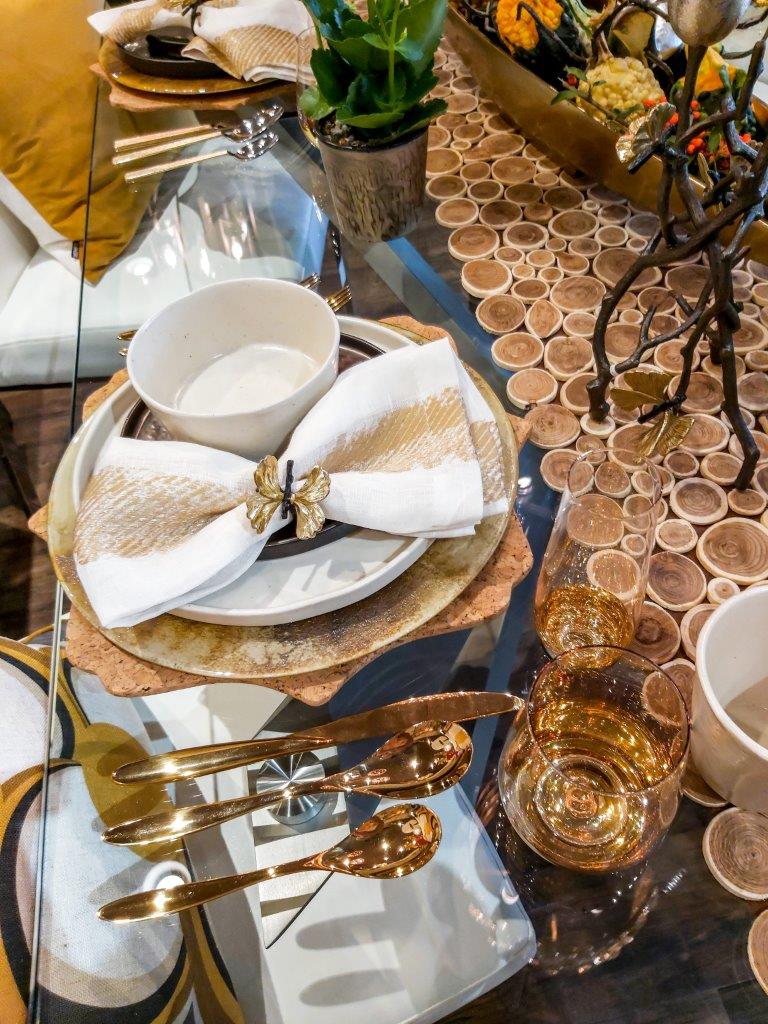 We also couldn't resist adding in a little extra nod to nature with some pieces from Michael Aram's Butterfly Ginkgo collection, the napkin rings and the candleholders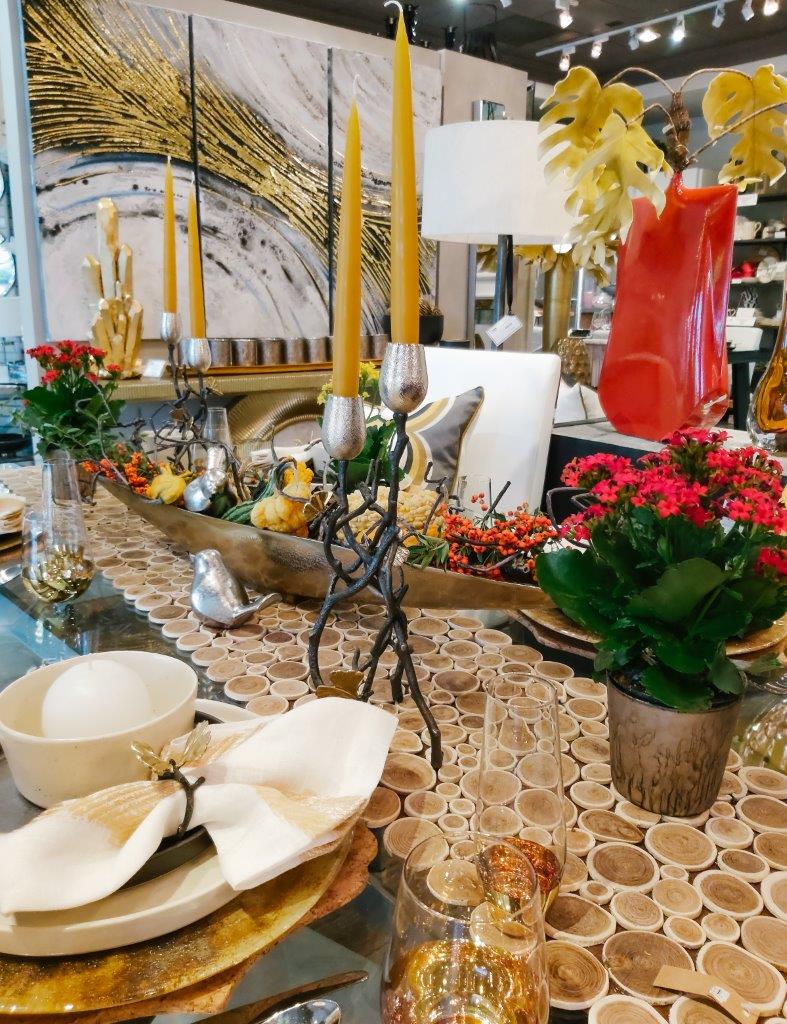 Black & White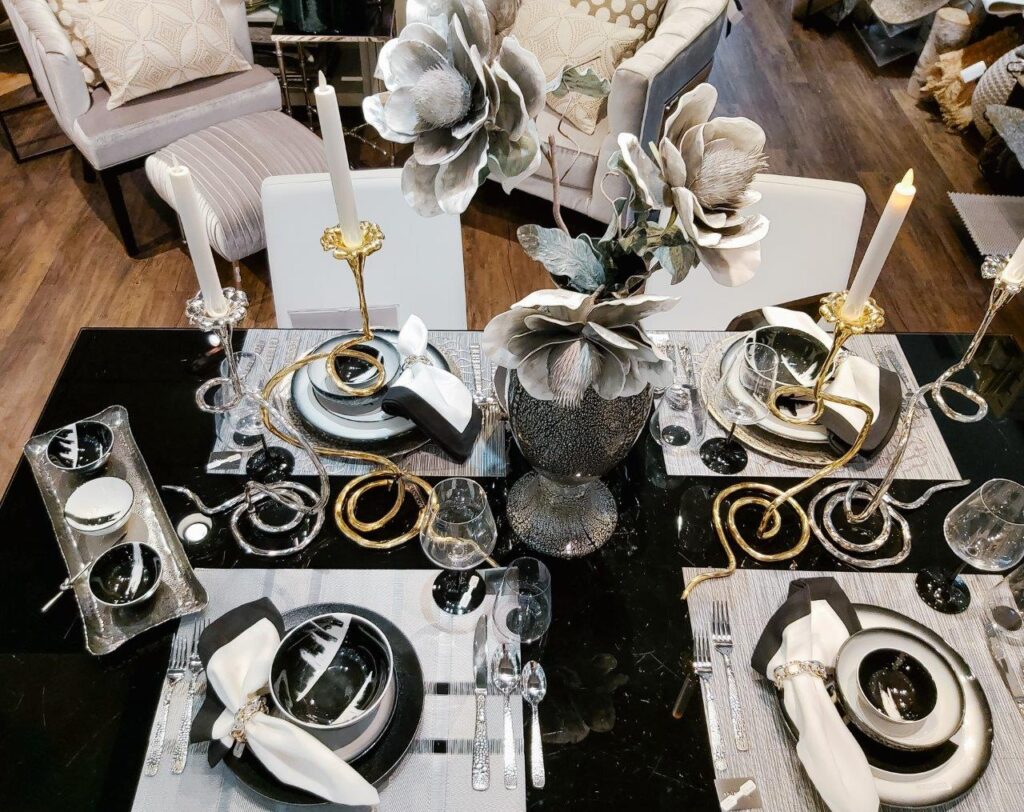 Modern, striking and a spread that will work for many occasions this fall, and even all year, is created in black and white with mixed metal accents.
This placesetting almost feels like an artpiece with its multidimensional layers and the interesting brushstroke pattern of the bowls and accent plates. Your guests will be thankful for your creativity and will be looking forward to what you have cooked up to serve on this beautiful spread. The great news too, is that the patterned pieces are inexpensive so would be an easy way to add a little something different to layer with your solid coloured or plainer dinnerware.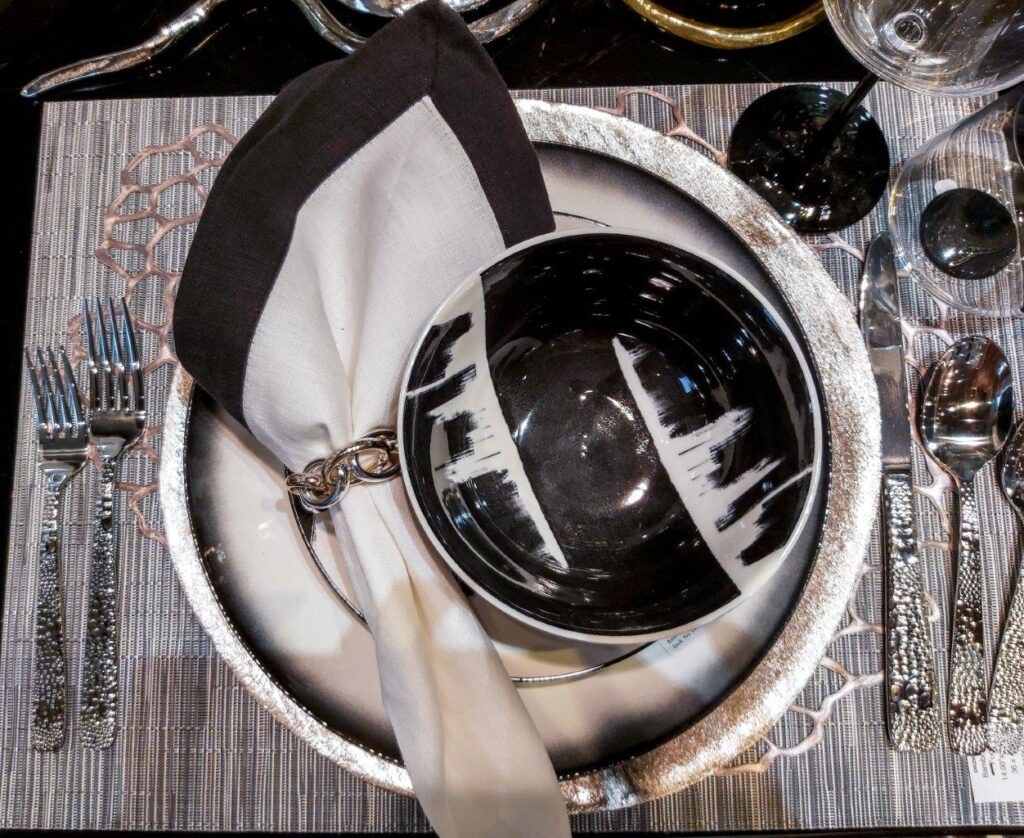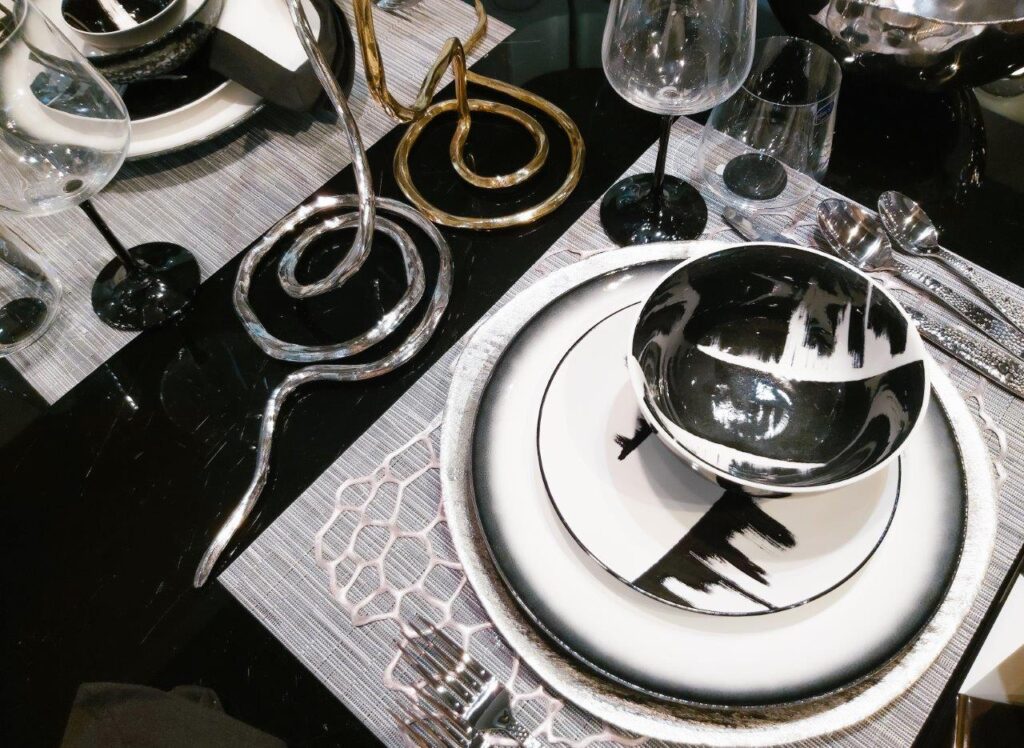 Notice too, how we have chosen metal pieces like the chargers, flatware and candleholders that have some interesting hammered textures that compliment each other and add another layer of interest to the tabletop.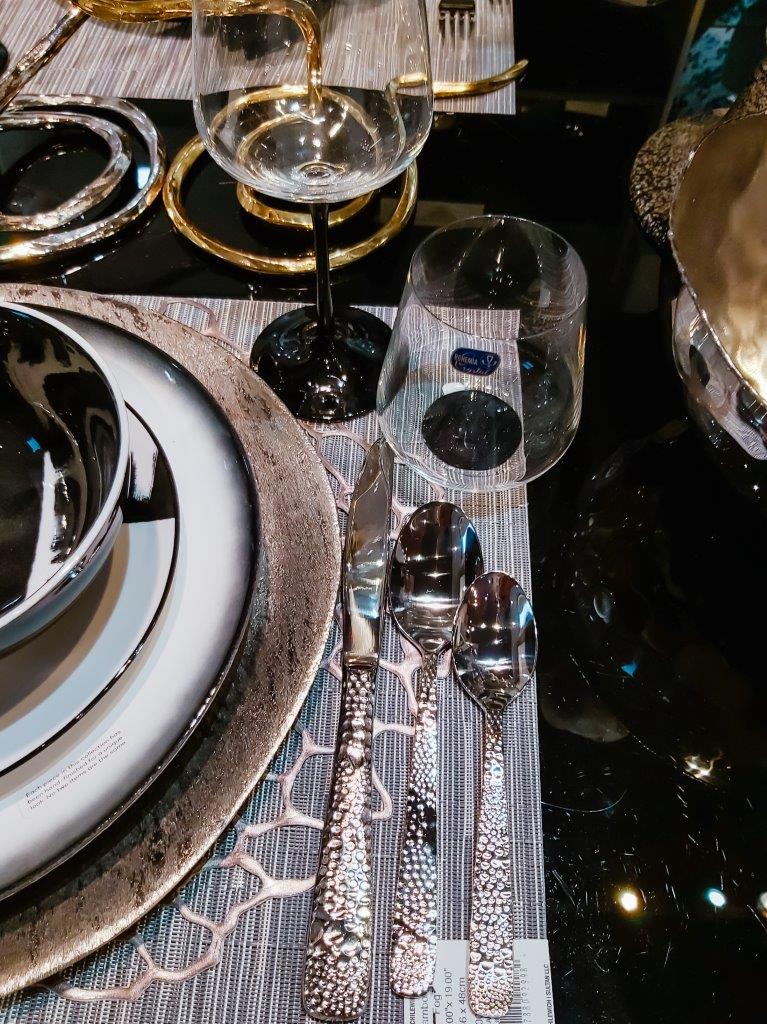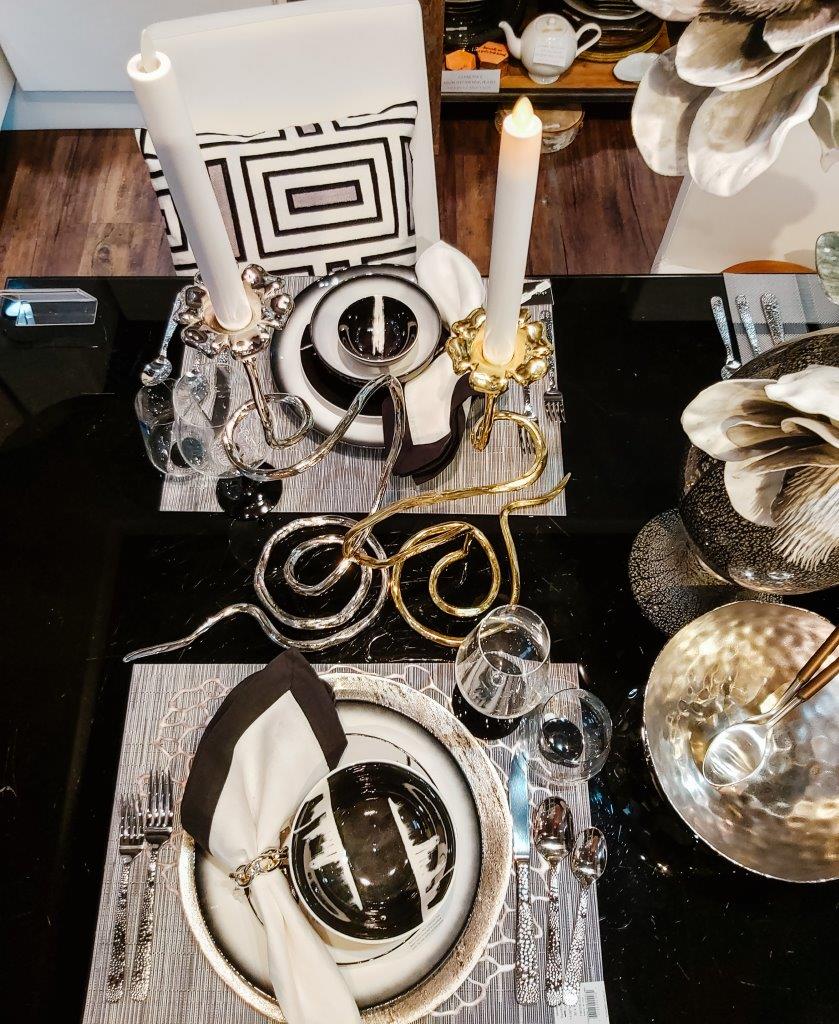 What will you be serving for Thanksgiving? There are endless things you could use these great little bowls for. Dips, condiments, pickles, other side dishes or maybe even dessert? The trio on this small silver tray is so elegant!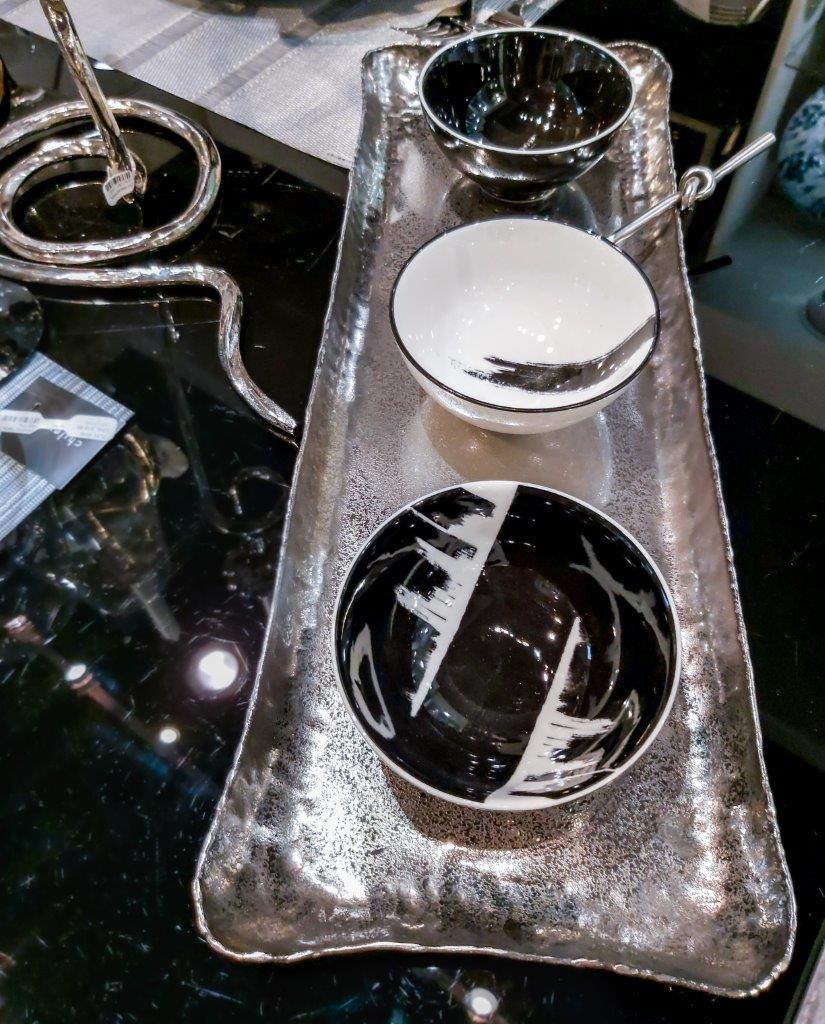 This fall, instead of saying every closet needs a little black dress, we are saying every table needs a little black wine glass. They are so perfect for this tablescape.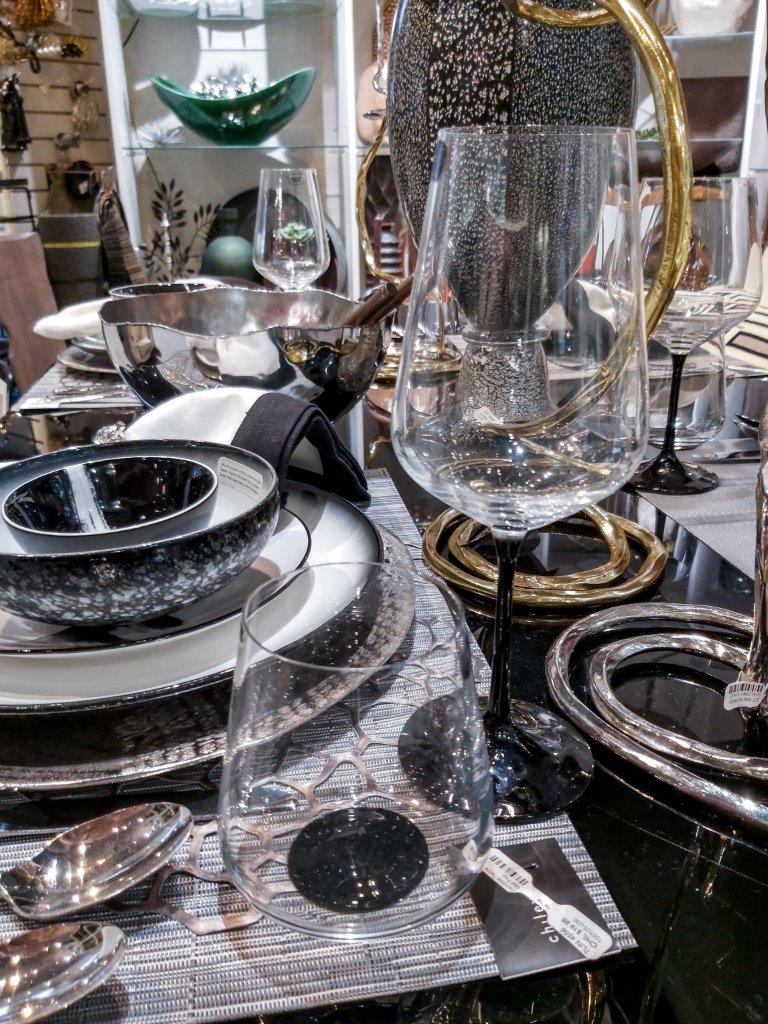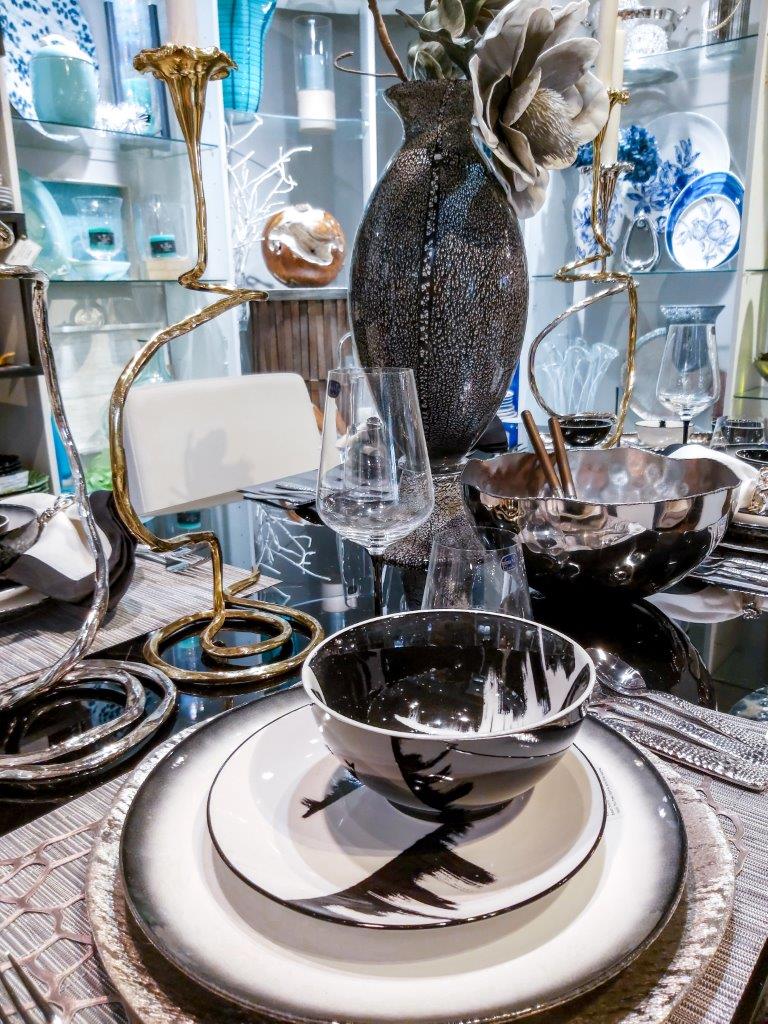 Ambiance and Lux
Perhaps you are thankful for love and someone really special to you. This table is styled with ambiance and nothing but the best for your sweetheart. This is what dinners for two are made of. Twinkling spheres of light and golden accents.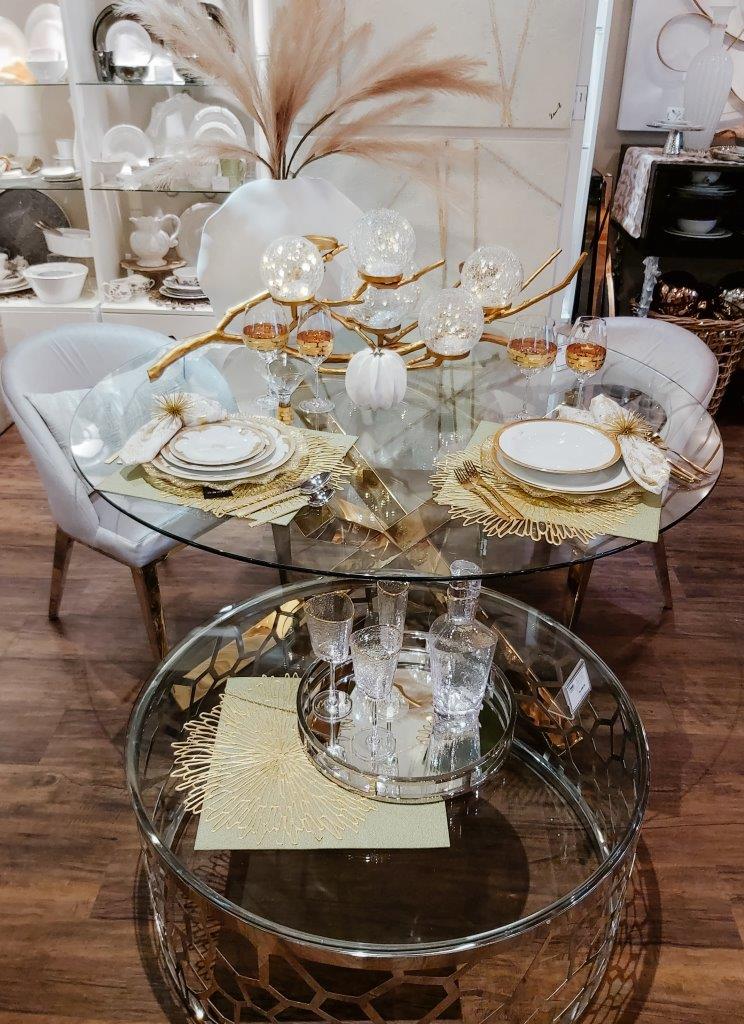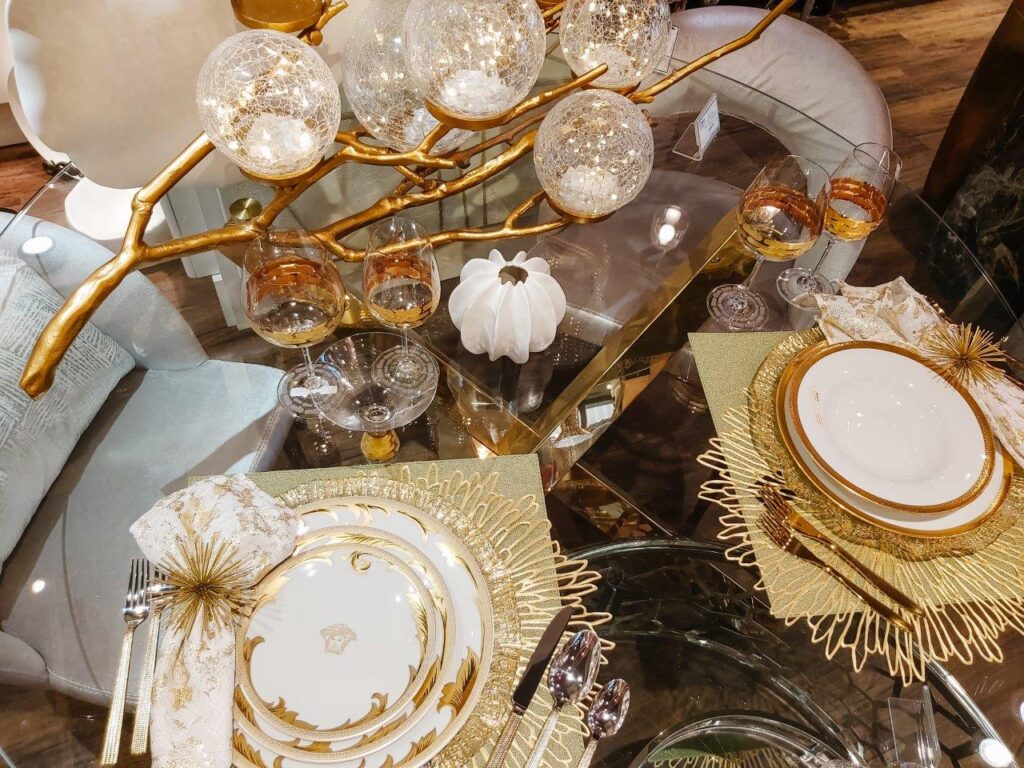 Enjoy a night of luxury dining on Versace dinnerware and another and another. These are timeless pieces that you will cherish for years to come.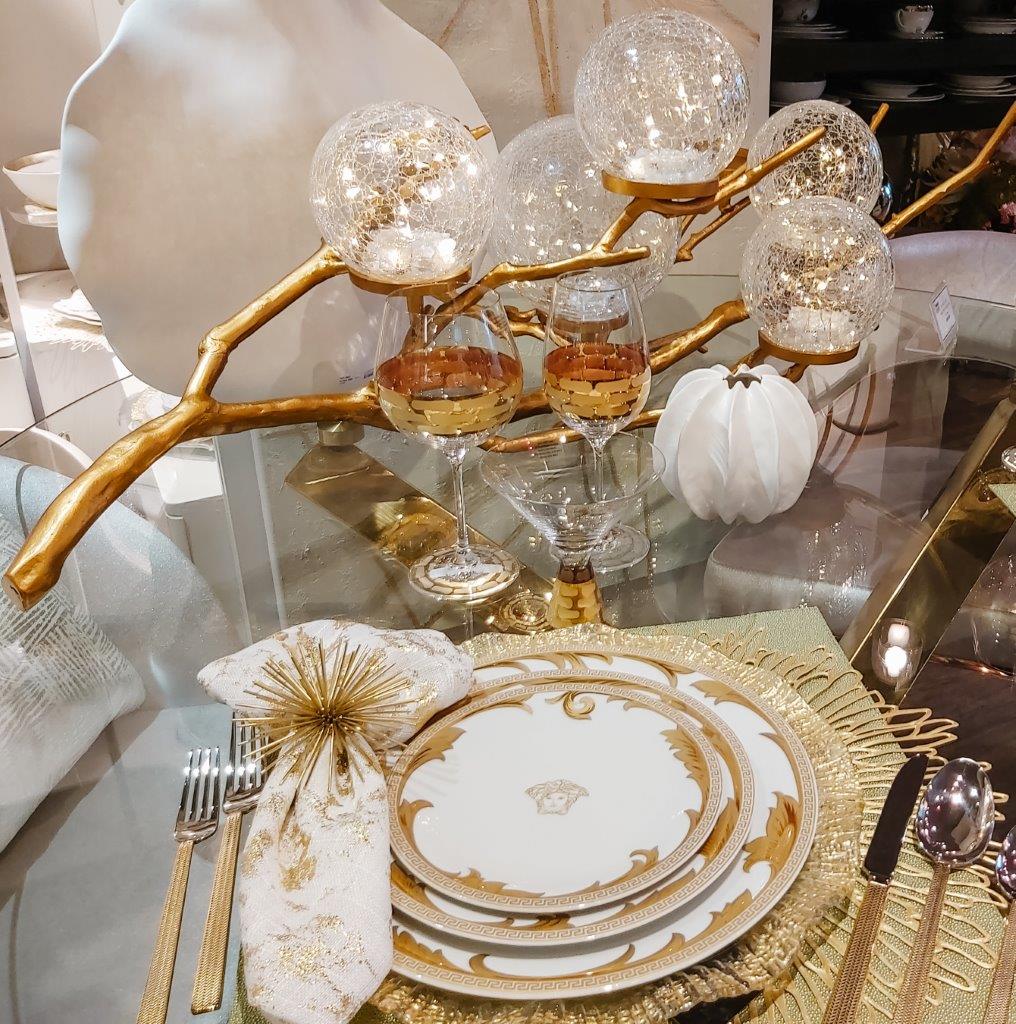 Again the look comes together with a carefully selected grouping of layers on the actual place setting, including a a square placemat, gold cut-out overlay placemat, flatware, a gold accented glass charger, the white and gold dinnerware, cloth napkins and napkin rings and last but definitely not least, the golden drinkware.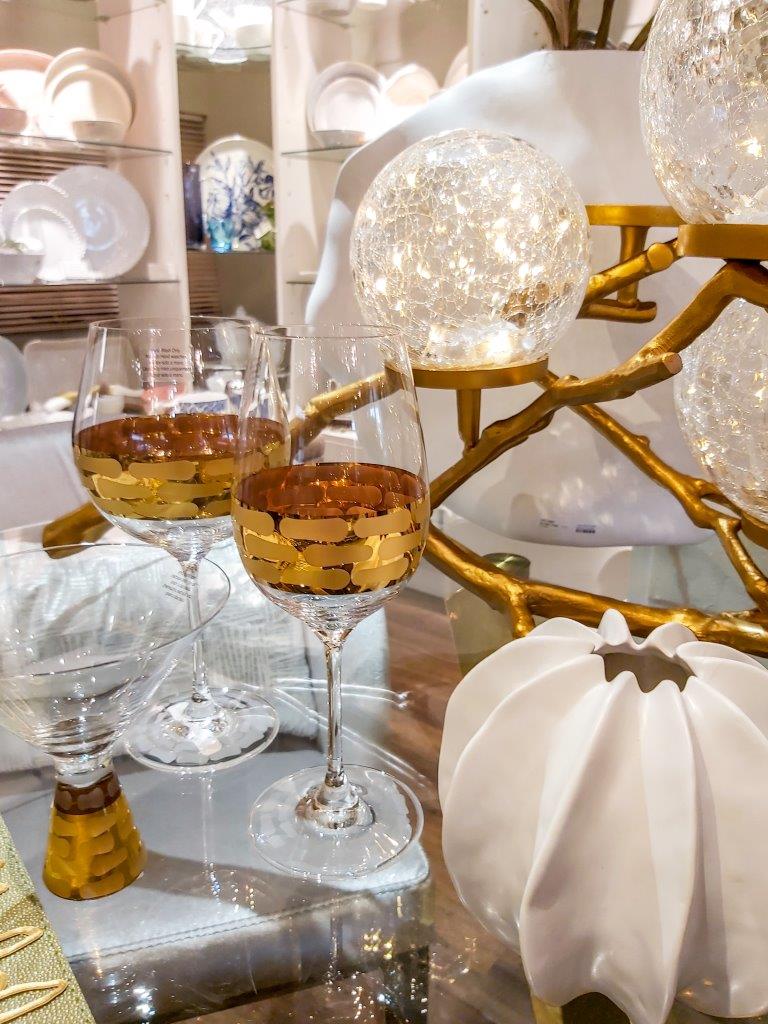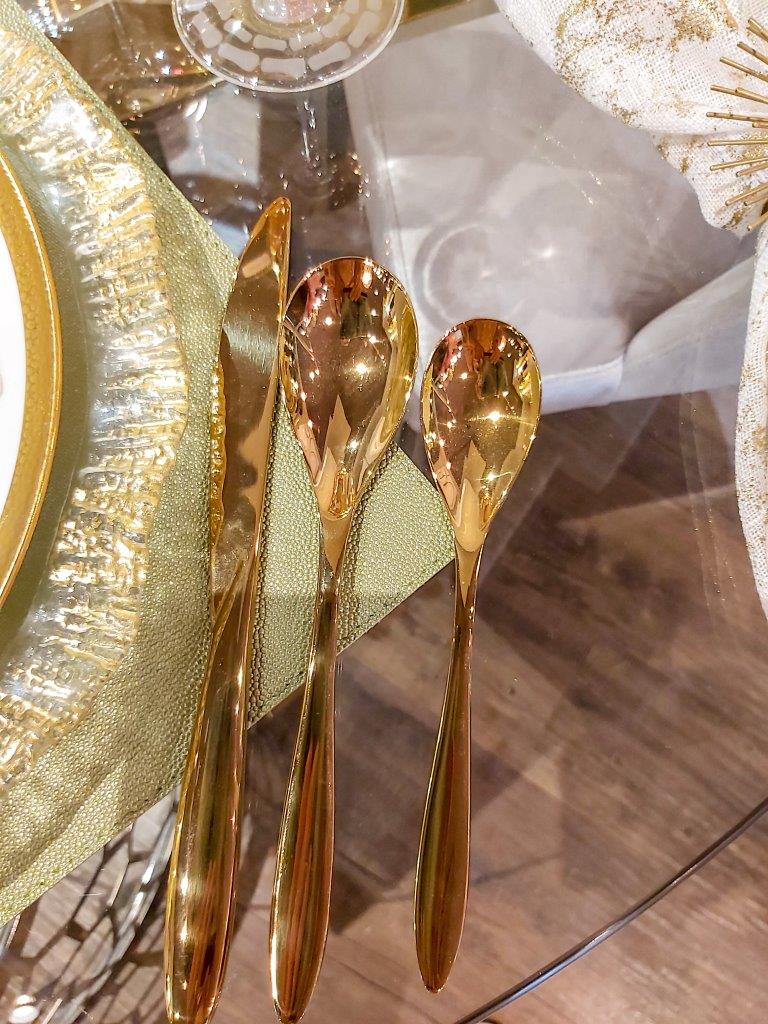 Which look will you be thankful for this year? Perhaps it will be a combination of pieces from each of these very different tables or a creative table of your own creation. We hope you stop in to be inspired and so we we can help you pull the perfect pieces together. We also would love the opportunity to pass on how grateful we are for you, our clients. Have a Happy Thanksgiving!