Tabletop Trends
When you plan your meals the food is often the focus, but we think what you serve it on and how you present your tabletop is pretty important too! The dinnerware and table decor you select gives your guests a glimpse into your unique tastes and if you are using it daily you might as well really love it and it should coordinate with your overall interior style.
Here are a few of our favourite dinnerware collections and we have included a few of the latest tabletop trends that will have your food looking even better in 2020!
Arte Italica Tuscan and Perlina Collections
Classic white dinnerware will never go out of style and with a serge in the popularity of metal the Tuscan and Perlina collections from Arte Italica are a win. They combine white ceramic with their signature pewter trim. Handcrafted in Italy and using the highest quality materials, these classic plates translate seamlessly from traditional to contemporary, and from casual to formal.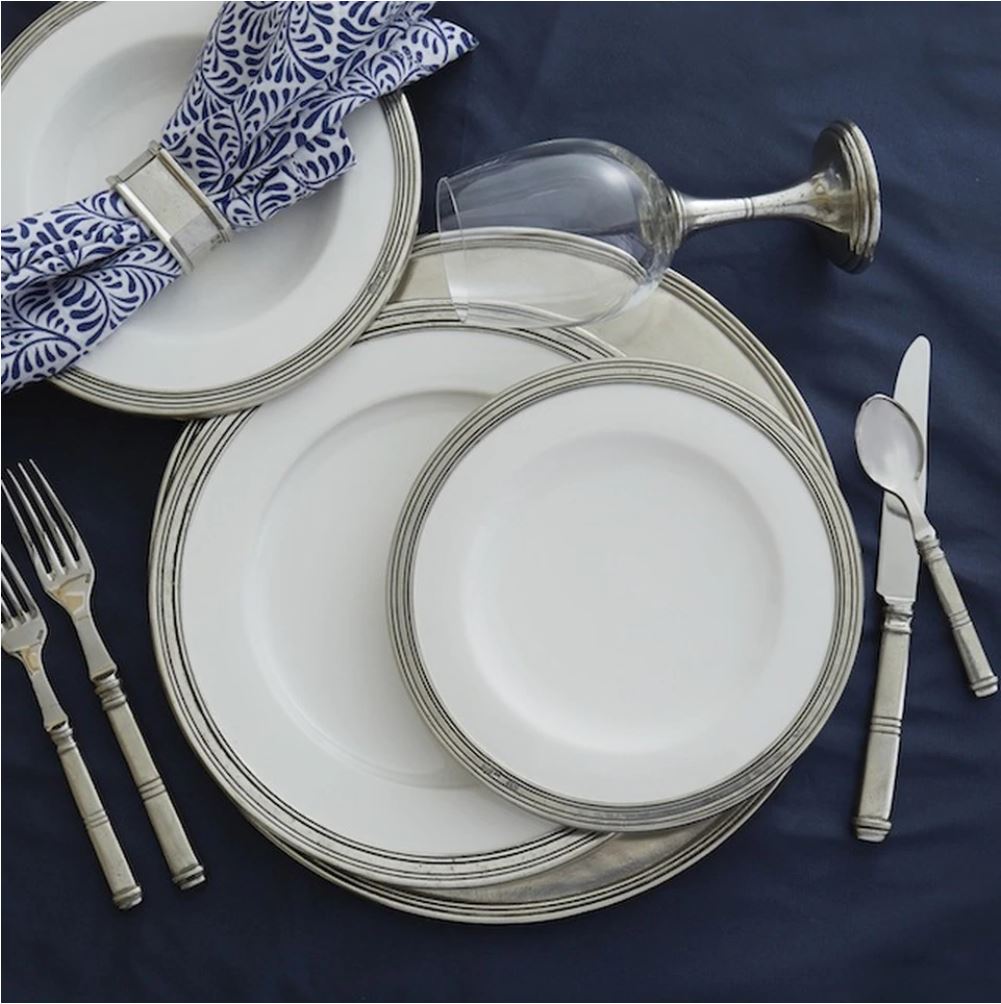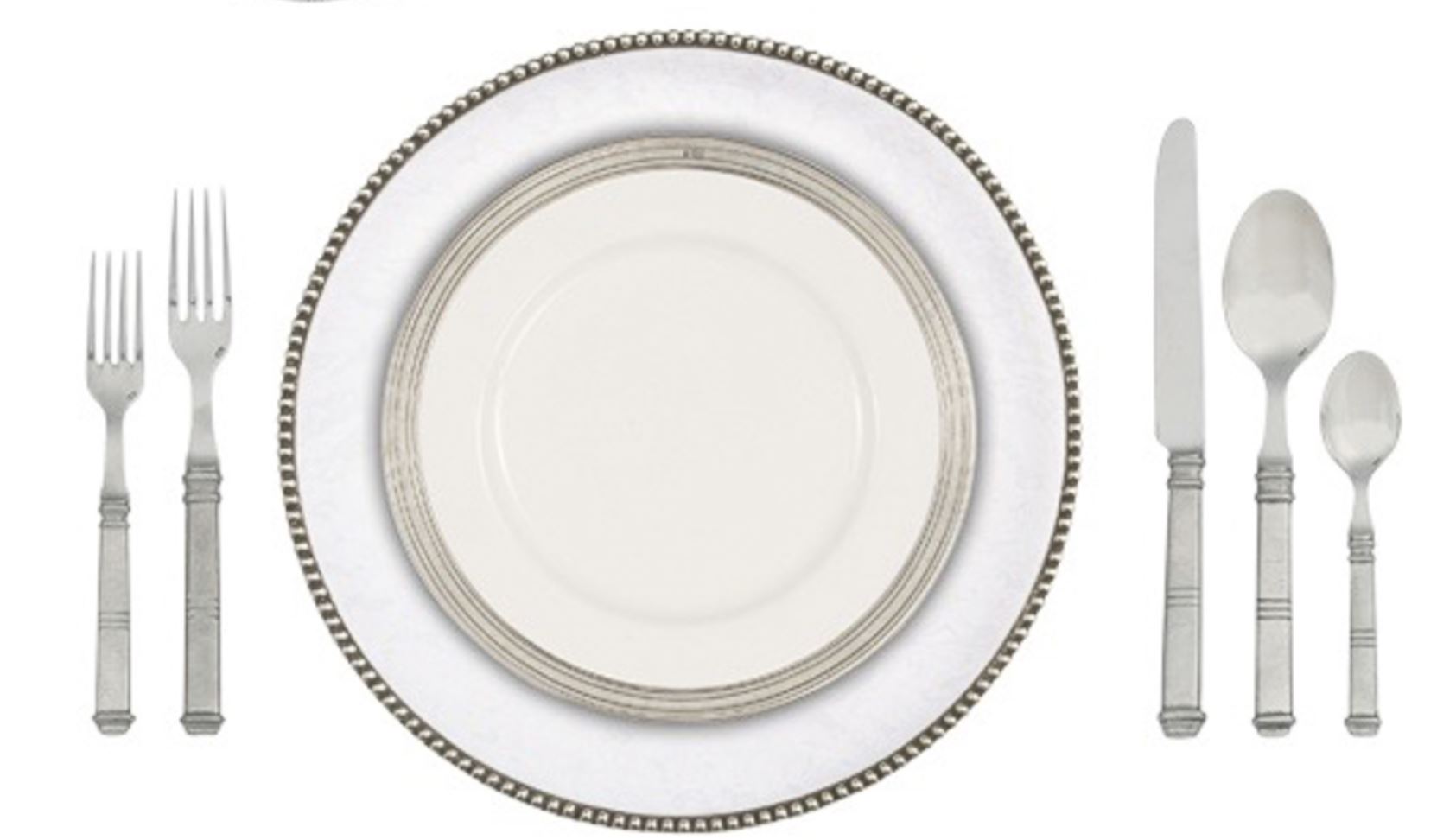 Photos Credit: Arte Italica
Layering your table top also continues to be a huge trend. The Tuscan and Perlina Collections lend themselves very well to this. The Perlina collection is a variation of the Tuscan dinnerware made from the same combination of white ceramic and pewter, but this time the rim is a delicately beaded, hand-finished pewter and glass is mixed in. Mixing  pieces of these two collections from a Charger all the way up to a desert plate, soup bowl and serving pieces will add beautiful dimension to your spread.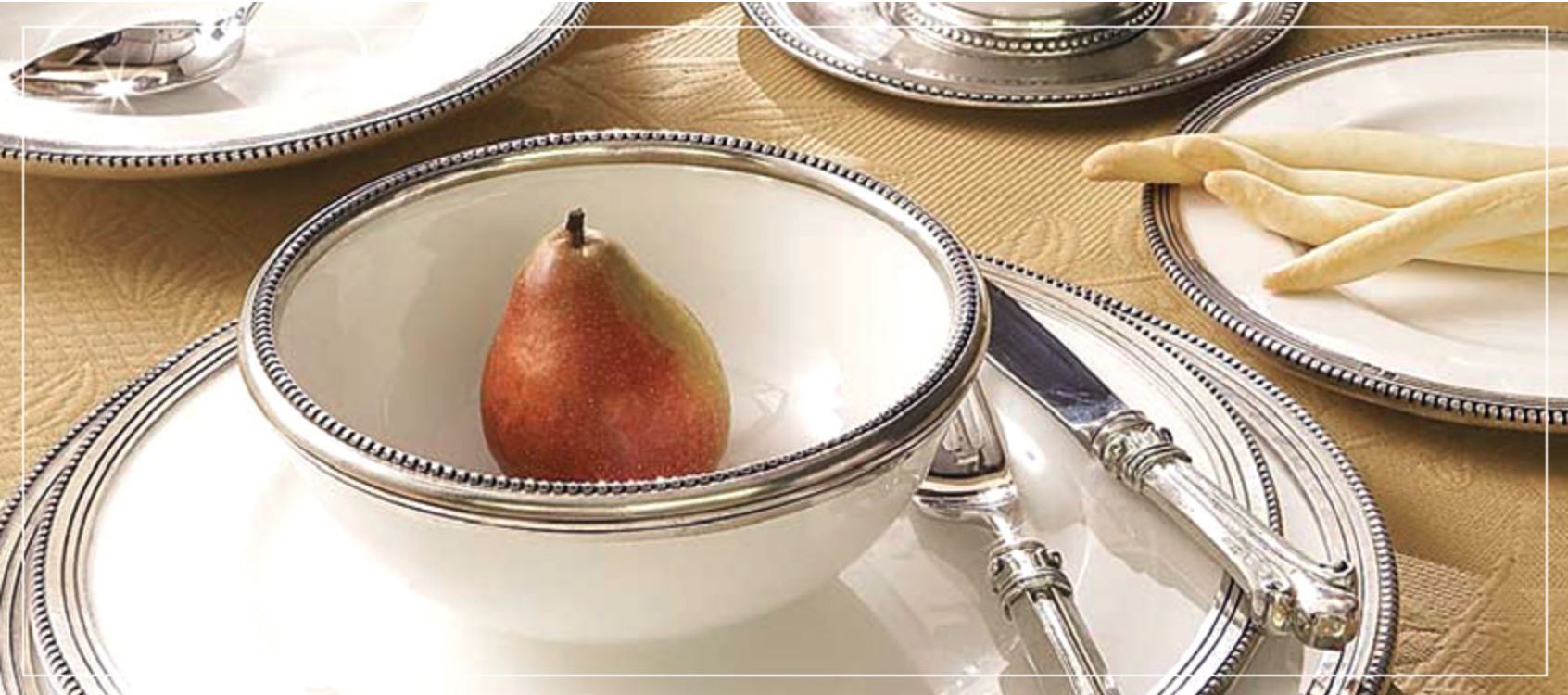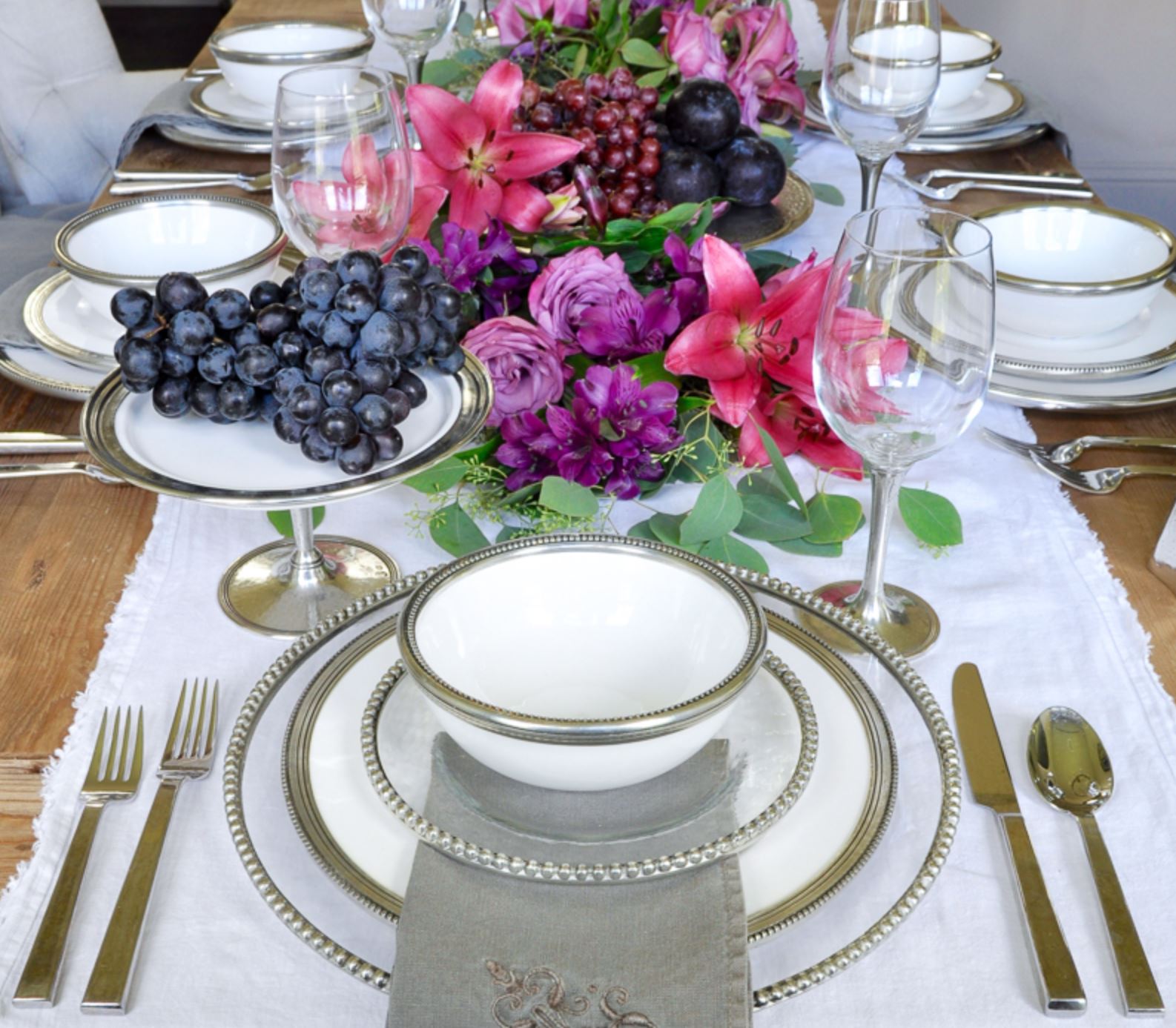 Photo Credit: Decor Gold Designs
JULISKA PEWTER STONEWARE
We love this next collection from Juliska due to its rich pewter tones and the beautiful contrast that is created with the crisp white in the centre. Again you can enjoy the fun of mixing and matching the solid pewter pieces with the two-toned collection highlighted here, called Emerson. These pieces will pair amazingly well with the metal finishes and earth tones that are trending this year. The bonus being that these pieces, although they have the resemblance of  metal are actually a polished style of stoneware that is dishwasher, freezer, microwave and oven safe. A coloured glaze gives each piece a hammered finish and lustrous pewter look. We love the Juliska description! "Our Pewter Stoneware looks like it is bathed in perpetual candlelight."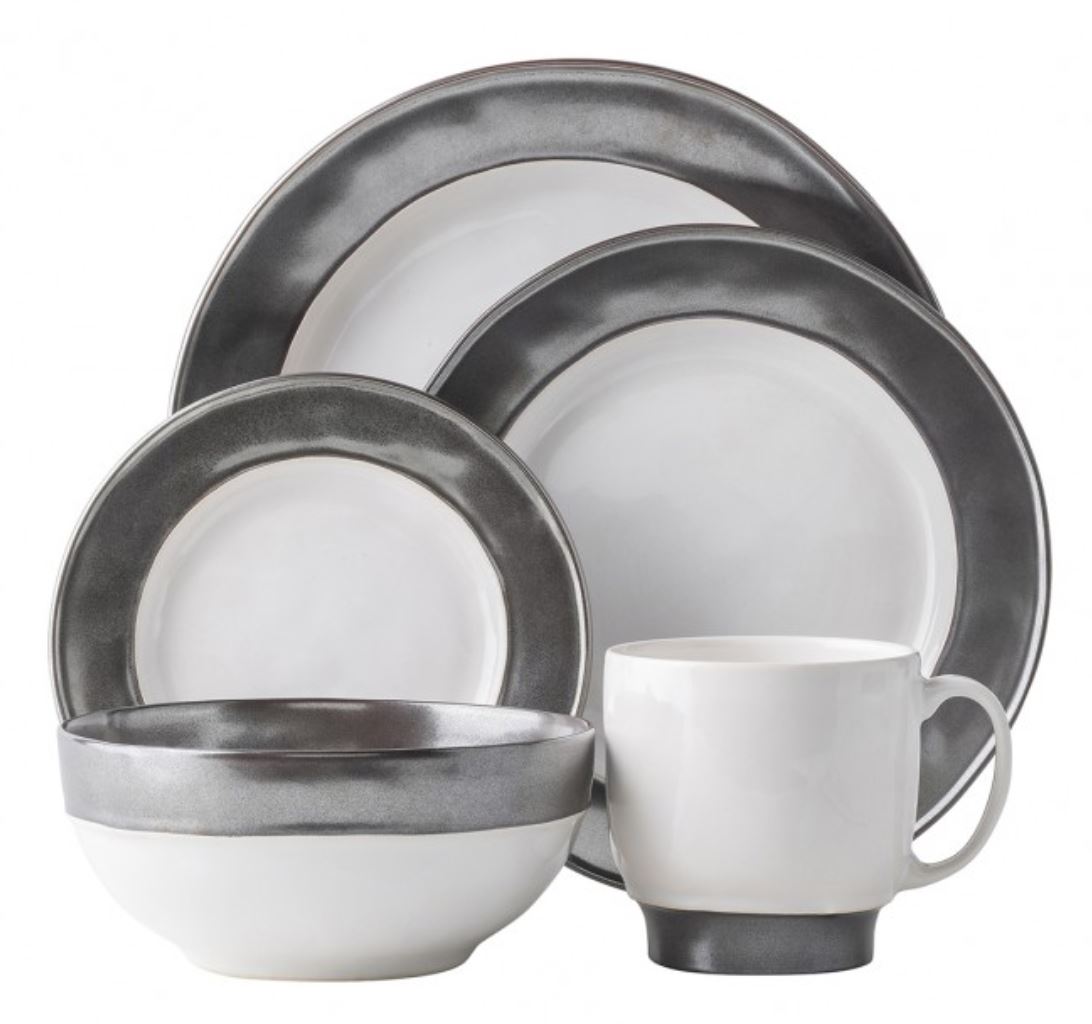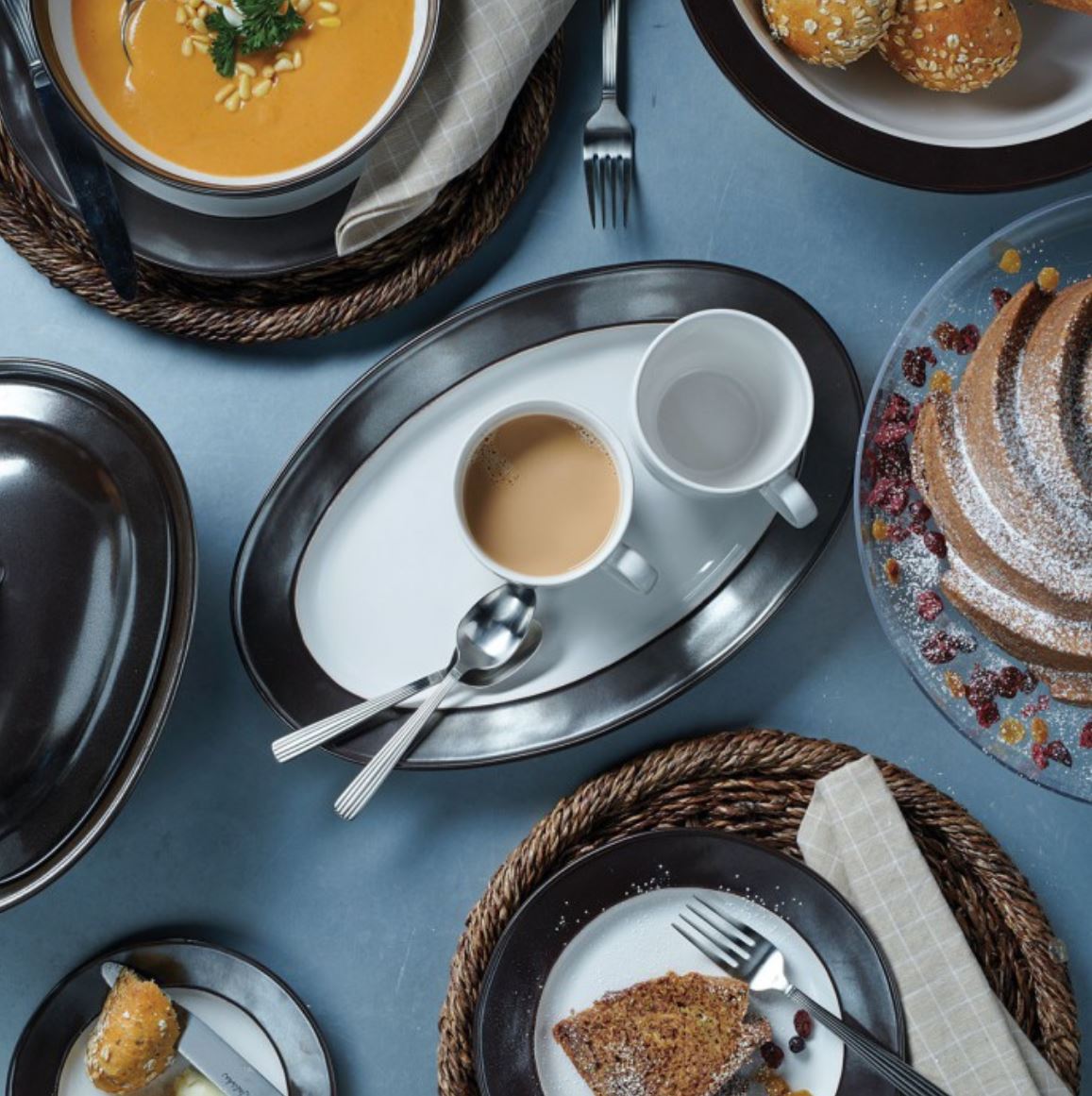 Now that your table is set doesn't your meal itself deserve a little something to elevate its visual appeal? There is a beautiful line of bakeware and serving pieces available in this same finish. We especially love the modern feel of the gleaming octagonal edge on some of the pieces.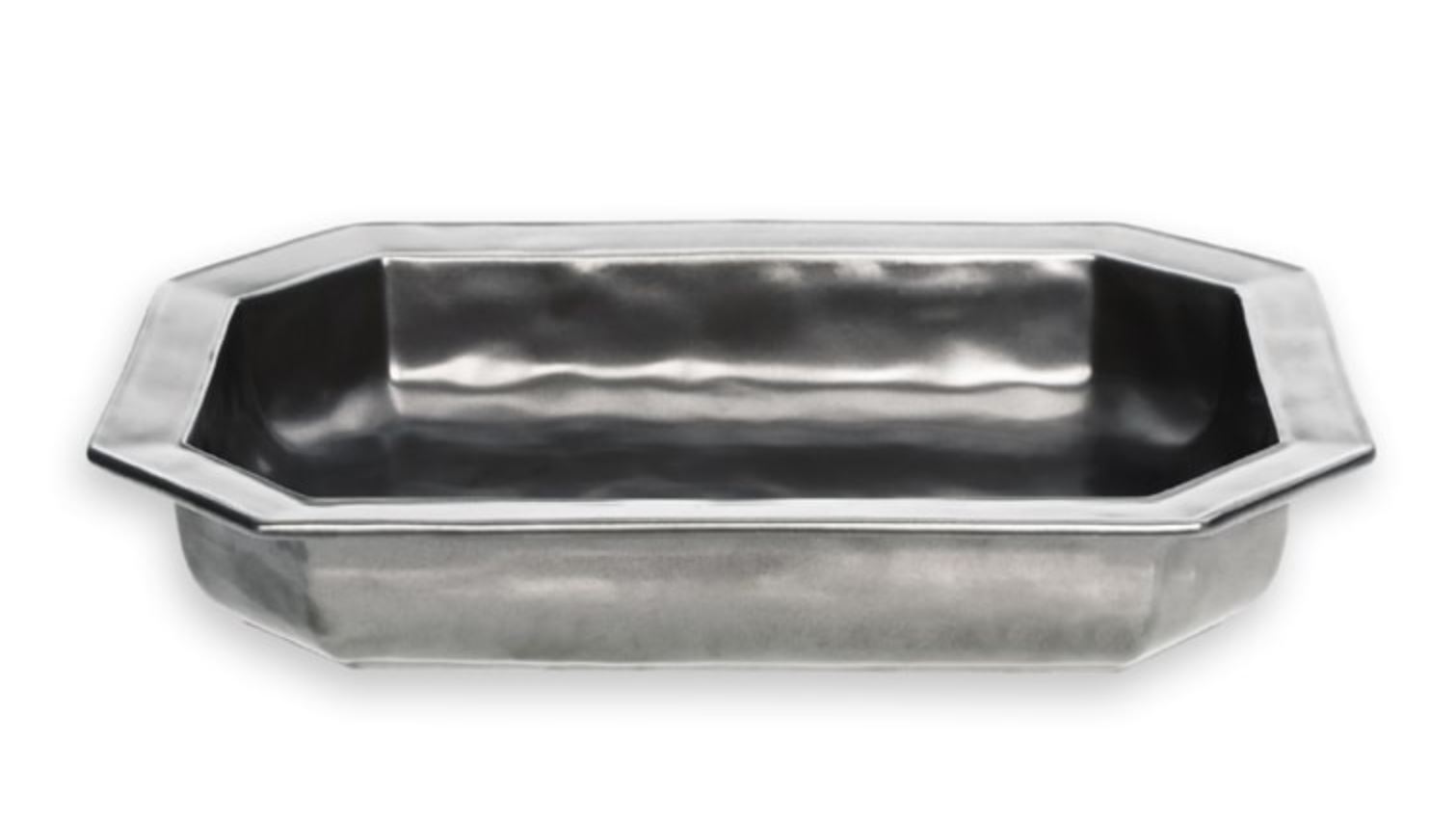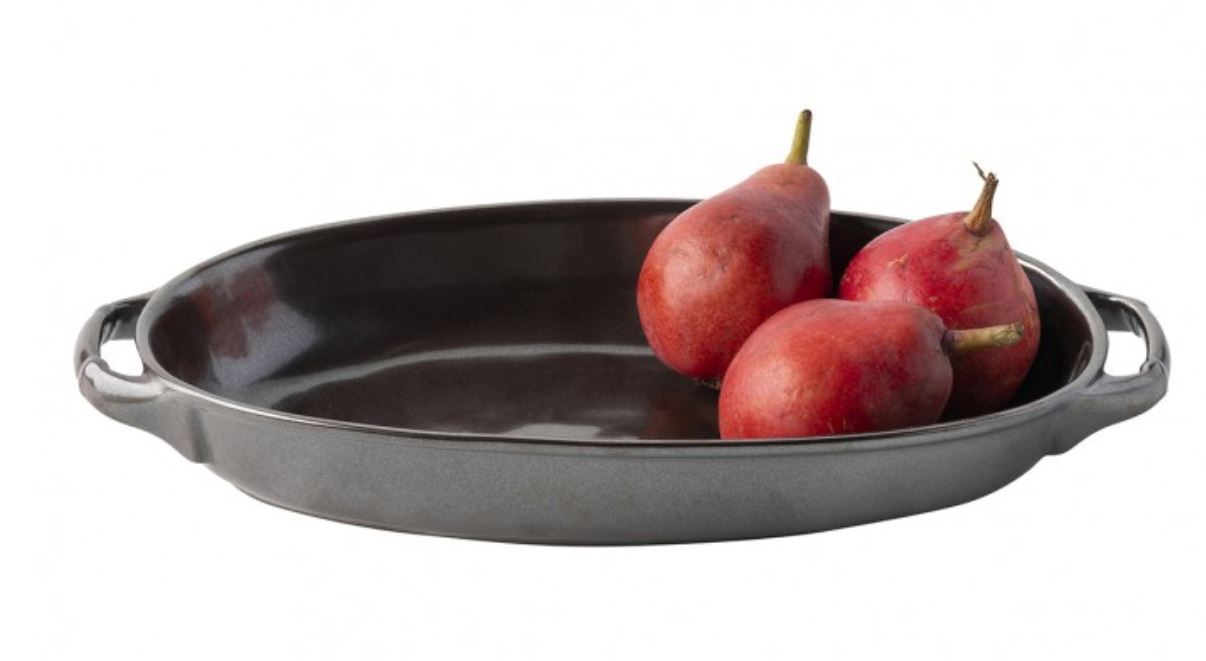 Photos credit: Juliska
COSTA NOVA LAGOA
Are you looking for something a little different for your table in 2020? Something that brings those beautiful earth tones to the mix and that will definately bring drama and texture to your tabletop? The Lagoa collection from Costa Nova is your answer. Pieces that bring that arisanal feel are huge this year and the perfectly imperfect shape and dark metallic finish make these dishes an amazing addition to a modern or rustic home. Keep in mind that darker hue dishes really accentuate the colours and textures of food. A great choice for those food bloggers and those really wanting to show off their culinary talents.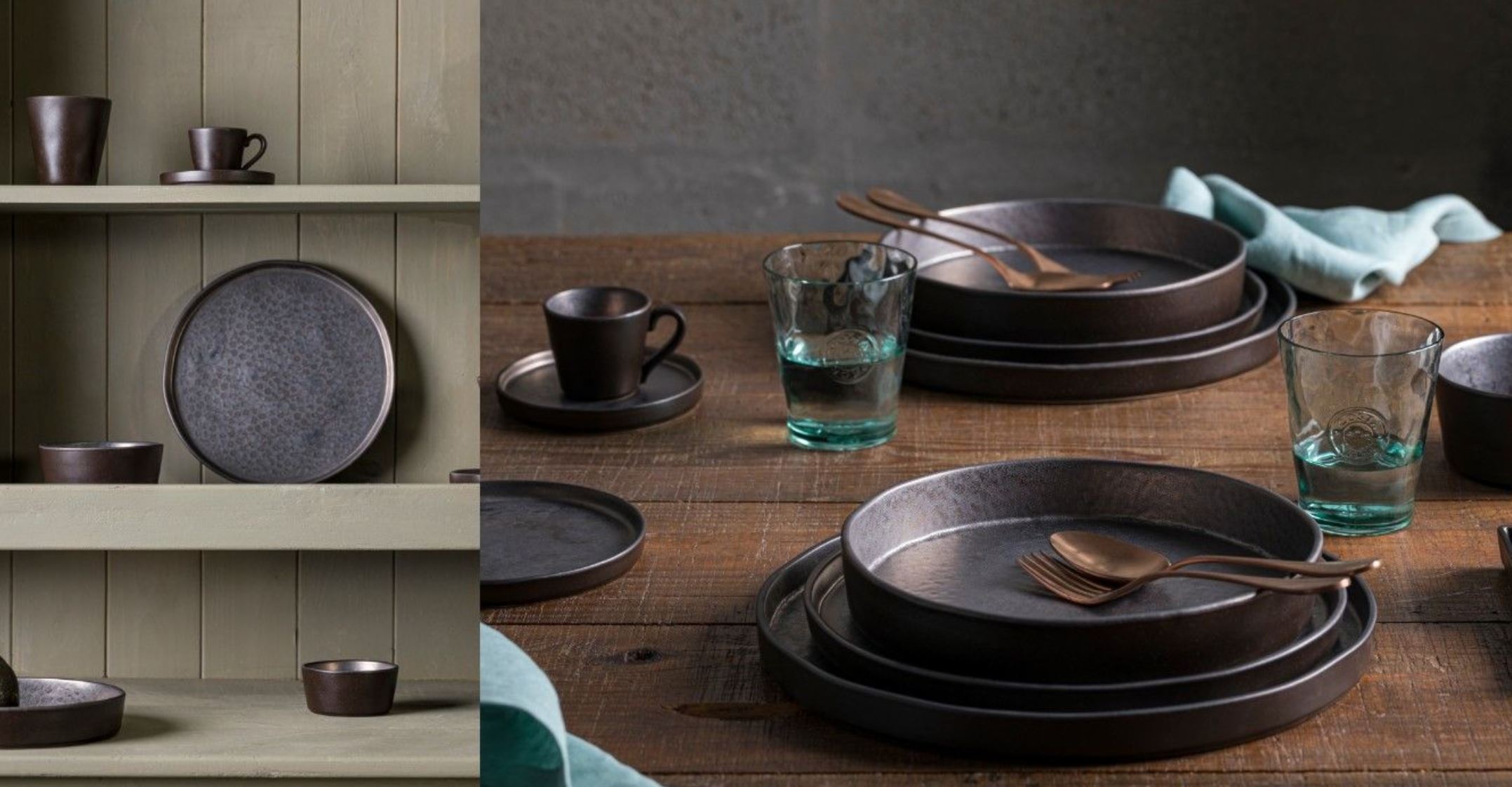 Photo credit: Costa Nova
This collection is also available in a soft matte beige glaze which contrasts beautifully with the bronze tone finish of the darker collection. Let your tabletop be a blank canvas for some interesting layers. The use of interesting placemats and chargers is growing in popularity over traditional tablecloths recently.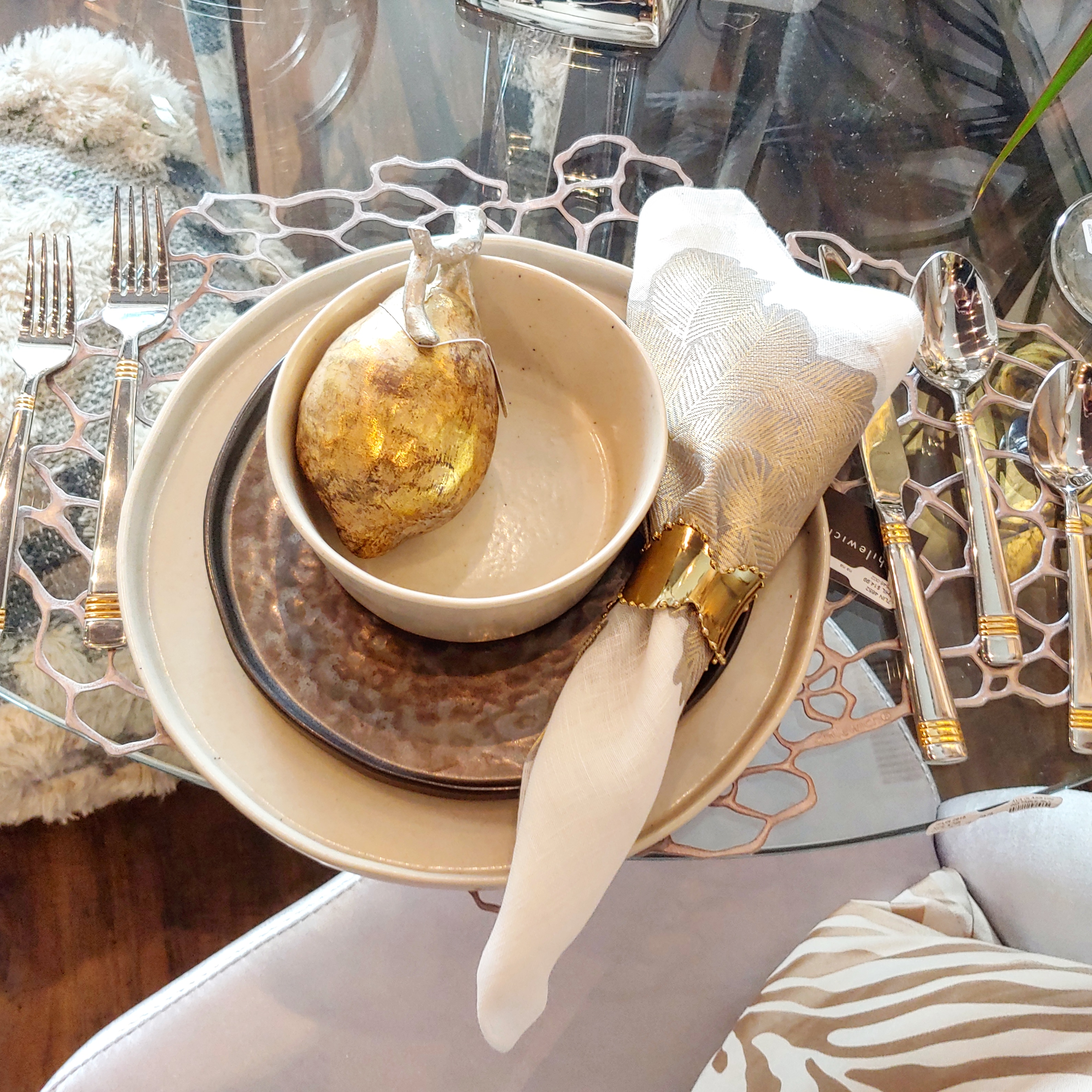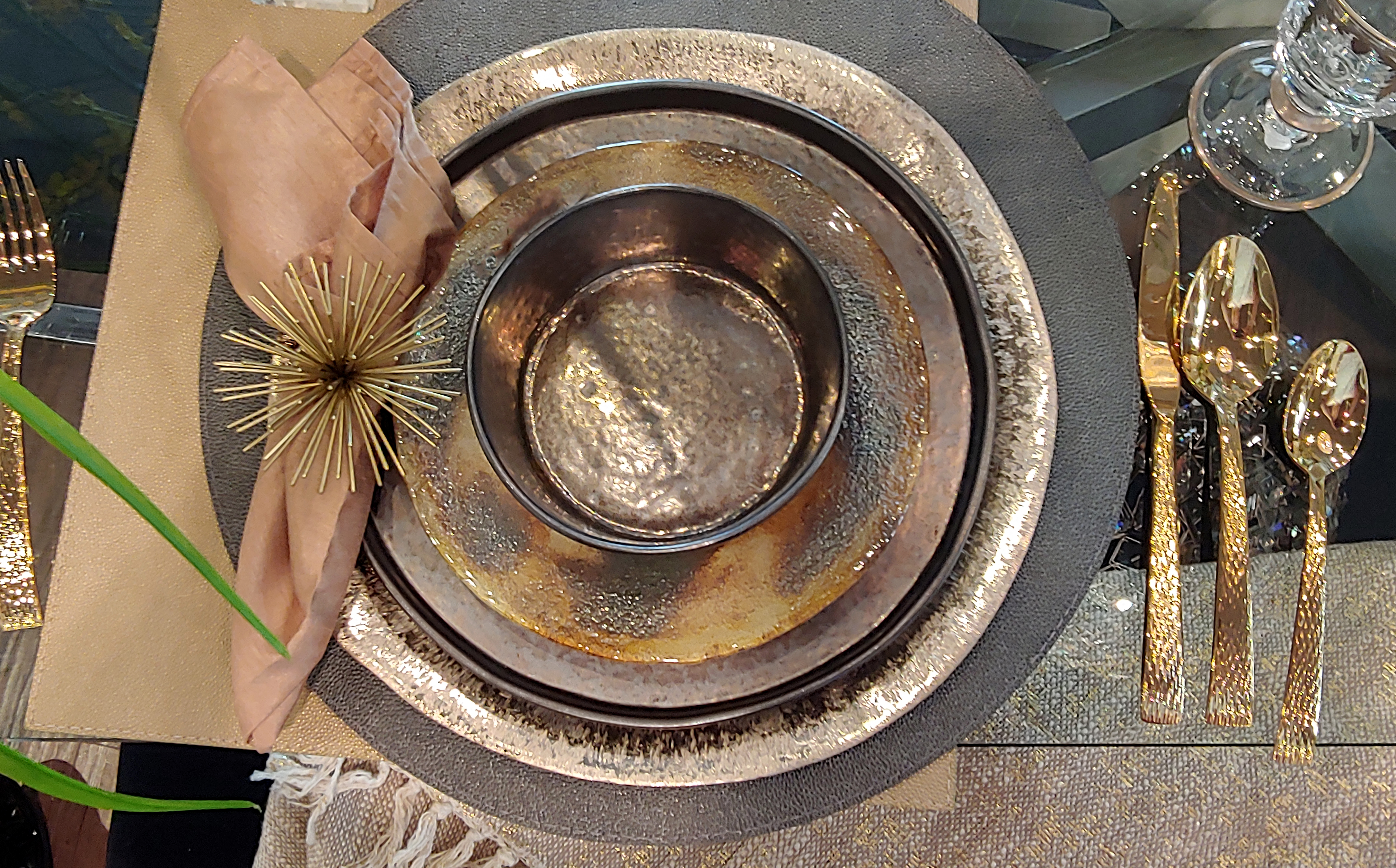 COSTA NOVA NOVA IN PINK
Pink isn't going away just yet in both the fashion and interior design world and heh don't the blushing hues of pink shout out spring? The Nova Collection from Costa Nova has long-time been a favourite among our clients and now you will have the option of refreshing your tablescapes with this beautiful soft shade of pink. Imagine them layered with white, grey, and even those earth tones and natural wood pieces.  Stay tuned until they arrive in our store and we will be sure to inspire you with some unique pairings. They are on the way!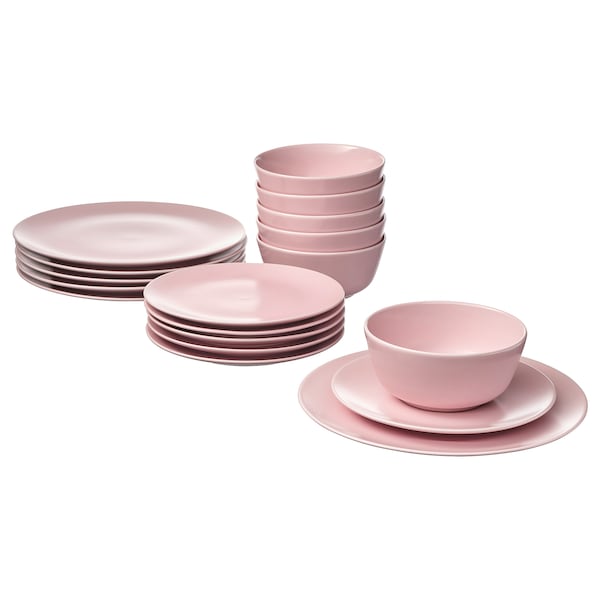 In a year where we are keeping the natural world top of mind I think the description Costa Nova uses for this collection says it all. "Inspired by  Nature's organic shapes of the natural world and the cycle of life, Nova seeks to capture movement in fine stoneware. The pieces are inspired by seashells and tree bark, and like these objects found in nature, they possess the ability to change their appearance depending on the time of day and the angle of the light."
If you would prefer, the classic colours in this collection, are stunning as well. May we suggest the white or the Denim blue, which is actually very similar to 2020's pantone colour of the year Classic Blue.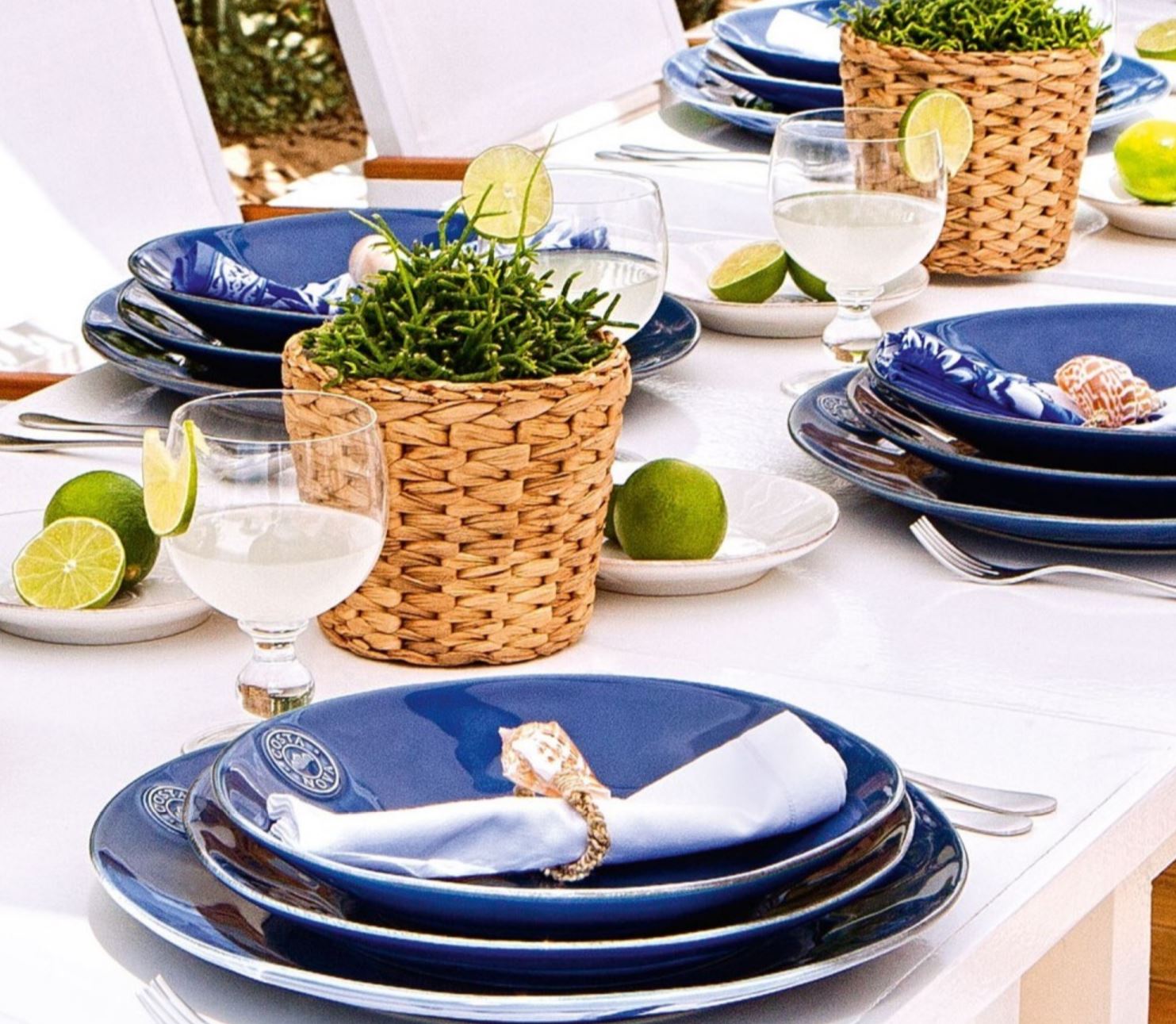 Photos credit: Costa Nova
VIETRI LASTRA
The Lastra collection, with clean and simple lines, is Vietri's number one seller. This Italian stoneware handcrafted in Tuscany, Italy is worth the investment as it really is timeless and we love that Vietri is always adding accent plates that coordinate with the solid coloured dinnerware to change things up for the seasons. Also, if you are looking to celebrate the artisan, like many designers this year, the Lastra collection has a really interesting story behind its creation. And who doesn't love a good story to share at dinner. The collection was inspired by the circular wooden slab used for centuries to create the outer mold in cheese making throughout Italy. When fashioned together with twine, the hoop was left with a slight overlap to help maintain the shape of the cheese mold. Maestro molder Stefano Roselli incorporates the overlapping detail into the entire design, from its foot to its rim. A dark dusting on the edges of each piece suggests the ash that was used to preserve these cheeses and highlights each unique silhouette.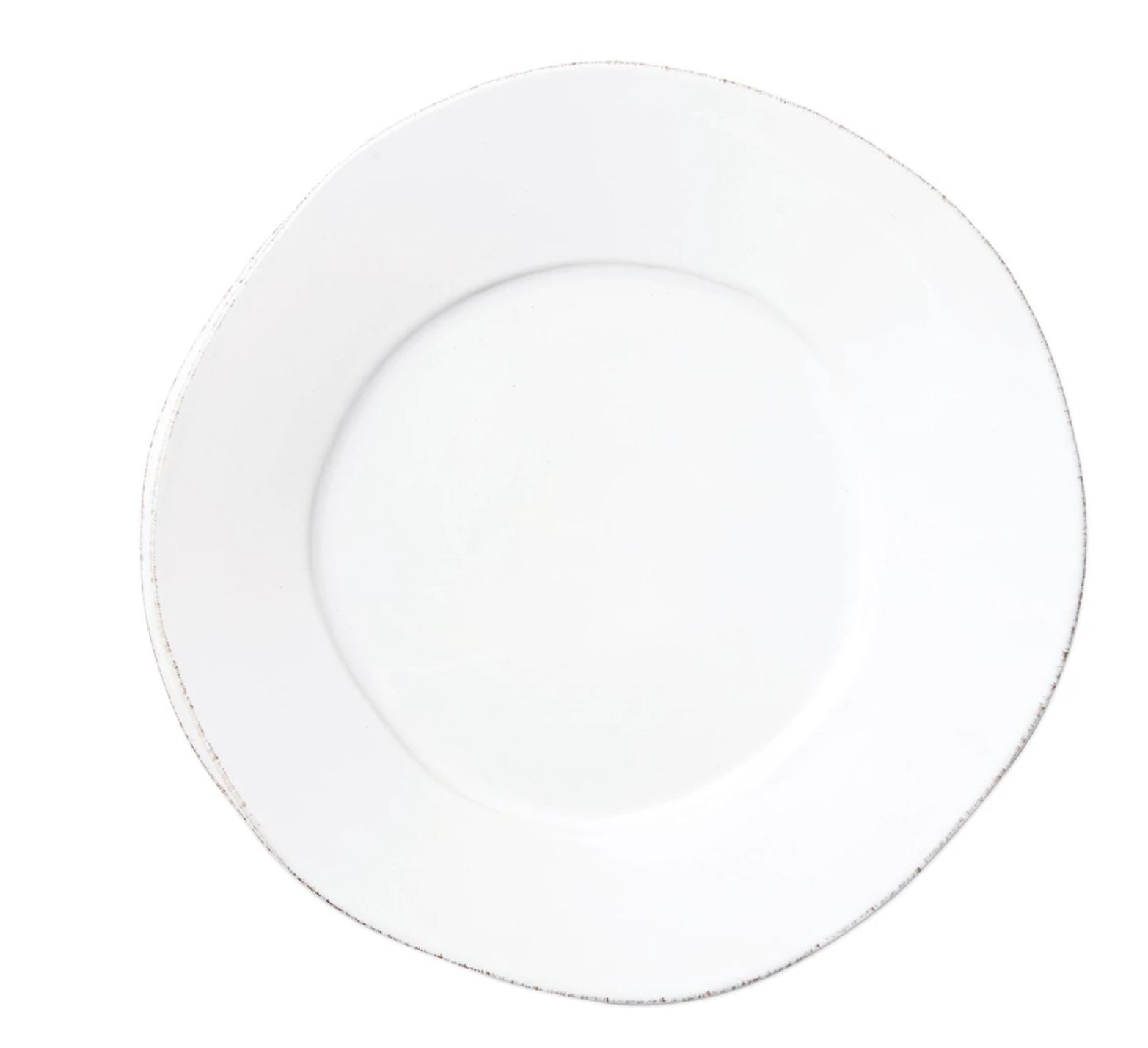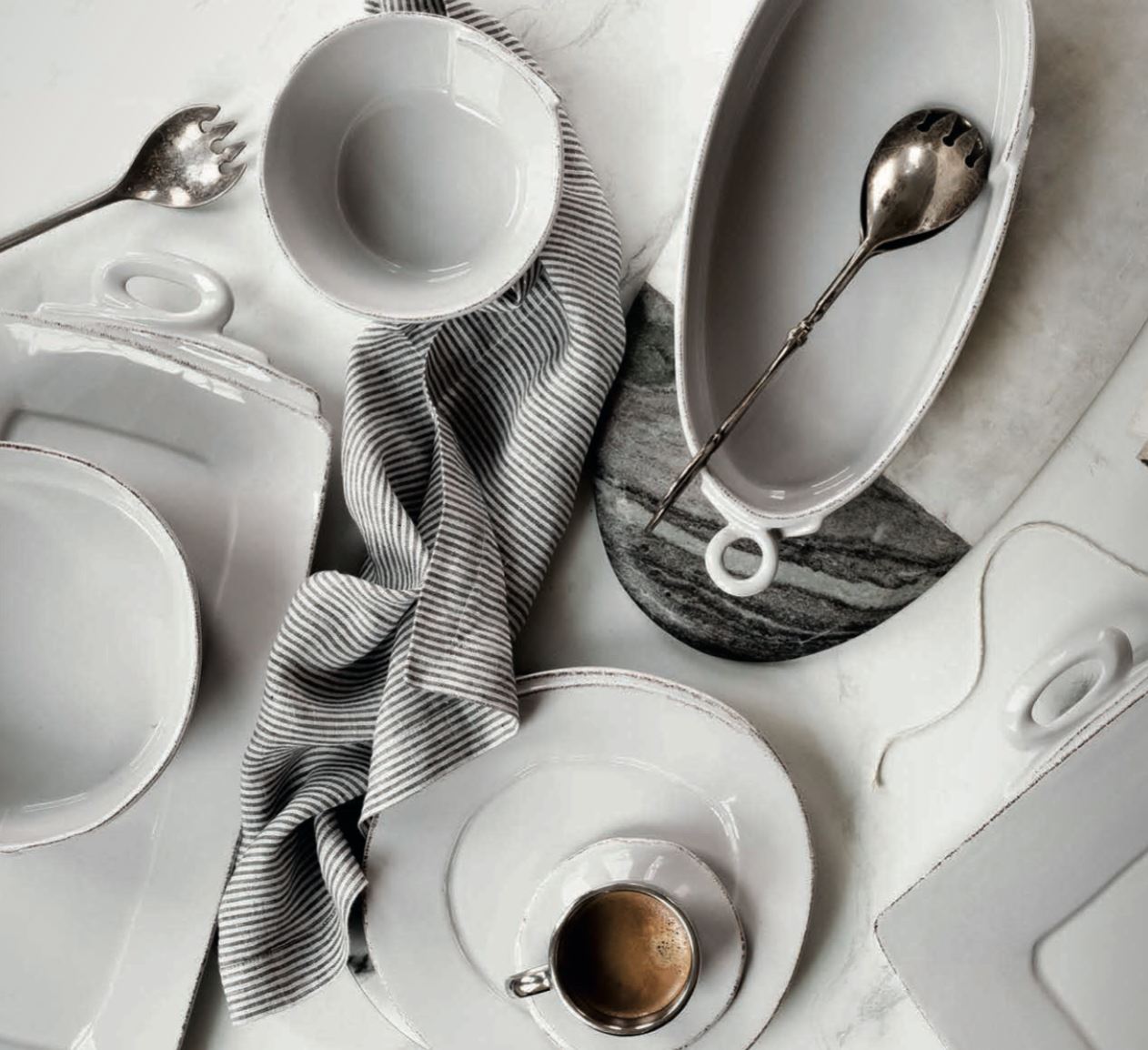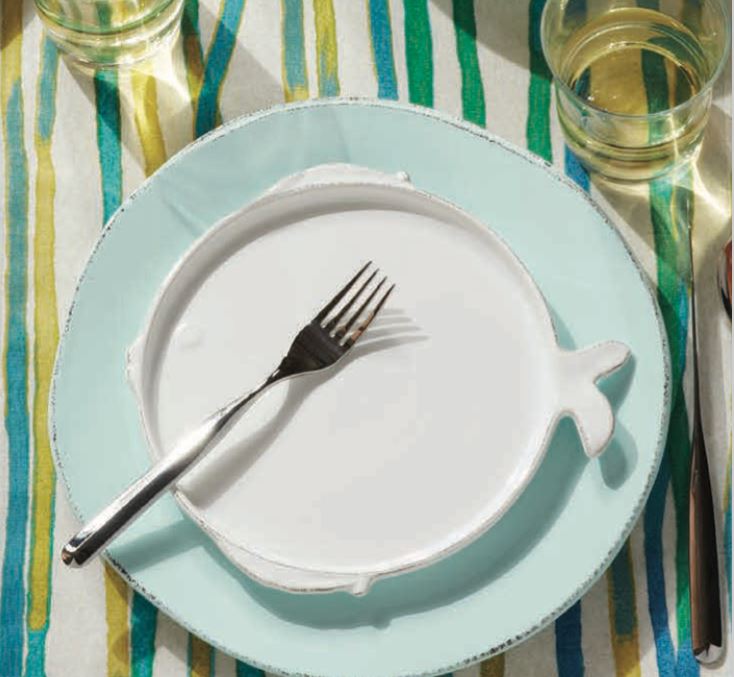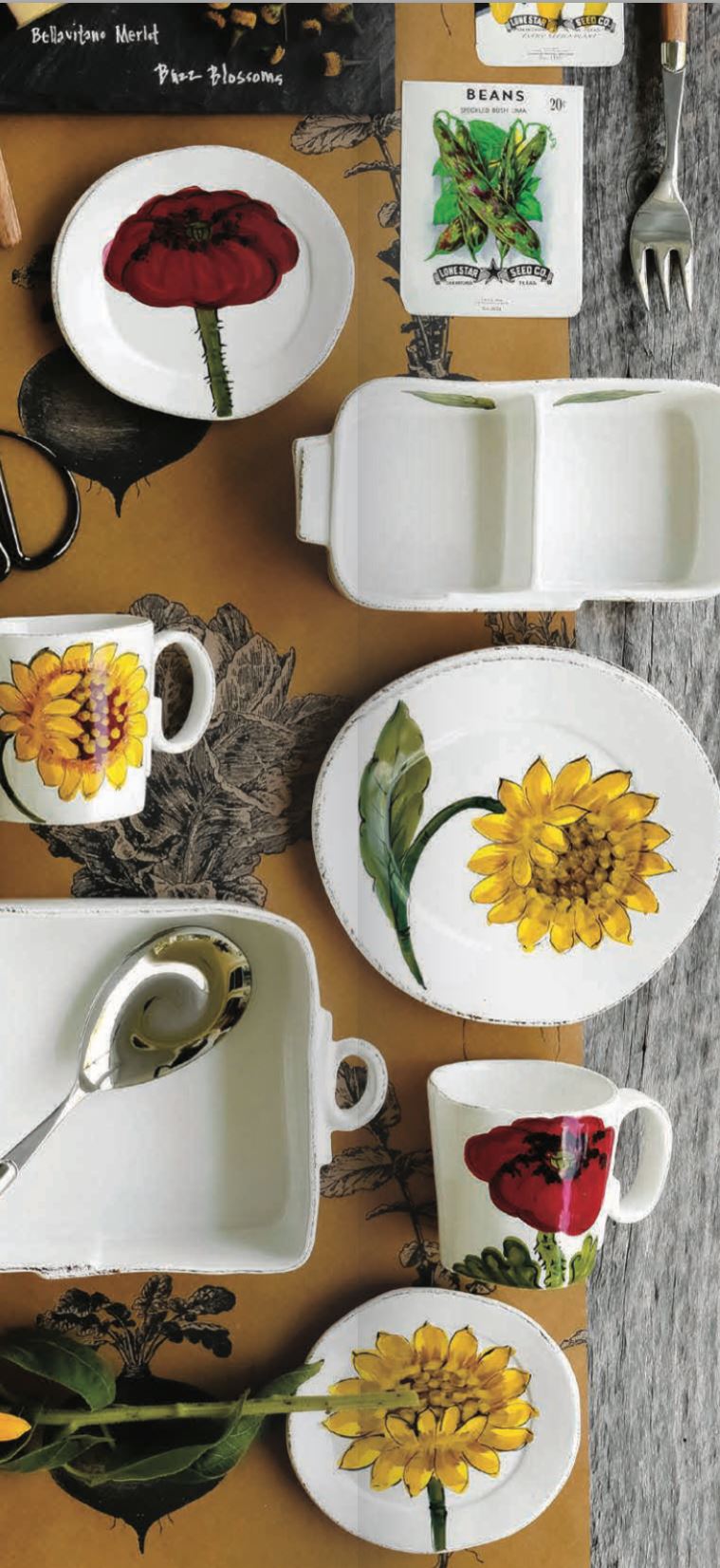 Photos Credit: Vietri
This is just a small glimpse into the wide selection of dinnerware that is available at Modern Accents and that could be a part of your next meal. We touched on a few trends, but honestly the trend really is to follow your own rules and mix and match the pieces you love the best. If you have pieces from different collections you can create a new look everytime you sit down to your table. The possibilities are endless especially when you introduce new colour combinations as well as texture with different table runners, placemats, chargers, napkins and other accent pieces.