Set it Special
Holiday gatherings may be off, but it doesn't mean your holiday meals and settings have to be. Make the occasion special just the same. Hey, take advantage of a year when you don't have to think about everyone else, set that table your way. Select a smaller number of place settings that you really love and make a beautiful tablescape. Perhaps your celebrations will be virtual this year, spending time with friends and relatives via video chat? Why not have some fun sharing your meal and all the trimmings and place setting decor, that goes along with it, with each other online. We realize that it isn't the same as being with each other, but connecting in this way could bring a little joy. We are sharing some great ideas to set your table special, regardless of how you are spending the holidays this year.
All in Holiday
Don't hold back. Layer your place setting with the colours of Christmas. A joyful vibe can't help but be felt with the vibrant golds, reds and whites in this table setting. We love the mixture of dinnerware shapes, finish and colour. The stacked placemats, below, add even more depth to the spread. The gold flatware, fabric napkins and ornate napkin ring are the final glittering touches to welcome you to dinner. Its such a different year, you might even choose to start with dessert!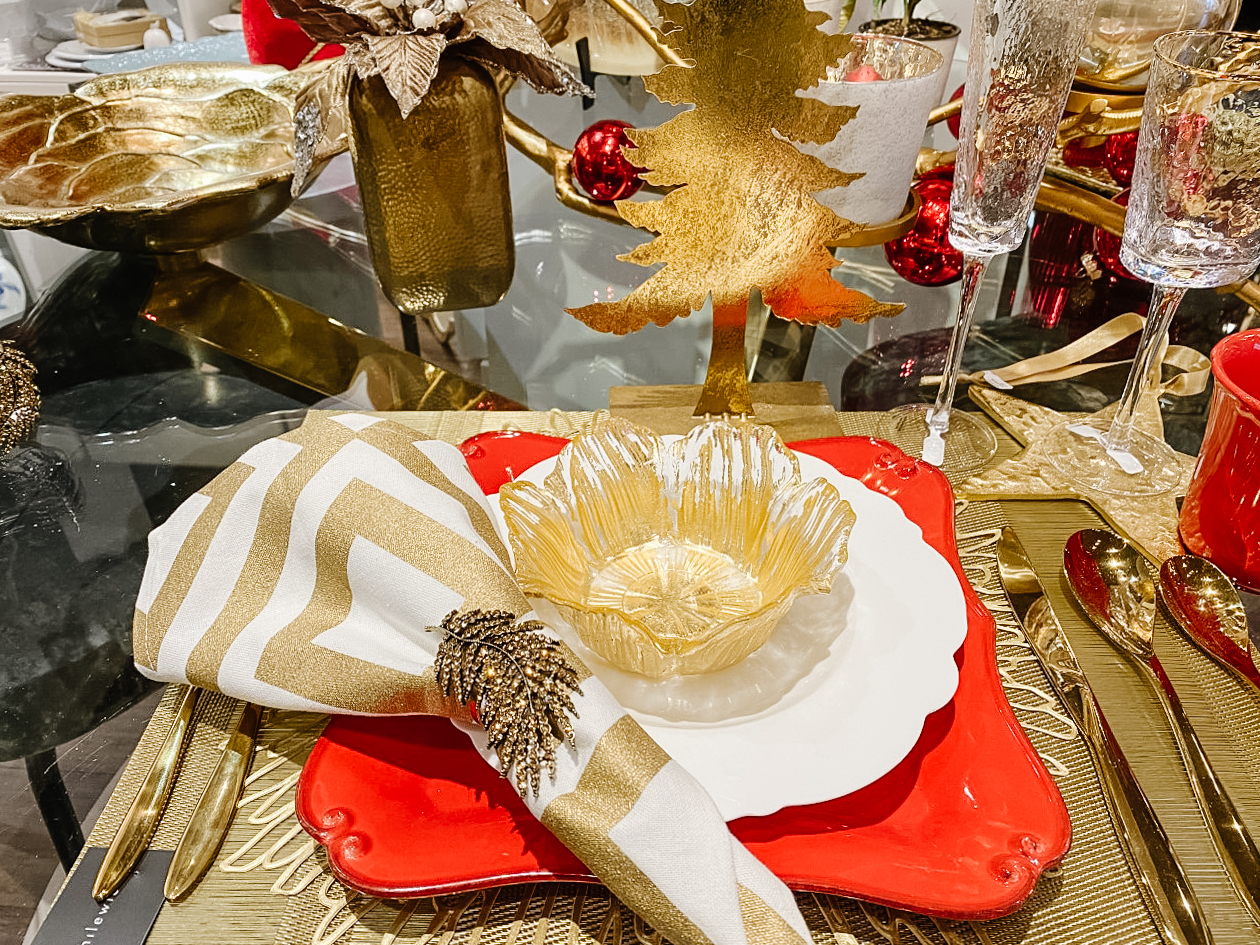 Go Golden
Here are some more ideas using settings in gold and note the exquisite Versace dinnerware. Lavish and ornamental the Arabesque Gold collection could be your way of treating yourself. Also don't forget to add in some beautiful glassware to toast the season. The small little details like the star ornament coaster are a beautiful touch too.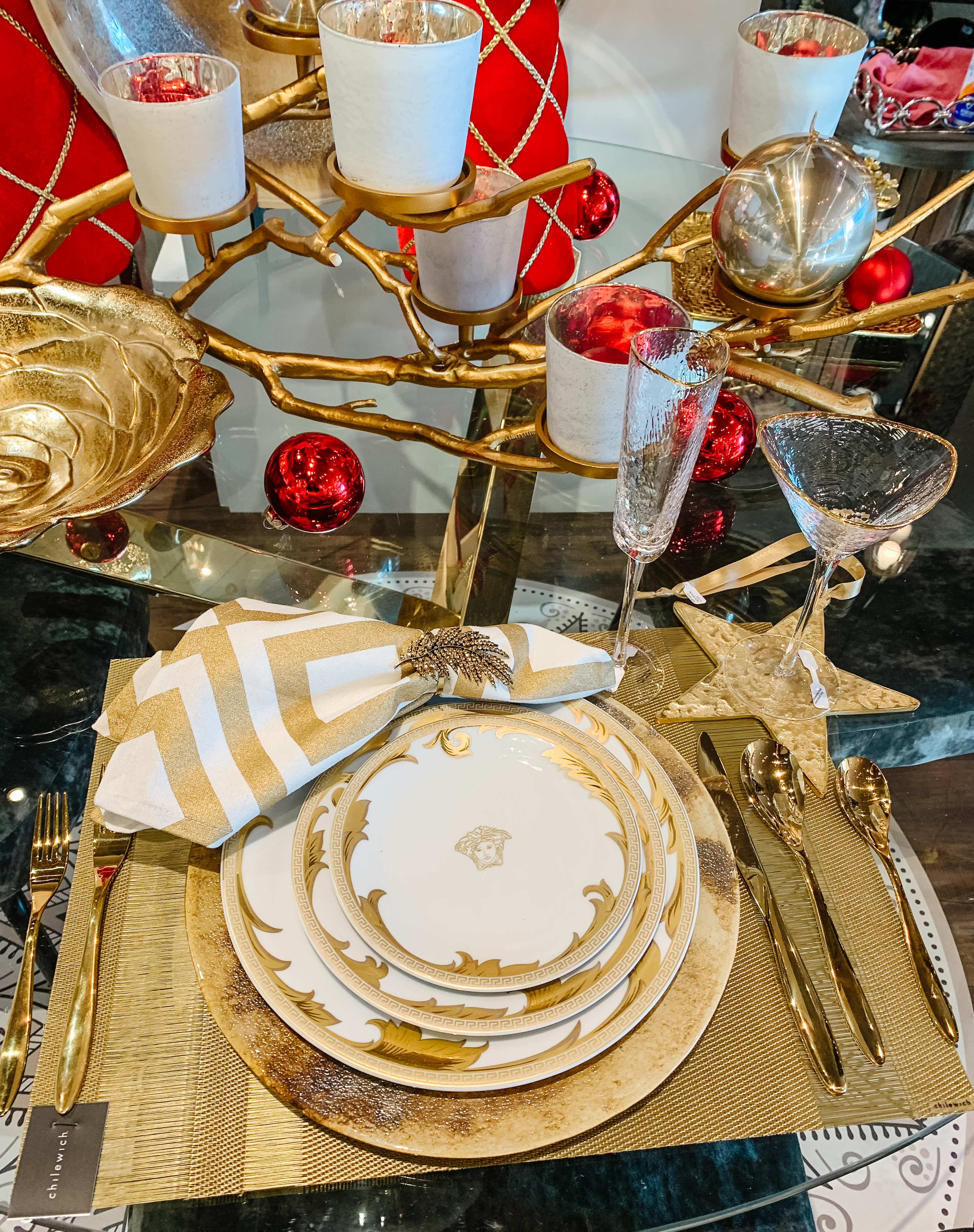 Go all in with the full Versace place setting or select an accent plate to mix and match with your other favourite dinnerware pieces like we have done here below.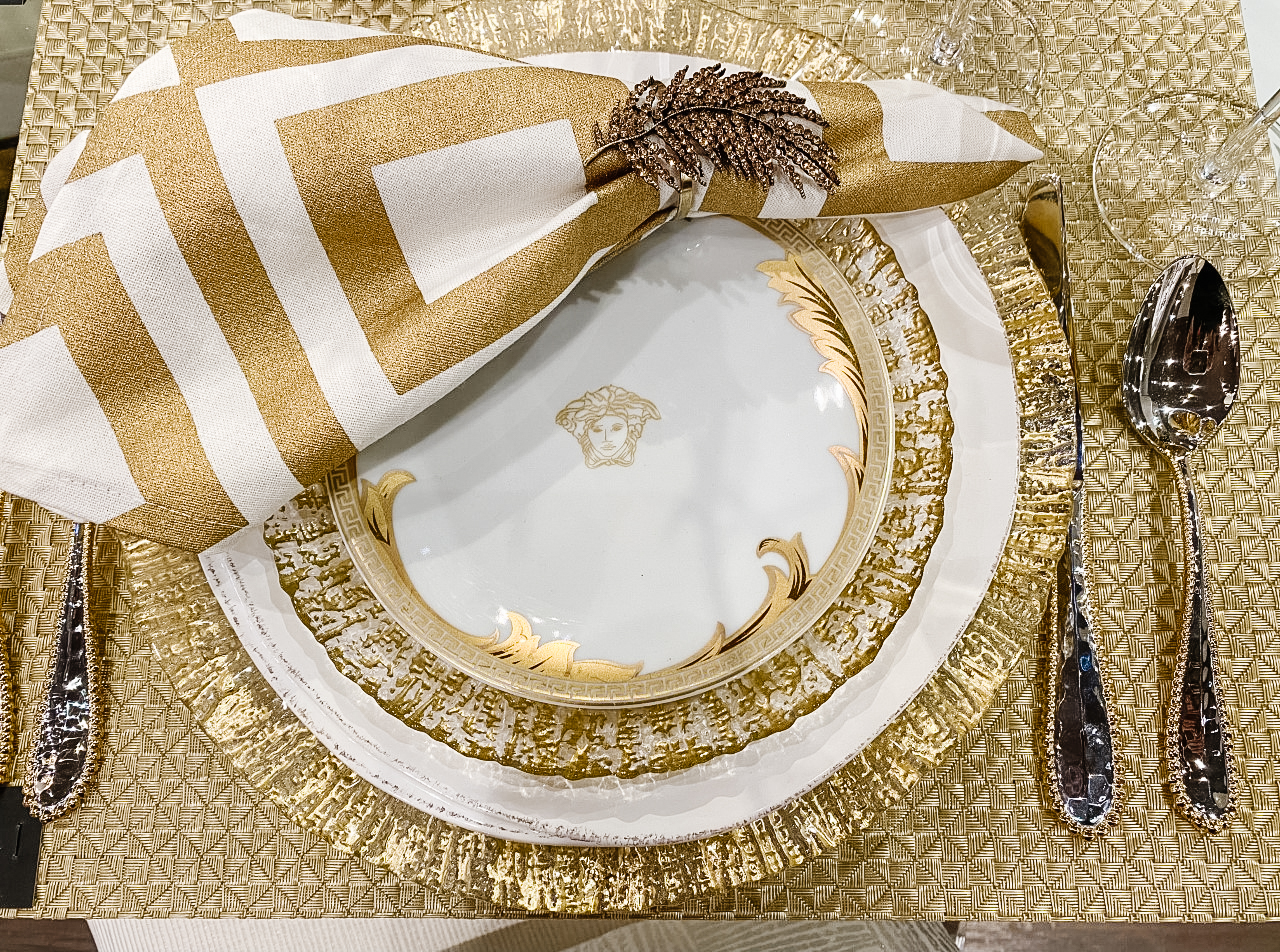 The beautiful  tidbit plate from Michael Aram's Pomegranate collection is another stunning way to bring the gold and with the backdrop of the glass dinnerware from Vietri the setting glistens. A favourite flatware set is also from Michael Aram as are the Butterfly Ginkgo napkin rings. A lovely idea is a personal candle that you can take with you when you go cozy up on the sofa after dinner. If you are spending the holidays with just your sweetheart, why not bring some romance.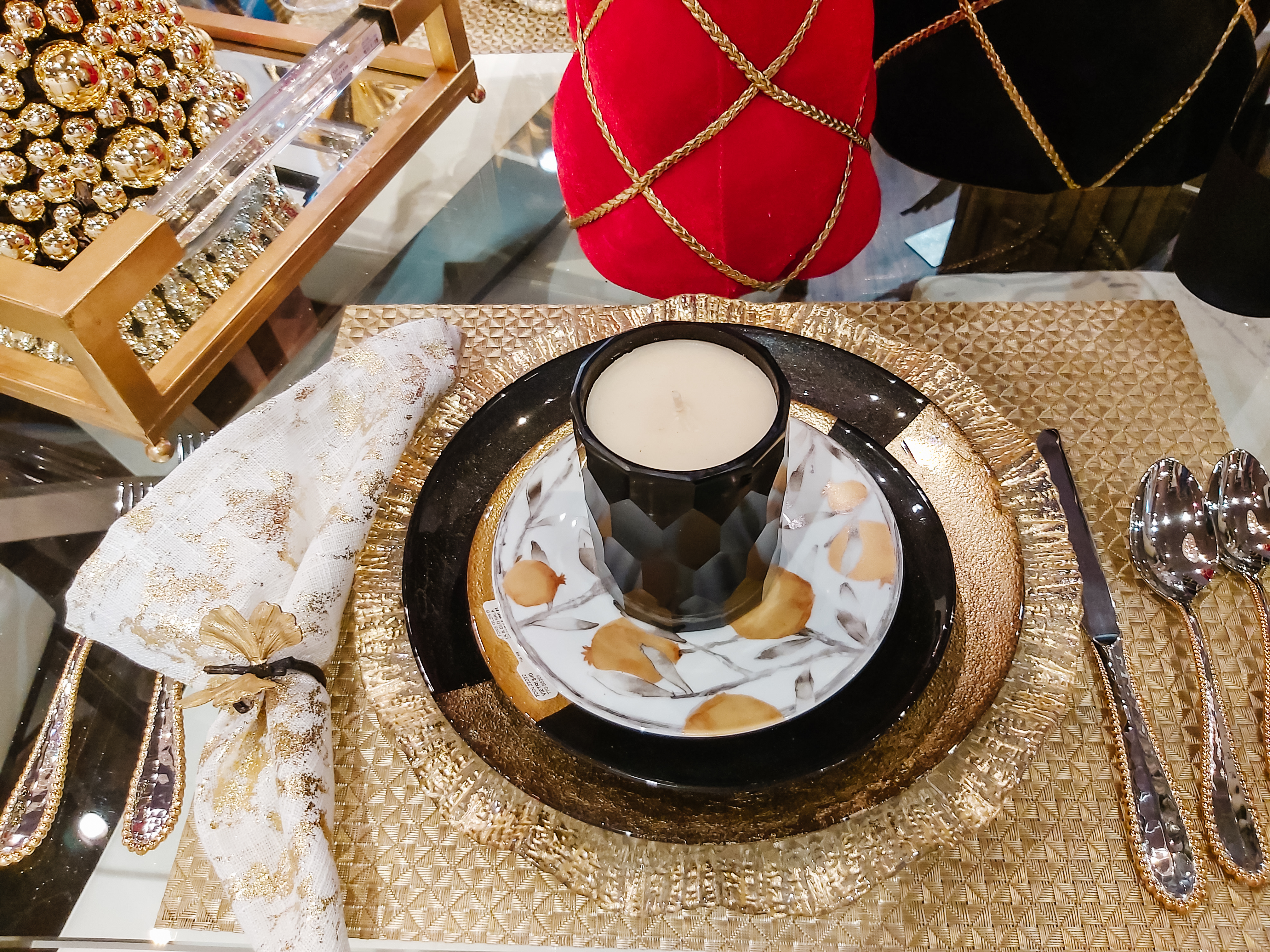 Winter Woodland
If you are home for the holidays, home should be cozy and comfortable. A more casual place setting could be on the menu for you this year and the warmth of natural wood, evergreen boughs and pine cones dusted with snow, and twinkling lights are the ingredients. Dinnerware in pewter tones and black blend perfectly with the wood slab chargers and the bonus is they are an amazing backdrop for food styling too.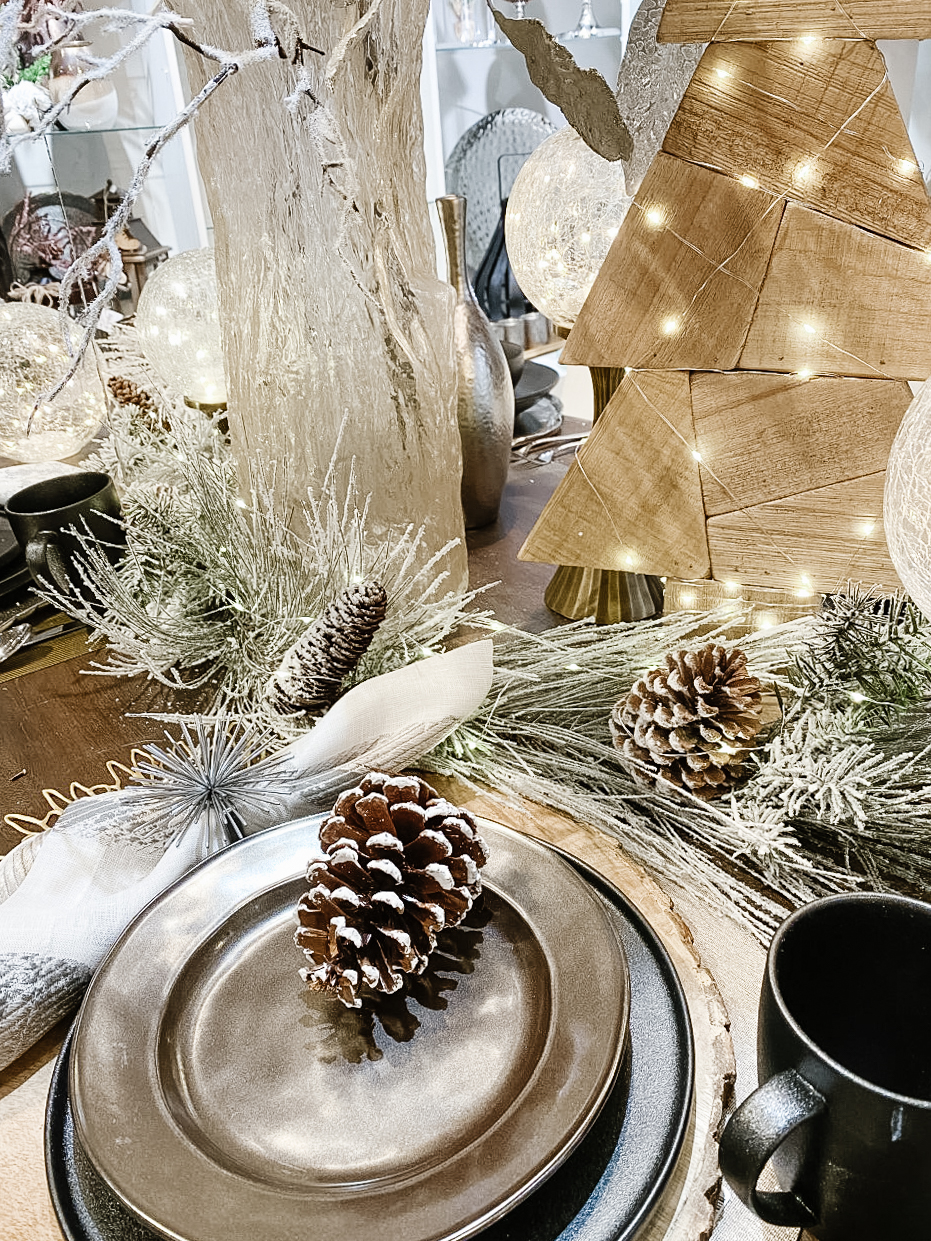 Here below is another take on the woodland feel. Lagoa dinnerware from Costa Nova is featured here and its neutral natural tones work beautifully with the wood as well as the contrasting touches of silver. The bark coiled hats, the runner made of small wooden log slabs and the rustic bells are the touches that bring the setting theme come to life.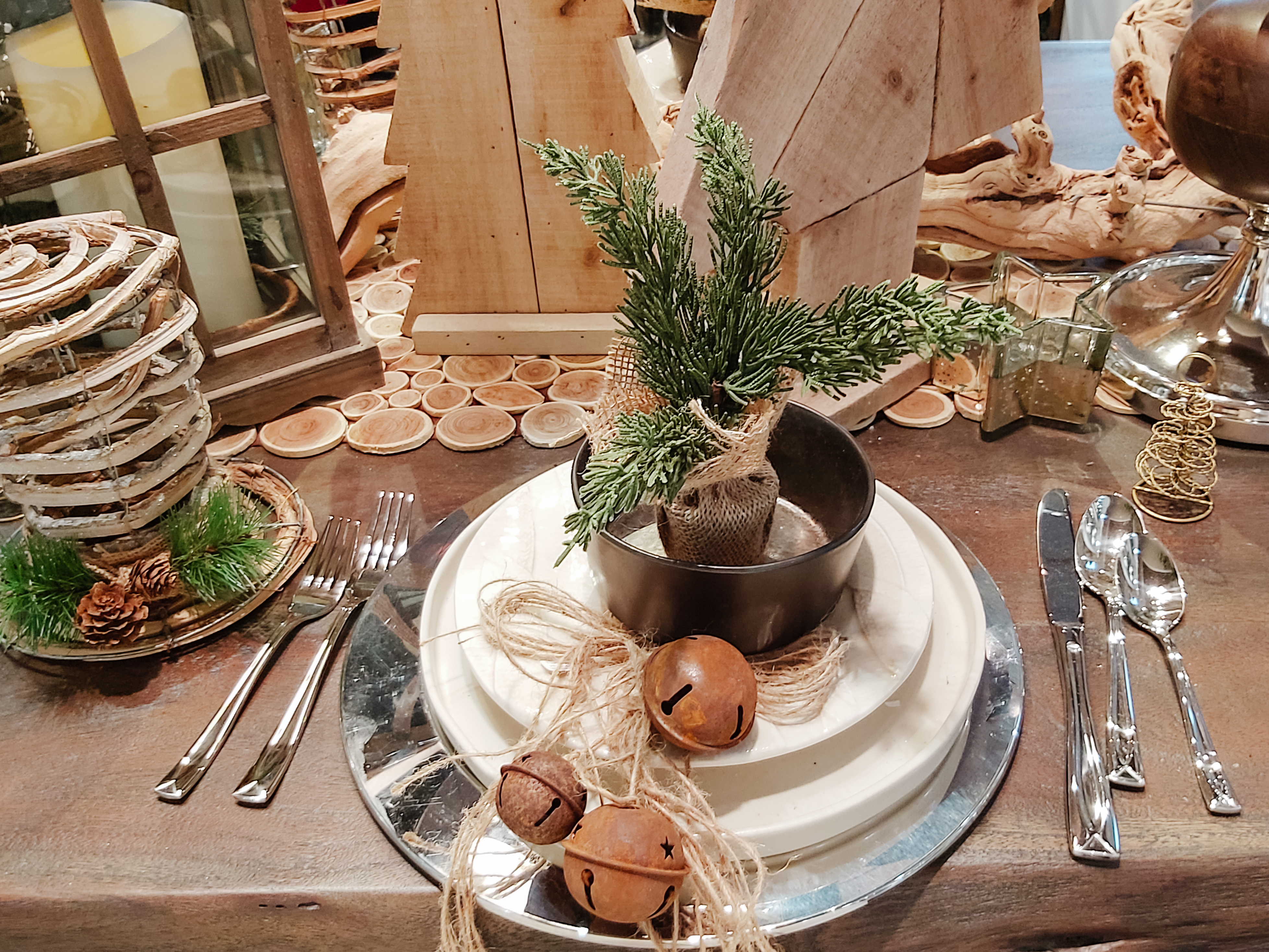 We always love a little takeaway for dinner guests and even if they are people that you live with, what a nice little tradition to include this year for your loved ones. A little gift or token to remember this holiday. It could be something really simple like these little burlap wrapped evergreen stems. You might even get a few extra to drop off for those that you can't spend your holiday dinner with to let them know you will be thinking of them.
Also note the sandblasted grapevine, a fitting nod to a Christmas at home in the Okanagan Valley. No place setting is complete without flatware. Often overlooked, the flatware you select, can play a really important role in setting the mood and style of your table setting as they do here.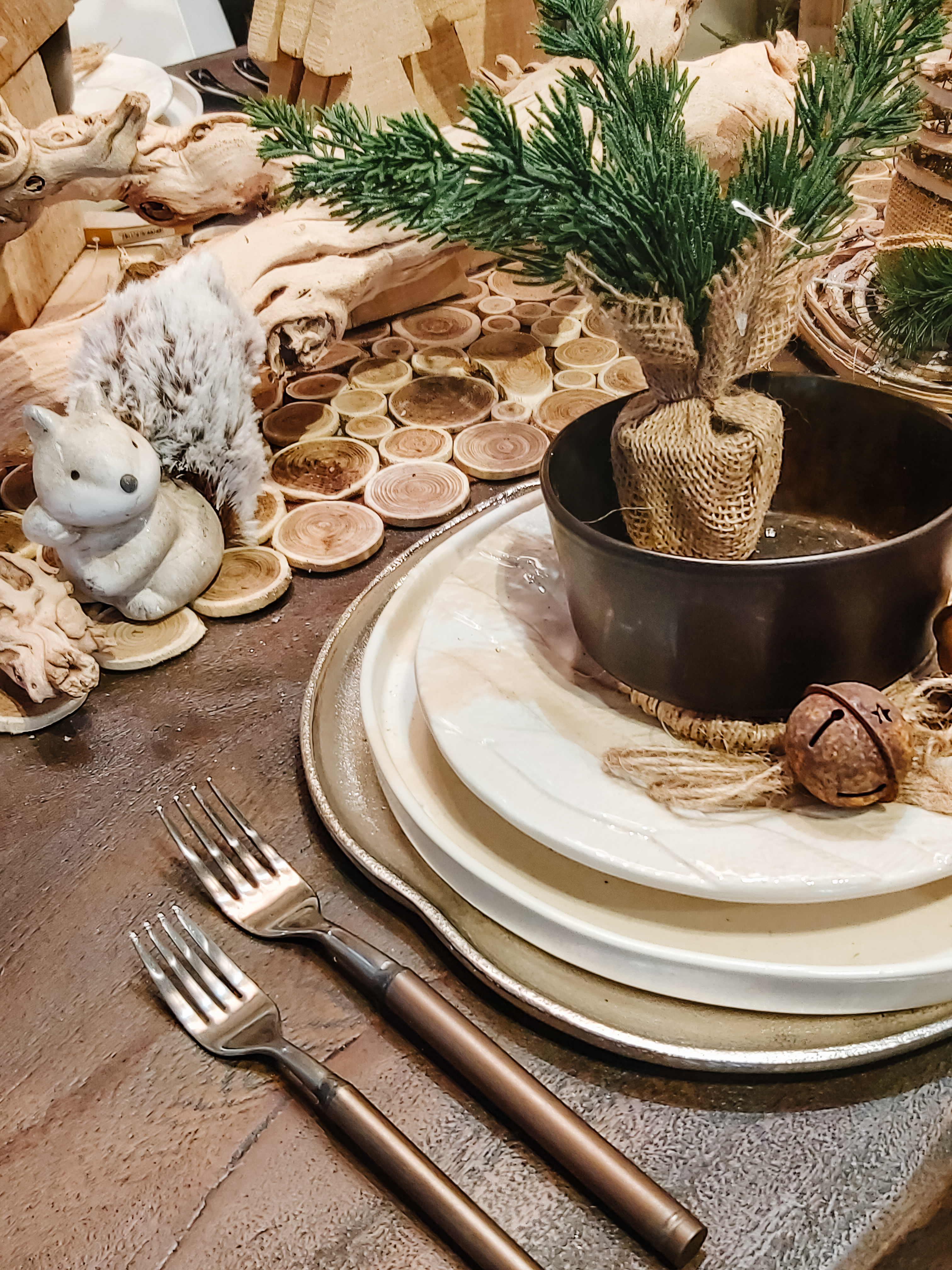 Feel free to break a few rules. Remember this table is all yours. We chose this stunning organically shaped charger in place of a placemat or tablecloth. Here we celebrate the wood of the gorgeous live edge dining table instead.
Seasonal Shimmer
These settings shimmer with sprinkles of silver and winter whites, and then green accents make everything pop. Again we have had fun layering table linens and tableware. This time we paired stoneware pieces from Arte Italica with Juliska dinnerware in green. And although they are from different designers, their shapes compliment each other so well. The beautiful glass charger marks that his is a special occasion and adds that extra bit of shimmer to the mix. We feel like it almost looks like ice. That magical wintery nostalgic feeling you want to create on your table might start here.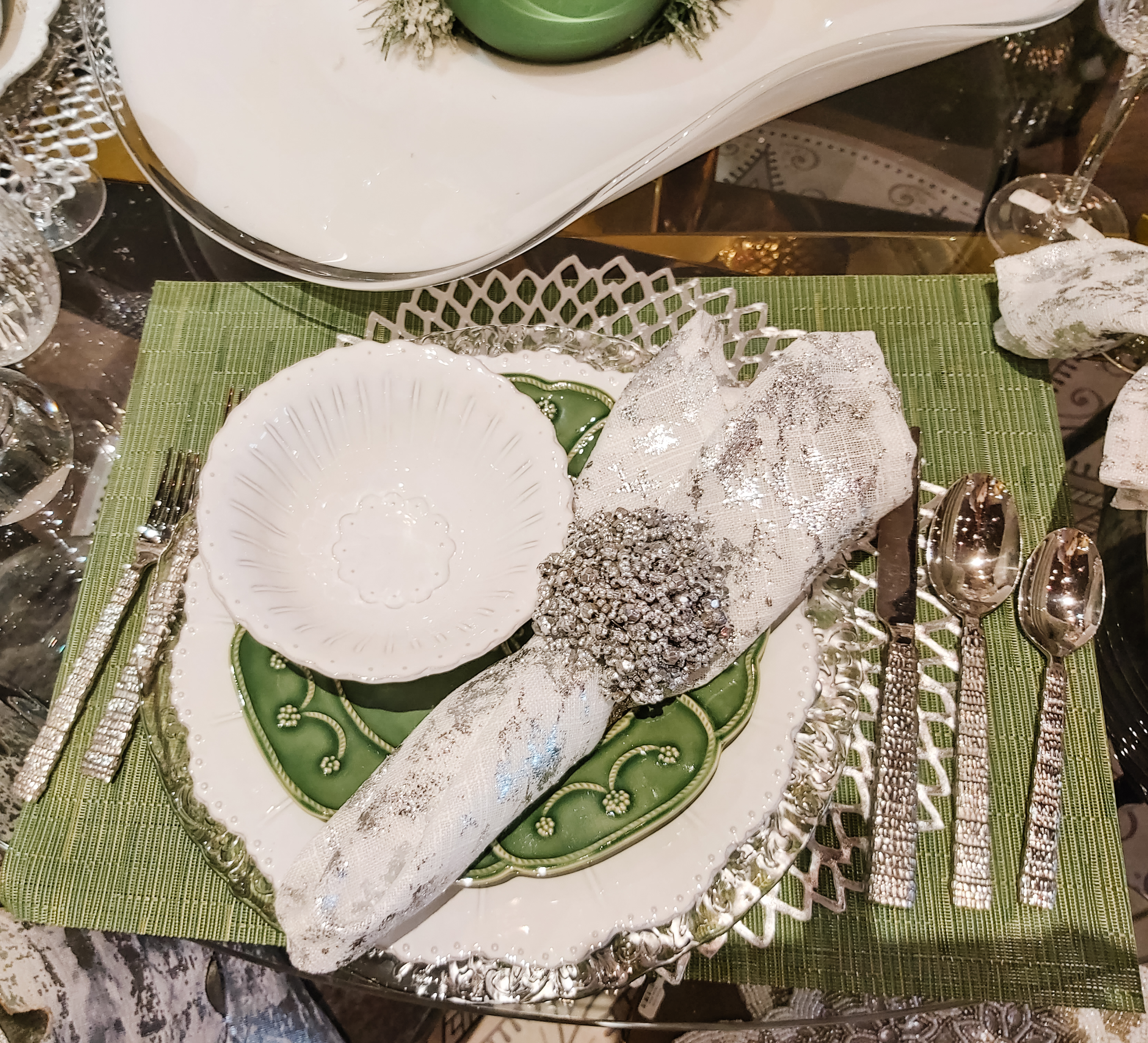 We also have to highlight these lighthearted glasses with small white polka dots. Perfect for a snowy white table don't you think? Items like these and the accent dinnerplates with the reindeer motif are a great way to add something new to your existing tableware collection. They will bring the festive feeling to your feast. Hint, hint, they also make amazing gifts!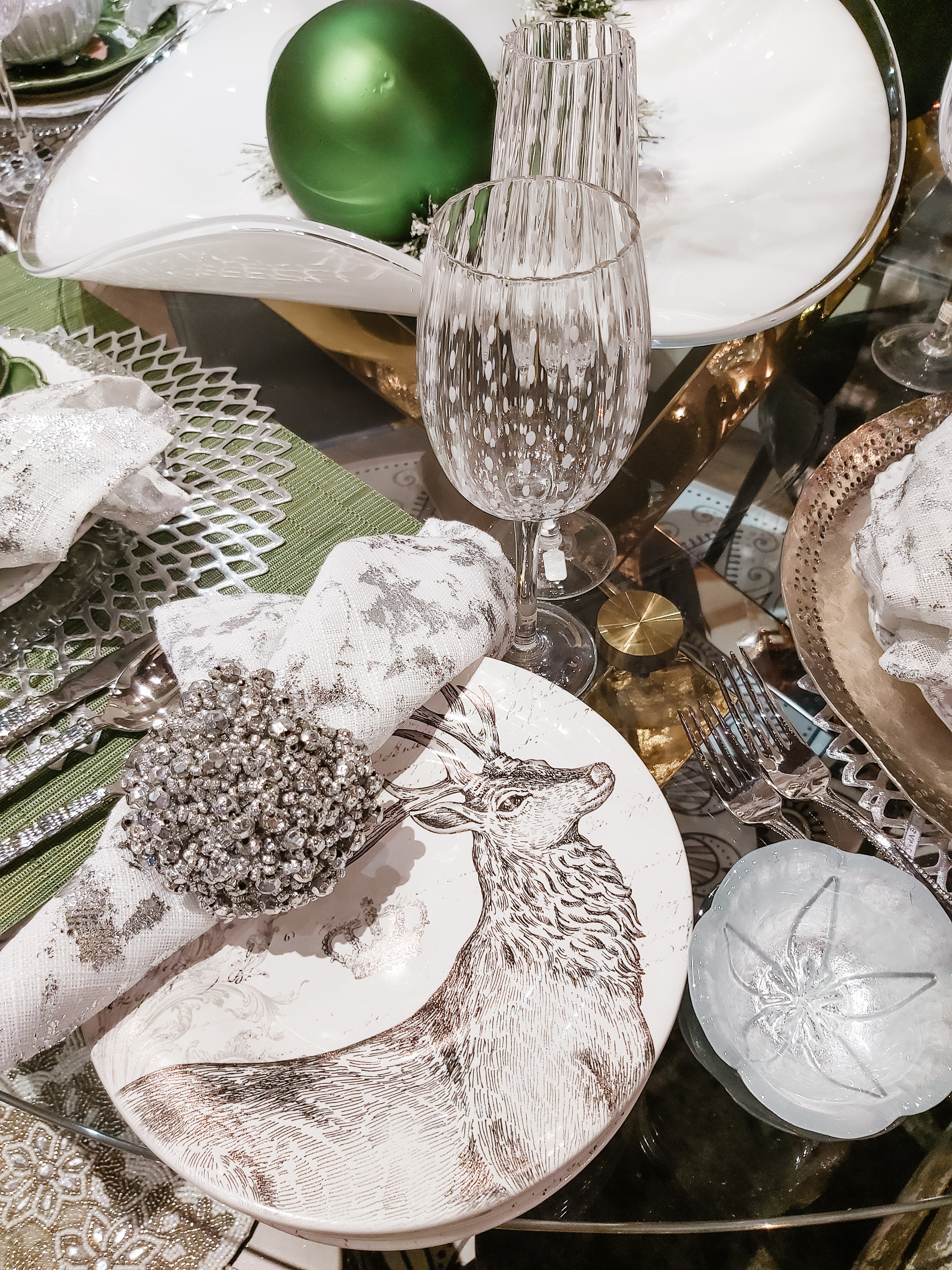 The options for a special place setting are really endless and we would be happy to help. Your table setting is more than just dishes, cutlery and glasses. It is a feeling you create for those you share it with and yourself.  It is a reflection of your personality and style. This year's celebrations may look a little different, but our wish for you is that they will still be special. We thank you for all your support over the last year and we feel grateful that we have been able to set the table so many times and in so many creative ways for you, our amazing clients. We wish you Happy Holidays!