Making those faux florals look fabulous
Sure it would be fabulous to have fresh flowers every week to style your home with, but it may not be realistic for many, especially for those without a green thumb or the time and budget to keep up with the regular restyling that that would entail. That is why we are here to show you some great faux floral design ideas. You might even find that you can even be more creative with those faux florals, which by the way have come so far. You will forget they aren't real in some cases until you don't have to sweep up the dead heads or replenish the water.
These Roses will Last
This is the bouquet that will keep on giving. Part of the impact that this arrangement has is the scale of it. The beautiful large glass vase with a partial frosted white finish almost creates the illusion that these roses are immersed in water as fresh ones would be. Quite often the key to arranging faux florals like these vibrant yellow roses is almost not to arrange them at all, but to place them in the vase imperfectly and by mixing fully open roses with partial and closed buds so the arrangement looks more natural.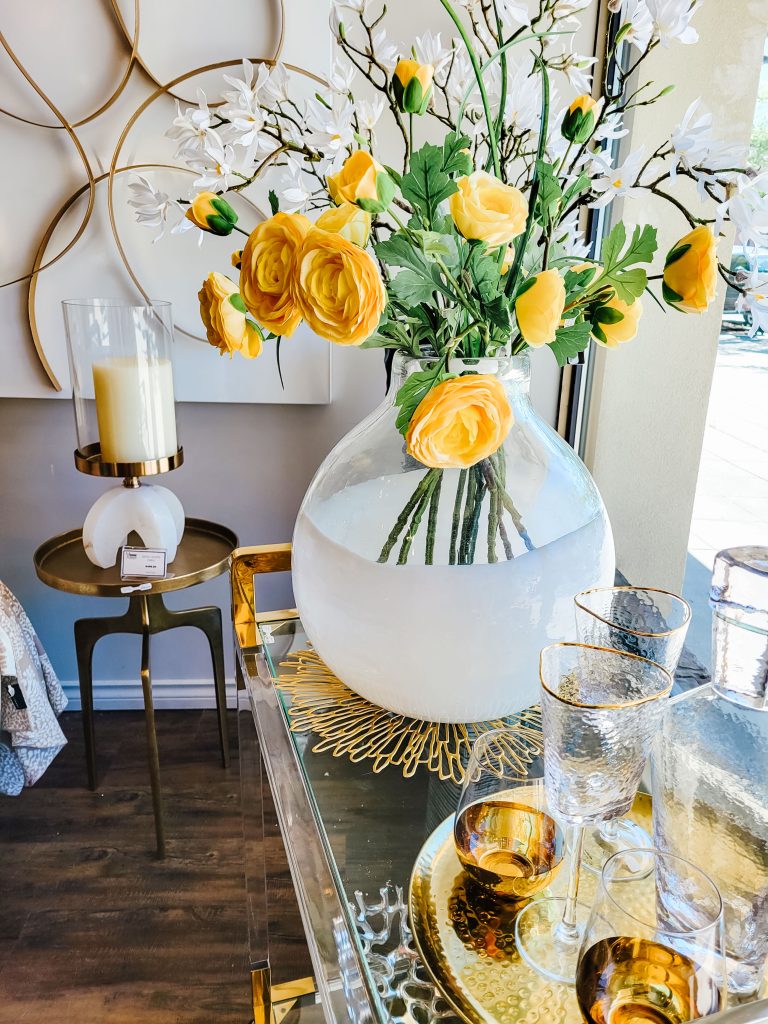 Aren't these roses gorgeous. Even just casually laying on this long silver leaf platter they are stunning.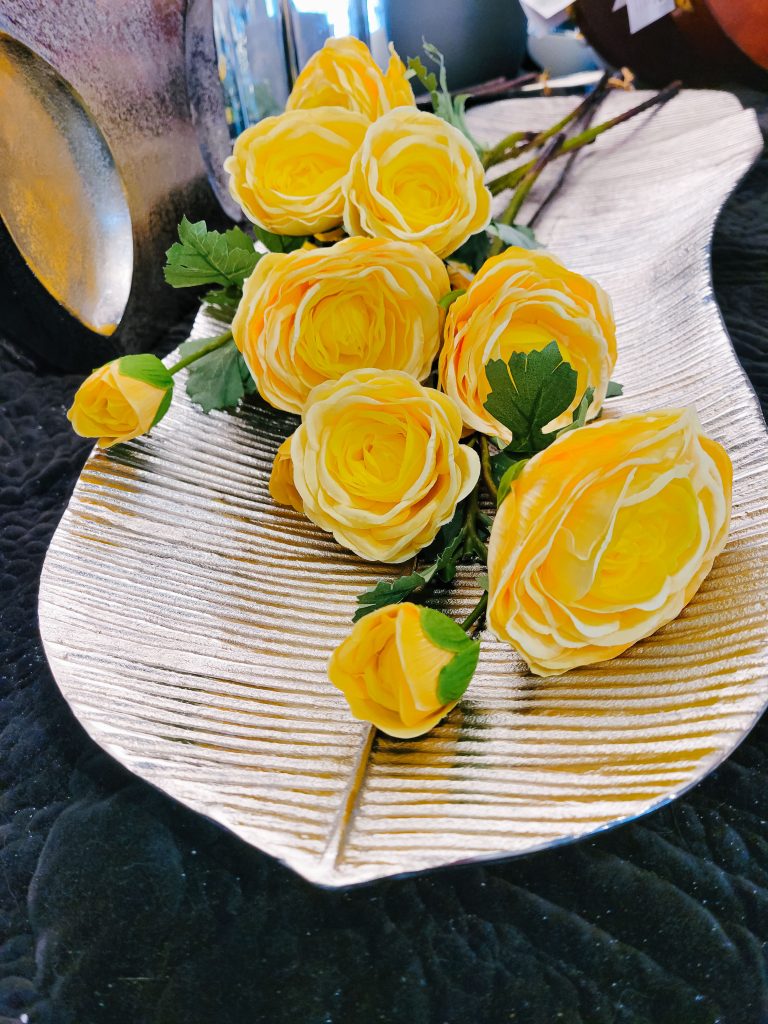 Do you prefer something a little softer? Enjoy the same beautifuly designed florals but in this soft peachy pink. one of the benefits of faux florals is that you can more easily manipulate and bend them to create an interesting arrangement.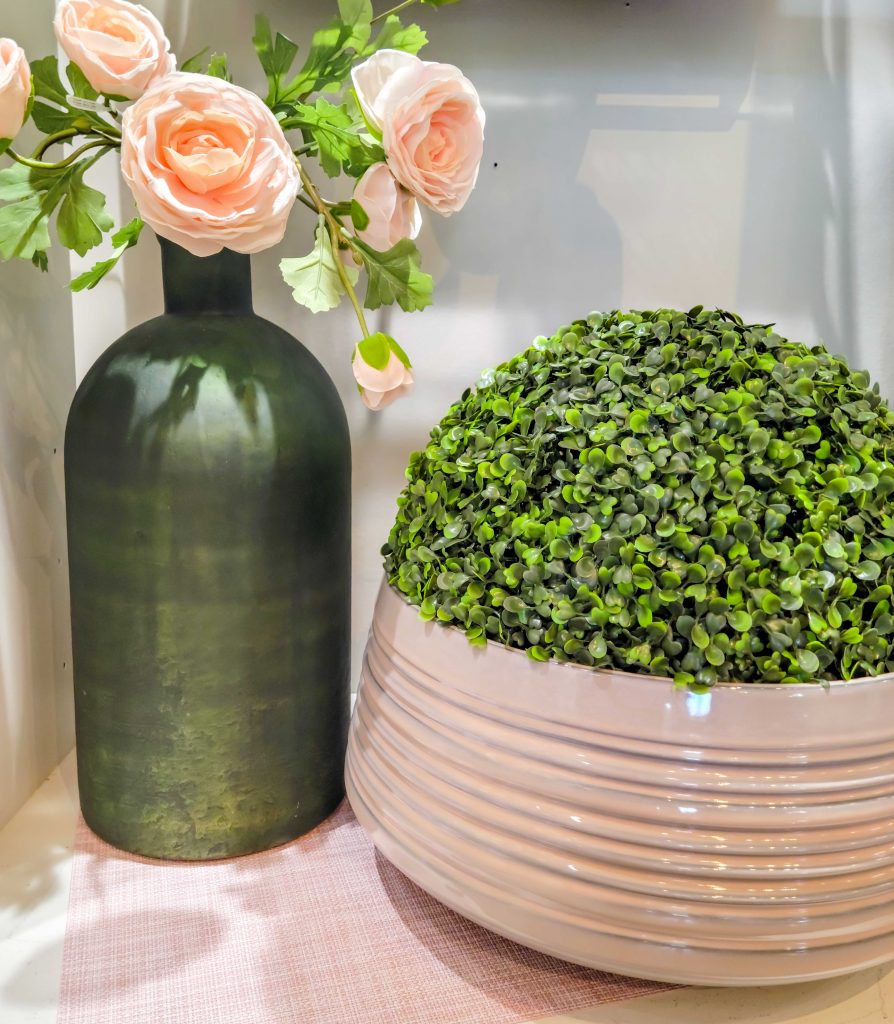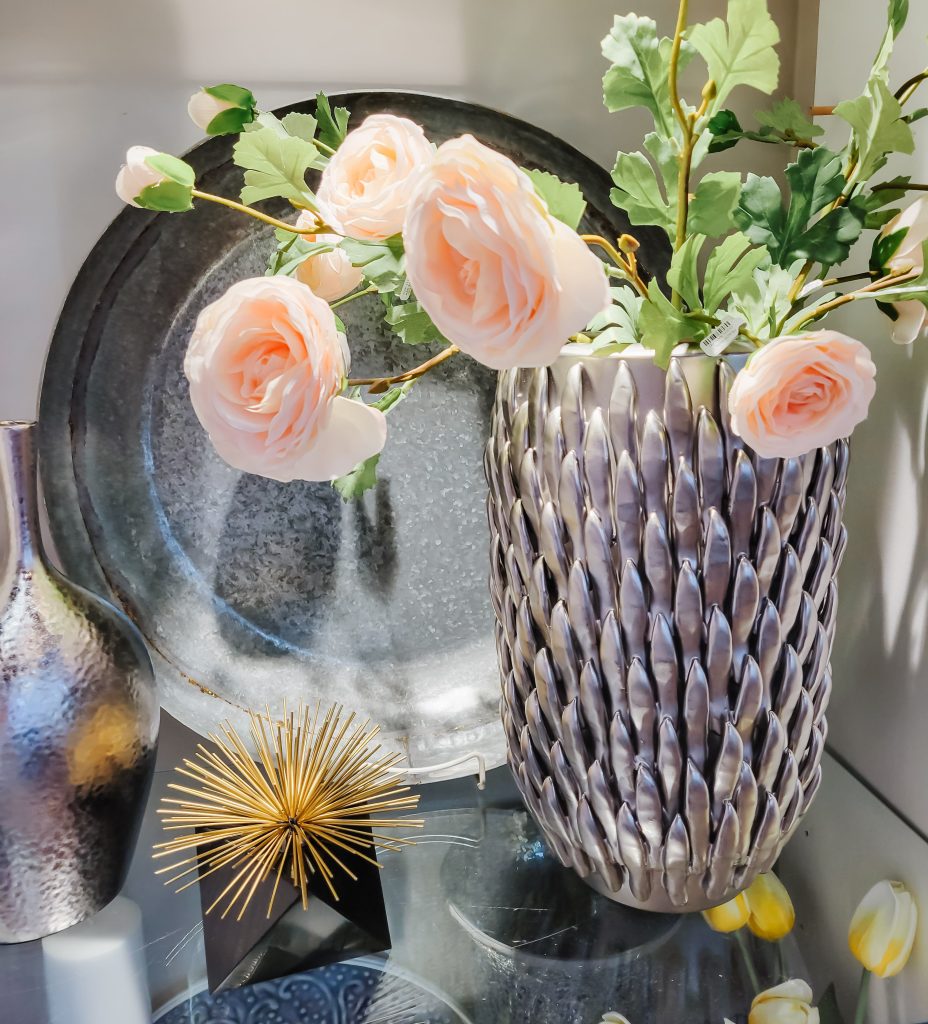 Ideas for a Clear Vase
If you are looking for a versatile vessal to arrange your faux florals in, we always recommend investing in a beautiful clear glass vase as there are so many creative things you can do with it. This one is a bit extra special with a gold rim at the top for an added bit of glam. We have styled this one with contrasting stones in white and gold tones. You could totally change the look, even using the same florals, just by changing out the contents of the vase. Maybe try sea shells, glass beeds, sand, faux moss maybe. The possibilities are endless.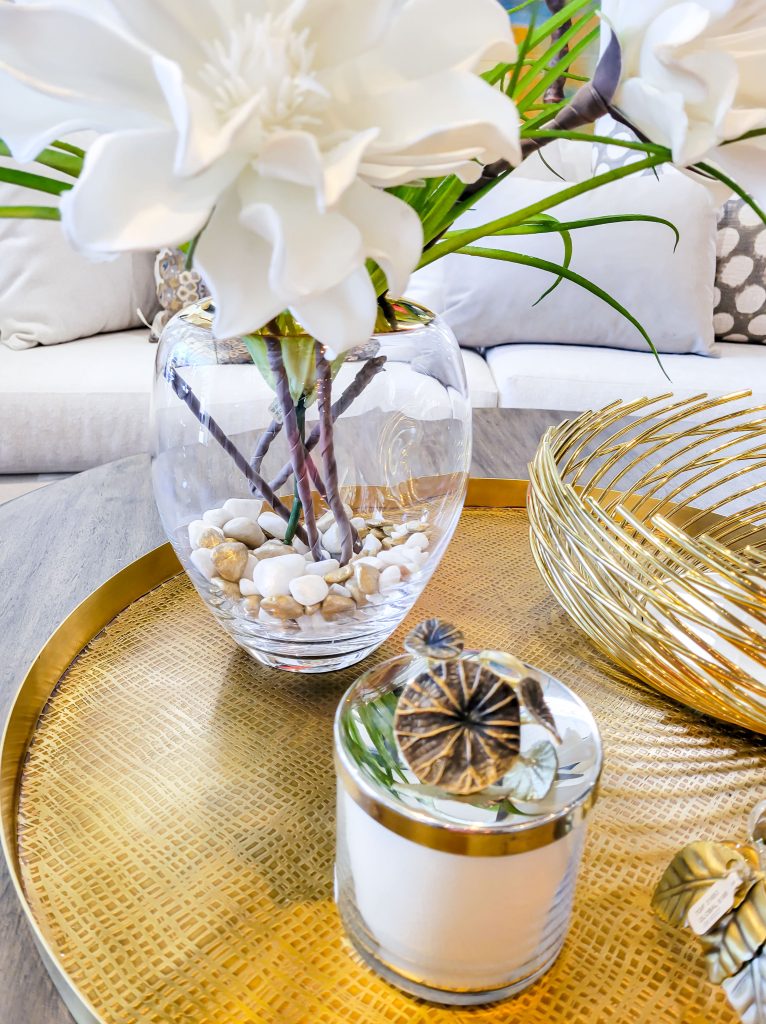 And then sometimes the glass vase is to be enjoyed just for its emptiness and shape. Here the glass vases become part of a whole look paired with this third vase in gold with just a few pure white tulips. We love the simplicity and sleekness of this vase trio.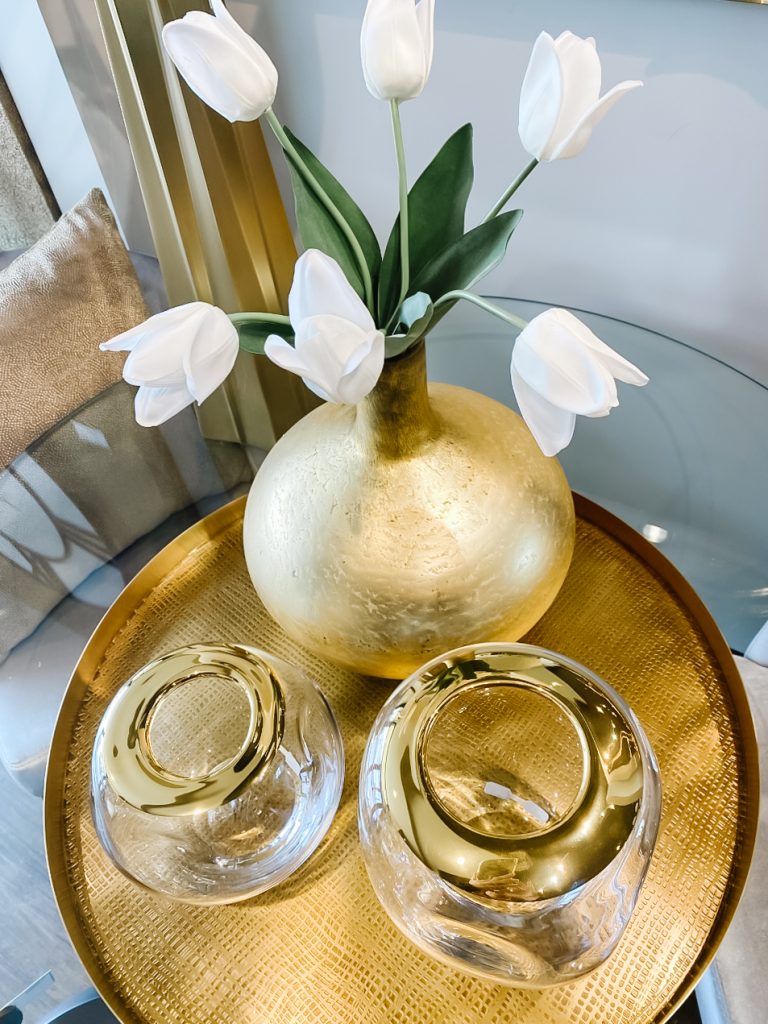 Speaking of glass vases. We had some fun with this tall slender one, stuffing it with an array of sunny yellows and fresh greens. This time we even mixed florals with fruit, ie these fun lemon vines. With a tall vase and arrangement try draping flowers, or in this case lemons, down over the edge to balance the look.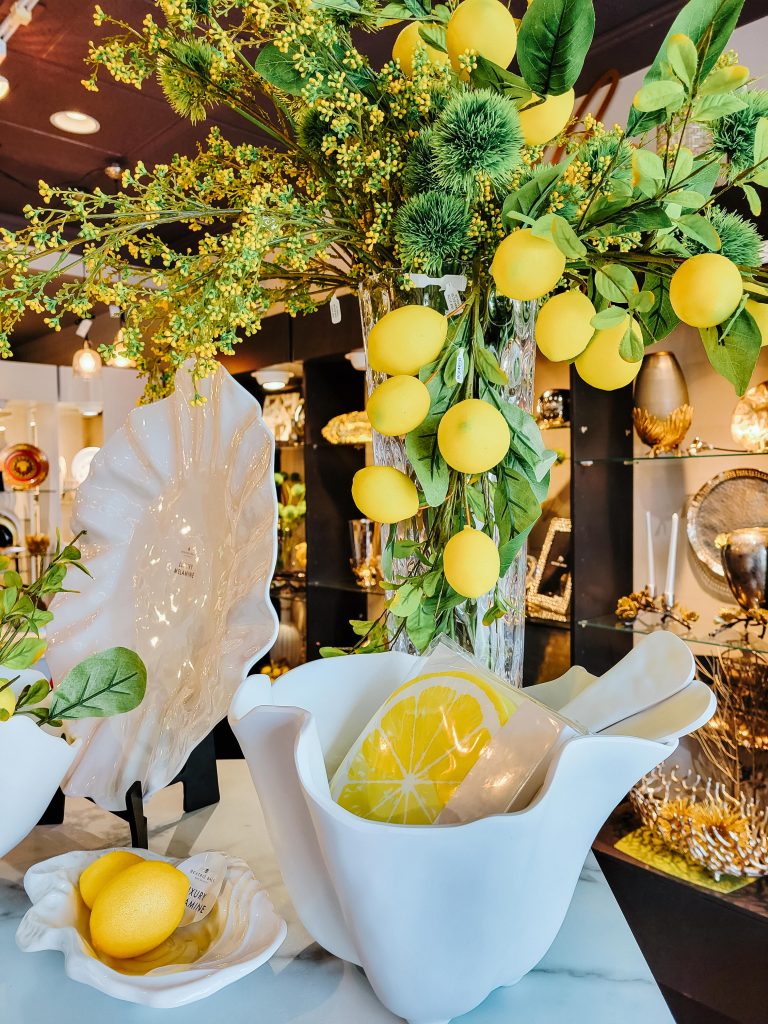 When it comes to taller, large scale vases don't be afraid to go big with your florals too. Use florals with long stems like these lovely apple blossoms. A rule often followed by floral designers when using a tall vase is to have the entire arrangement from the very top to the bottom be two and a half times the height of that vase. This isn't to say you have to follow this guideline, but it may help you in your floral designs.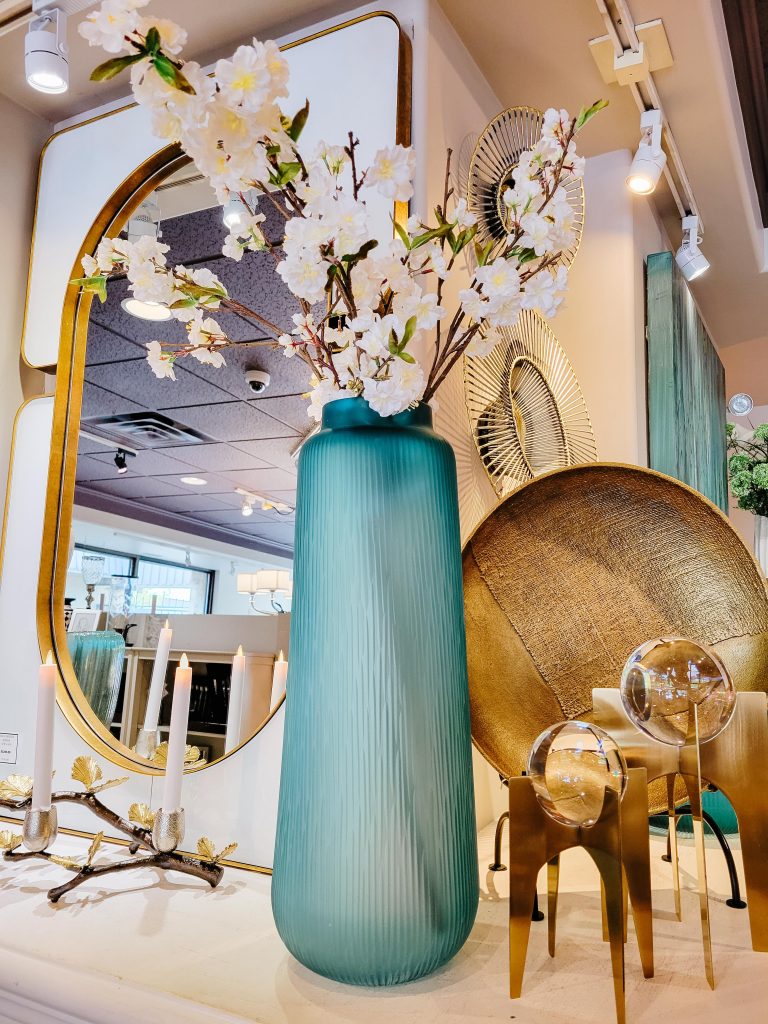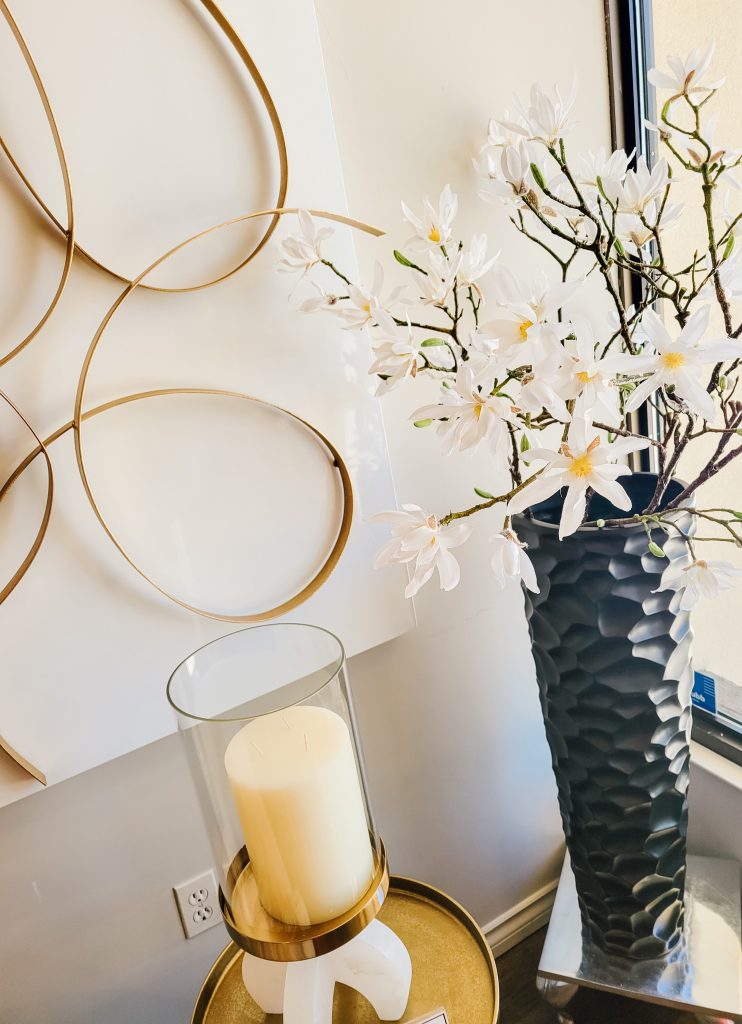 Arranging with Colour
What we love about florals is that they are an easy way to change your interiors for the seasons and add a pop of colour in perhaps an otherwise neutral or monochromatic colour scheme. These tulips are so realistic and add a softer touch to this grouping of metal accents.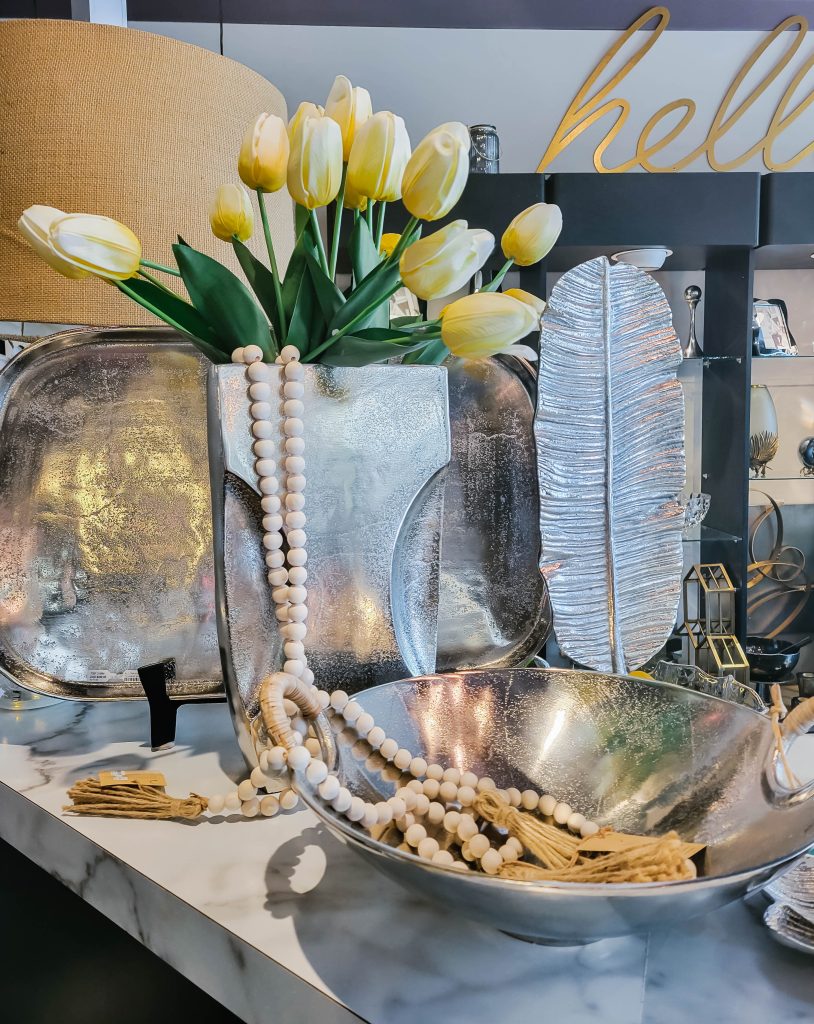 Similarly the vibrant yellow-green hue of these hydrangeas pop on a table of white or all grey accents.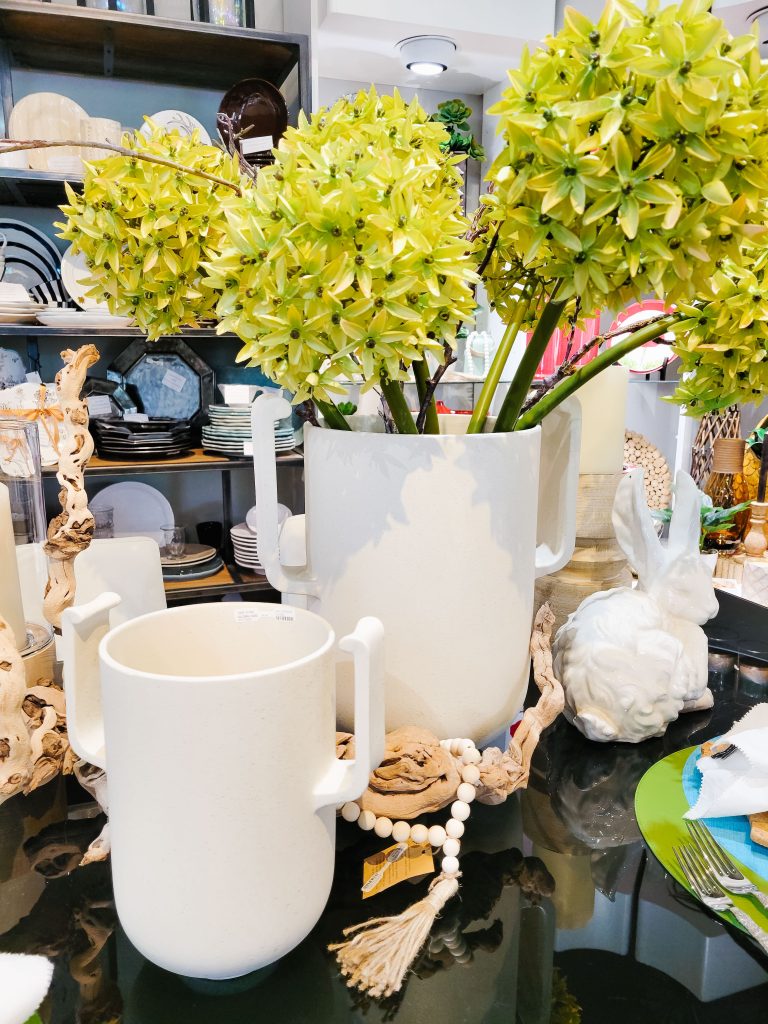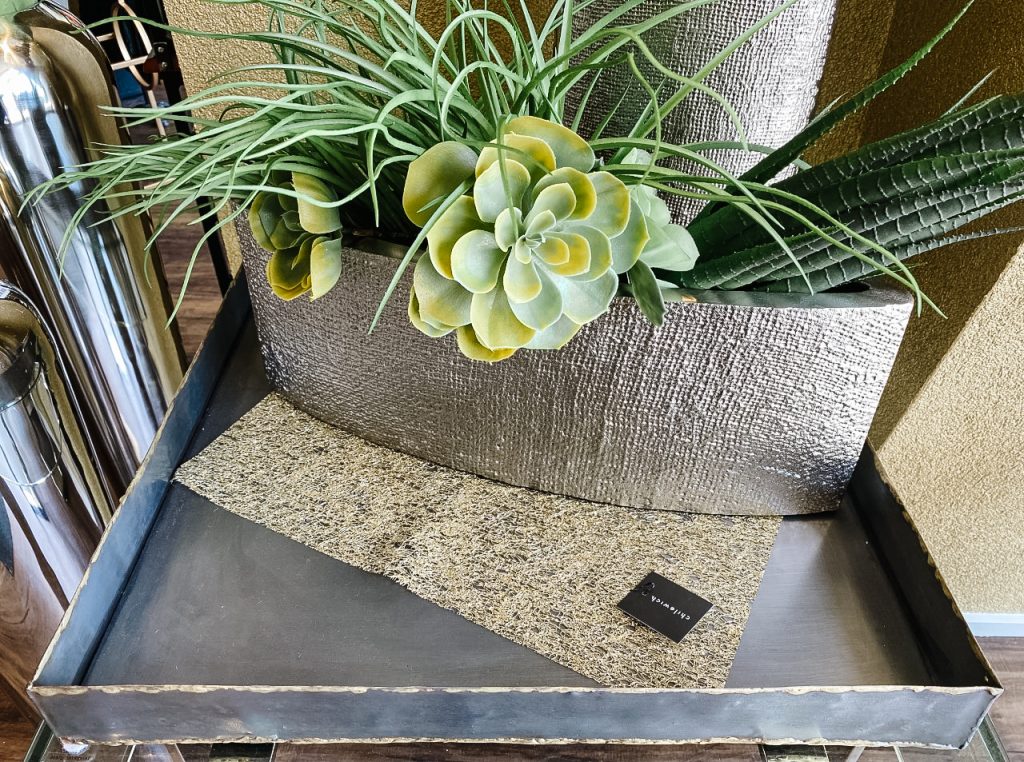 Texured metals can also come allive and still remain modern with the addition of succulents and grasses in green.
Consider choosing florals that pull colours from a piece of artwork or even from the vase they are in for a more blended look.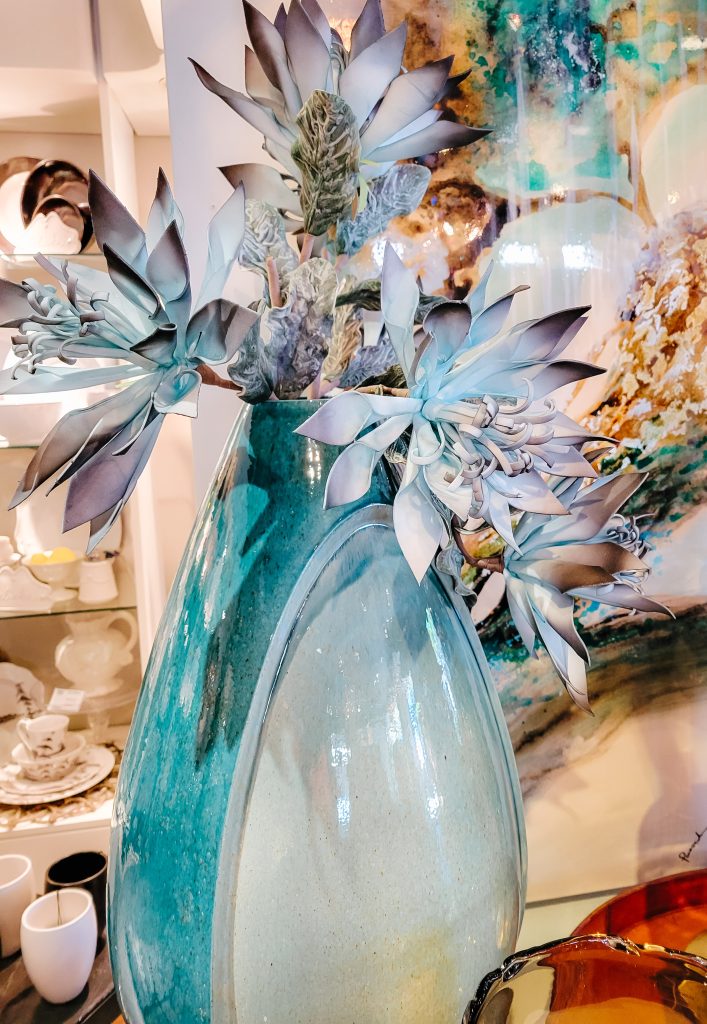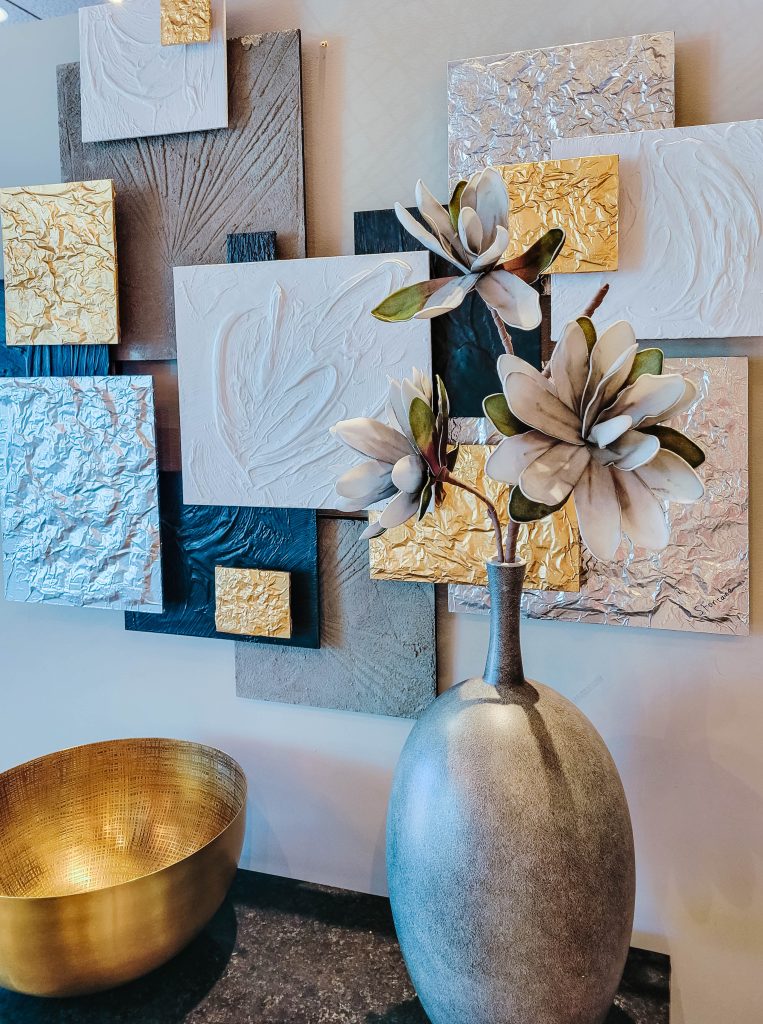 Floral Reflections
In this next set of inspiration photos we show you how amazing your floral arrangement will look when placed in front of a mirror. In a sense you get two bouquets for the price of one and the beautiful light and colours that will be reflected in your room.
Don't you love this set of vases that fit together like puzzle pieces? So fun and modern with some simple sprigs of white magnolia.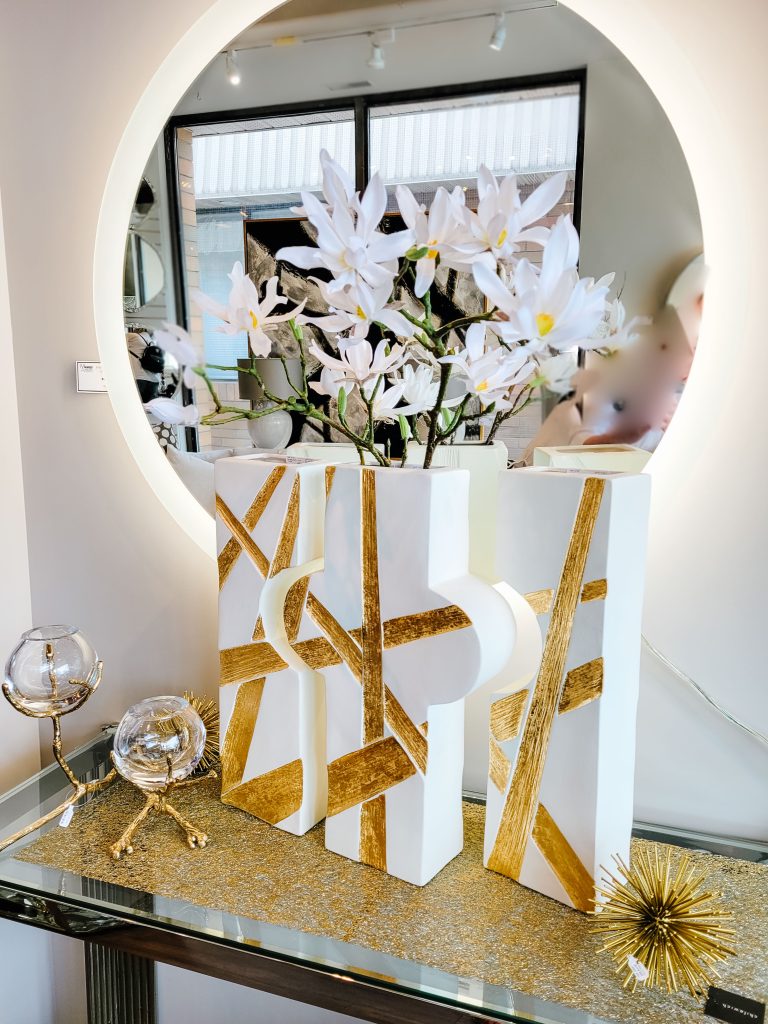 You can't live in the Okanagan and not love apple blossoms. You can enjoy these faux versions all year long if you choose.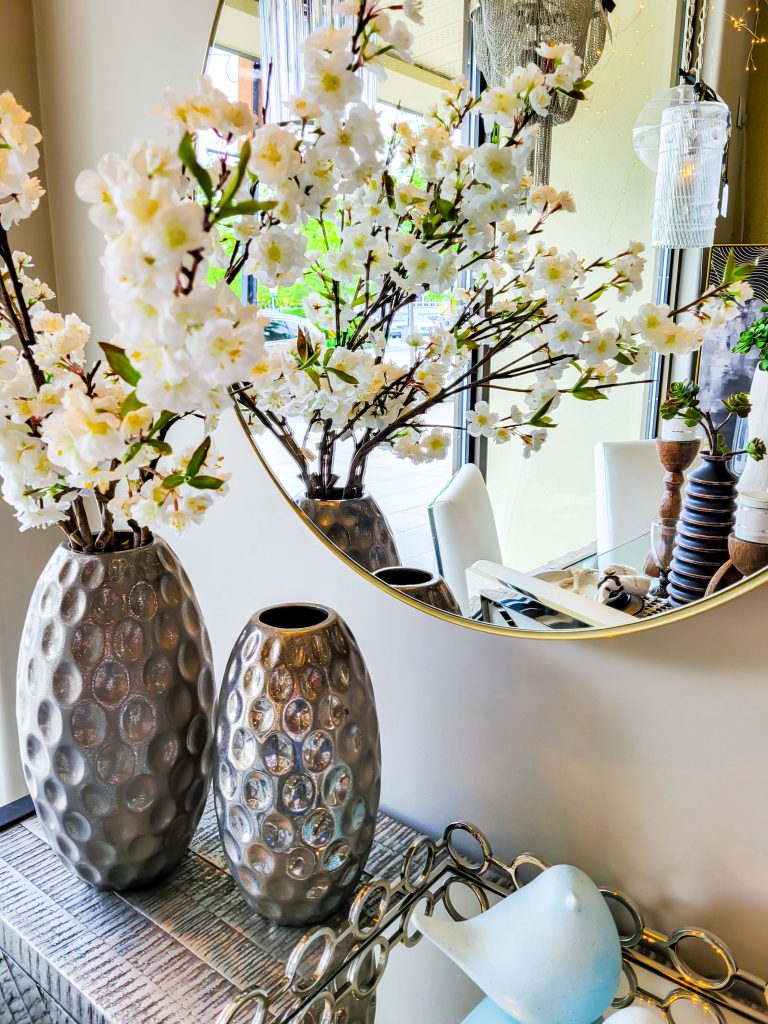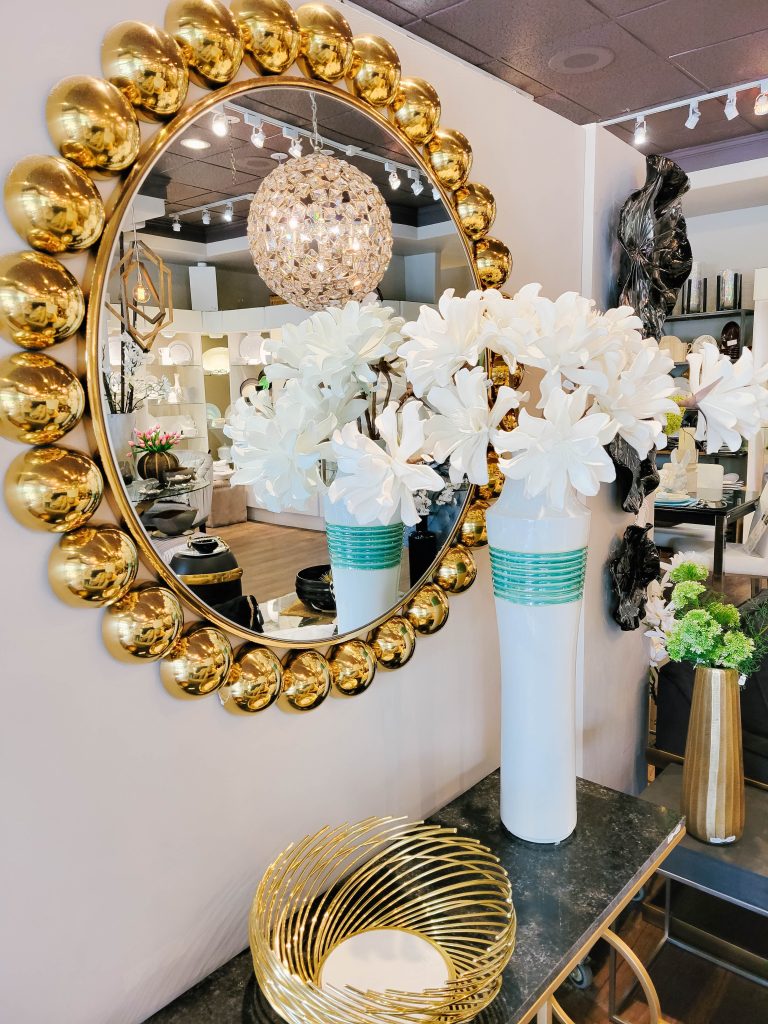 When creating a united look with the mirror try an asymmetrical look with your florals so they almost curve with the shape of the round mirror. We love the movement this creates.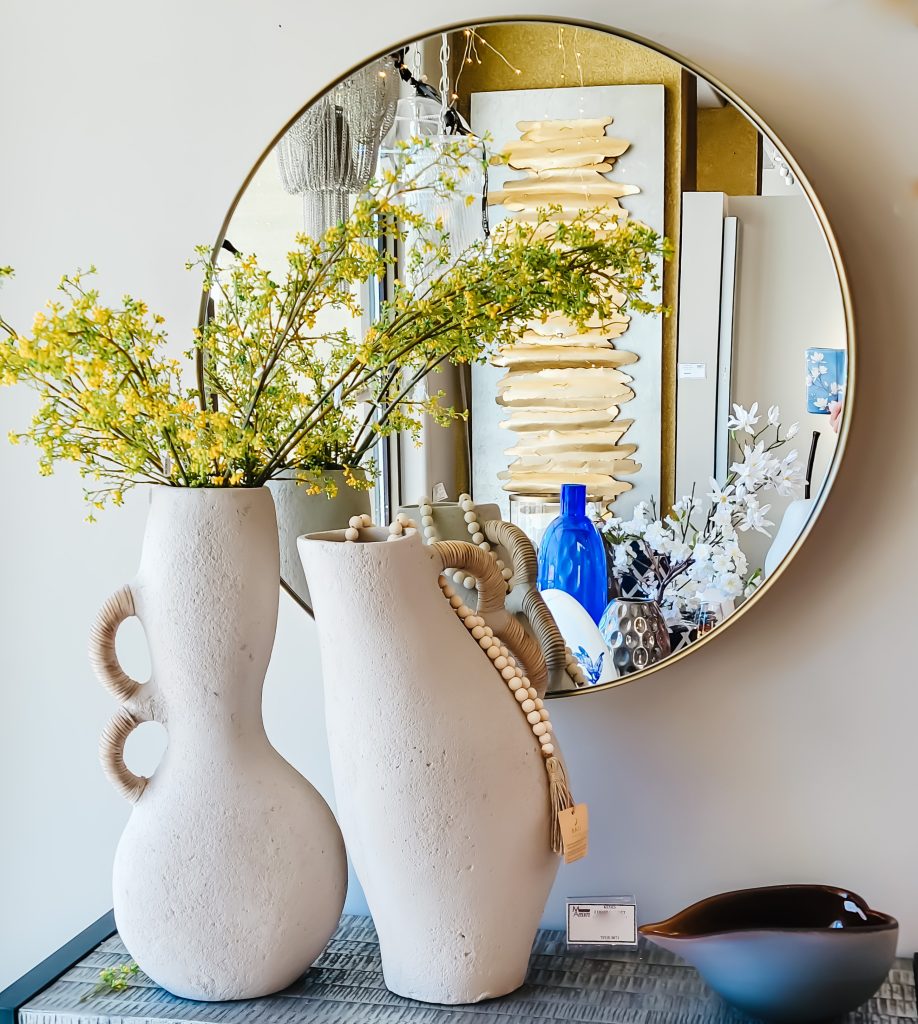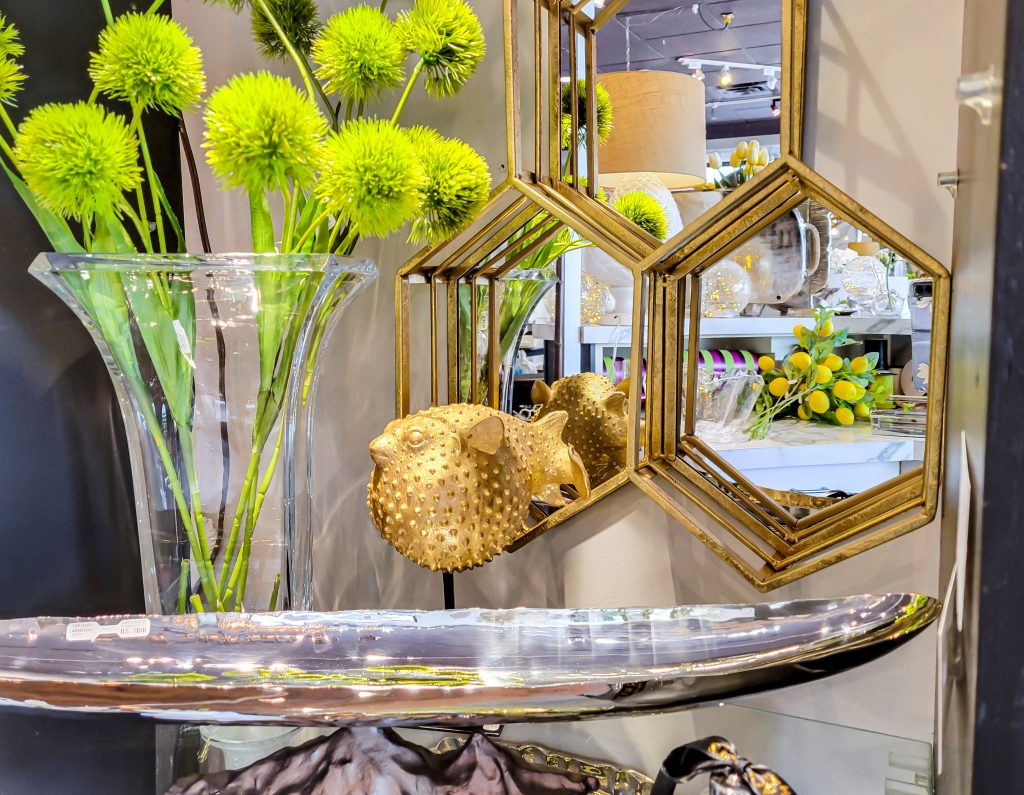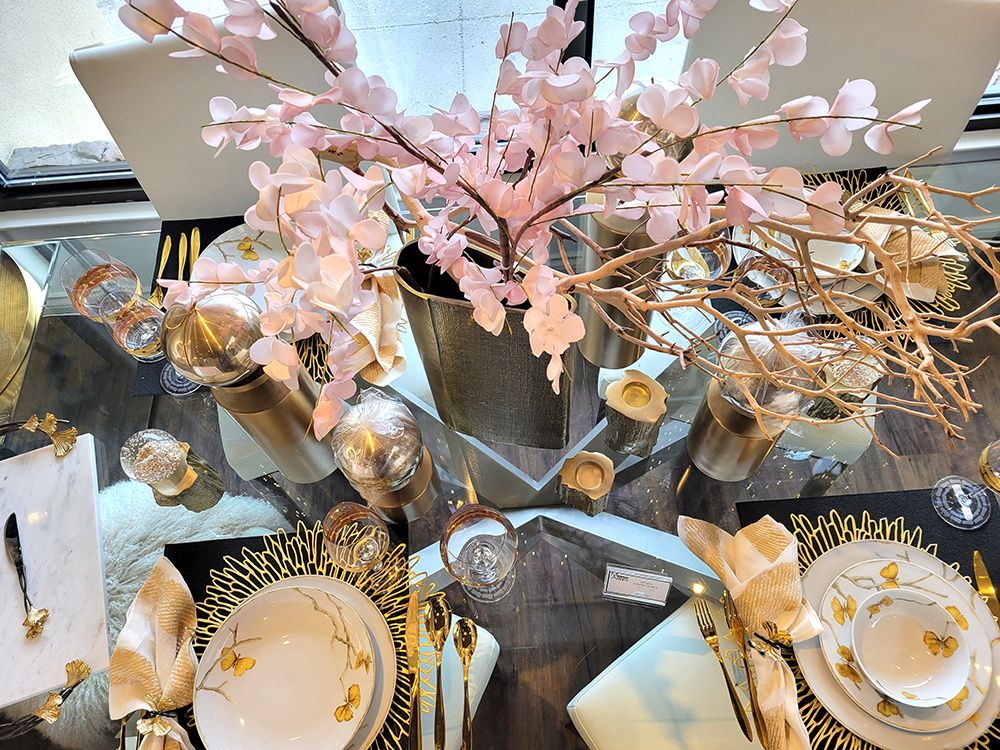 No mirror here, but a glass table works in a similar way and here is another great idea. Mix your faux floral stems with real florals or in this case real manzanita branches.
Get Creative with Pampas Grass
Although not technically a flower, we couldn't omit the trend of using pampas grasses in decor. Despite the simplicity of these grasses they sure can make a statement with their feather like texture. There are some creative ways they can be incorporated into your arrangements and decor.
Yes you can simply put a few in a tall slender vase drawing your eye up to a wall feature, for example.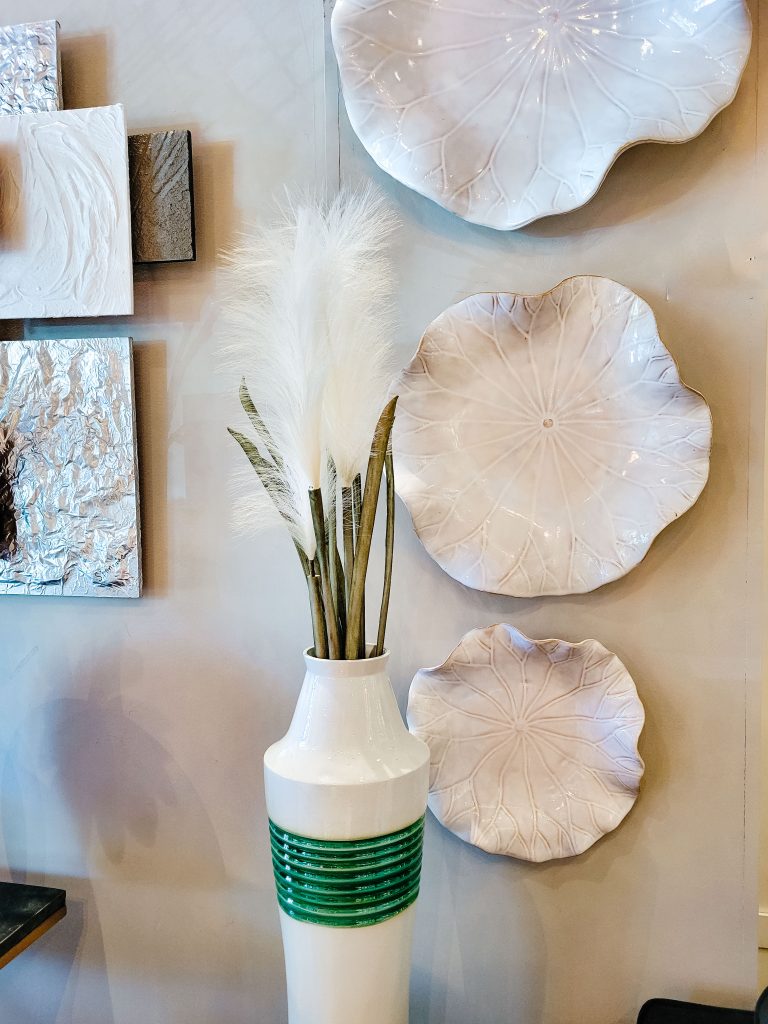 Or use them in a decorative bowl like we have here intertwined among grape vine. The complete look of the irregularly shaped bowl, and all the earthy tones and textures is so full of interesting movement and would make a true conversation piece at the centre of a dining table or on an entrance console table.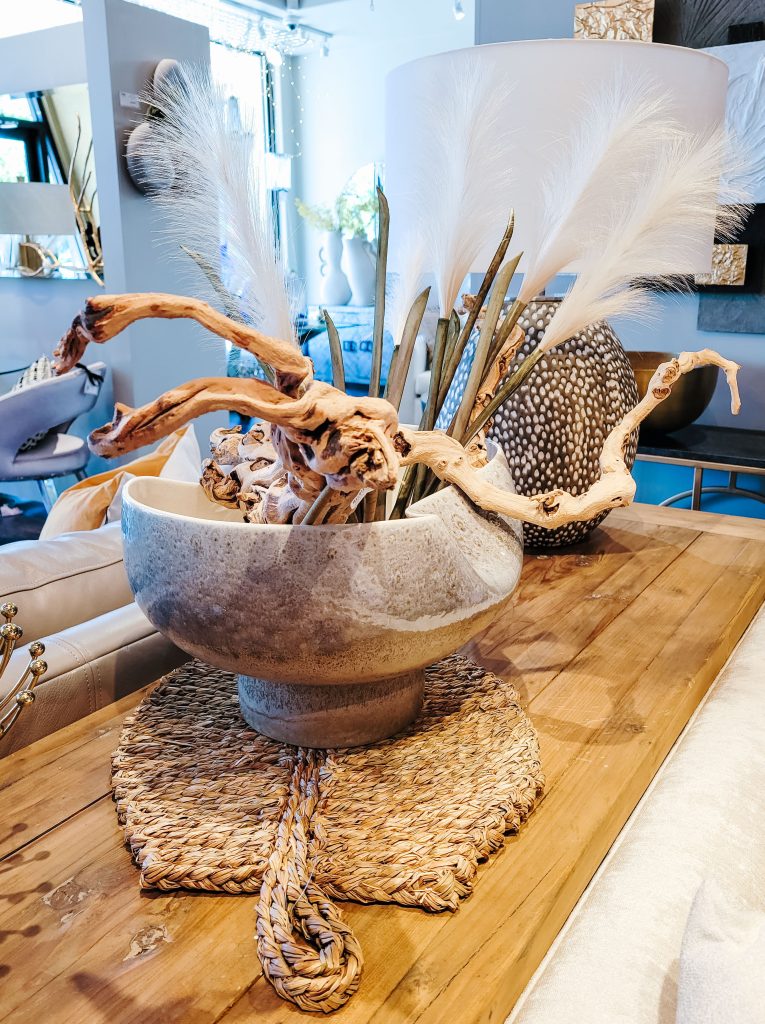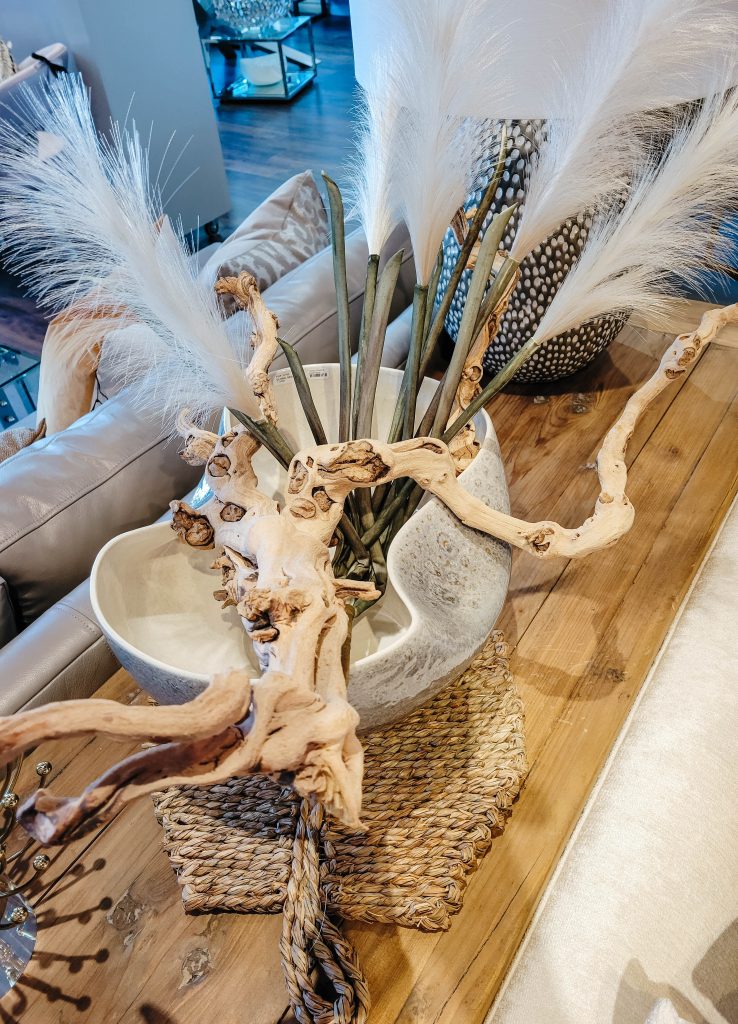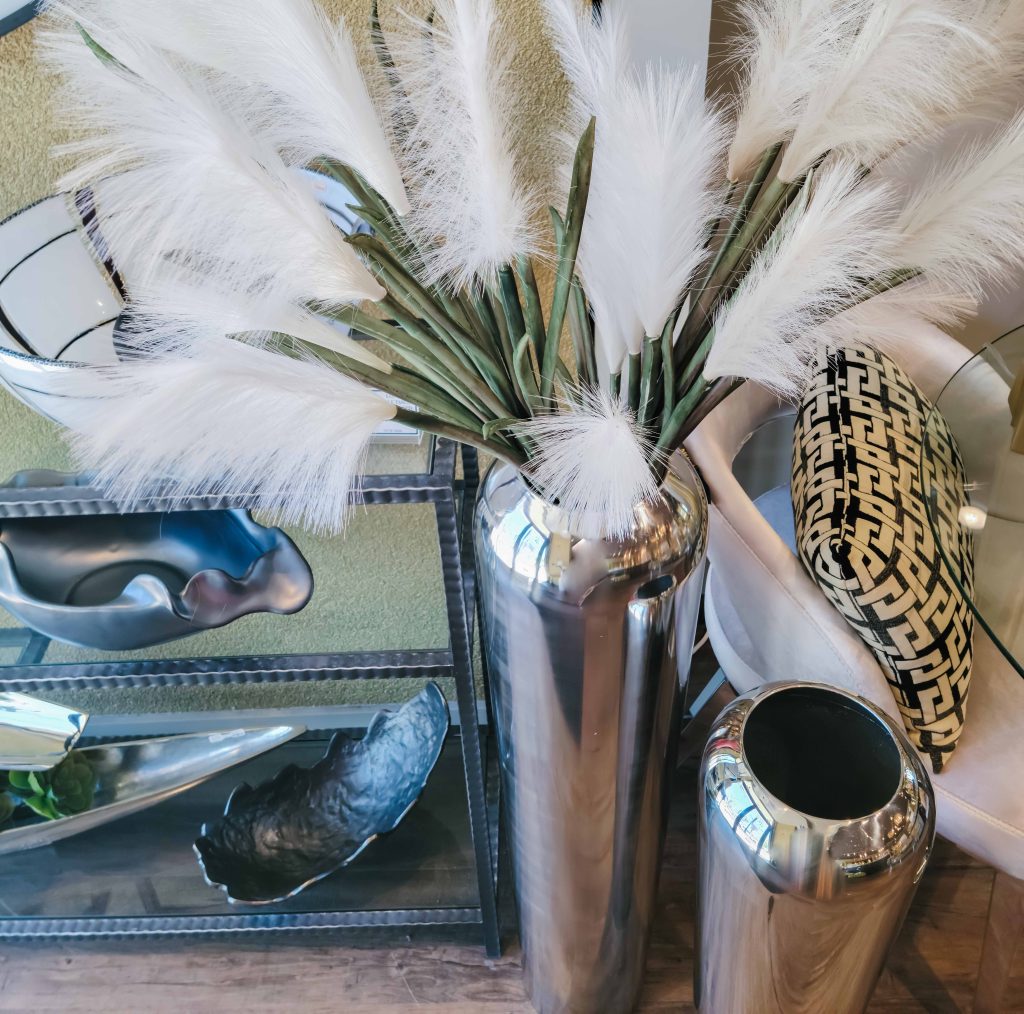 The bigger the vase the more dramatic your arrangement can be and the more grasses you can use. A floor vase with pampas grass could just be what that empty corner in your room needs.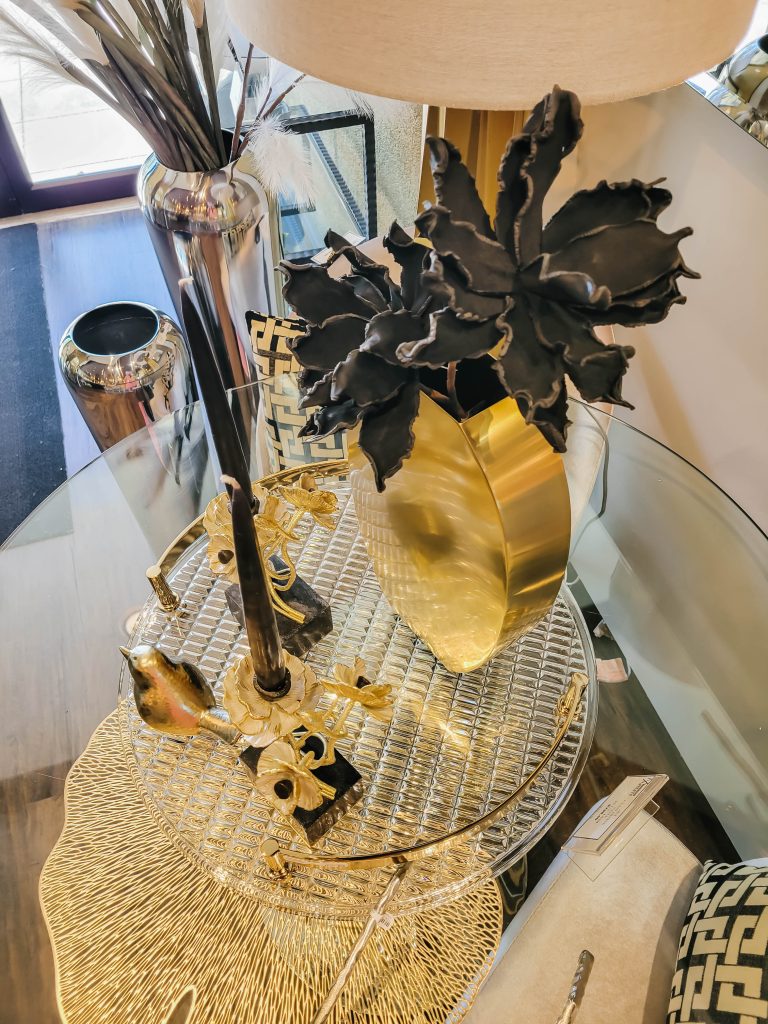 We are always trying new ways to use the florals in our displays to inspire your own designs and we thought it was important to highlight the fact that as well as all the vases, vessels to display them in we do carry and sell a wide variety of floral and other decorative stems. We can't wait to help you pull together your favourite ones and see what creative ideas you come up with.