Lights On – Bright ideas for lighting your interiors
As the days get shorter you may be renewing your appreciation for the lighting in your home. Perhaps you need to rethink your lighting plan or need to start from scratch? Don't underestimate the impact of your light fixture choices. The right lighting will help to promote productivity, will make you feel relaxed and comfortable and will influence the overall design style of your home. The other design elements of your home design rely on lighting too. How we perceive textures and colors is effected by the type of lighting you choose, and then the light fixture, itself, can be the focal design element in the room.
LAYERING YOUR LIGHTING
So where do you start? The key to successful lighting design is to consider how you layer your lighting. You home should have a variety of ambient, accent and task lighting. Also consider what light levels are appropriate for the tasks being performed in specific locations. For example, you probably want a brightly lit kitchen island, but may get away with softer light from a reading lamp in your living room.
There are endless options for lighting. So what style of lighting are you drawn to? Don't be afraid to design around your favourite light fixture using it as a jumping off point. Selecting a light that has a huge presence in a space can really set the tone for your overall design, plus bigger fixtures are trending right now. The light fixture below will be sure to become a stunning focal point. Notice that it works in a room complimented by other accents in gold.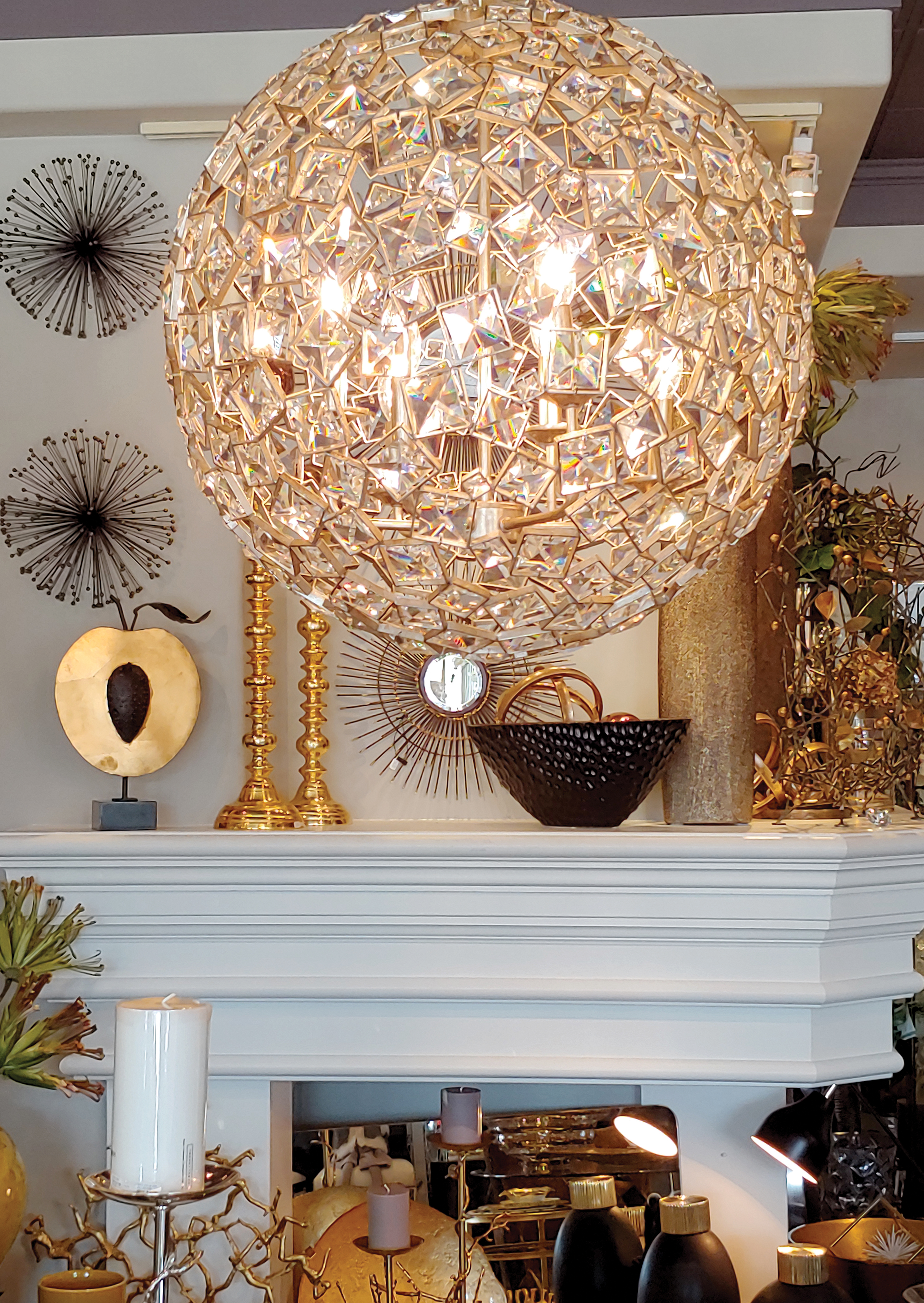 This leads us to the questions of how best to choose lighting for an open concept living area.  The lighting should compliment each other but it doesn't have to be exactly the same or super matchy. We suggest you find a common element among the lighting in the different spaces and play that up. You could keep the finish colour consistant or choose lights that have a similar shape or style to them. We like this quote from designer Joanna Gaines, "Coordinating the lighting in your home is a lot like coordinating your jewelry with your outfit.  Everything doesn't have to match it just needs to mesh well."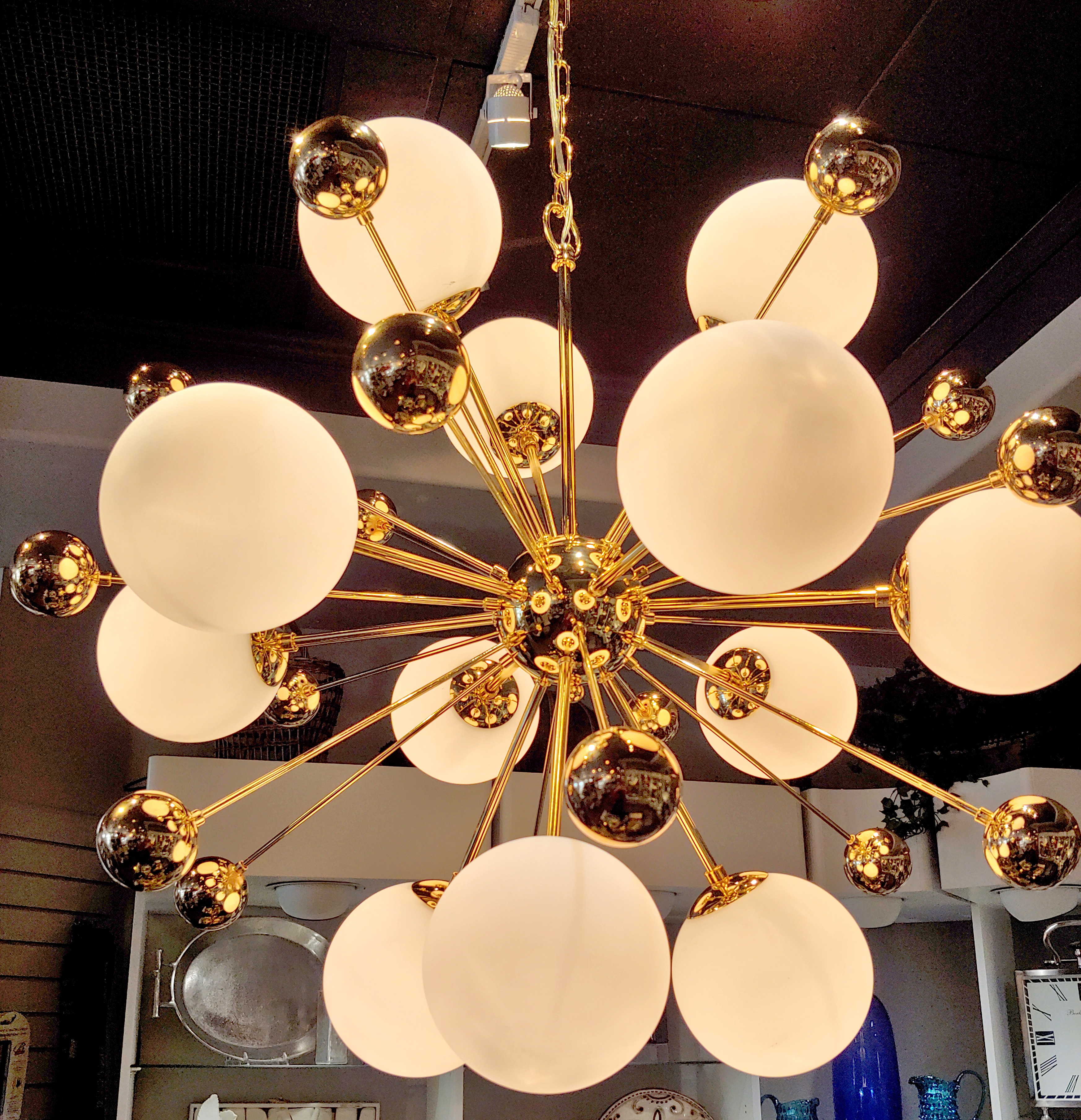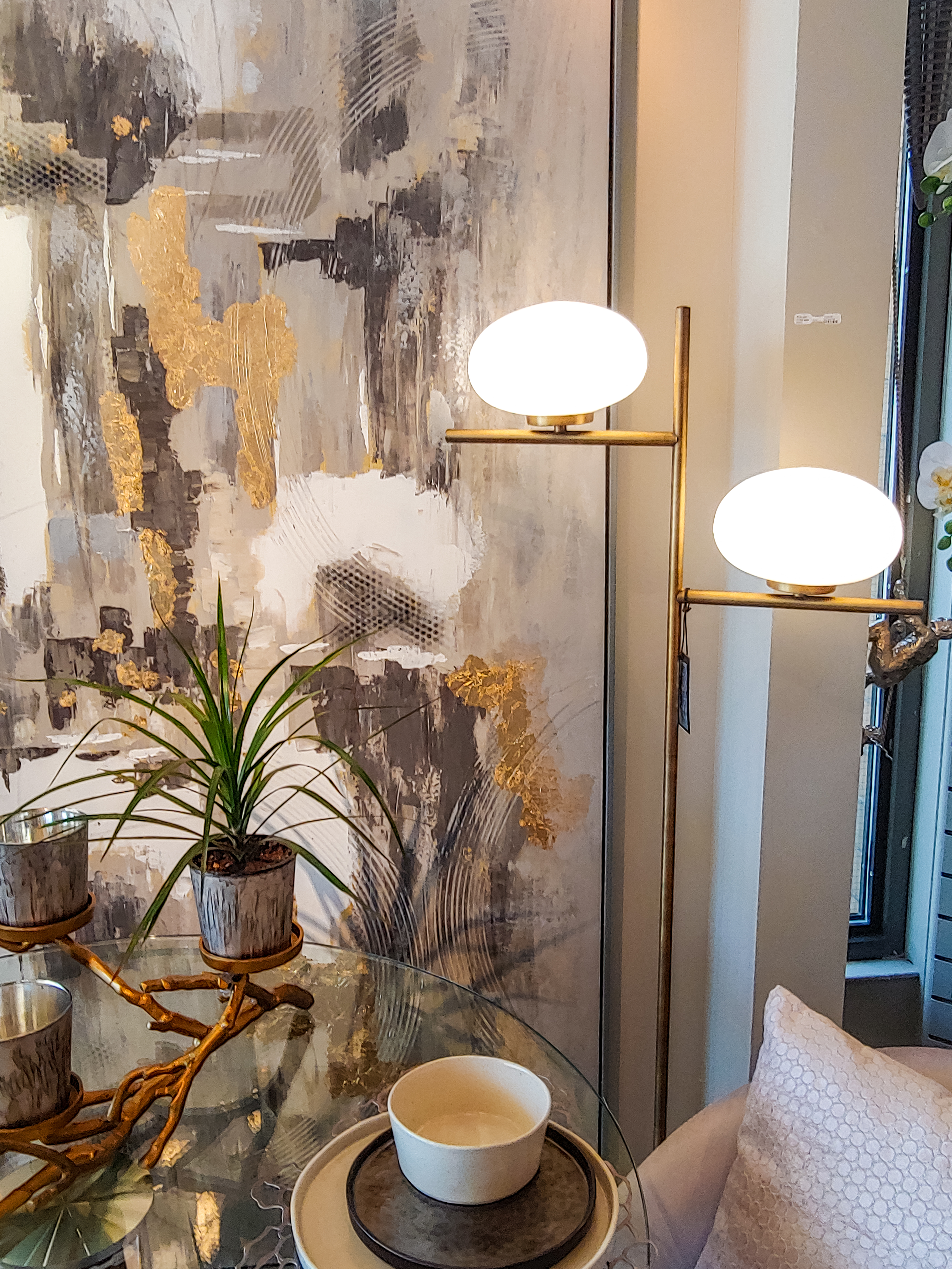 LIGHTING TRENDS
Adding new light fixtures to your space can also help to update your space. Fixtures in soft gold and lighting with a Mid-century modern and Art Deco style are growing in popularity. Art Deco lighting focuses on sharp lines and attractive geometric designs and Mid-century modern lighting leans toward a love for natural shapes that combine functional form and aesthetics. Following this lighting trend will give an artful, fun and laid back feel to your space.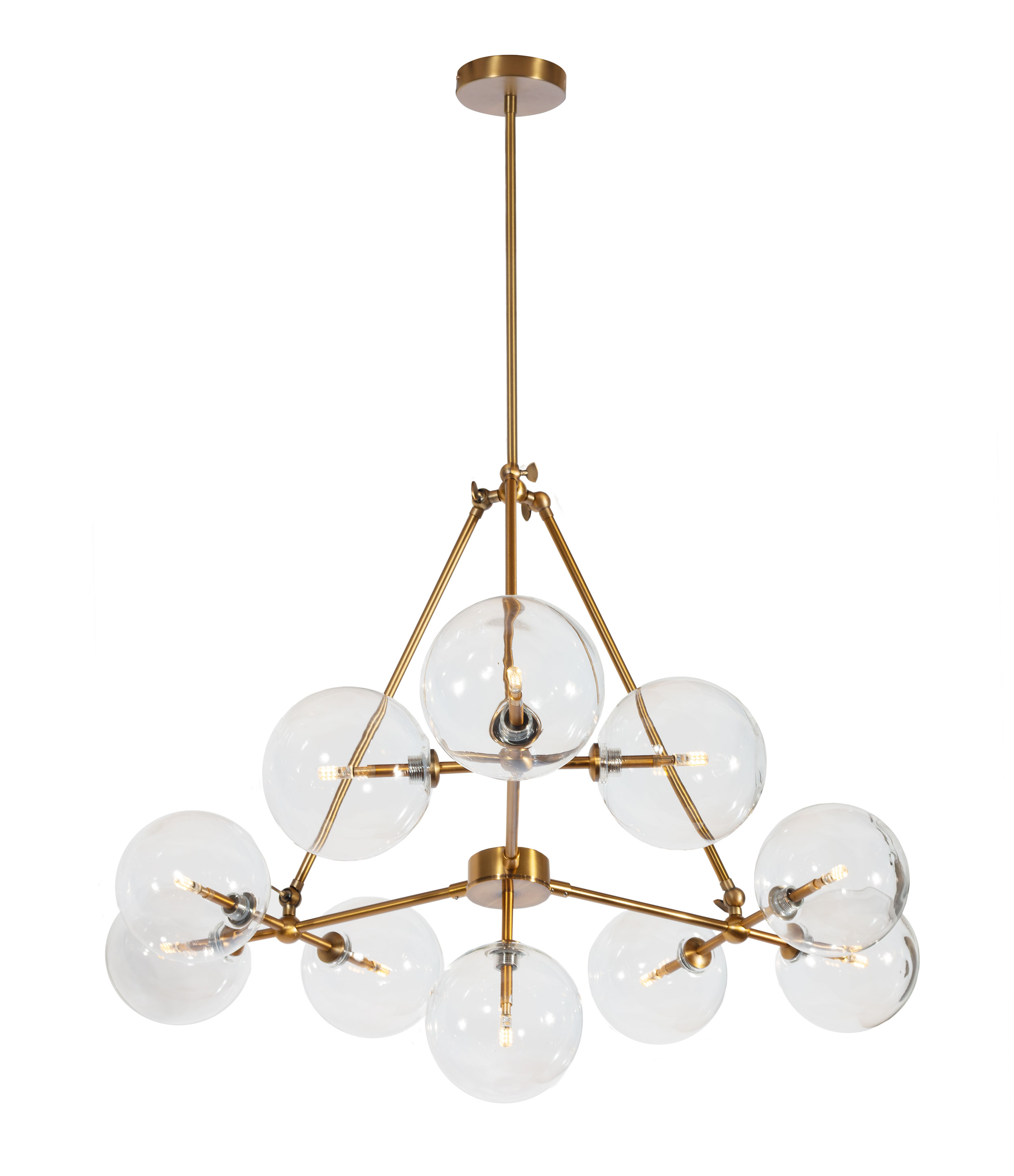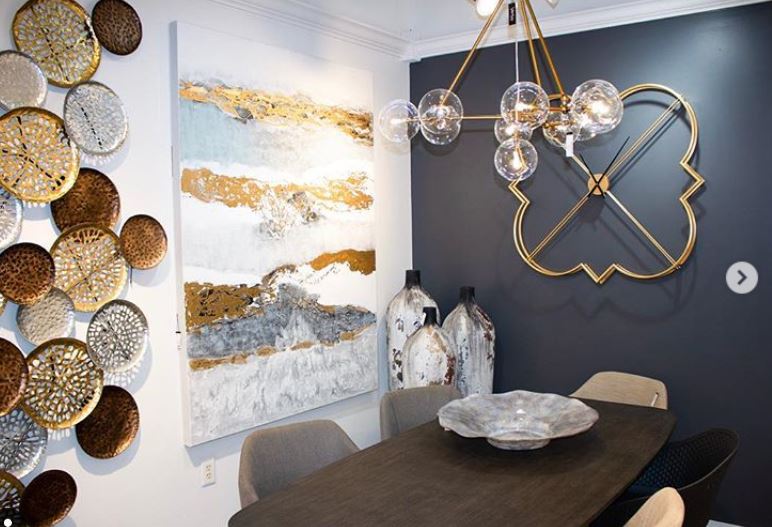 Similar to how retro designs have made a comeback in fashion, retro style has also made its way into interior design and lighting. Vintage Edison-style bulbs are a huge trend and also bring that popular industrial feel that is also trending to a space. Bring a little nostalgia to a reading nook with this floor lamp.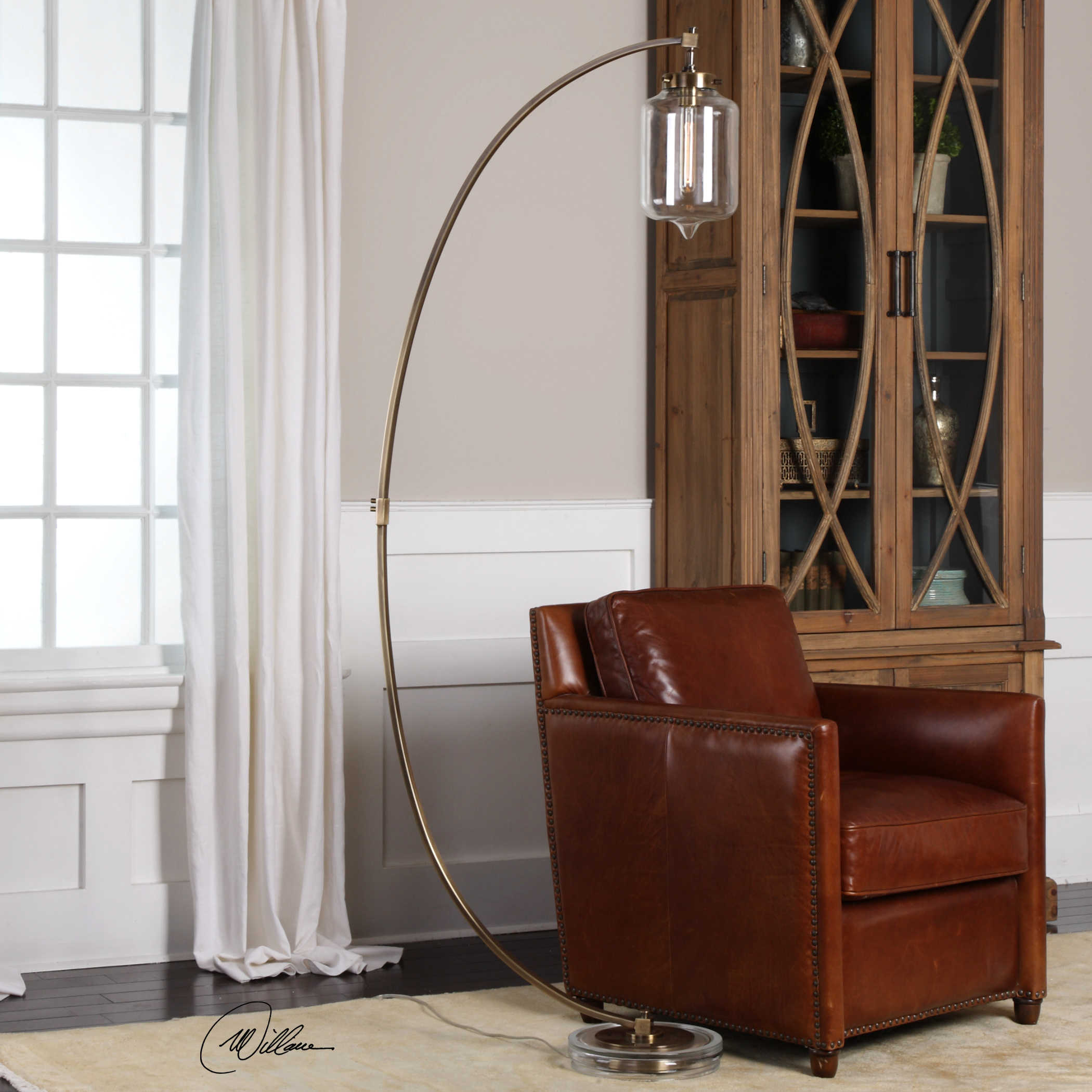 WHAT SIZE?
Interiors and the lighting in our interior spaces do have to function as well as look beautiful so here are a few guidelines to keep in mind when choosing the size of your light fixtures and deciding how to hang them:
For ambient lighting, measure the length and width of the room. Then add them together and convert to inches, and that's the ideal size for a light fixture.  For example, an 18-inch wide fixture would be ideal for an 8×10 foot room.
When figuring out the properly sized pendant for your kitchen island, measure the length of your island. Then, decide if you like the look of two or three pendants. If you go with three pendants, the pendant size can be smaller, but if you go with two pendants, which is actually the trend more recently, they should be oversized. After measuring the island, take into account the amount of space needed between each pendant. A good rule of thumb is to space pendants about 30 inches apart. Then you can go from there and calculate what size of pendants would fit above your island, leaving 6 inches of clearance on both ends of the island so no pendant hangs over the edge. They should hang 24 to 38 inches above the countertop or 84 inches from the ground.
For dining room lights, look for a chandelier that is  ⅔ – ¾ of the size of the table's length (or diameter, if the table is round), and hang it so the bottom of the fixture sits 30" – 34" above the table.
A LIGHT FOR EVERY STYLE
Your lighting should really reflect your style and is a great way to show your personality in your interior so have fun selecting the light fixtures and lamps you love. With all the furnishings and home accents in our store it is sometimes easy to miss that we do carry lighting so we encourage you to visit us again and look up and in the corners of our vignettes for some exciting design ideas for your lighting. We have some great chandeliers, pendants, floor lamps and table lamps and if you don't see the style you want in store we can also source and special order you the lighting you are looking for. Here are a few more pictures of some of the lighting we have in store right now.