Her top 10 gift ideas for the holidays
If you are reading this, you probably know Delores and may even be one of her many clients that look to her for advice on home decor and gift ideas. She works really hard to select an amazing mixture of items to style your home and give as the perfect gift so it was a challenge to narrow a list down to just ten. We think you will find that the list will appeal to a variety of people, and maybe, you will even see a few items you can add to your own wish list. Enjoy!
Two-Tone Glass Dinnerware Collection from Vietri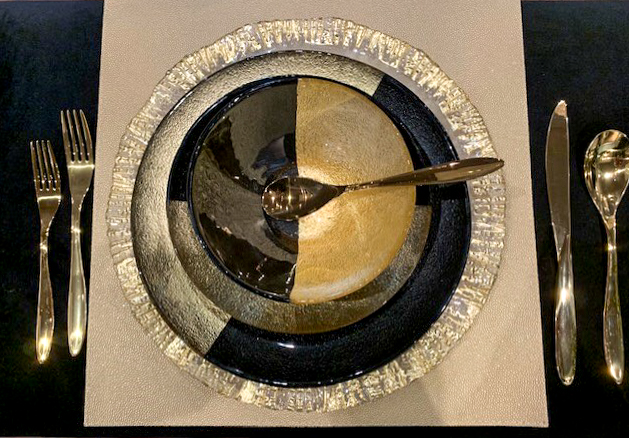 A list from Delores wouldn't be complete without some gold and black and something stunning for the tabletop. This is a fairly new addition to our extensive dinnerware collection from Vietri. Full place settings are available, but we also suggest that a few salad plates or even bowls would make a bold addition to existing tabletop pieces and would be an appreciated holiday surprise.
Mouth-blown Glasses in Gold from LSA International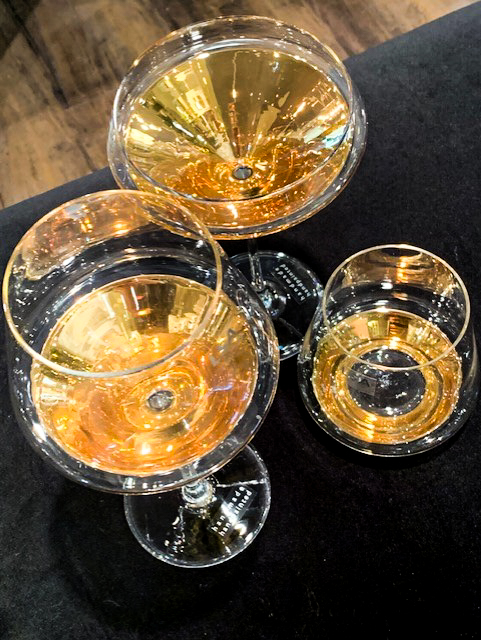 The name of this glassware collection is actually Space and I think it may be because you will love these glasses to the moon and back. They are crafted from mouth-blown glass and feature hand-painted metallic bands in gold. They will bring glamour and sparkle to your holiday. We would toast to that!
Peugeot Whiskey Tasting Set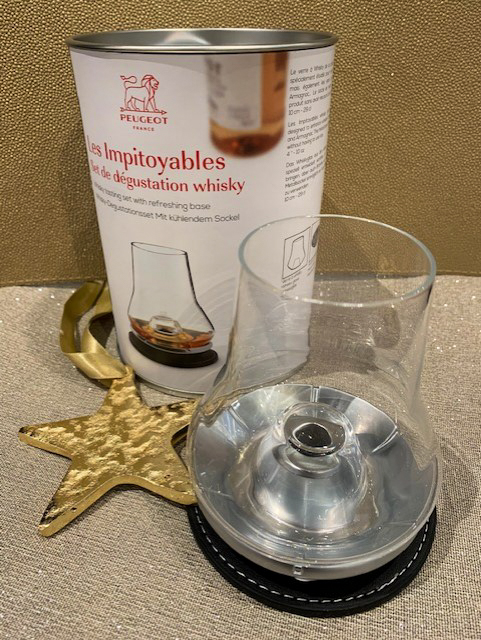 We aren't done toasting to the season yet. If you have a liqueur connoisseur on your list, this award winning mouth blown glass and cooling base, will take the world of holiday spirits to a new level. The Peugeot whisky glass is designed to release the aromas in the centre of the glass so that they concentrate and rise. The unique cooling base drops the temperature of the whiskey without changing the complexity of the spirit. Tasting whisky, cognacs , brandies, Armagnacs and more will be a sensory adventure when this gift is found under the tree.
 LED Light Crackle Glass Orbs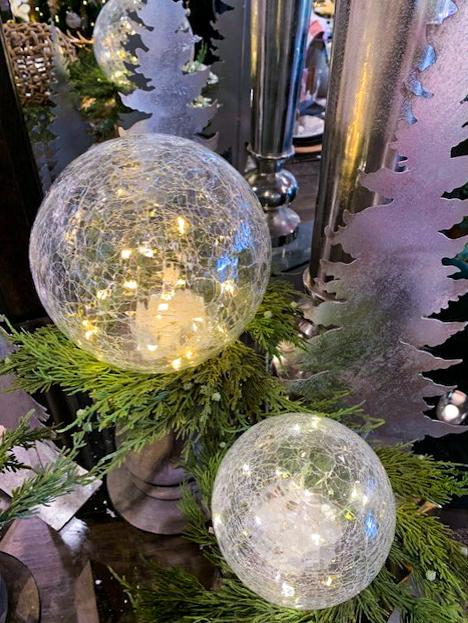 The holidays wouldn't be the same without some twinkling lights and these have been a favourite for all of us. We love them on top of candleholders like pictured here or as a way of bringing some cozy light to a holiday tablescape or decorated nook. What a lovely way to bring a little bit of Christmas, all wrapped up literally in a ball, as a host/hostess gift. And if you just can't get enough of these, don't store them away after the holidays. They are the perfect accent lighting all year long. They are lovely on a patio!
Curved Glass Wine Decanter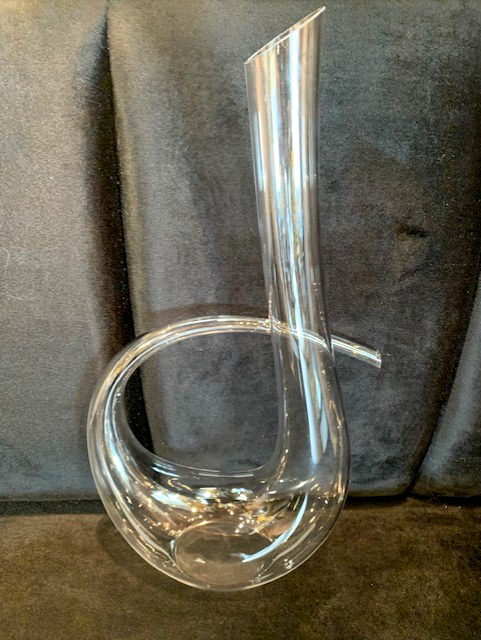 Living in wine country we couldn't forget the wine connoisseurs, and because drinking wine is an art, Delores has selected this artfully crafted decanter with its beautiful curves and form for the list. We love how unique it is and it could just be the perfect gift for that person that has everything.
Glistening Gold Ball Christmas Trees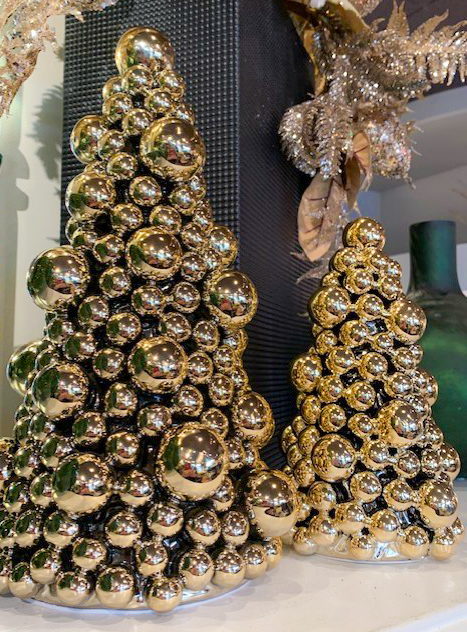 We love these because of their elegant simplicity. They are the perfect modern accent to transition your interiors into the holiday season. Group several in different sizes or use them individually in a glass hurricane or candleholder. They will bring a little glitz and glamour to your holiday style.
The Moose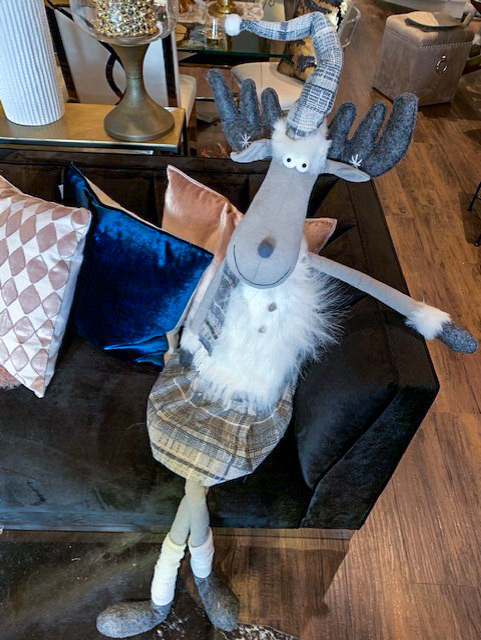 Everyone needs a moose to cozy up to don't you think? The holidays are supposed to be fun so Delores just had to add this guy to the list.
Golden Branches Candle Holder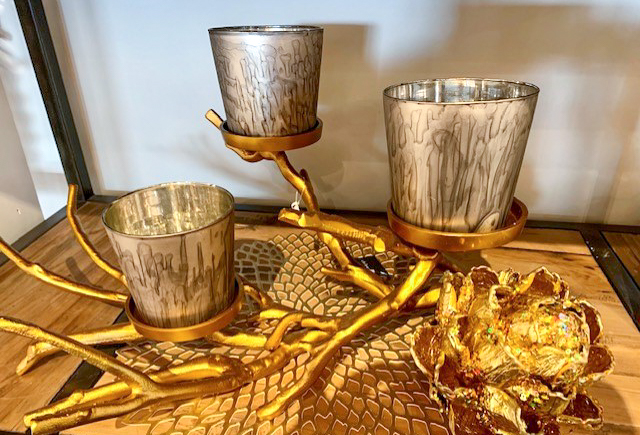 This is another crowd favourite and again it can be styled for any season. In gold it is stunning at this time of year.  You can think outside the box with this one and I think that is why Delores selected this as part of her list. Candles work in the holders it comes with, but she has tried candles without the holders and plants or potted flowers in the holders among other things. Perhaps if you plan to gift this fill the holders with your loved one's favourite candies or chocolate, some little Christmas trees or poinsettias. Be creative!
Swedish Dish Clothes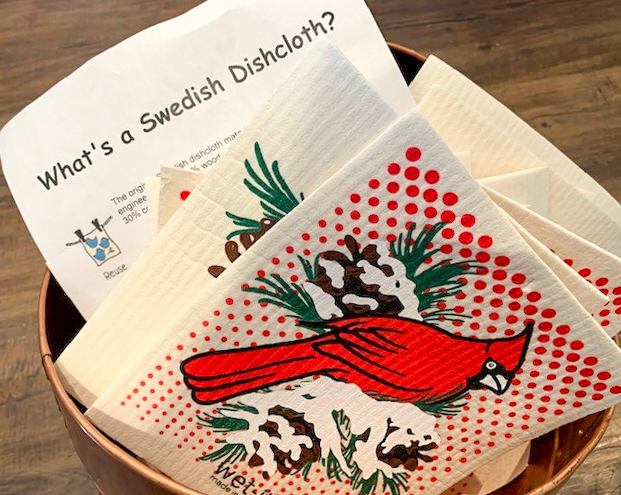 If you haven't tried these Swedish Dishcloths yet we urge you to do so. They are great for all sorts of household chores from cleaning up spills to polishing countertops, granite, stainless steel and glass streak-free. They are re-usable so are also good for the environment and absorb 20x their weight without crumbling like a sponge or breading bacteria. The added bonus being that they are a beautiful addition to your kitchen or even bathroom decor. We have some holiday/winter patterns right now. These make great stocking stuffers or a small add-on gift to go with something else.
Cocktail Shaker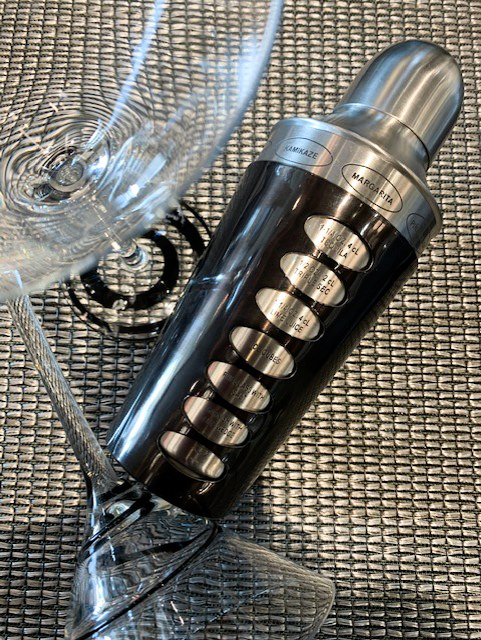 We  are at the end of the list so one more drink or two! We had to show you this clever item. This isn't just your ordinary cocktail shaker. It features 8 trendy cocktail recipes on its side even suggesting the type of glass you should serve the drink in. Shake up your drink menu this holiday season and look good doing it too with the sleek silver and black chrome finish. Cheers to a joyful holiday season!
We hope this helps you check off some of your Christmas list, but of course there are plenty of more fabulous gift and decor ideas in store. Stop in to have a peak, even if it is just to let us wish you the joy of the season in person!