Fresh for Spring and Easter Things
Just in time for Easter celebrations, a couple weeks away, we have some fresh spring arrivals and lots of creative design ideas to sprinkle the fun, colour and beauty of the season and holiday into your decor and table settings.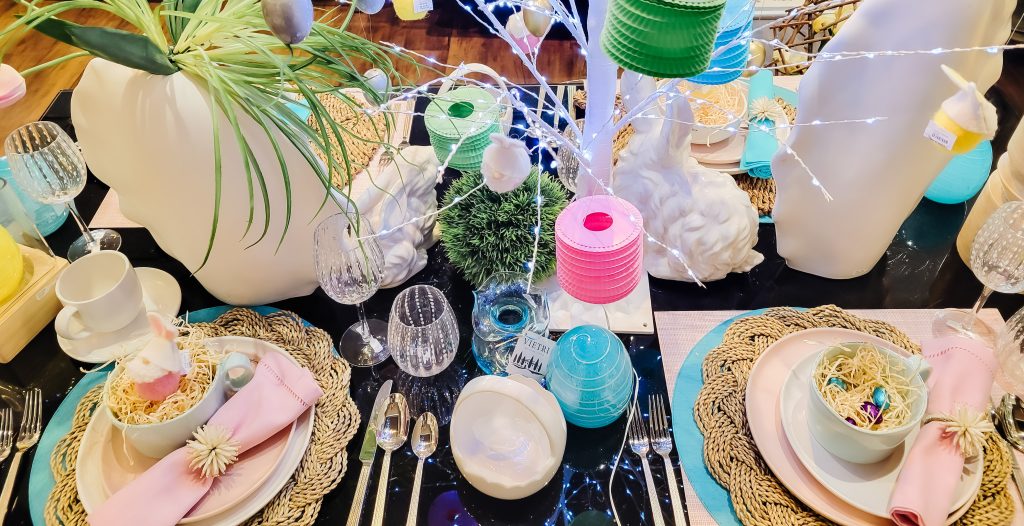 We will start with this tablescape that is so full of fun and definitely screams happy or maybe "hoppy" Easter with bunnies, easter eggs and even little gnomes with bunny ears. The icing, or tree on top in this case, is this whimsical white tree with lights. You can decide what you hang from it, depending on the season, but here vibrant coloured paper lanterns, easter eggs and easter gnomes were the fitting finishing touches.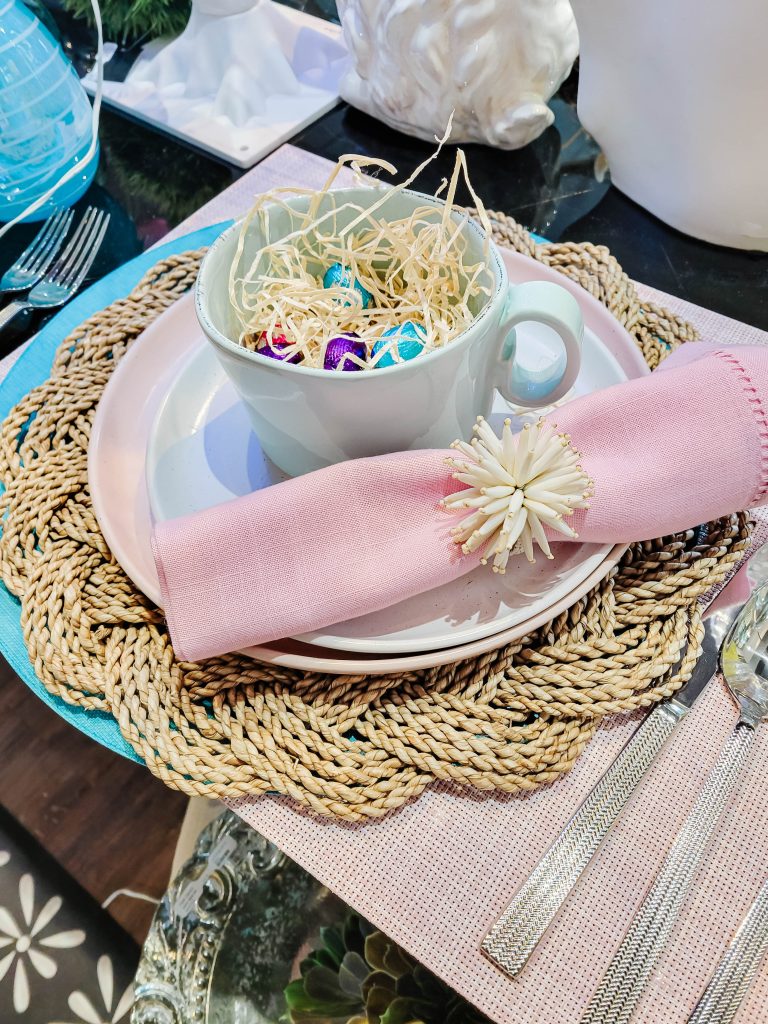 This clean crisp dinnerware in matte white and soft pink is stunning for spring and works so perfectly with these ceramic white bunnies and the matching pink placemats. We have literally painted this table with easter egg colours with additional pops of colour in some of the linens and the coloured glass eggs. An additional layer of interest and texture is introduced with the ratan chargers/placemats.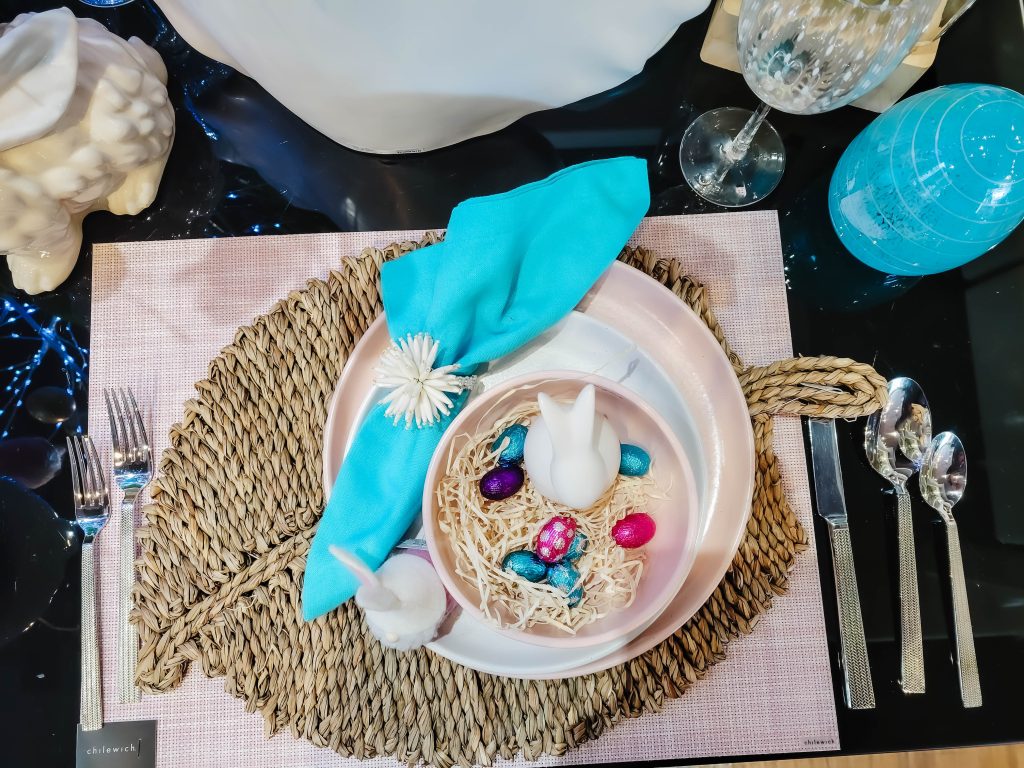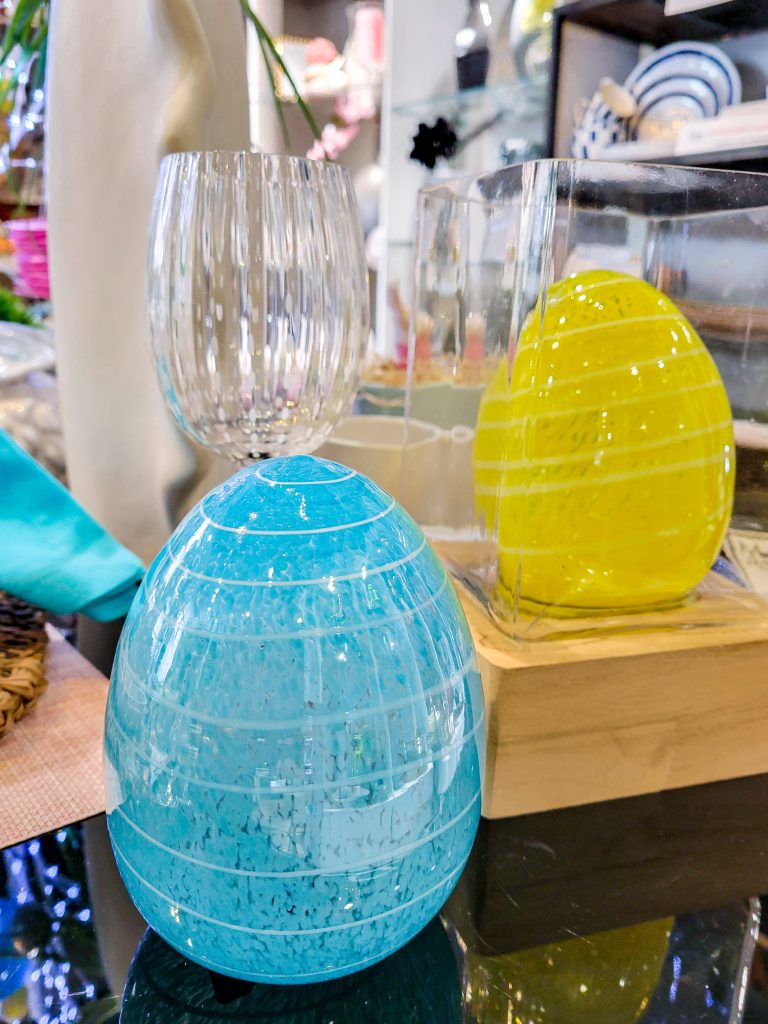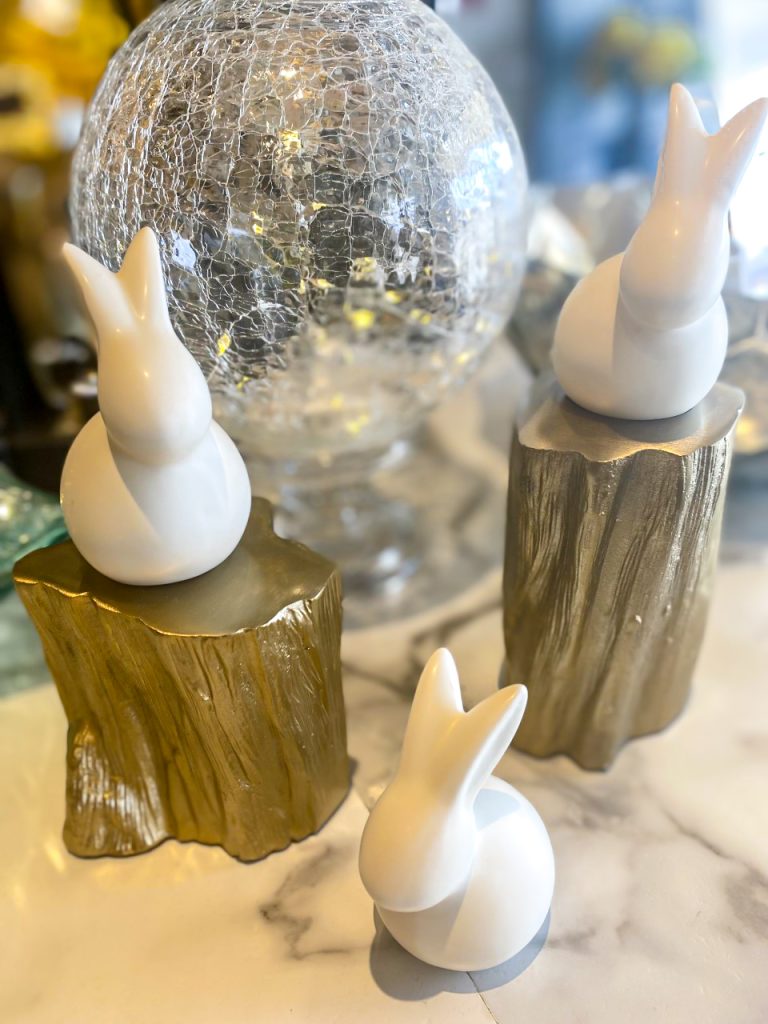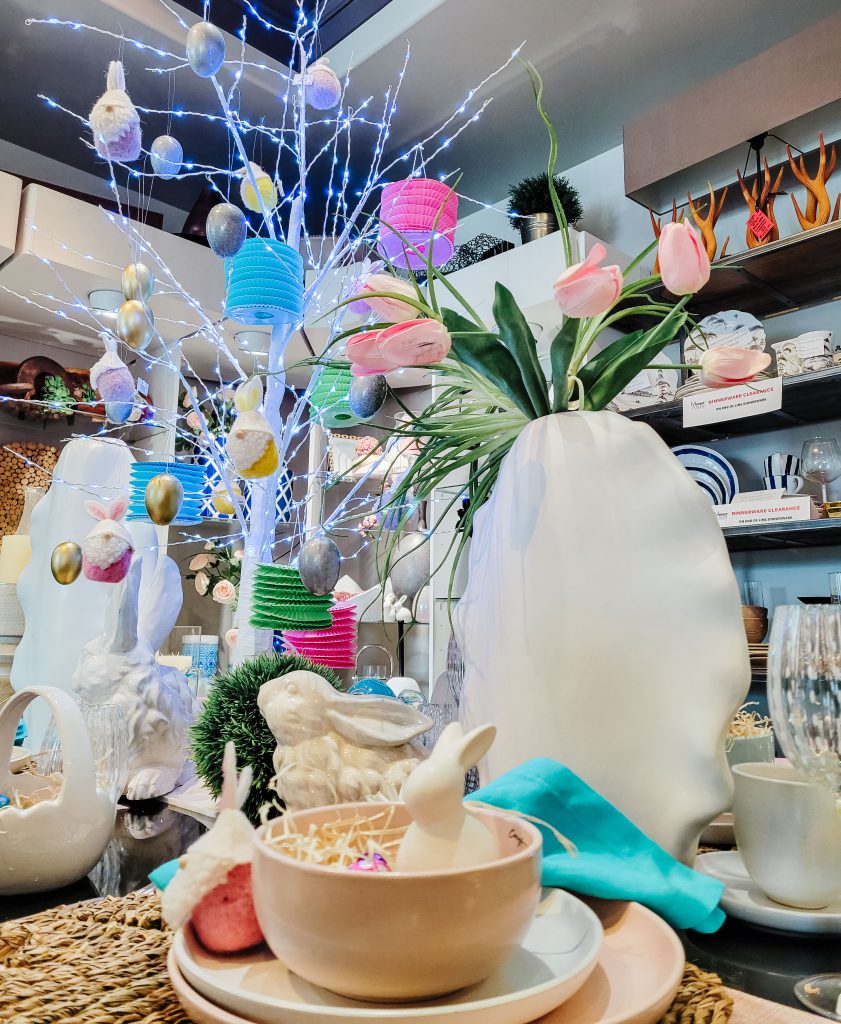 Your easter brunch or dinner will be magical and elegant with this combination of designer pieces in white and gold. Beaded placemats… Yes please!! The Butterfly Ginkgo Gold dinnerware from Michael Aram is so fitting for this time of year symbolizing all the beautiful transformations that happen as the natural world awakens for spring.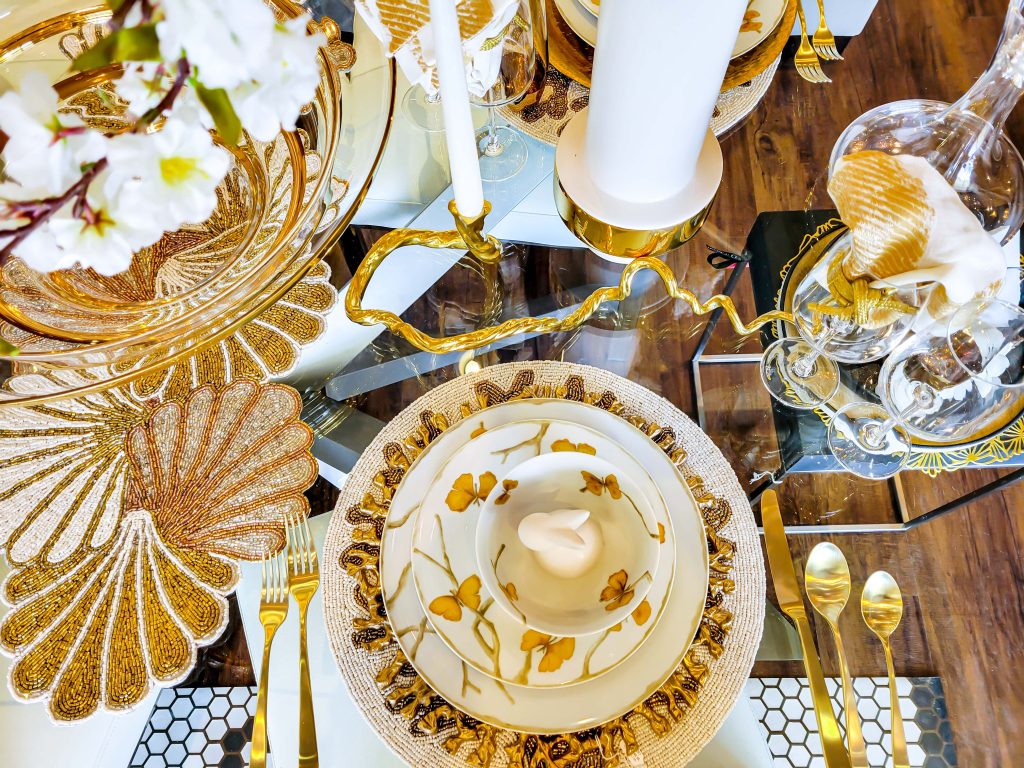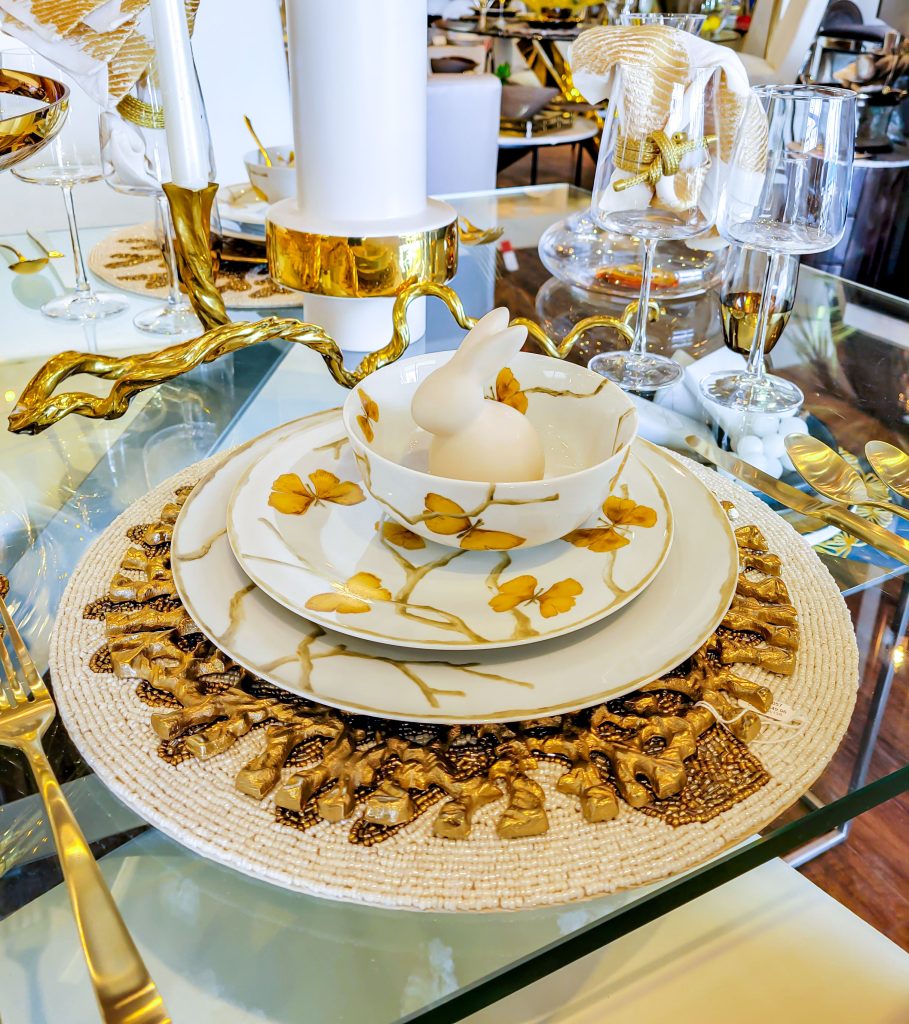 These white vases with the gold ring may just be one of our favourite vases and their simple shape actually creates so much drama on this table filled with blossoms.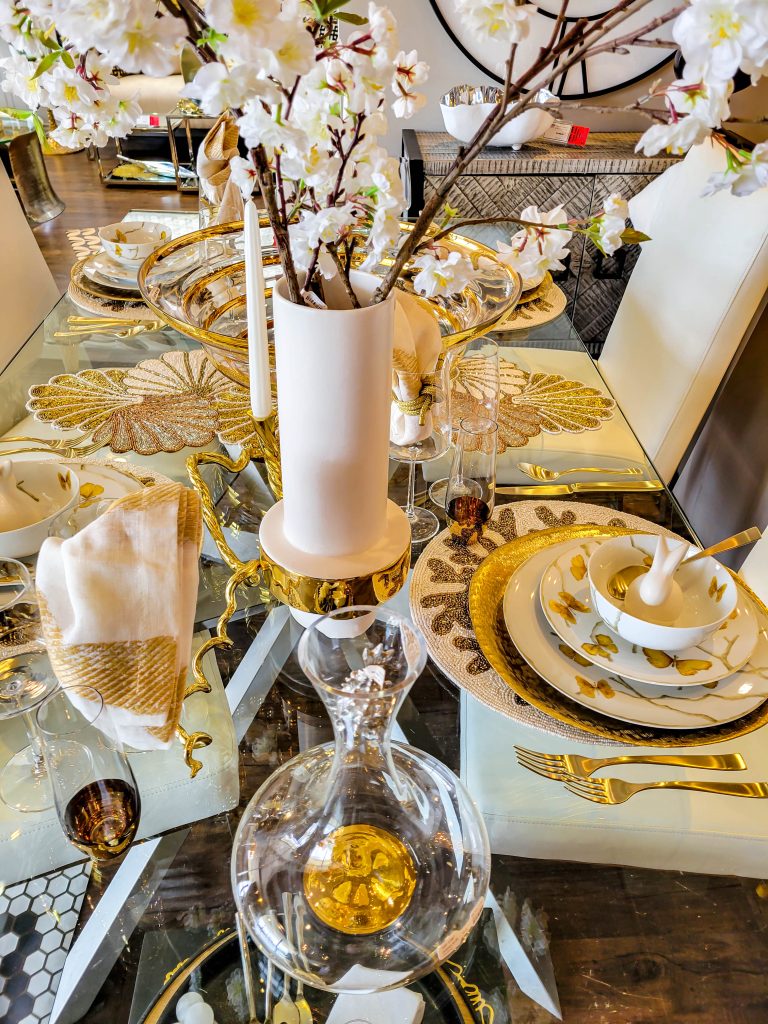 The finishing touches that tie everything together here are the golden chargers, gold flatware, gold embelished napkins and the pièce de résistance is the vine candleholder also from Michael Aram. A nod to the growing season ahead.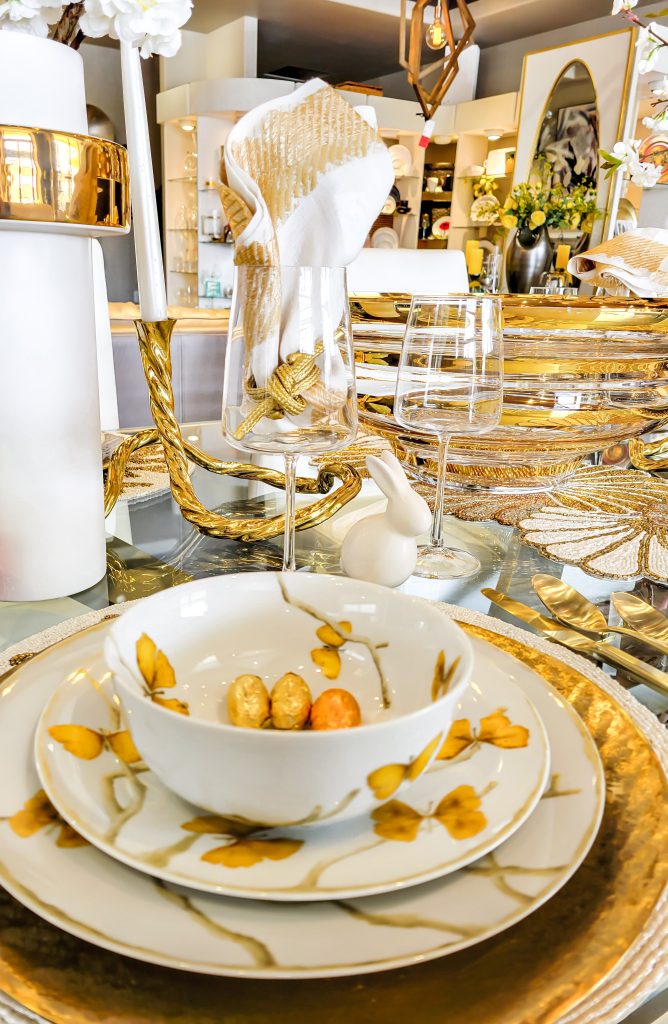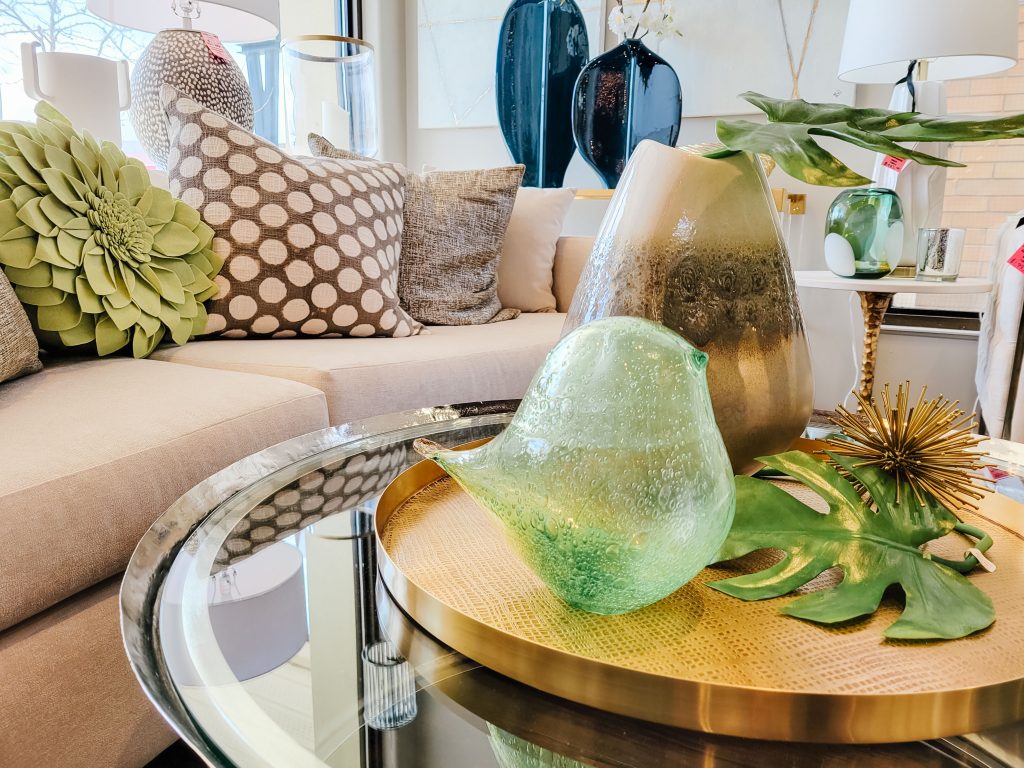 Who doesn't love something new to go with the new season? The next few things we are going to share will bring those refreshing spring vibes to your home. A sure sign of spring is the arrival of those birds we haven't seen all winter and we think you will love that these ones that just flew in. These delicate blown coloured glass birds are beautiful and are available in several different colours. We even put some twinkling lights inside one for a little added ambiance. A nice idea to try for the upcoming spring and summer evenings.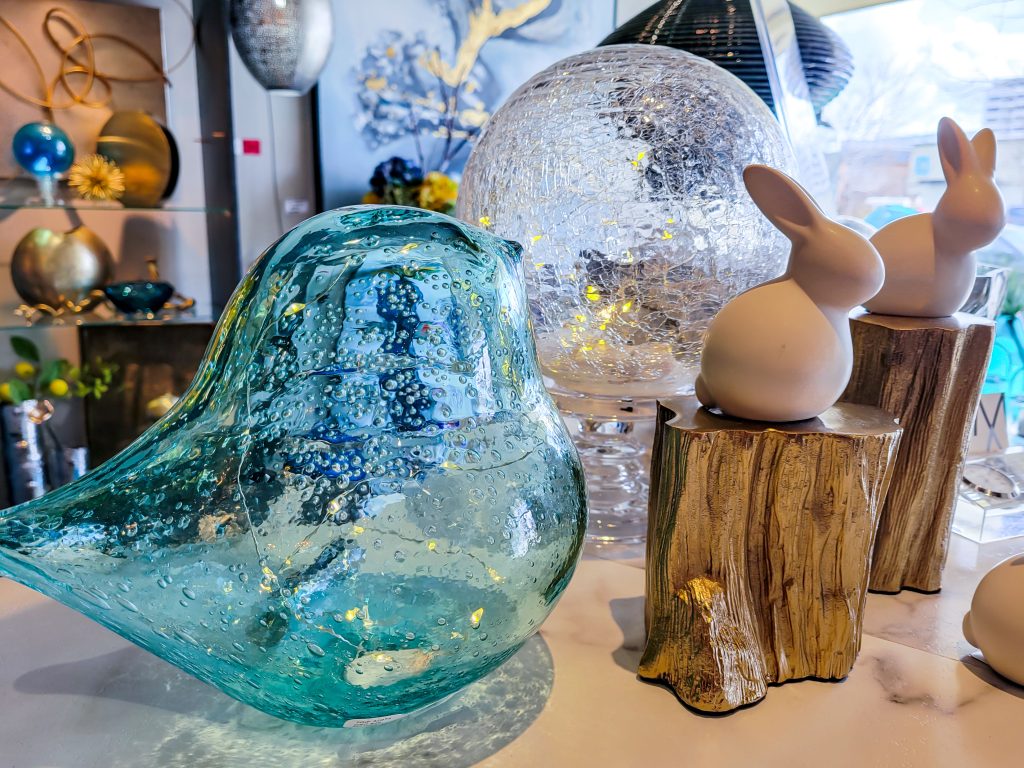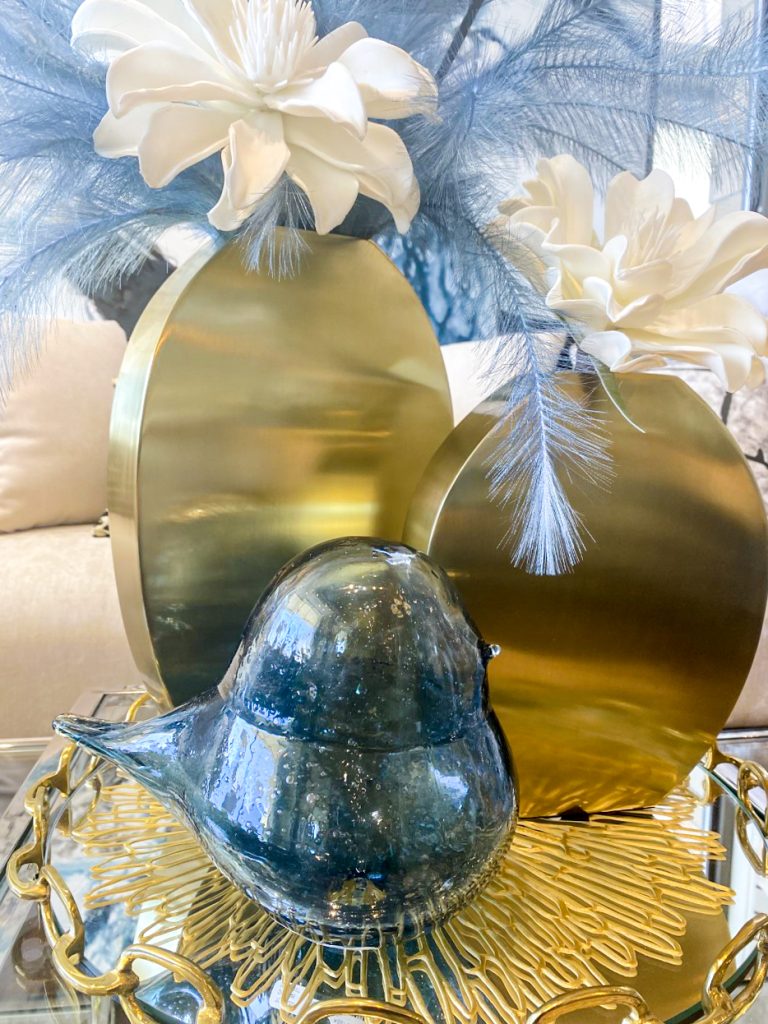 There are so many things in store that just might be your answer to a spring refresh for you, so it is hard to show everything. Perhaps it could be a new vinyl floor mat or a basket of faux tulips or even something as simple as something colourful. Even an Easter egg Swedish Dish Cloth. These would make a nice addition, by the way, to an Easter gift basket.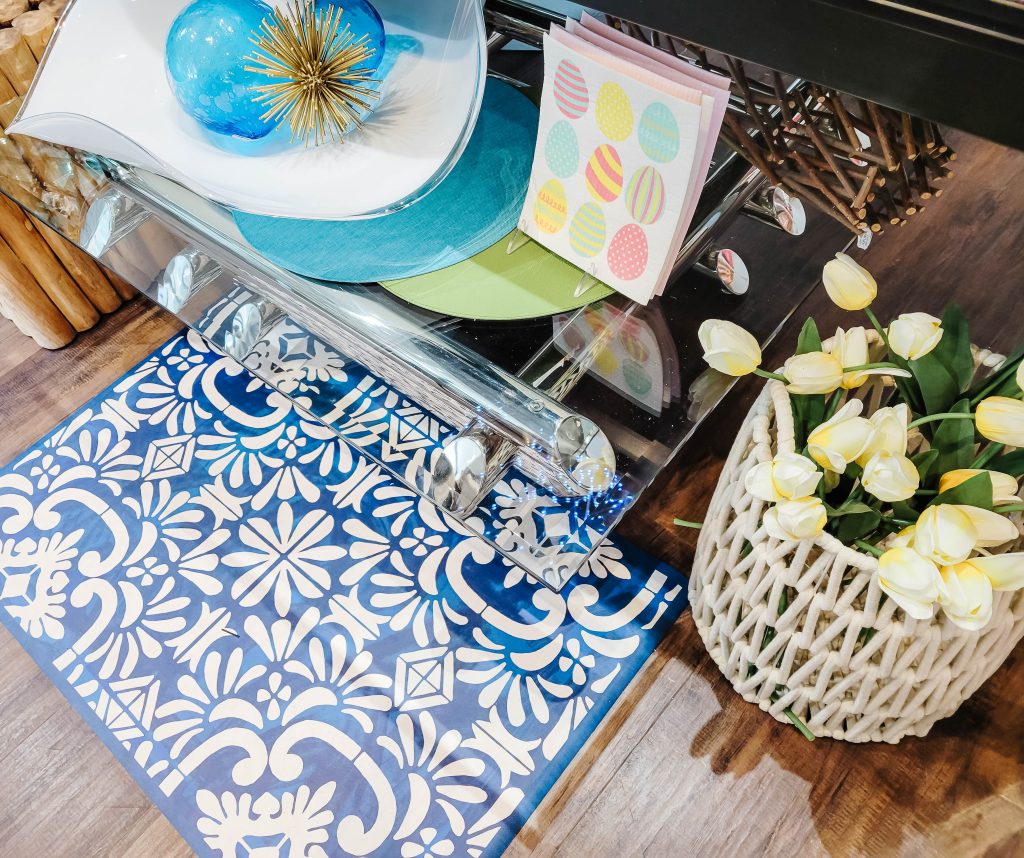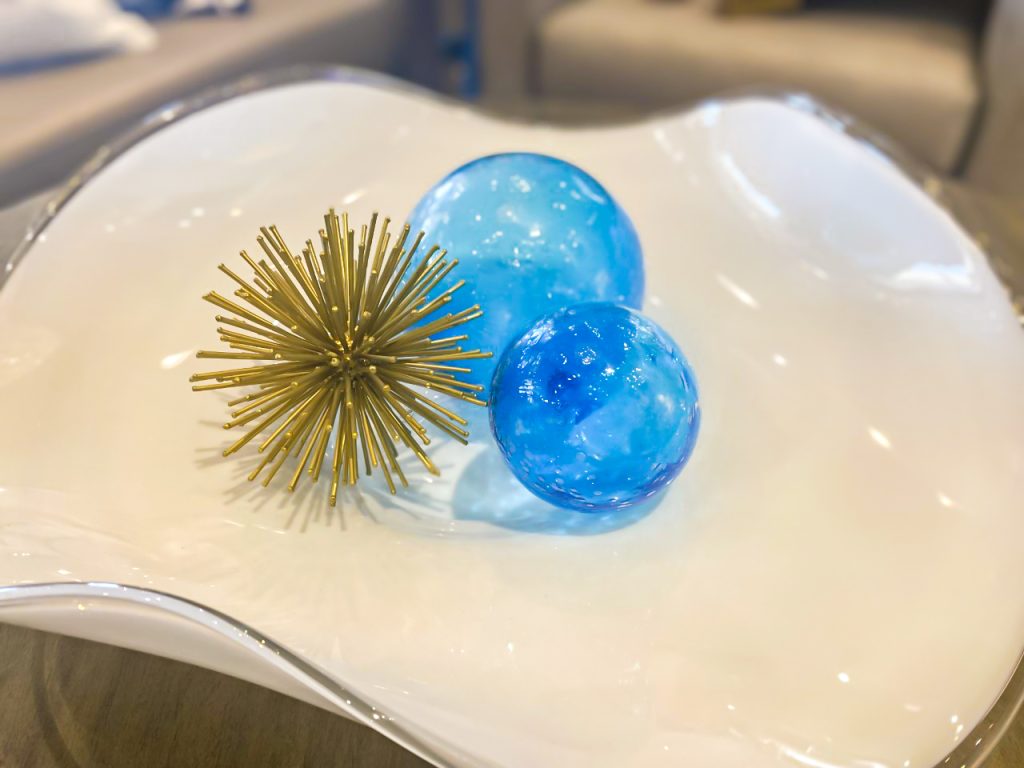 Speaking of colourful, we are pretty excited to share these stunning new arrivals. After a long winter some pops of colour are in order to awaken our spirits and these vivid glass pieces will do just that. Just their shear size and their unique characteristics will make them a conversation piece in your home. The difficult part will be choosing which one you like best.