Exciting New Pieces Coming Soon!
We are breaking the rules! "What happens in Vegas doesn't have to stay in Vegas!" Delores has just returned from the buying shows in both Las Vegas and Toronto and she can't wait to share with you what she saw there and what she is bringing here to Modern Accents. Ultimately we hope you fall in love with these new furniture and accent pieces too so you can enjoy them in your own home.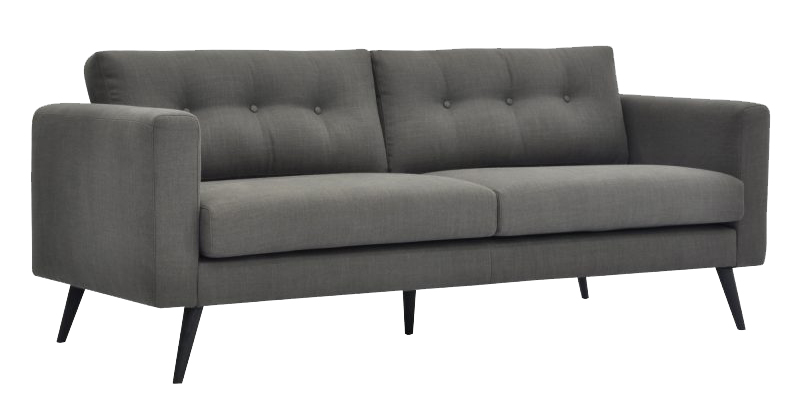 THIS YEAR's STYLE
At the shows it was evident that tufted upholstery is definitely back in. Paired with contemporary lines and new fabrics this style is both warm and modern. Many of us may recall having a tufted sofa or accent chair in the past, but the shape of these new furnishings as well as the colours and textures chosen for the upholstery have given this style a whole refreshed feel. We are on board with the revival. See it soon in a sofa pictured above in grey fabric that we will have in store shortly.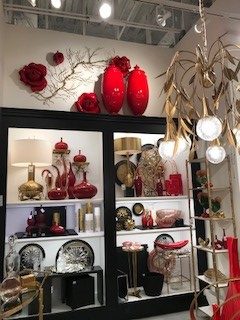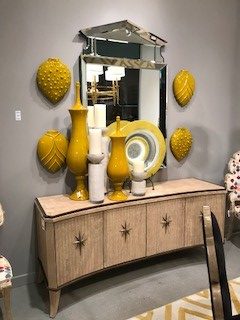 Reds and yellows are still super popular. Why not add a pop of vibrant colour to your space for spring, which we are all hoping is just around the corner. After the greys of winter I think we are all ready for some sunny yellows and rose-coloured reds!! We already have beautiful red Italian red roses in store that we have showed off before, but we love how they paired them with the gold branch at the show in Las Vegas.  More yellow pieces are on their way and keep in mind the yellows we are seeing are a mustard tone.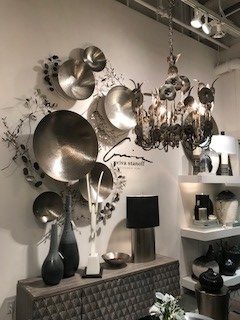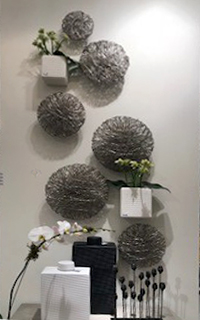 ADD TEXTURE WITH WALL ART & METAL ACCENTS
You still can't go wrong with metal accents. Consider a metal art feature instead of a traditional painting to add the unexpected to your walls. This combination of circular and branch-like elements pictured here on the left above is a great way to add interesting texture and depth to your space. We have these wired discs pictured above on the right already on display in our store, but we got some great new ideas at the Vegas show on how to display them in a whole new way.  We can help you pull something unique together.
Mixed metals are here to stay and if you haven't quite got used to gold/brass being back there is still time. We saw lots of it at the shows this year.