Designer Decor
At Modern Accents we take pride in our selection of exquisite giftware and home decor and we strive to bring our clients pieces that they won't find anywhere else. Two different designer lines come to mind and we wanted to share them with you if you aren't familiar with them and remind you of them if you already do know their beautiful collections, especially as we approach the holiday and gift giving season. We are talking about Michael Aram, which we have carried as an exclusive retailer in the Okanagan for quite a number of years and Julia Knight which we have just started to carry more recently. We realize that it might seem a little early to be talking about the holiday season, but this year in particular we are encouraging you to shop early and shop locally. Both these designers offer timeless pieces that would make amazing gifts or heirloom treasures for someone special in your life and also provide some great decor and serving pieces for a magical holiday season and beyond.
Michael Aram
Michael Aram is an award winning painter, sculptor, and art historian. Lyrical and often witty, his work encompasses a wide range of media and reveals a rich and variant source of inspiration – nature, mythology, narrative storytelling, and purified form. Michael's work is also a celebration of craft and age-old hand working traditions. It is the enduring fusion of these ideals – originality, narrative, and craftsmanship – that has become the hallmark of this gifted artist and you will see this expressed in his pieces that we have in store. We have items ranging from serving pieces, candles and candleholders, dinnerware, flatware, picture frames, vases, and decorative giftware. We highlight some of the pieces we have right now below.
Anemone Collection
This collection, that just arrived in our store, is inspired by anemone flowers, which in some cultures are said to bring good luck and offer protection.  Appropriate for 2020!?! The flowers are associated with purity and peace.
"For me, there is a beauty and gracefulness inherent in anemones. The curving stems and vibrant blooms are feminine and deeply alluring." -Michael Aram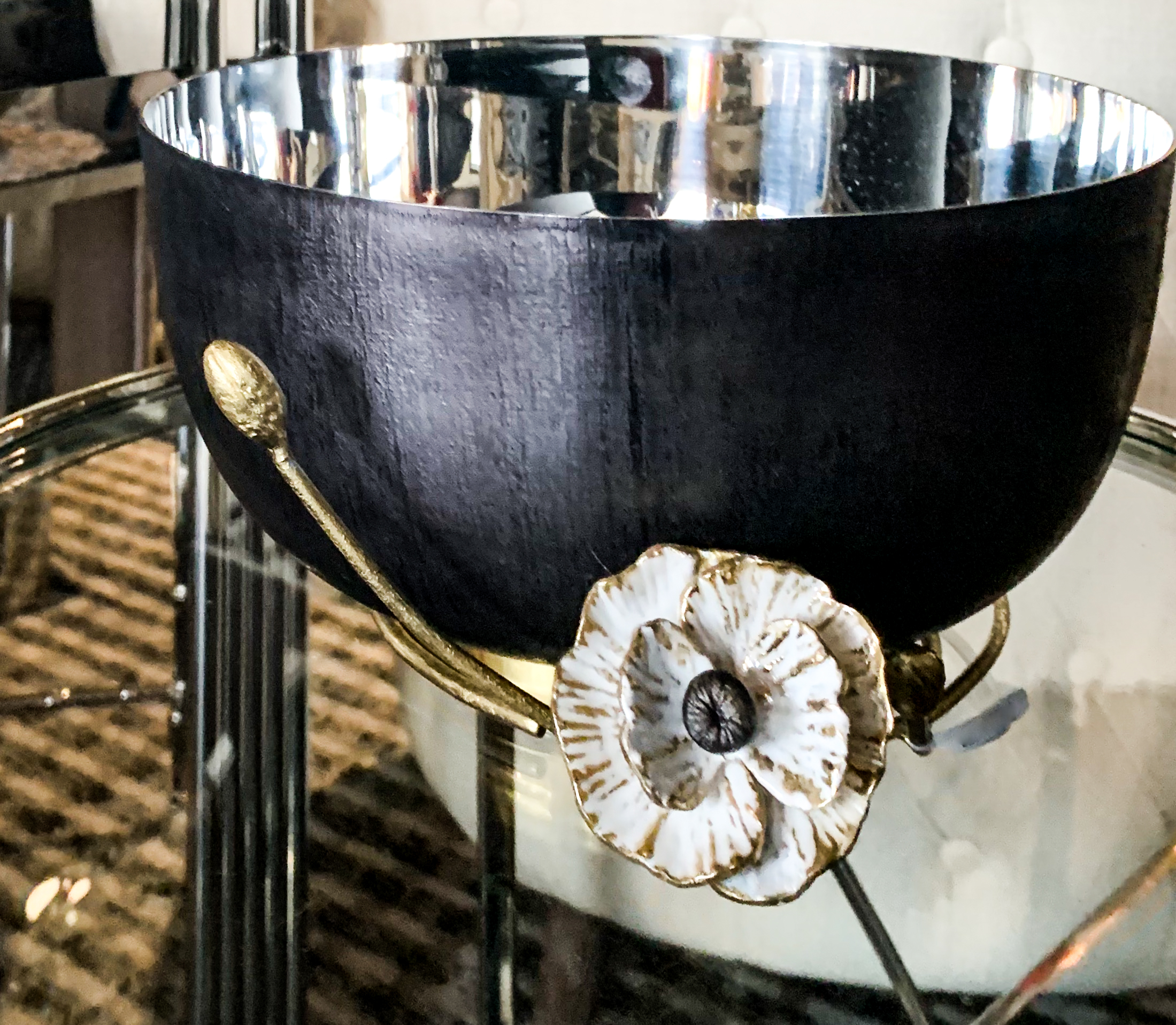 The white enamel and brass flowers against the stark black nickelplate is stunning and the pieces would work in both a modern or traditional home in their artful design.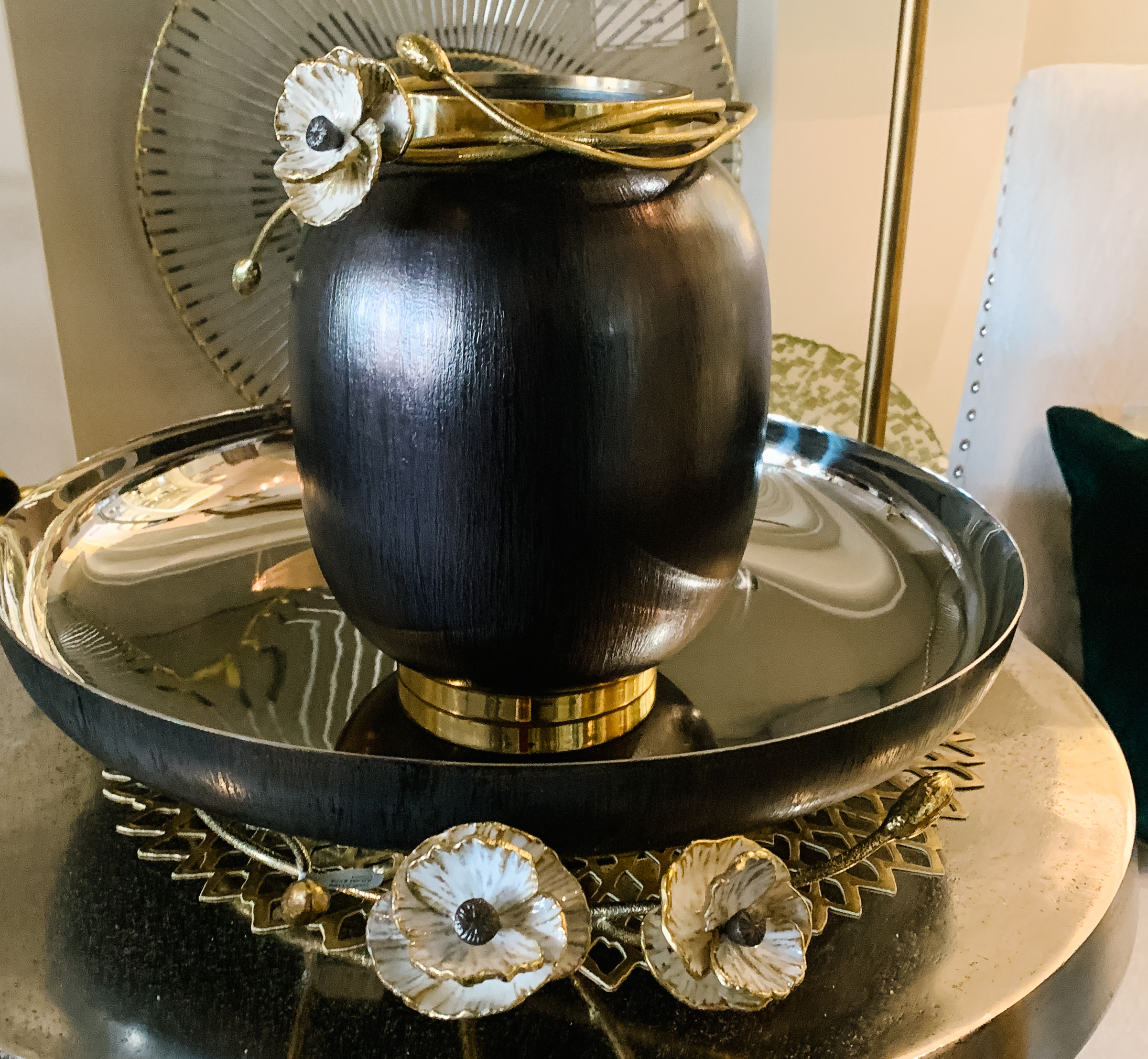 They work as decor pieces, but are also so functional too as vases and serving pieces include textured stainless steel  on the surfaces that would touch food and water.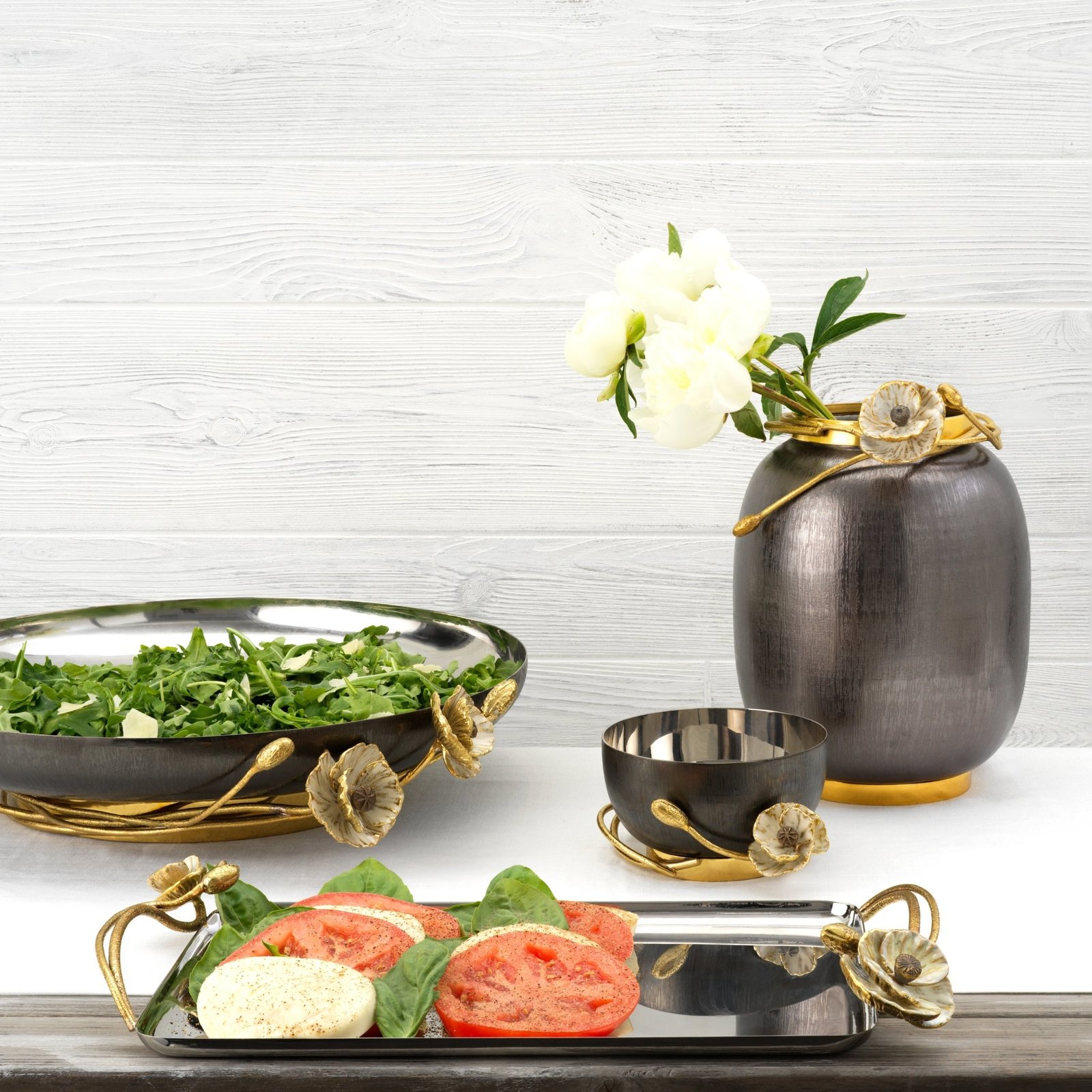 Photo Credit: michaelaram.com
Butterfly Ginkgo Collection
The Butterfly Ginkgo Collection celebrates Aram's fascination with a particular type of ginkgo tree, the Ginkgo Biloba, or "Butterfly Ginkgo", which grows with a double leaf reminiscent of a butterfly's wings. Executed at the highest level of handcraftsmanship, each piece is rendered in solid brass with hand etched cocoon-shaped vessels. We also carry a colourful line of dinnerware from this collection.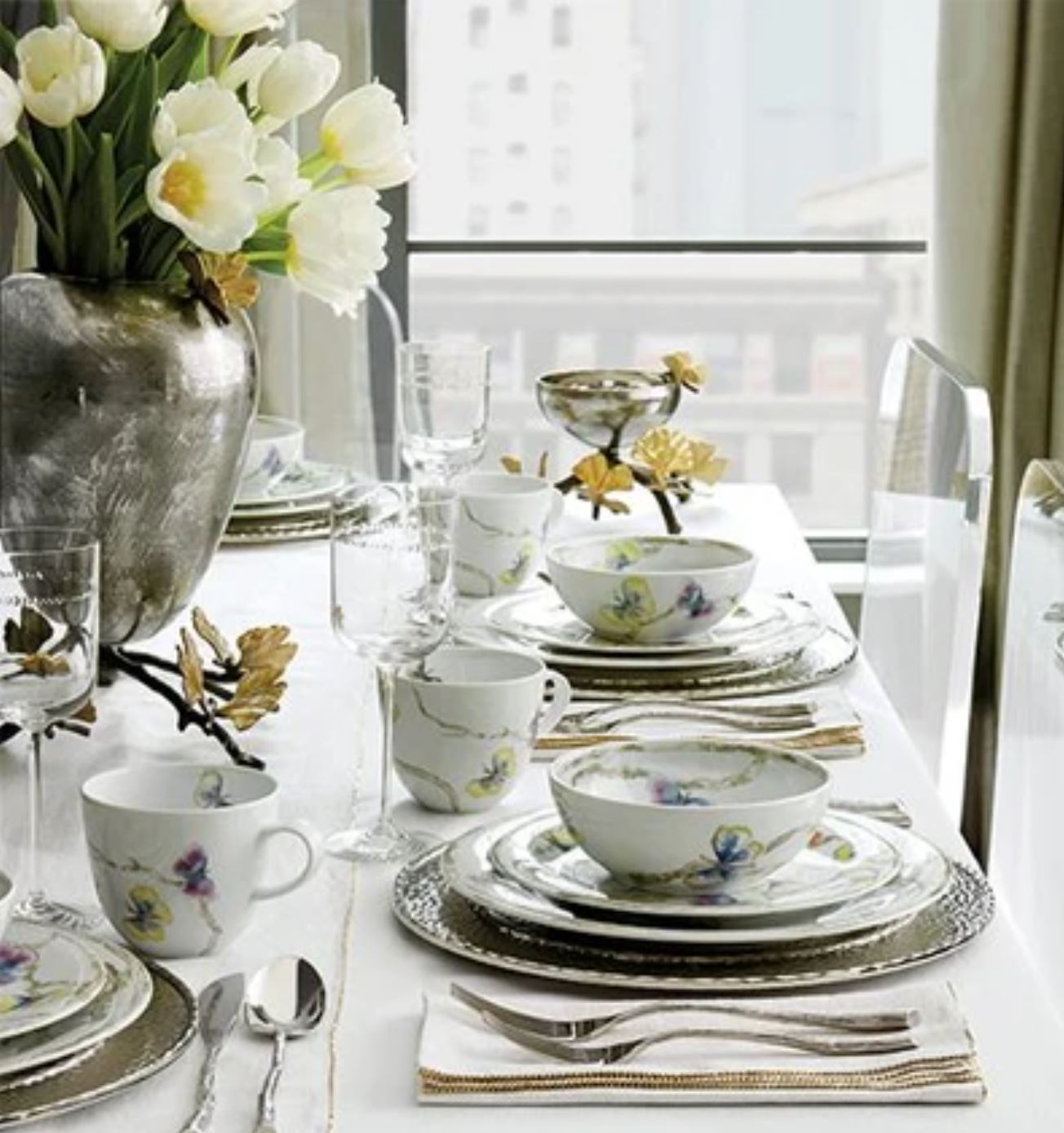 Photo Credit: michaelaram.com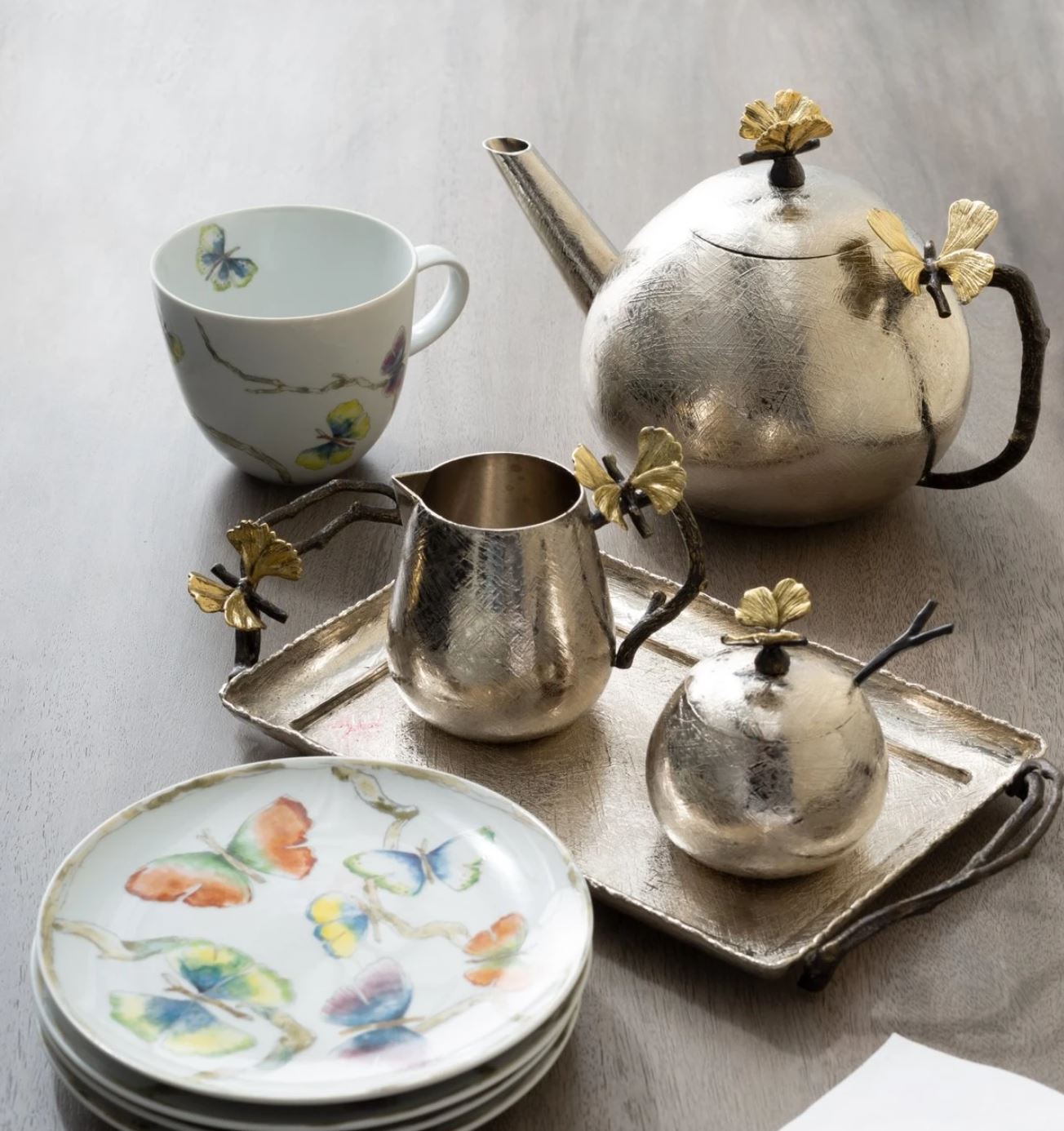 Photo Credit: michaelaram.com
If it is a gift you are on the hunt for this collection has some amazing finds within it, like this beautiful gold twig frame, candleholders, and keep scrolling to see the stunning new bowl we just received, also from Michael Aram.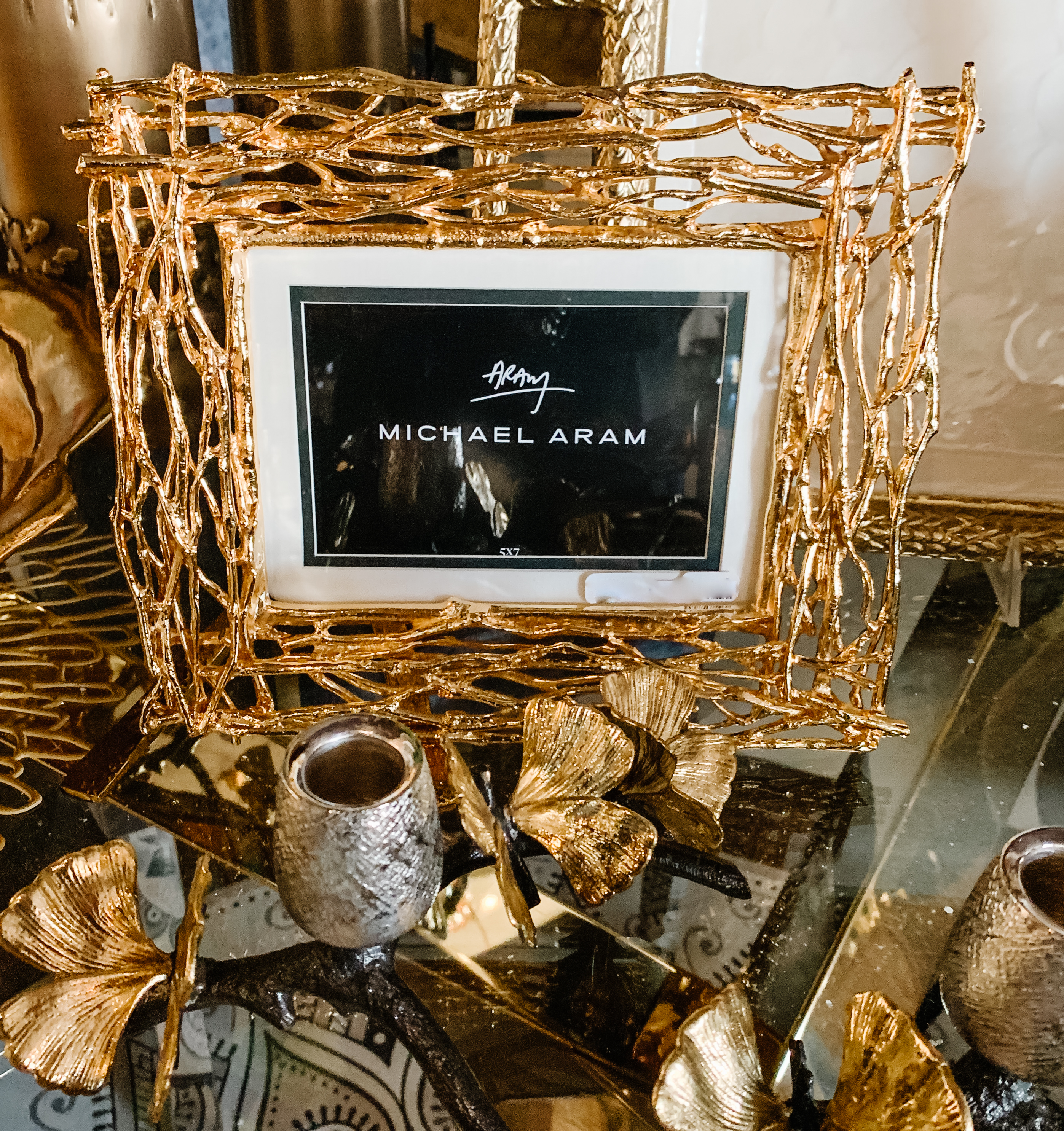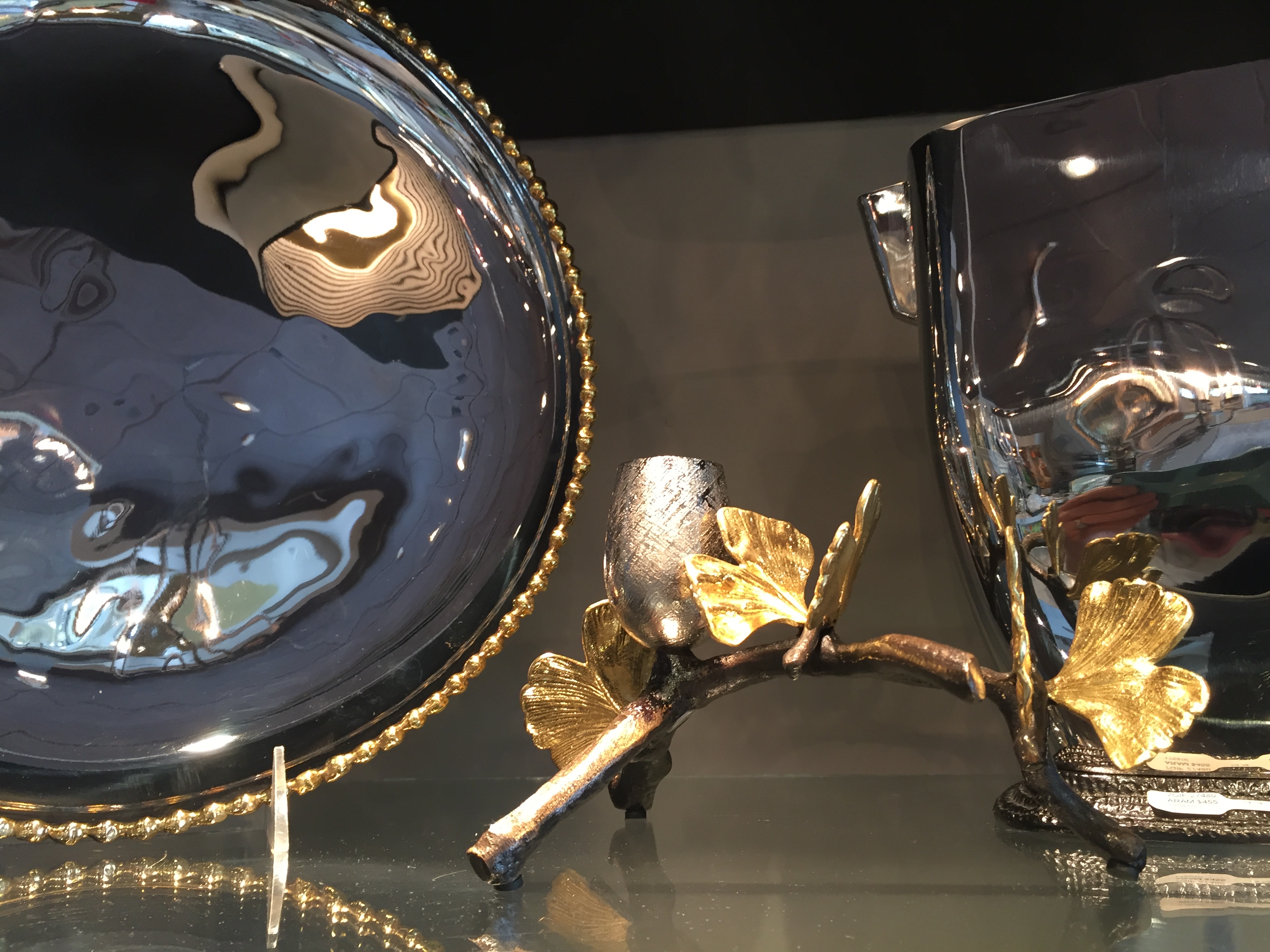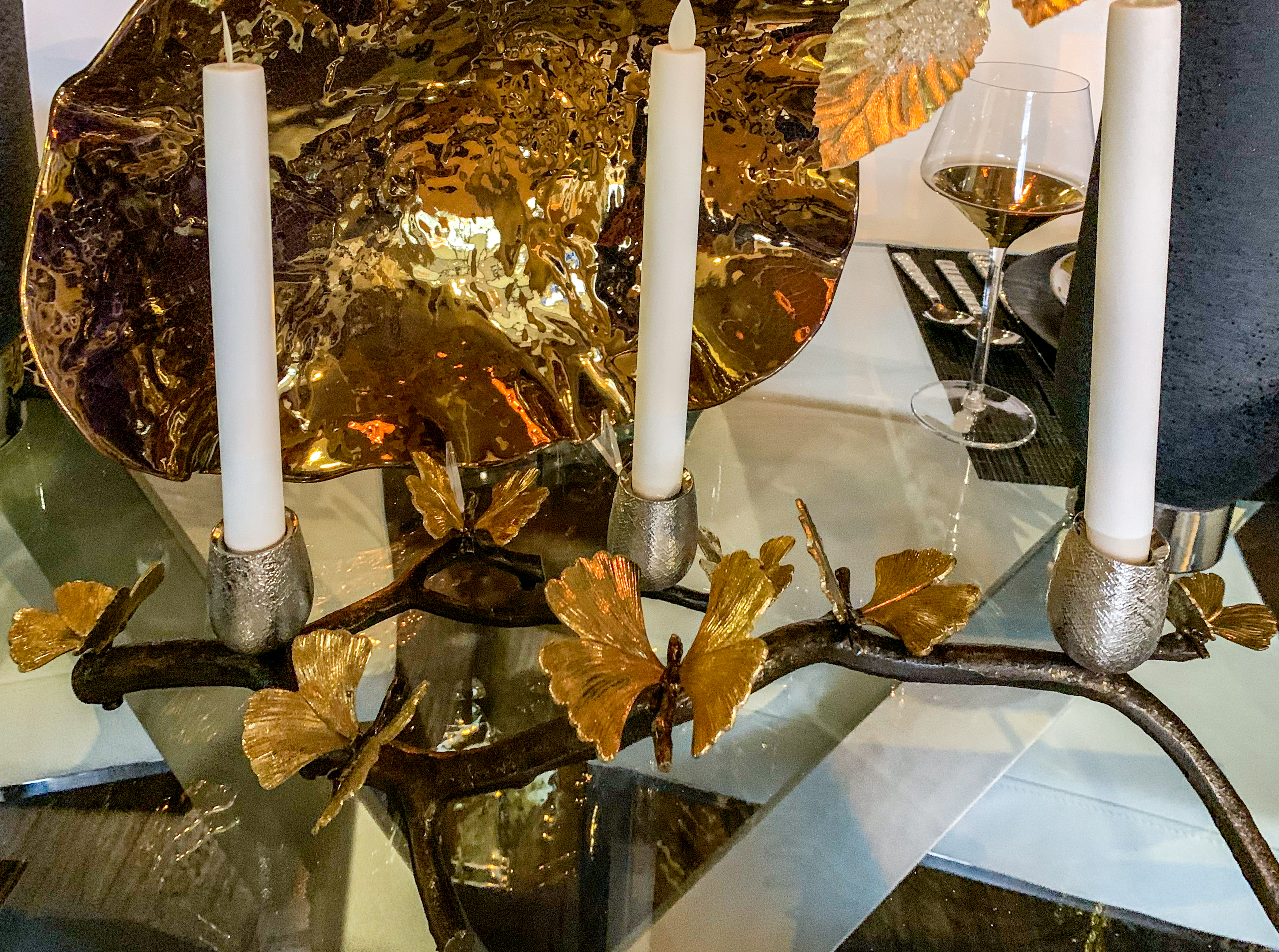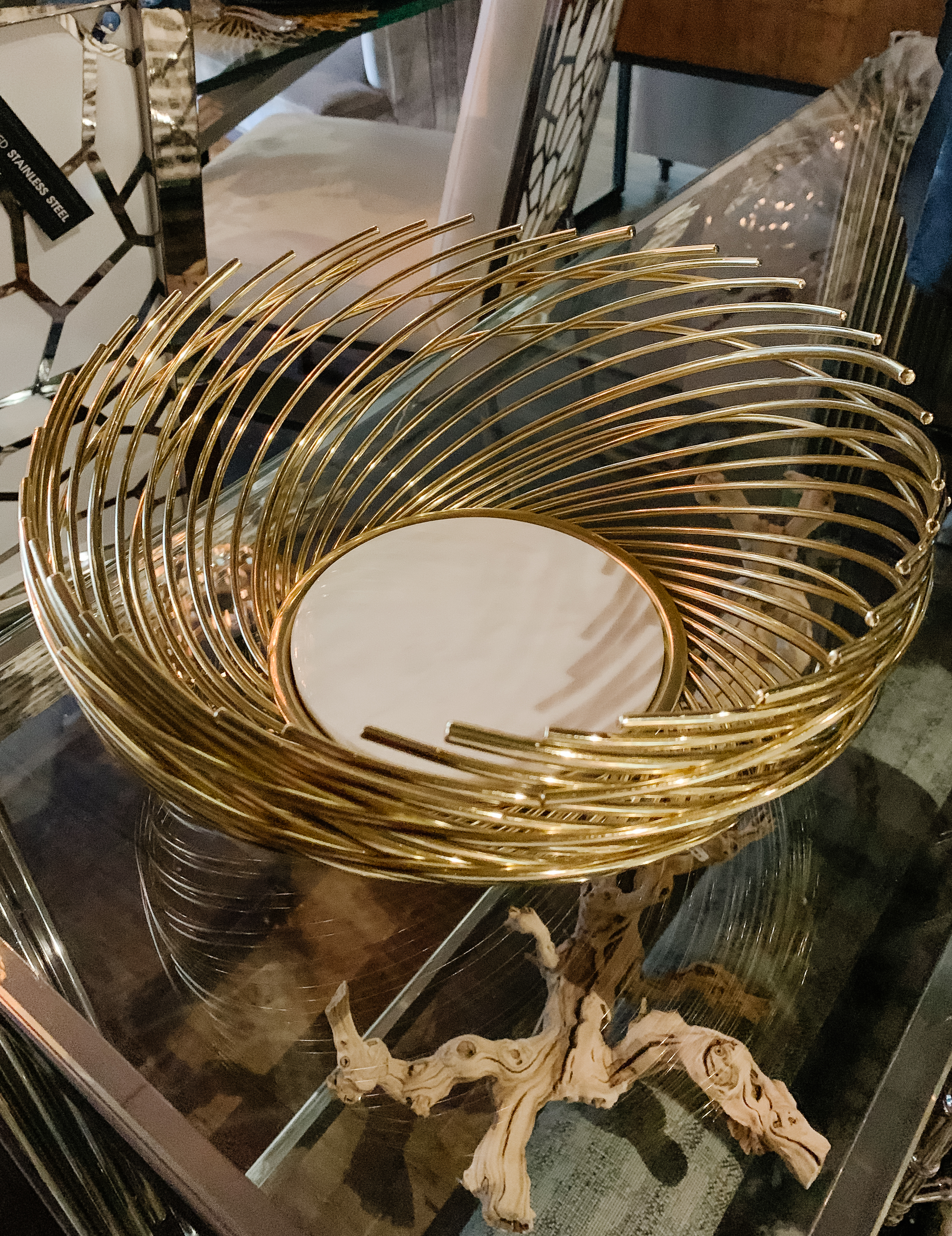 Visit https://www.michaelaram.com/ for more more information on this amazing artist and his collections.
 Julia Knight
Julia Knight's collections also draw inspiration from nature and each piece is an amazing creation that can be cherished and even passed on. We love this video that discusses her creative process and we think it will make you fall even more in love with her work.
"Mesmerized by the rare process of layering richly colored enamels to sand cast aluminum, Julia fell madly in love with the traditional techniques of the artisans of India. From crushing the mother of pearl shell by hand, to hand finishing each and every detail on the sand case aluminum, to lovingly applying the signature opalescent enamel thumbprint swirl, every piece is truly one-of-a-kind.
Stainless steel, cut and shaped, hand hammered finishes, hand beaded edging, and the remarkable proprietary finishes ensure you have an extraordinarily unique piece. These techniques are passed down through centuries of generations, ensuring that you will have a beloved heirloom piece that will stand the test of time." – excerpt taken from juliaknightcollection.com
Here are some views of the pieces we have in the store here at Modern Accents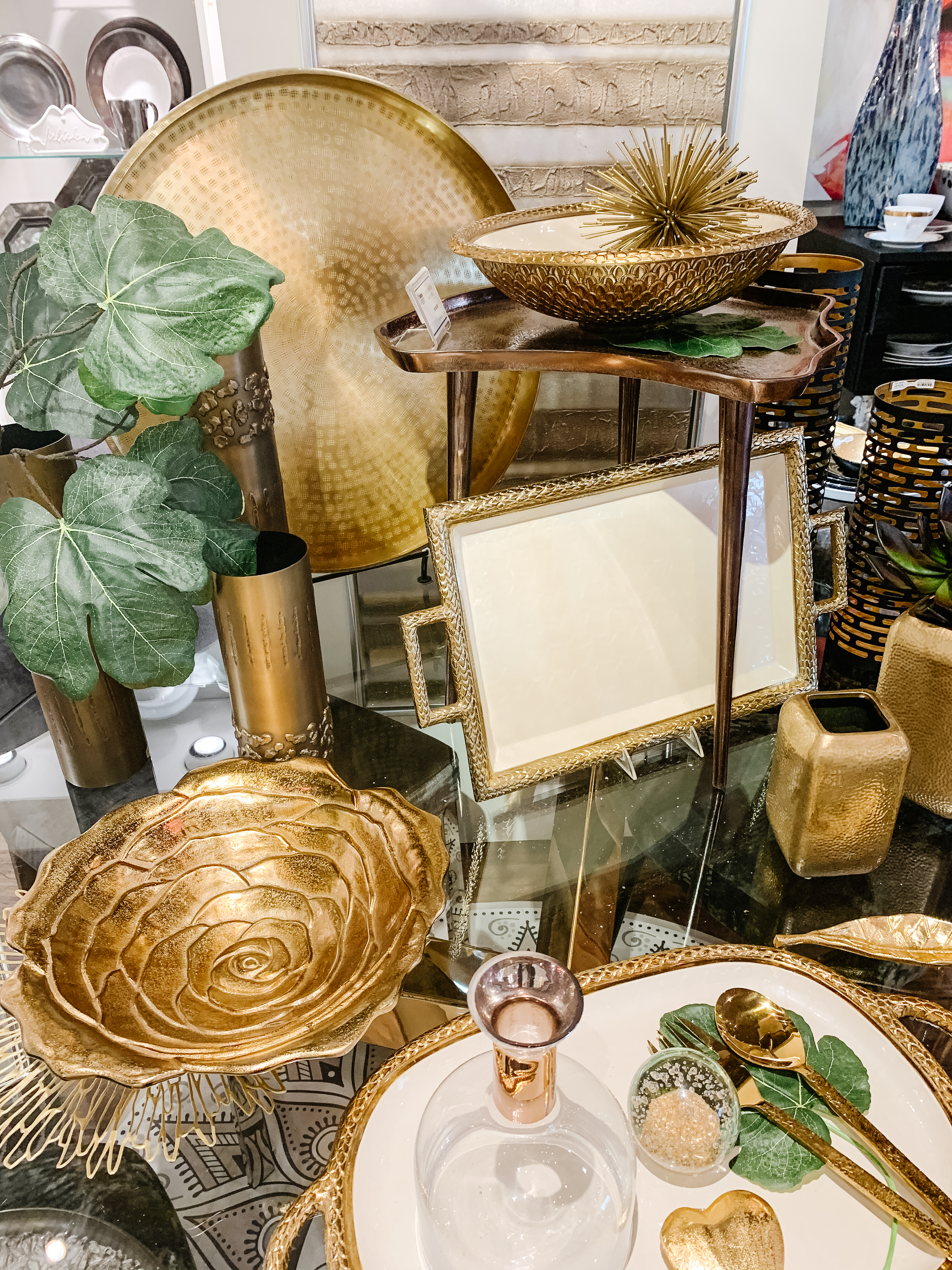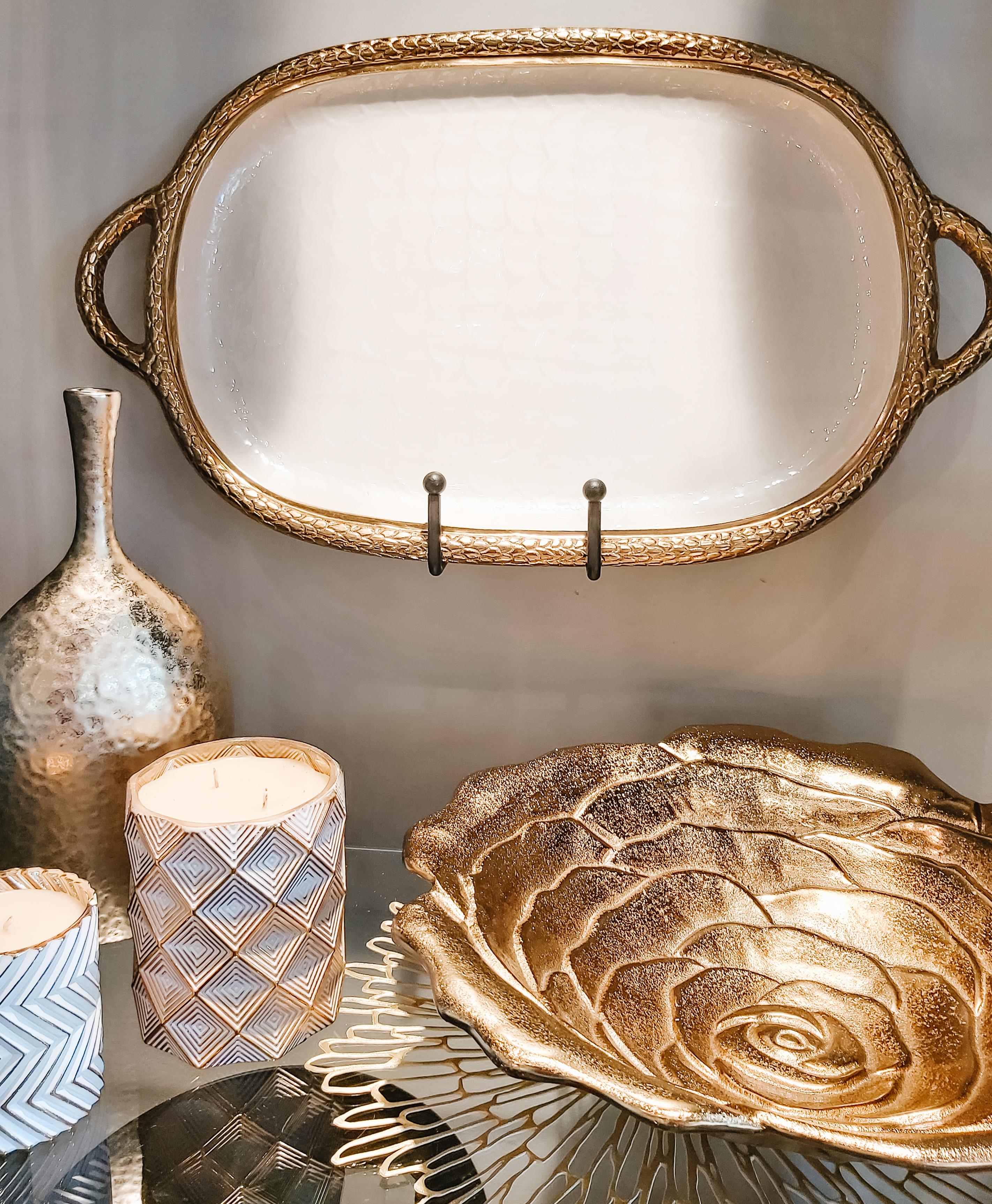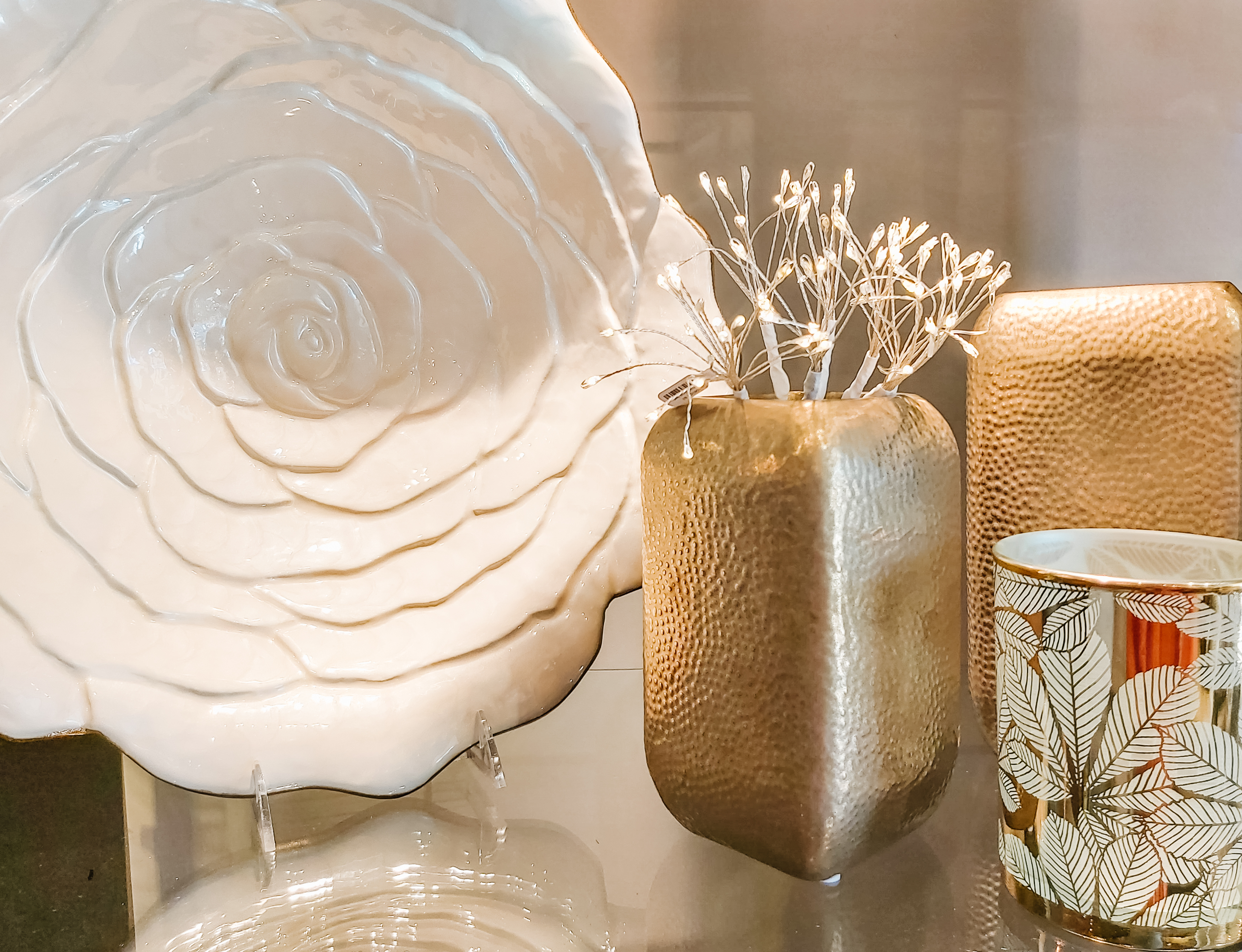 If you are already a collector of Michael Aram pieces you will love how Julia Knight pieces work so well with his work. The play with texture, mixed material surfaces and nature motifs in both lines are stunning side by side.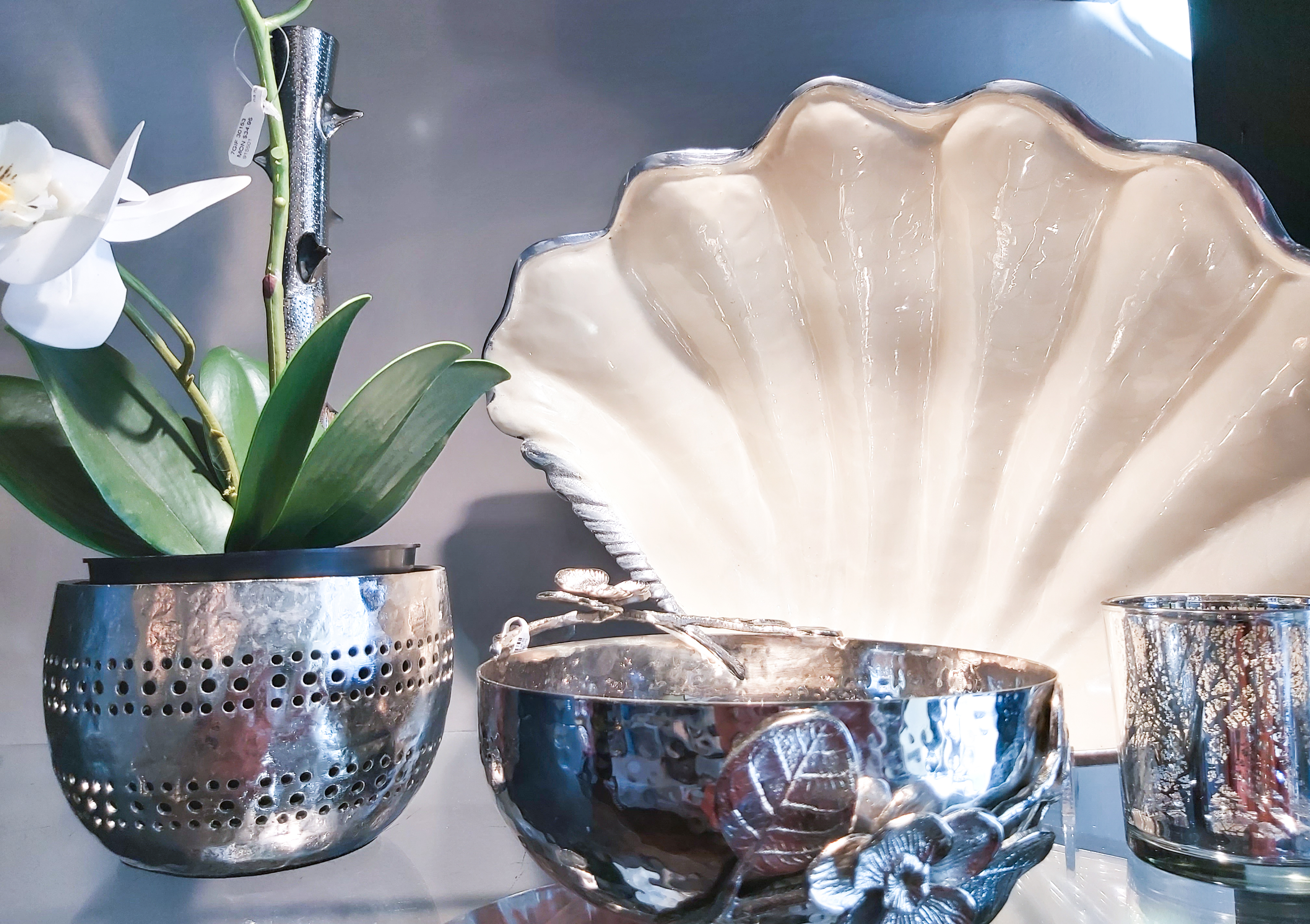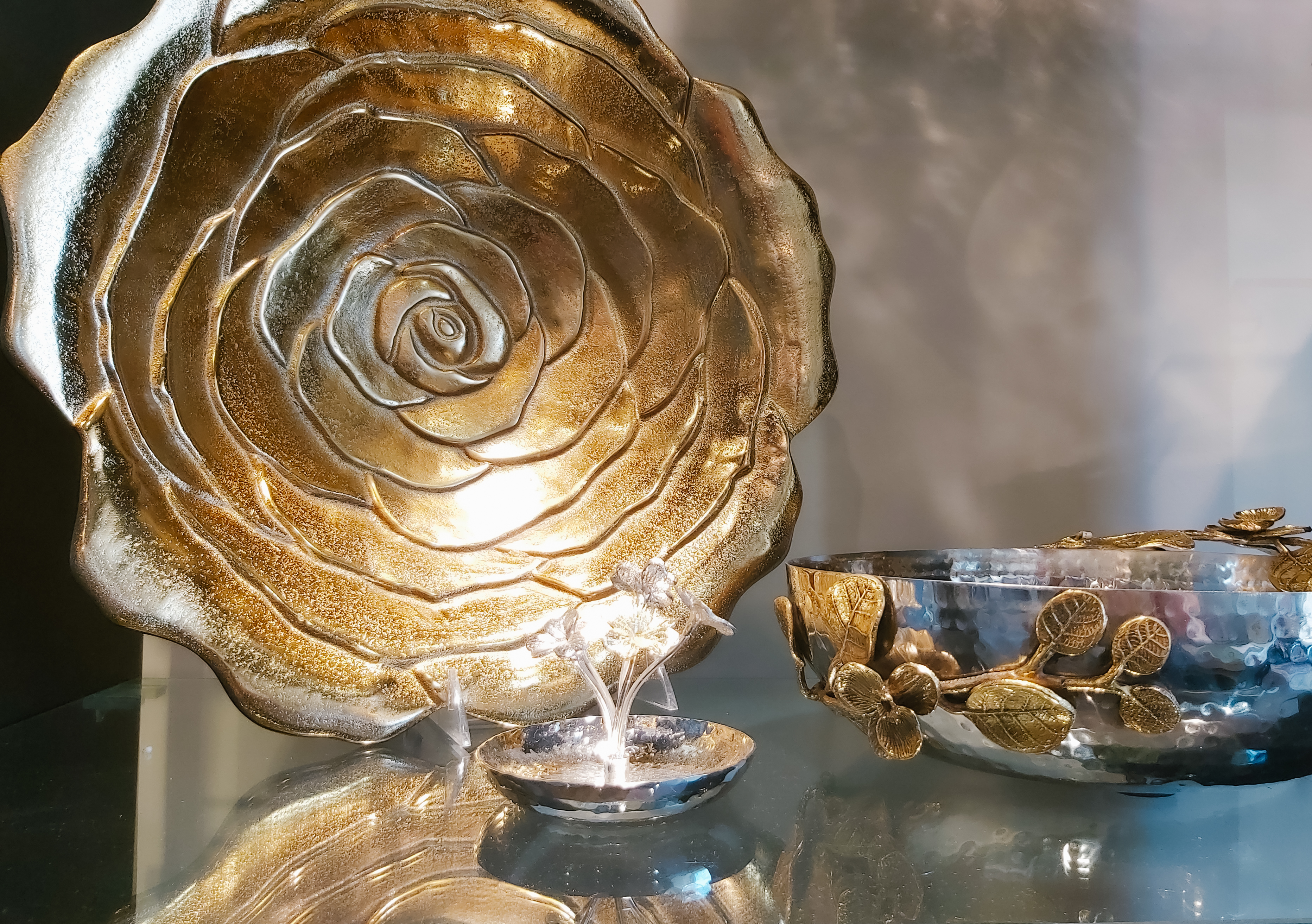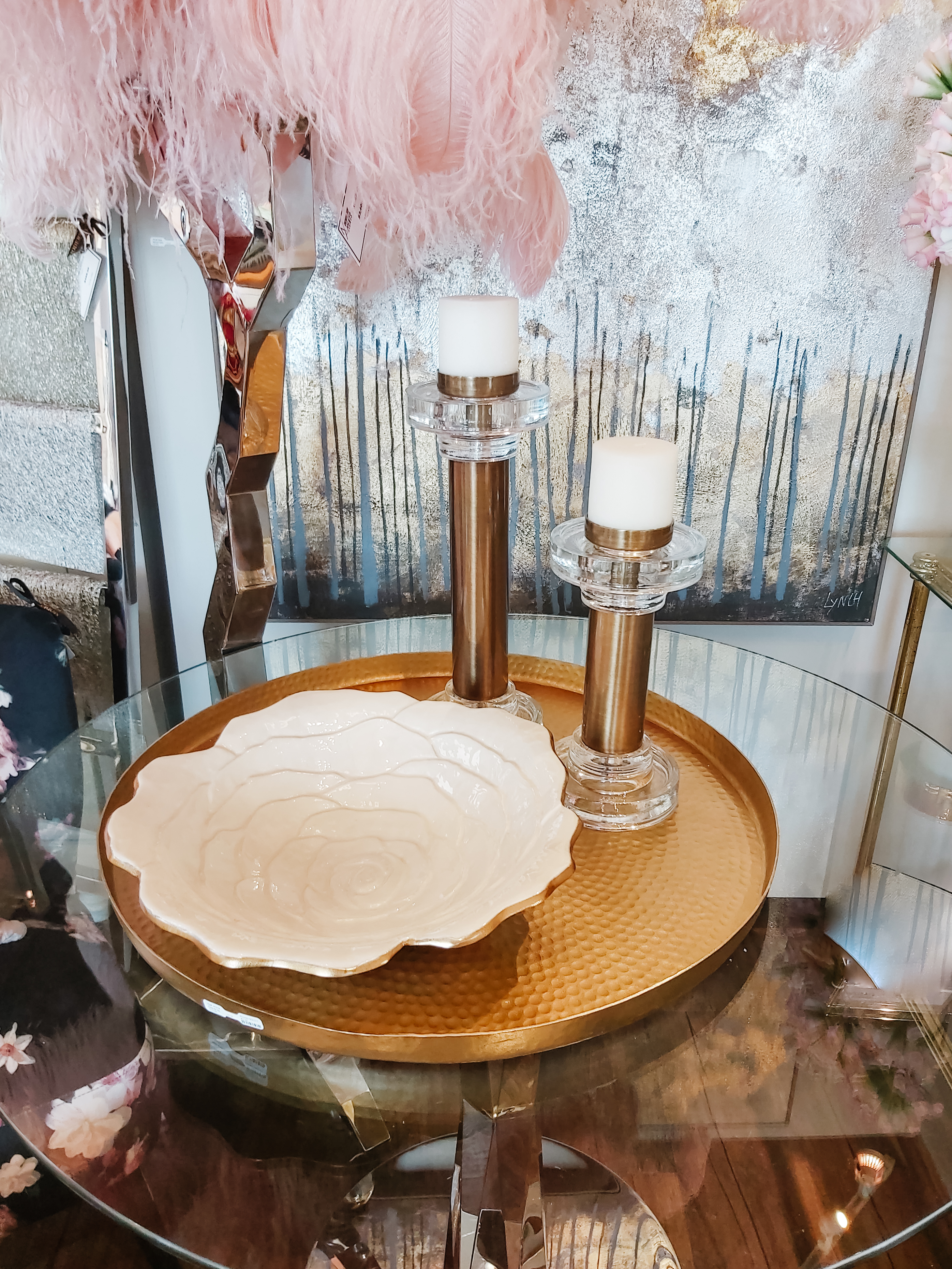 We hope we have inspired you with these amazing collections and we look forward to helping you pick out the perfect gift for your loved one or even for yourself. We can even show you how to use them to style your next amazing tablescape. These pieces are really to be treasured and you can count on them being loved for many years to come.