Alternative Ideas for your Easter Table
Do you have plans for Easter or a fun spring gathering ahead? We are sharing some great ideas that will have you hopping in to get your tabletop set minus the bunnies. Don't get us wrong. We love the cute bunnies, Easter eggs and chicks that come with the season, but we decided to share something a little different this year as we realize it isn't everyone's taste and they may just not fit in with your more modern style. Besides we are also great believers in investing in pieces that will translate to tablescapes and design throughout the seasons.
Lakeside Modern
Earth tones and watery blue hues are a fitting alternative for Easter at the lake in the Okanagan. The repetition of round shapes also ties everything in this spread together. The sculptural piece with the rings in the centre is so unique and a great conversation starter.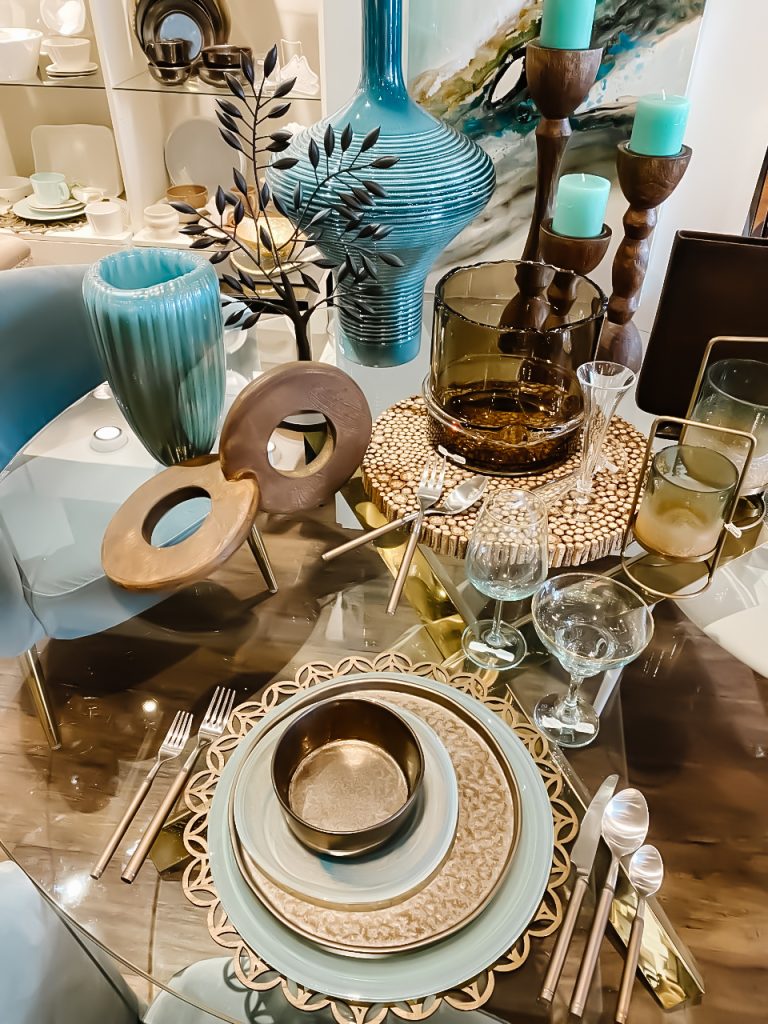 Alternating solid dinnerware with more translucent glass pieces in a soft watery blue lightens the setting for spring and summer and ads interest. We love all these pieces as they could be mixed and matched with other table setting themes and used at all times of the year. Notice too, how the subtle blue is repeated in the glassware, unifying the look.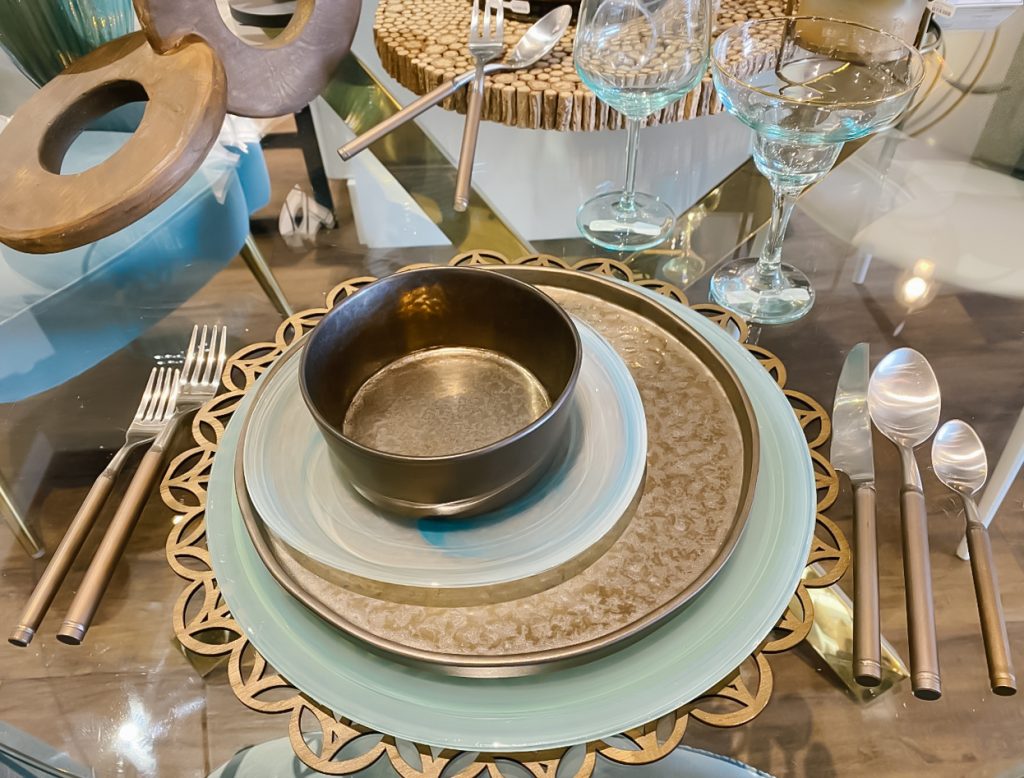 Spring Elegance
A grayscale palette is softened with a few hints of spring. Modern blooms and even some simple stems symbolize the season and bring some elements of nature to contrast with the more industrial metallic accents. The reflective nature of these metal pieces bring light too and they look amazing on a glass table like this one. We did include a spring bird here, but it is very modern too. Stunning really with it's sweeping tail feathers and sleek texture.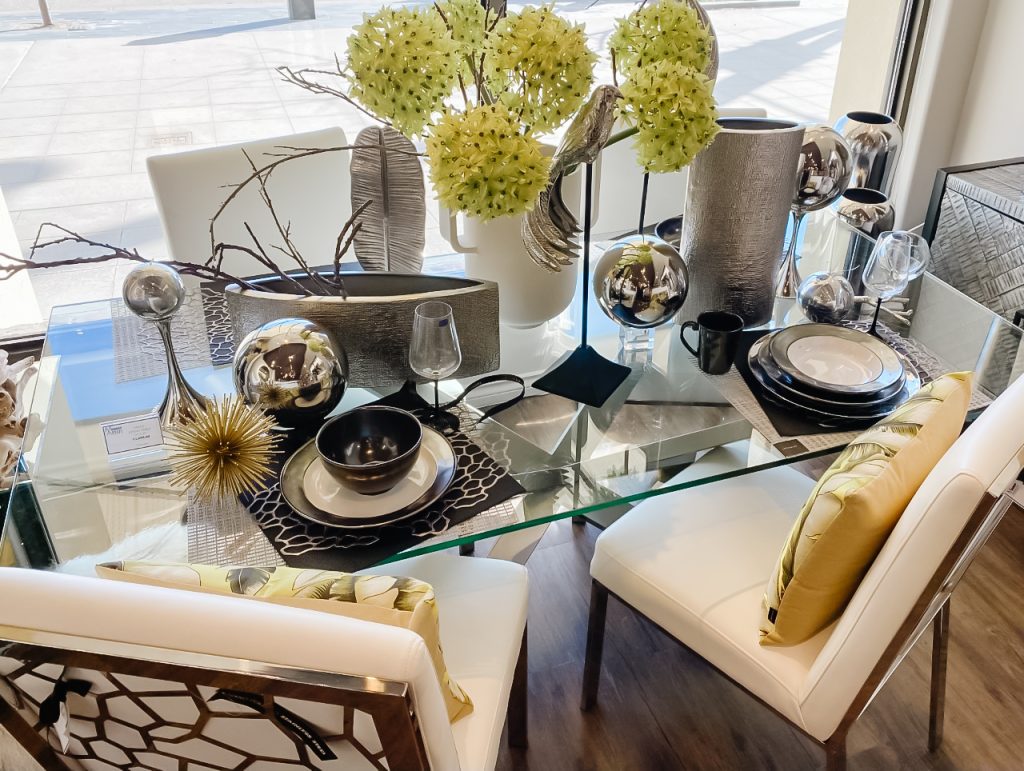 When selecting your table setting pieces also consider the surrounding space. Wouldn't these large scale floor vases compliment the pieces on the table. Create an expierence for your guests that goes beyond just the tabletop.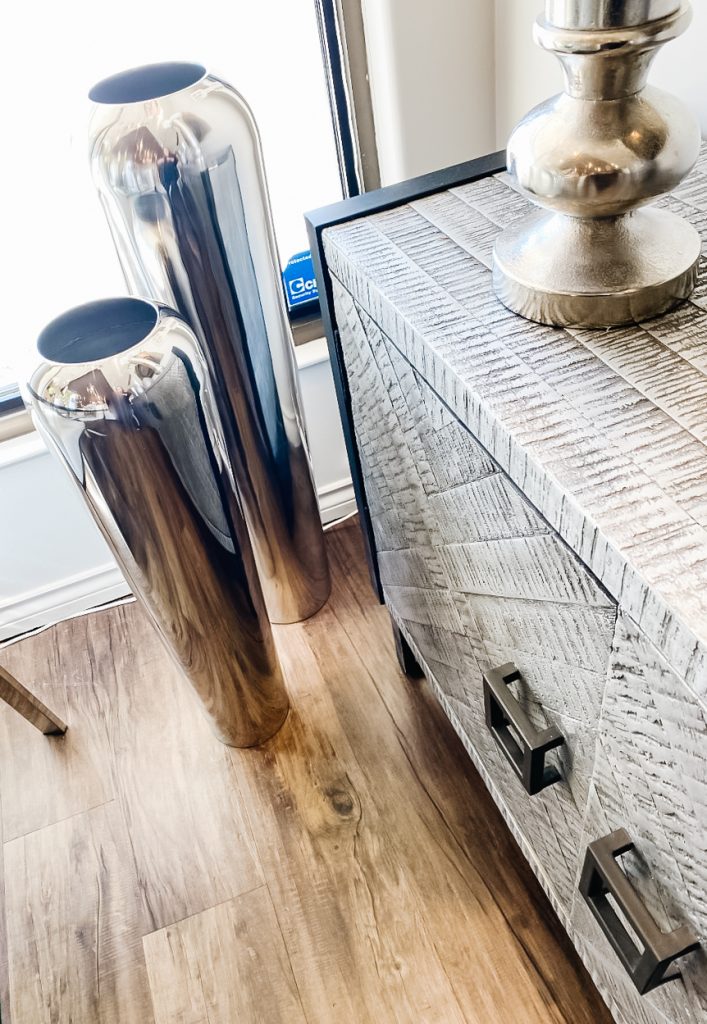 Glitzy Blossoms and Butterflies
We've shared Michael Aram's Golden Ginkgo Collection before and I think you will agree that it is magical on a spring tablescape set with other golden accents and spring branches that echo the design on the dinnerware.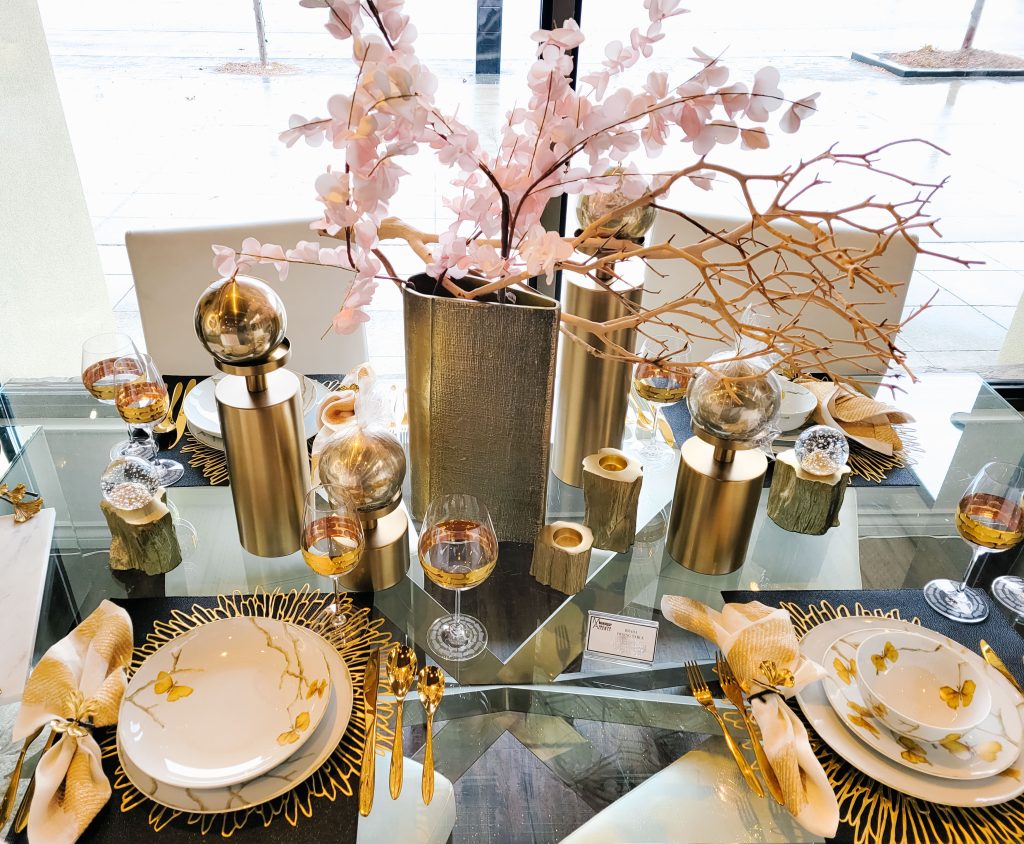 An interesting table setting is a result of carefully selected layers. Yes the dinnerware steels the show, but in this case the show is made even better by the layered placemats. The black textured base layer and the golden overlay set an amazing stage for the Golden Ginkgo pies, gold flatware and gold accented fabric napkins. The gold embelished glasses need honorable mention too!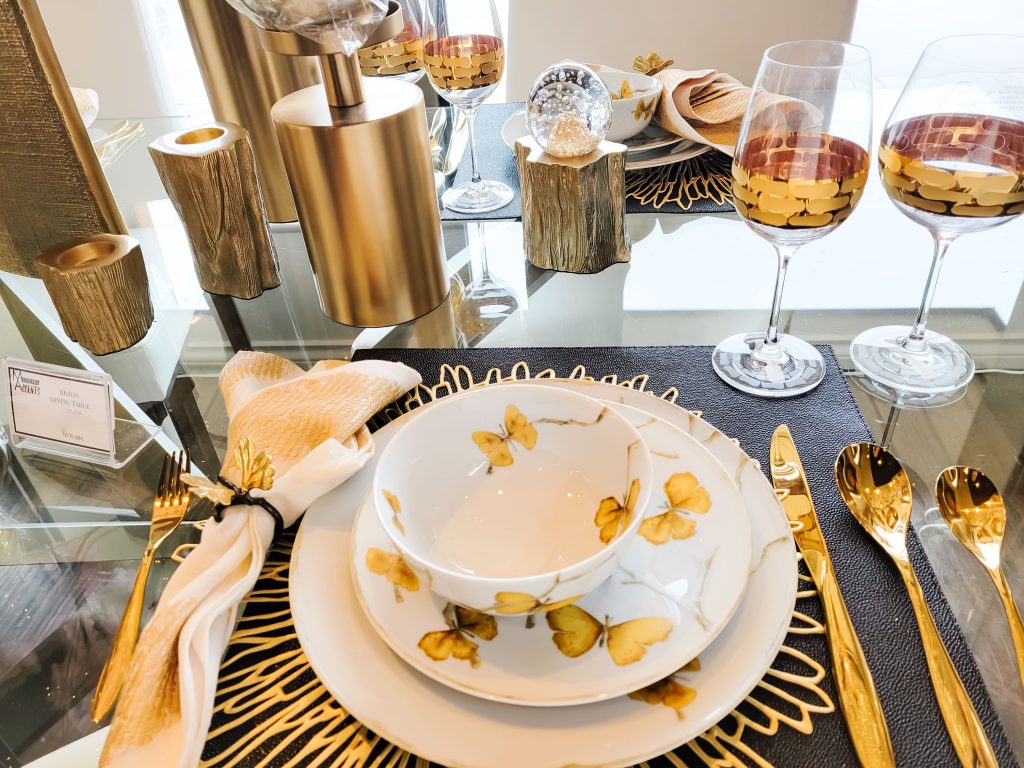 These luxurious candle holders in gold topped with the spherical candles are so versatile for any tablescape. They are available in different heights and look amazing in a grouping as a centre piece on a dining table or would also look fabulous on an accent or console table when you aren't dining.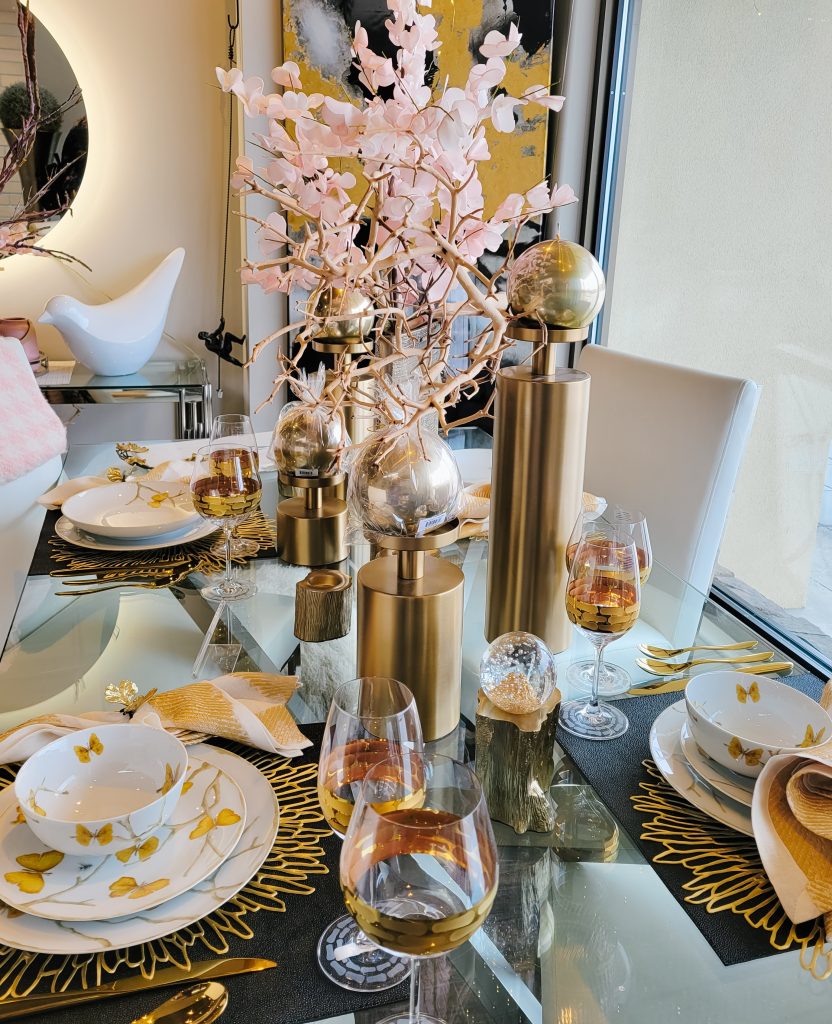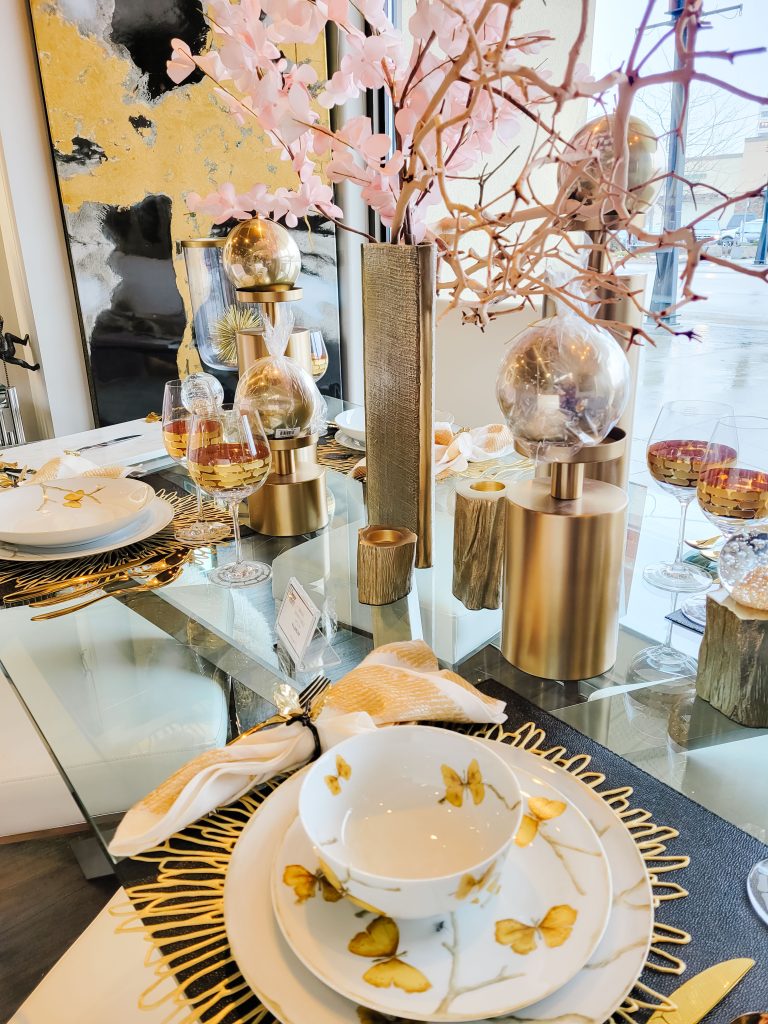 Gold and Glass
To finish off we also had to share this centre piece option also in gold. A gorgeous round serving tray with a subtle hammered surface brings this trio of vases together as one unified piece made pure spring with these white tulips. Can you believe these are faux? The golden rimmed glass vases just arrived and their irregular shape is so appealing and artful.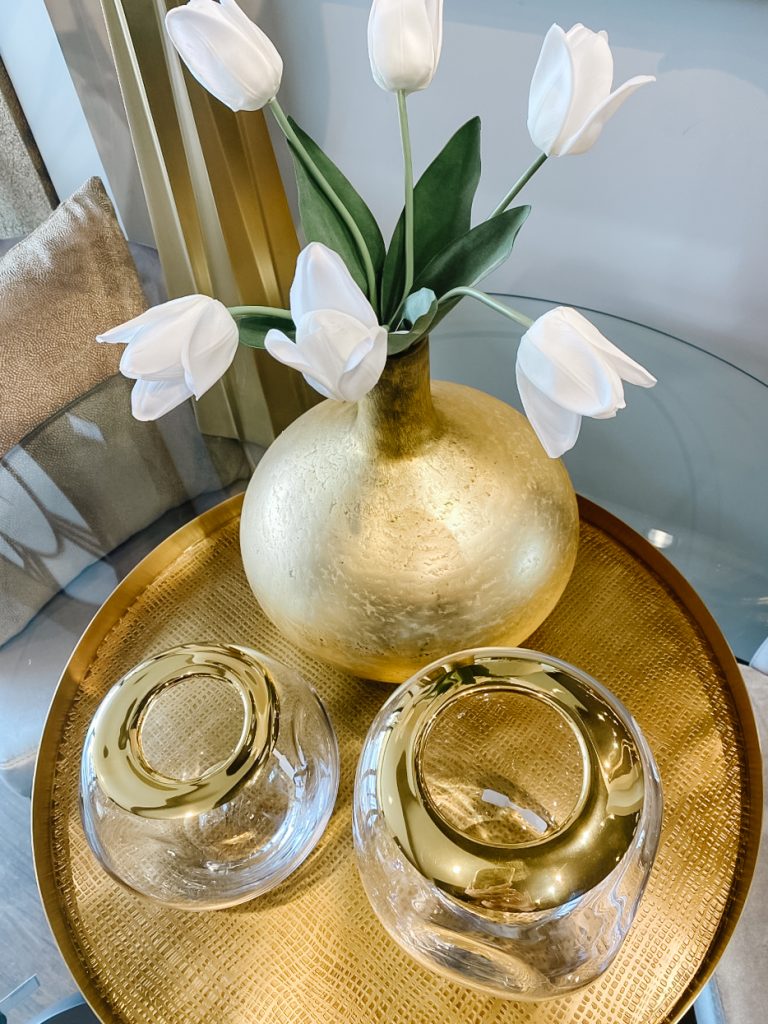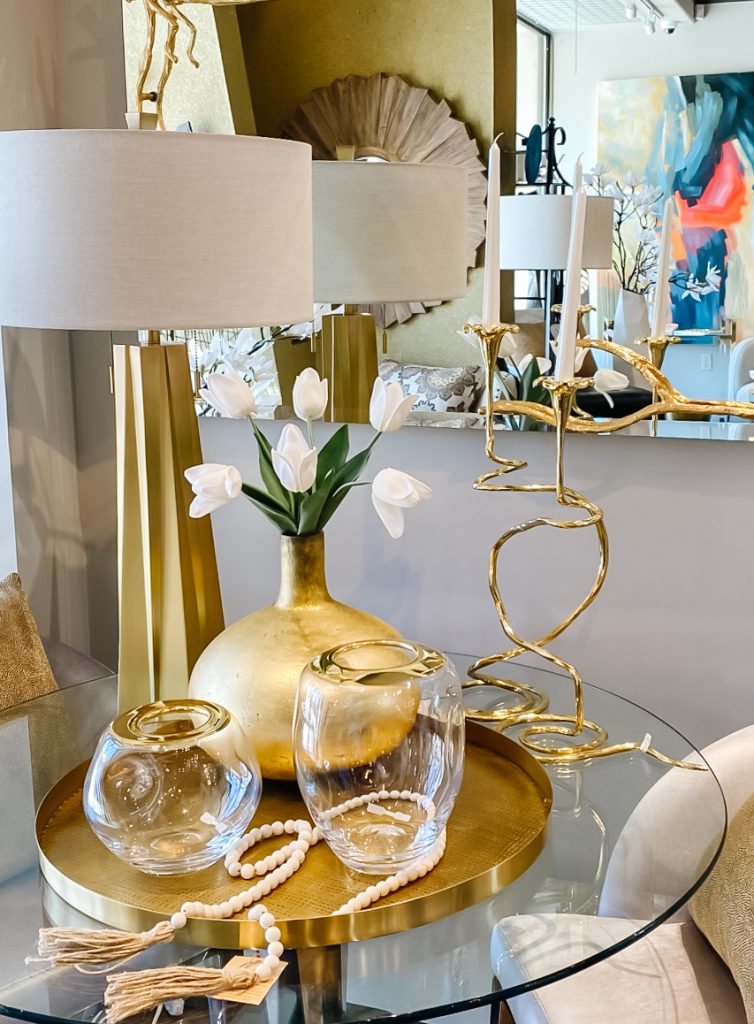 Stop in to Modern Accents and we would love to help you curate your own Easter/Spring tablescape. Hey many of these pieces could even be paired with those traditional Easter symbols like bunnies and colourful eggs if you like, but hopefully we have given you some alternative creative ideas to play with this season.