Choosing the perfect coffee table
The coffee table is a staple piece of furniture that most of us probably have in our living room or sitting and family rooms, but have you stopped to think about its impact on your room, its function and how it fits in with your other furnishings and accent pieces? It really is a centrepiece in most living rooms and with so many options out there it can really indicate the personal style of the homeowner or set the tone for the room. Let's also say that its name "coffee table" really downplays all the functions that today's modern coffee tables play. Sure it might be nice to sit down your morning coffee on your table, but it is also an amazing place to arrange your favourite books, some beautiful modern accents or a combination of both. It may even be the easiest place in the room to quickly change things up for different seasons or just because you need a change.
So now that we have you reminded of the impact that your coffee table can have how do you choose between all the amazing options? Of course as usual we encourage you to select one that you love, but in addition here are a few tips:
Materials
Wood and stone or marble tables are highly durable and bring elements from nature indoors. Always a sure bet in creating a certain comfort and warmth in a room. Choosing a glass table or one with metallic elements brings light to a space. This is a great option to open up smaller spaces or to allow for the reflection of your favourite accents colours.

Shape
This is where the configuration of your other furnishings plays a role. A rectangular or oval table works best with a regular horizontal sofa, whereas a square or round table fits better with a sectional or L-shaped sofa.

Size
Selecting a table just the right size for your space will take a visual judgment call. If you table is too large your space will end up feeling cramped and restricted and if you pick something too small you run the risk of a room that looks sparse and if it was missing something. It is important to consider the scale of your table so it is proportional to the scale and feel of the other furnishings in the room. Here are a few guidelines to help with sizing. Your coffee table should be at least half the length of your sofa (but no more than roughly ⅔ the length) and should sit at about the same height as the seat, give or take 4 inches. If you have a sectional with a chaise, and your table is going within the open L-shape that sofa shape creates, that 1/2 to 2/3 guideline applies better to just the length of the horizontal seat, rather than the full length of the sofa.
Now the fun part where we share some of our favourites that we have in store:
Glass and uniquely configured polished stainless steel legs come together to create a sleek modern rectangular coffee table. We love how the bolts holding it together give it an industrial feel, yet its clean edges give it an elegance as well. This one really could be paired with a mix of traditional or more contemporary elements.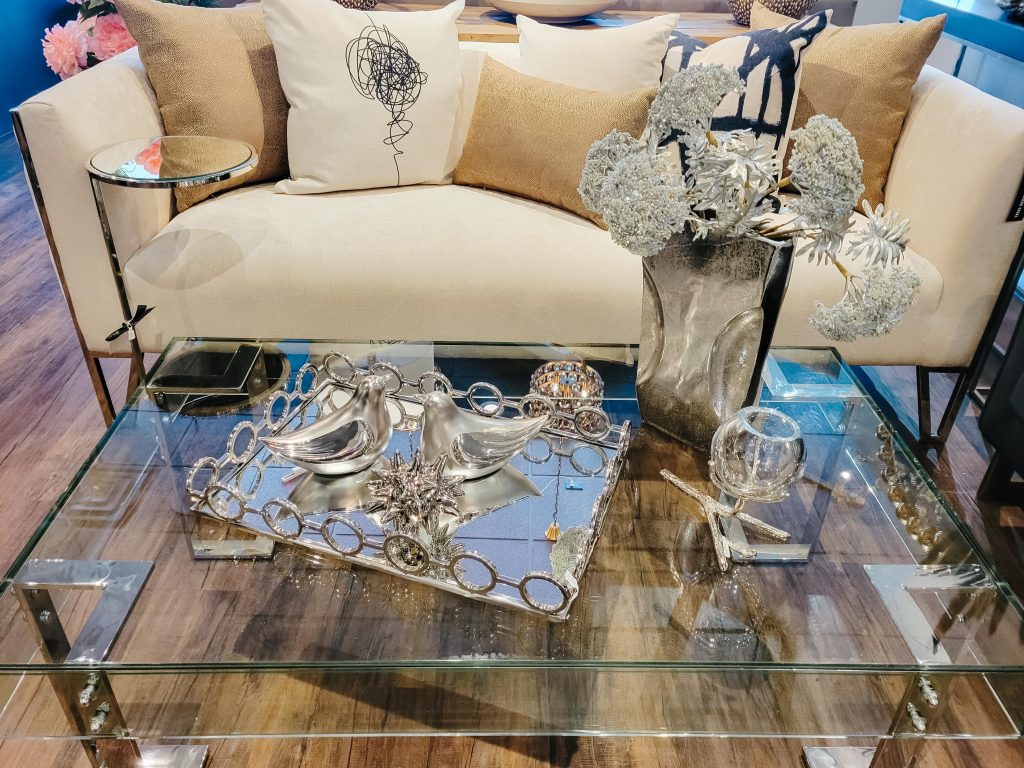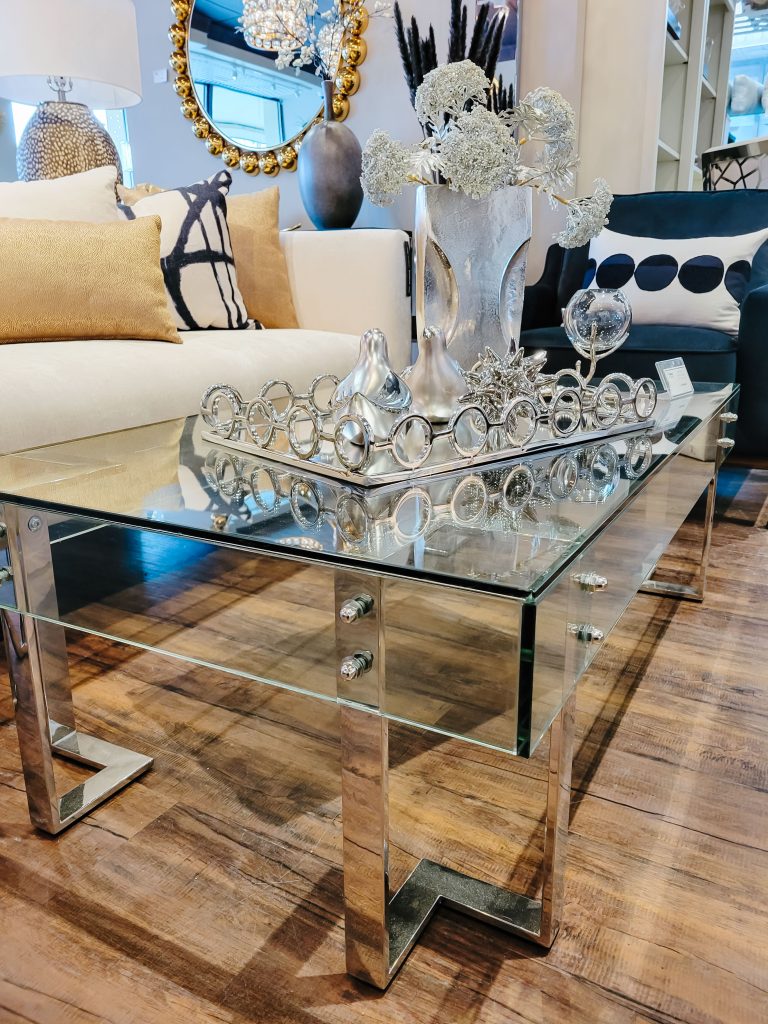 These nesting marble coffee tables offer a unique alternative to a regular round table. They are functional in that they could be moved around when entertaining and are also beautiful and sculptural in their shape and styling. Marble is definately trending right now and we love the contrast between the black finish on the base and the white tabletop. They are fun to style too giving you the opportunity to play with an asymmetrical set up of decorative accent pieces. These tables are also available with a gold-finished base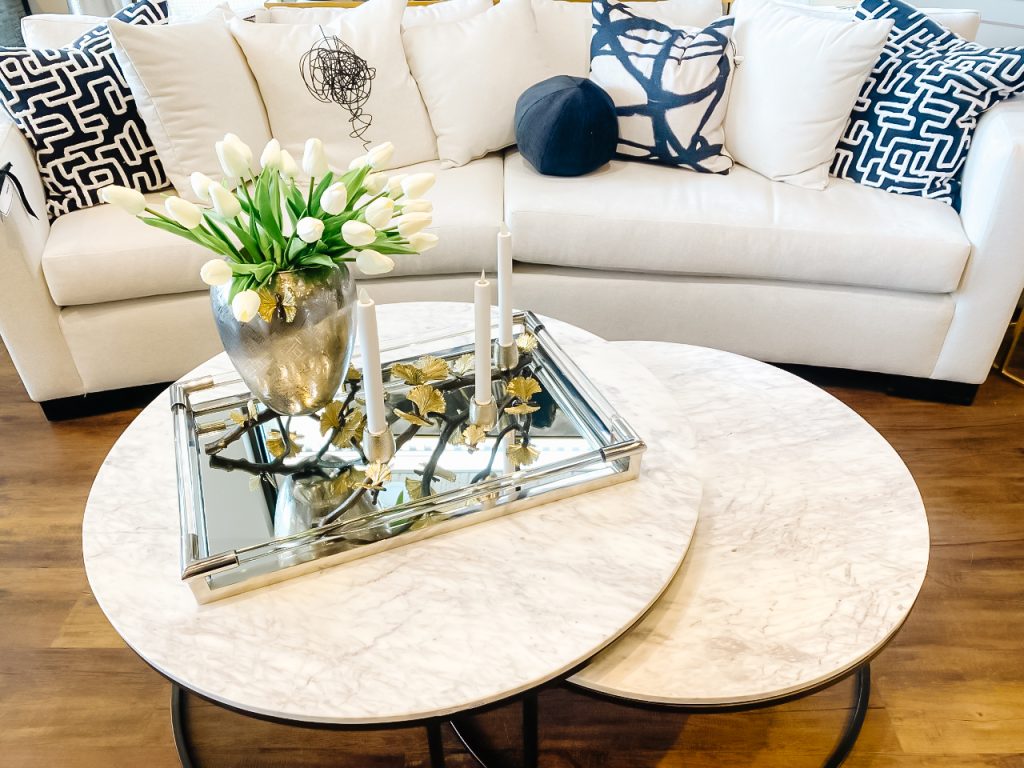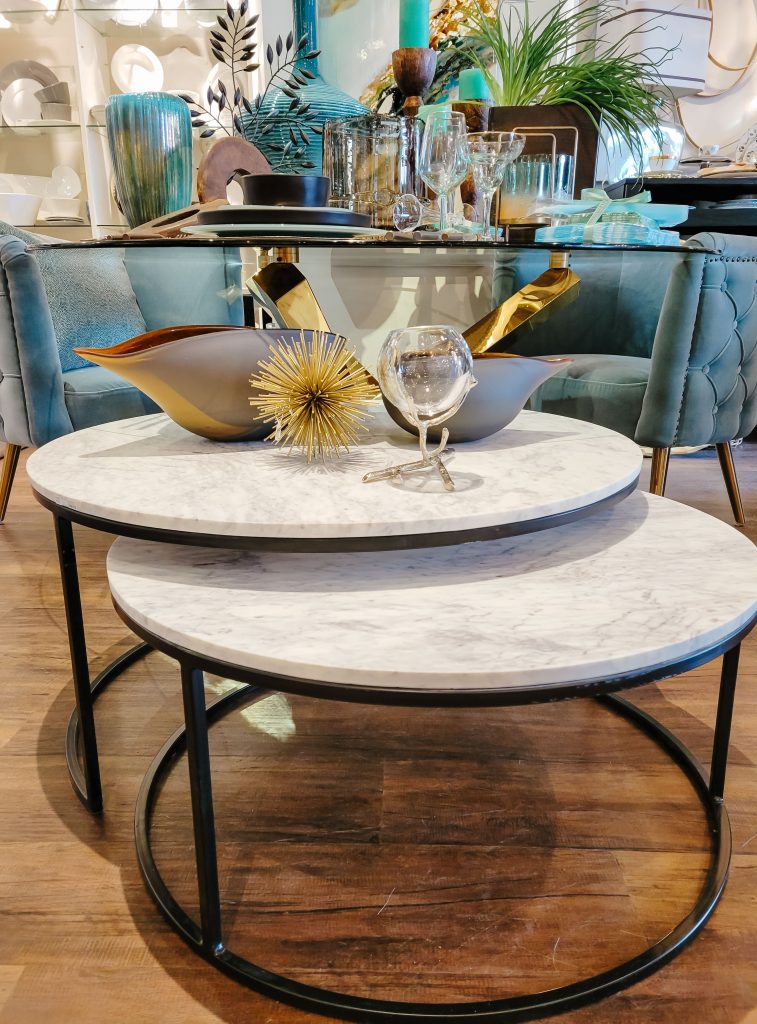 Love the marble? We also have some side tables to match.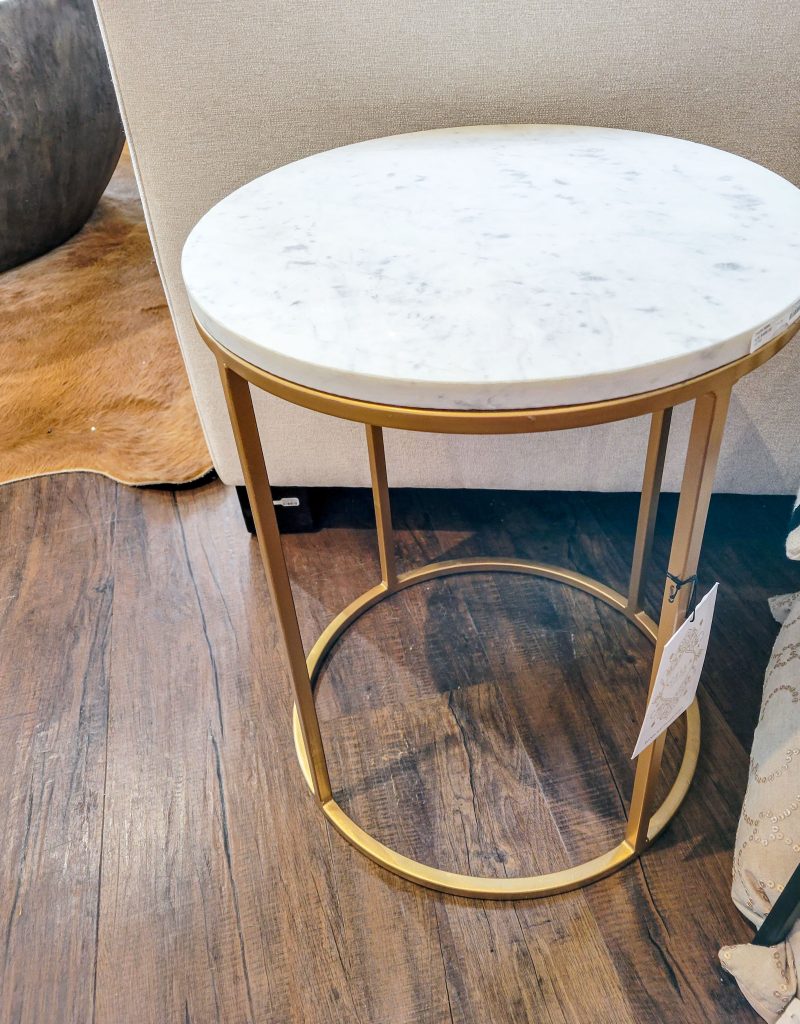 On the subject of round tables we also had to share this drum style table again. This style is also trending this year and really makes a statement especially where you have a little bit more room.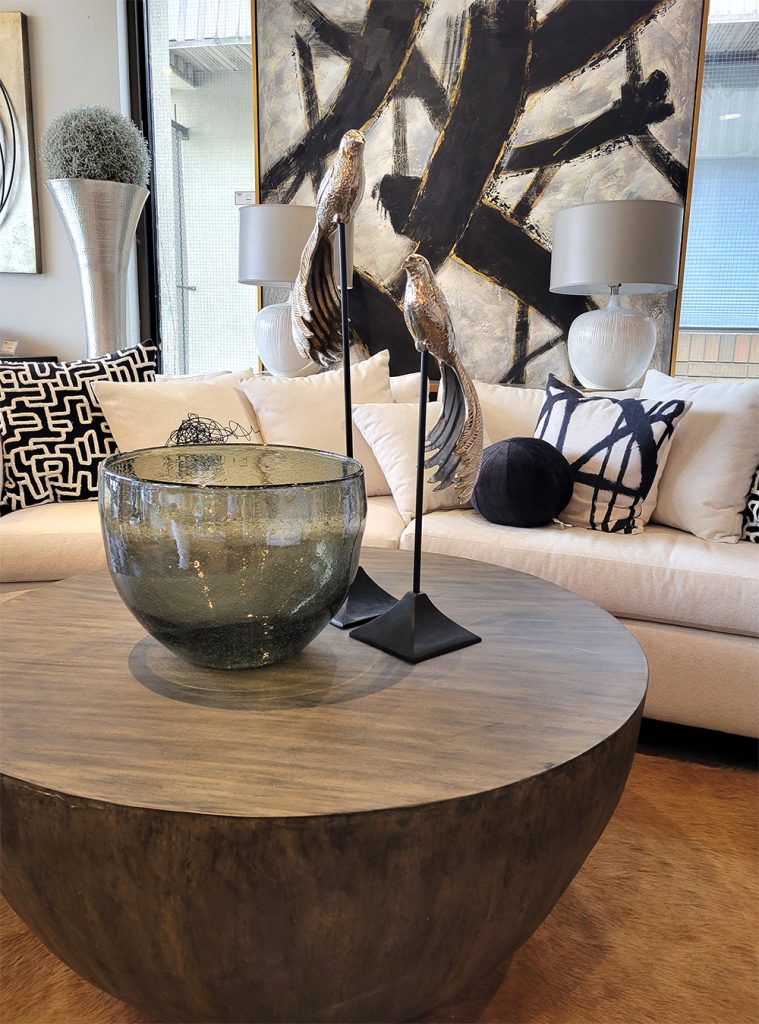 This is another glass table, but it is the stainless base that steels the show on this one.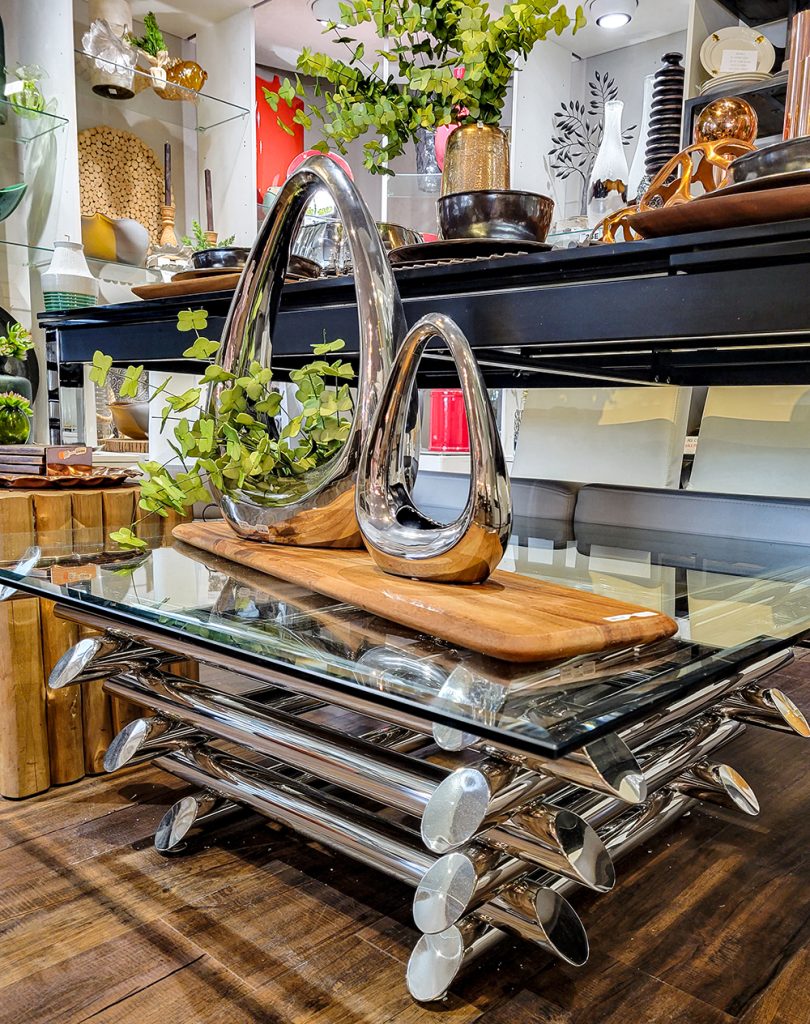 It is hard not to love this one as a designer and lover of decor in that it offers so many opportunities to be creative when styling it. Start off with the fact that you can move the individual cubes into different configurations and then you have both surfaces below and on top to style.