Modern Mother's Day Gift Ideas
'Home is where MOM is…' so why not honour her with a gift for her home. We have curated a list of some of our favourite gift ideas for your mother this year. More then ever this year we are reminded how important family and home is. Treat her to something exquisite, something just her style, or even something that you can enjoy together at your next family gathering. There will be more of those, hopefully soon!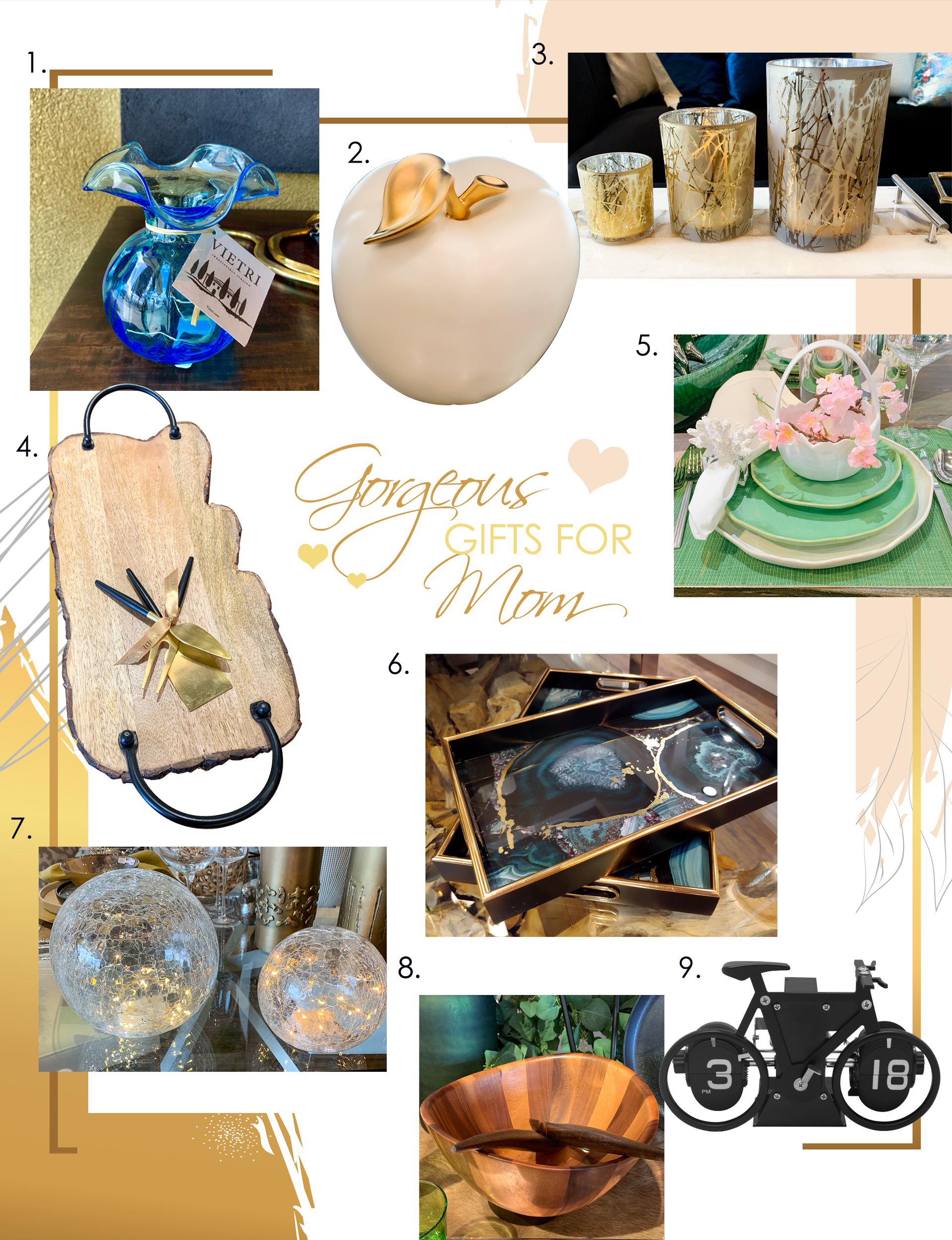 Hibiscus Bud Vase
Presenting mothers with flowers on Mother's Day is a long time tradition and this beautiful timeless bud vase from Vietri is the perfect vessel for springtime florals. She will love to use it over and over again. Mouthblown in Tuscany, the Vietri Hibiscus Glass Bud Vase comes nestled in a signature gift box, complete with straw reminiscent of authentic Italian packaging so it makes an amazing gift even on its own without flowers. If it isn't quite your Mom's style we have a really great selection of other vases at Modern Accents from modern to traditional and everything in between.
Modern Apple
You may be the apple of your mother's eye and she yours. This, not so little ceramic apple that stands about 8 inches tall, is a lovely statement piece and its simplicity and touch of glam with its gold stem and leaf will be a beautiful addition to your decor loving mother's home. It is also a great nod to all we are thankful for here living in the Okanagan Valley.
Candle Holder Trio
Your mom deserves a little self care and to enjoy some quiet reflection by candlelight. We love the branch motif inspired by nature, and the neutral tones of gold and silver will fit nicely in any interior.
Charcuterie Board/Serving Tray
Does your mother love to entertain? She will love this next gift idea then. The natural edge and rot iron handles make this charcuterie board/serving tray both practical and beautiful. It could be casual for summer parties on the patio or dressed up for the holidays and don't forget to package it with some elegant cheese serving pieces. May we suggest you dress it up with some of your mother's favourite cheeses and charcuterie items and serve her up a surprise for Mother's Day
Refreshing Dinnerware
Breakfast in bed, brunch or dining in? Regardless, shouldn't your mom have a beautiful experience at mealtime. Modern Accents carries an amazing array of dinnerware and all the linens, flatware, glassware and accents that will make her Mother's Day mealtimes extraordinary. In a time when you maybe haven't been able to have lunch with your Mom, a nice idea would be to send lunch to her with a beautiful table setting, like this one made in Italy from Vietri, to go along with it. Perhaps you are a mom and already have some pieces from our collections, why not treat yourself to something refreshing to compliment the pieces you already have, like something with colour, a new pattern or something completely outside of your usual style.
Mineral Motif Serving Tray
Are you looking for something unique for your fashion forward mother? Look no further. These serving trays are just stunning. They are functional as a serving tray, of course, but beyond that they make a beautiful decor piece on their own or as part of a centrepiece display or styled coffee table. Serving up your Mom's favourite cocktail on this lovely gift could be a sure win for daughter or son of the year. We have glasses for that here are Modern Accents too!
LED Twinkling Light Crackle Orbs
These are one of our top selling gift ideas. We believe it's because they are so whimsical and fun. Everyone seems to love them and they are so versatile too. Individual orbs work beautifully in interiors or they are available in different sizes so a grouping is amazing too. We love them arranged atop a candleholder and your Mom will love them on her patio at night.
Wooden Salad Bowl and Servers
You can't go wrong with a wooden piece like this salad bowl from Nambé. The everlasting nature of this beautiful Acacia wood could make this a piece that will stand the test of time and be a family serving piece for years to come. We also love that each bowl is unique just like your mom!
Bicycle Flip Clock
For the bike enthusiast or the mom who loves something a little quirky this retro themed conversation piece that combines a whimsical modern bicycle shape with a vintage inspired flip clock would make a fantastic gift. This is just one example of the unique ideas we have in store.
Wrap things up
You may notice that this number isn't pictured on the image above. That is because it is just part of our regular service. We would be happy to gift wrap whichever special gift you select for your Mom free of charge. We also are very aware of the special circumstances surrounding special occasions like Mother's Day this year with the ongoing COVID-19 crisis. Our store is open with your safety in mind if you would like to shop in person, but we also can arrange curbside pickup and even delivery locally if you are more comfortable with that. Just give us a call at the store 250-763-2111 if you have something in mind or want us to help pull something special together for your mom.

Happy Mother's Day!