Homestyling for the Holidays
Home really is the heart of the holidays. A place to gather with the ones we care about most and even to just cozy on in and reflect on all the things we are grateful for. I think more then ever many of us are also ready for a little joy and all the sparkle, twinkling lights, and extra trimmings that come with the holidays, are the perfect remedy for the wintertime blues. There is still plenty of time to style your home for the holidays and we are still getting new things every week to bring you that holiday cheer or gift it to someone else. Here are some of our favourite looks and holiday inspired home accents of the season.
Holiday Magic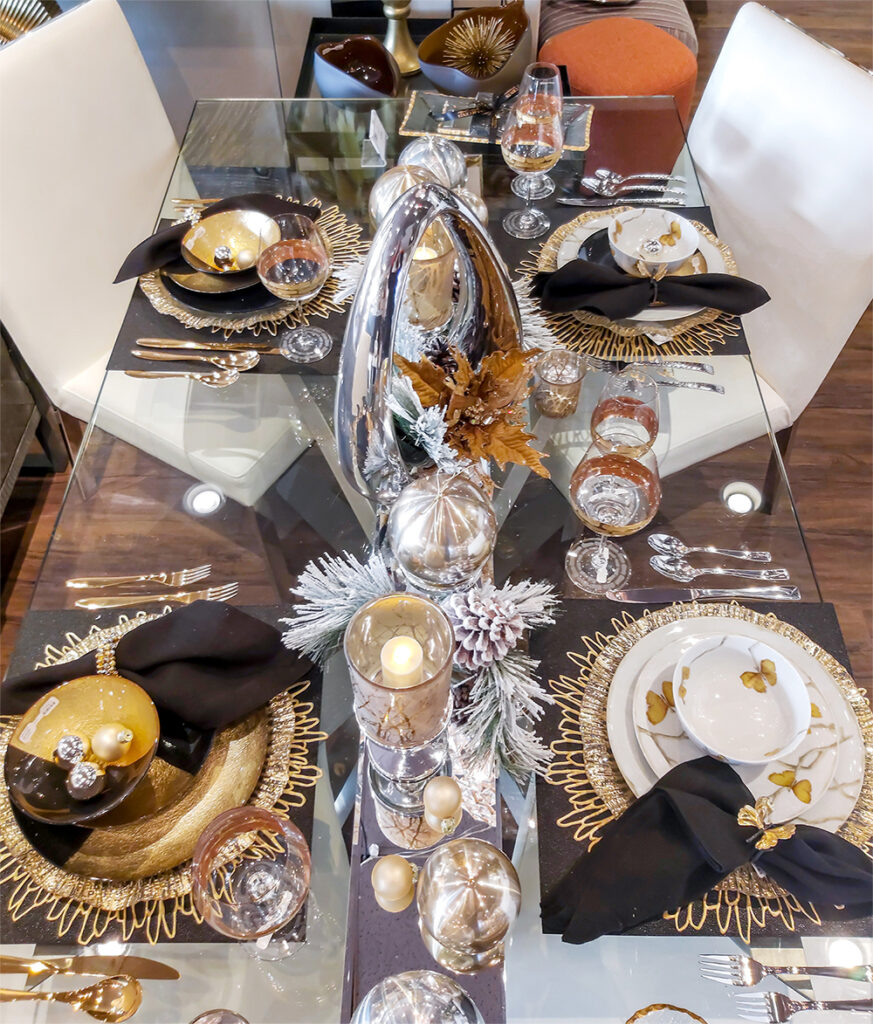 Our first look is elegant and is a mixture of traditional holiday elements and modern touches. A mirrored piece almost runs the full length of the table and is an amazing way to capture even more ambiance with the reflection of candles interspersed along it along with gold ornaments and frosted evergreen sprigs. The resulting centrepiece is also low enough to allow for easy conversation among your guests.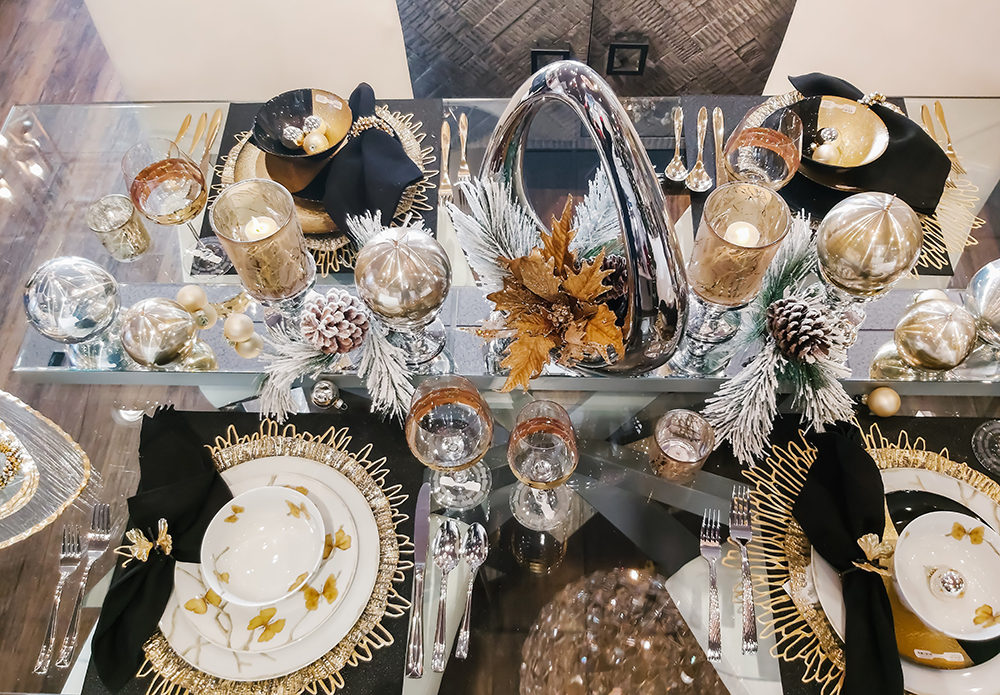 The candles we have selected for this tablescape aren't just your ordinary candles. Everything about these sphere candles, from their shape colour and reflective sheen screams holiday magic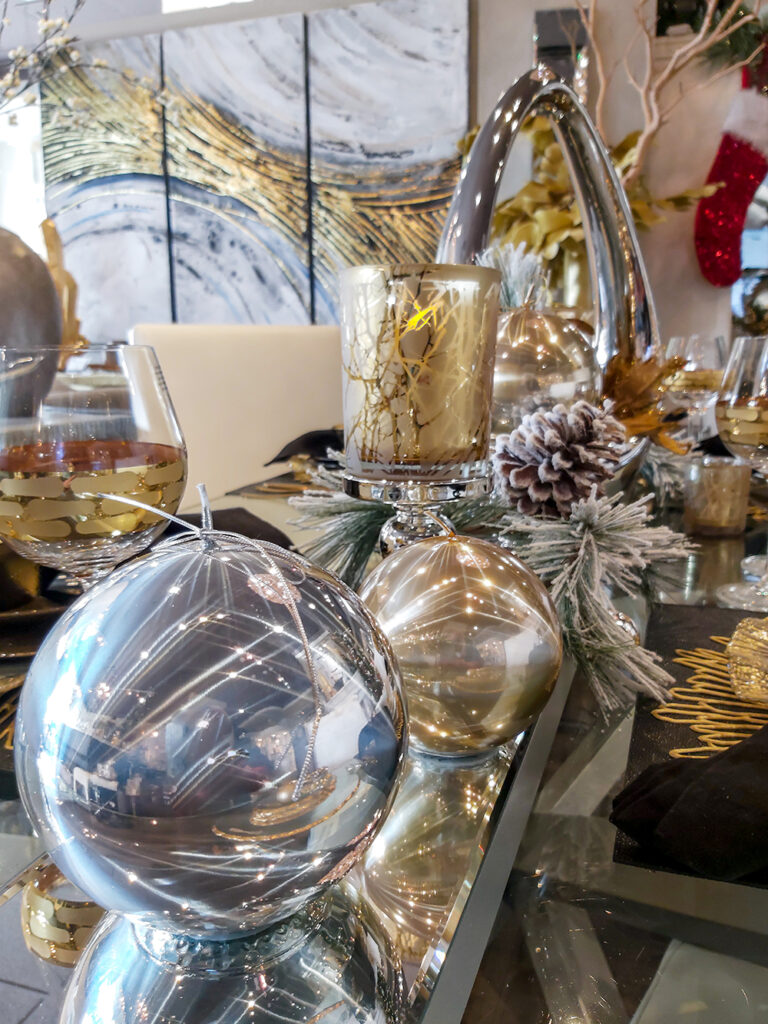 Speaking of magic and whimsy, that is what these table settings are made of as well. Michael Aram's brand new Golden Ginkgo collection will be an amazing addition to your Christmas dinner and special occaisions all year long too. The crisp white with just the right amount of gold detail is timeless and stunning. We have dressed them up even more for the holidays with layers of gold and black.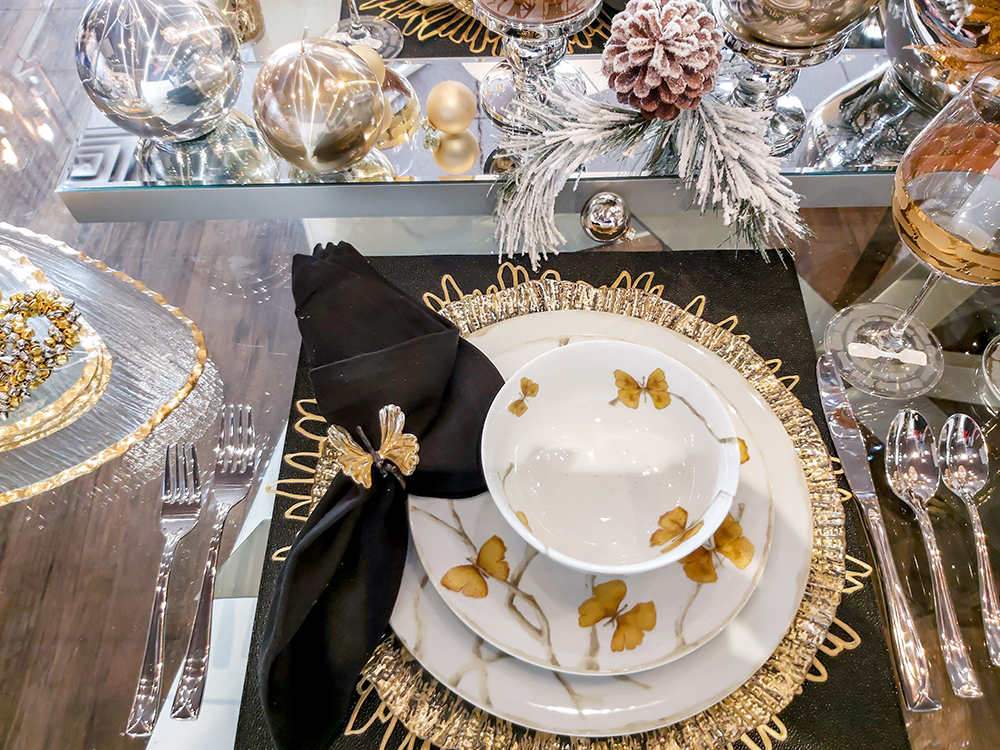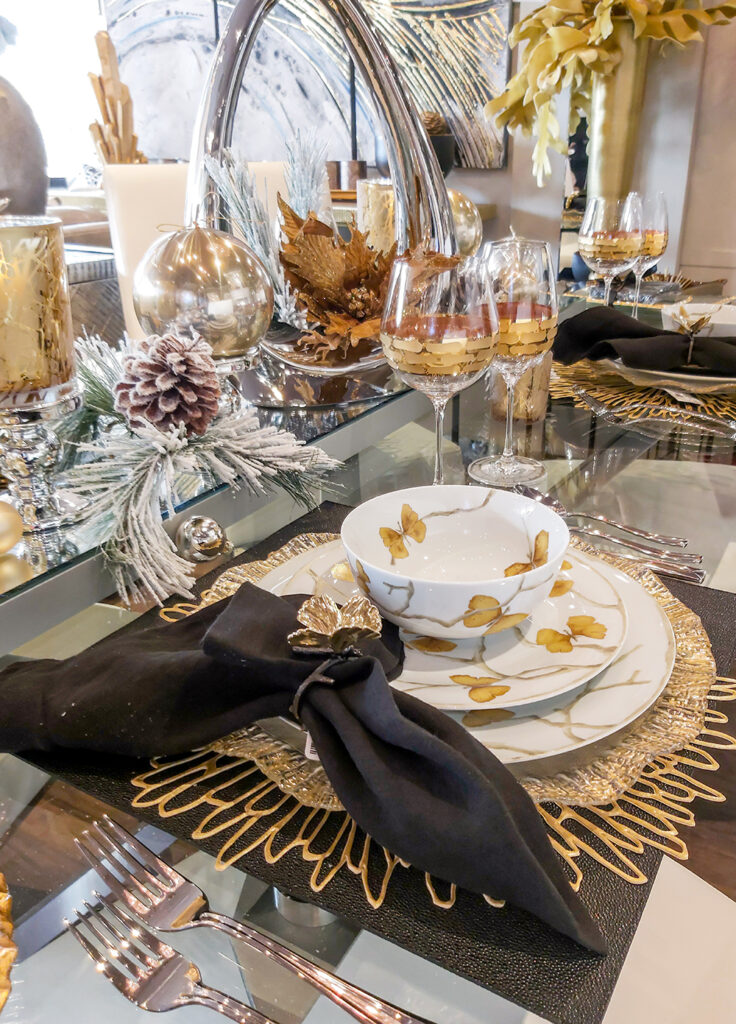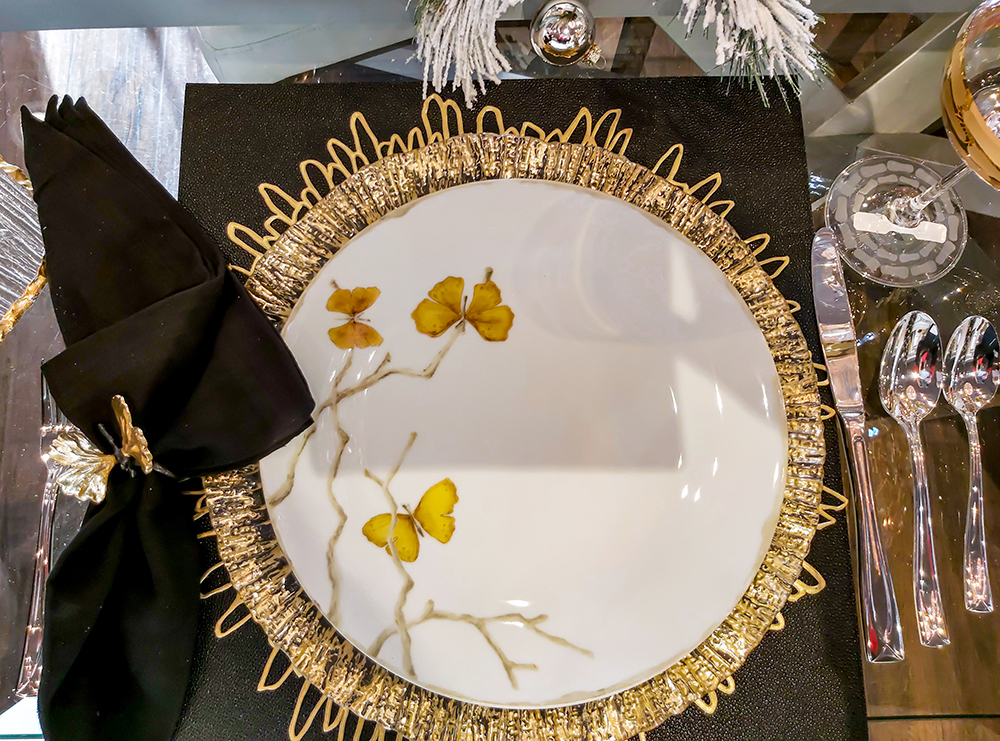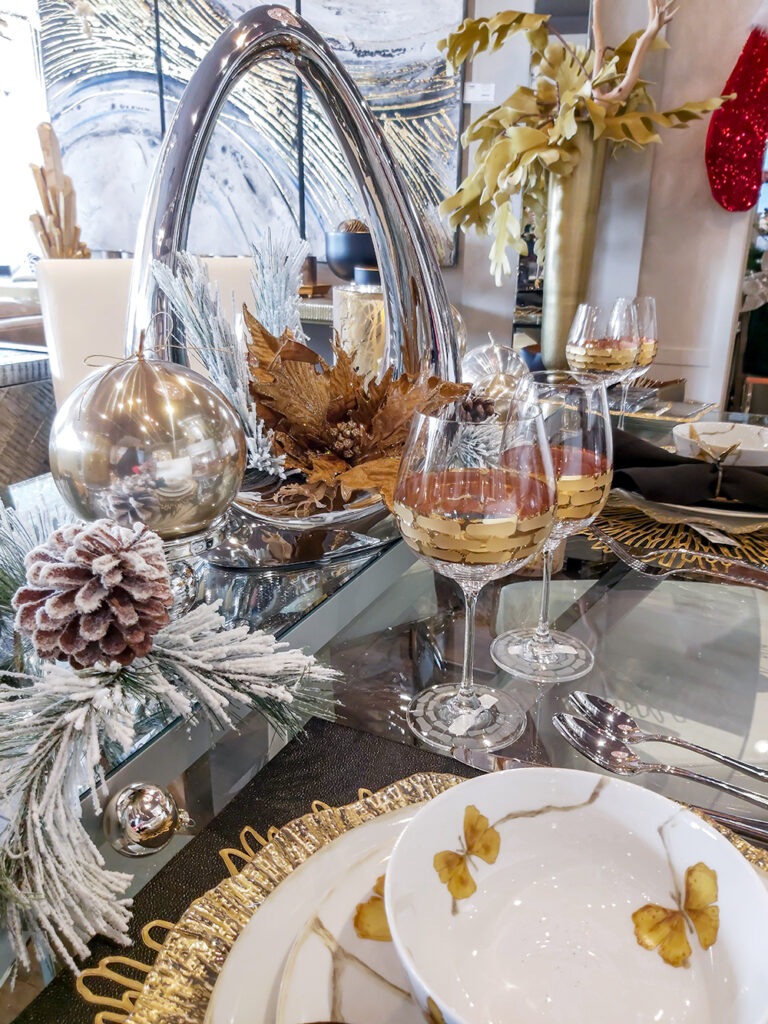 How do you pick just one favourite part of this spread? Every detail including the gold accented wine glasses and modern stainless centrepiece come together to create the magic and holiday cheer.
Winter Blues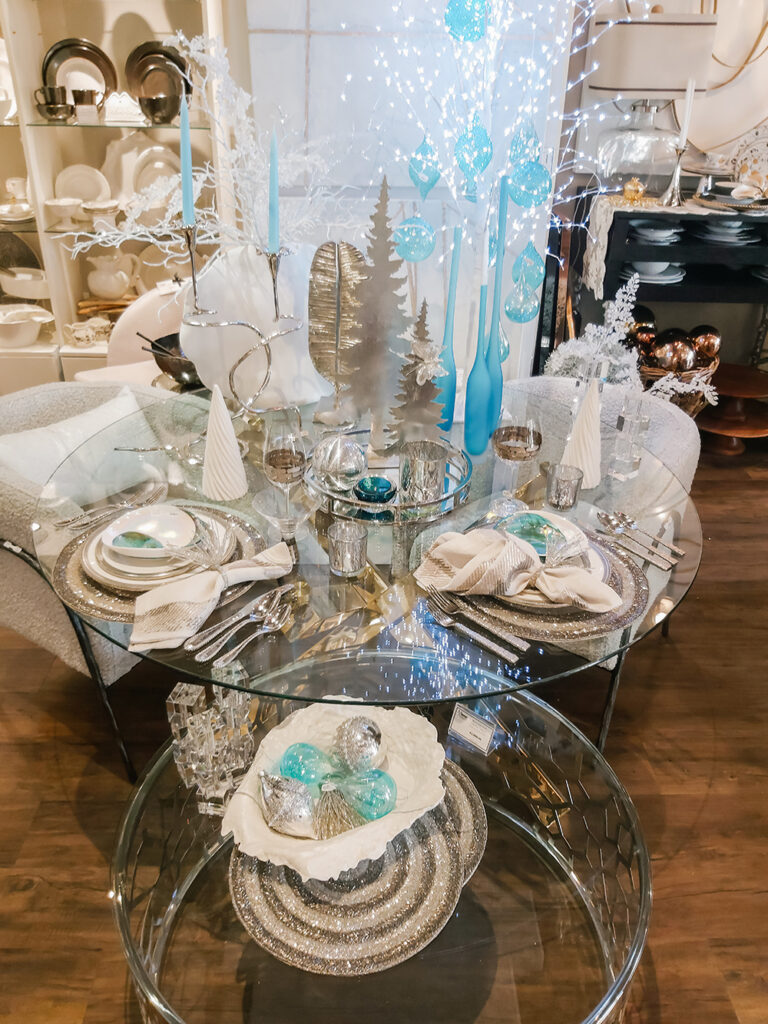 These winter blues we can get on board with. We've created a winter wonderland with icy blues, snowy whites and shimmering silver accents. Many of you first fell in love with these turquoise Italian Murano glass pieces in the summer, but we wanted to show you how they transition beautifully for your winter decor as well.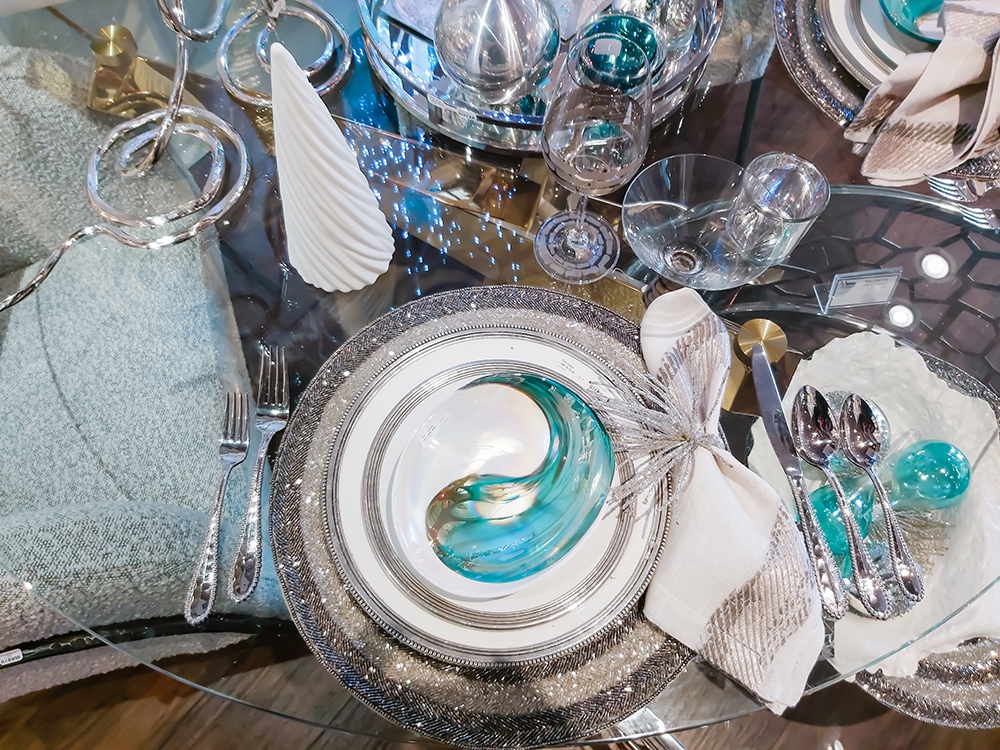 The beaded placemats and pewter trimmed dinnerware from the Tuscan collection by Arte Italica are the perfect base to let these beautiful bowls shine. Again the final look of the place setting is accomplished with a carefully arranged set of details including the fabric napkins in white and silver, festive beaded napkin rings, silver flatware and silver accented glassware.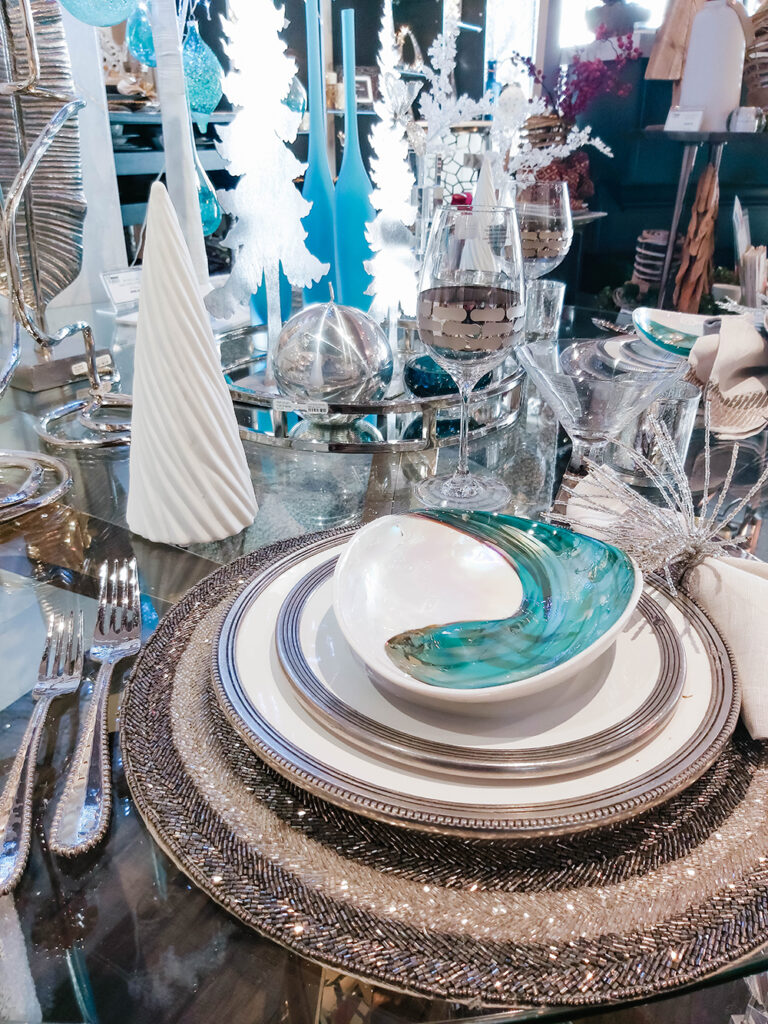 The really fun details are the silver trees, white LED lighted tree with blue glass ornaments and these tall narrow vases also in blue glass. Your own little tabletop winterland is possible with a little help from Modern Accents. We have also have included lots of tranquil lighting with various different candleholders and candles, even in that same icy blue to tie everything together.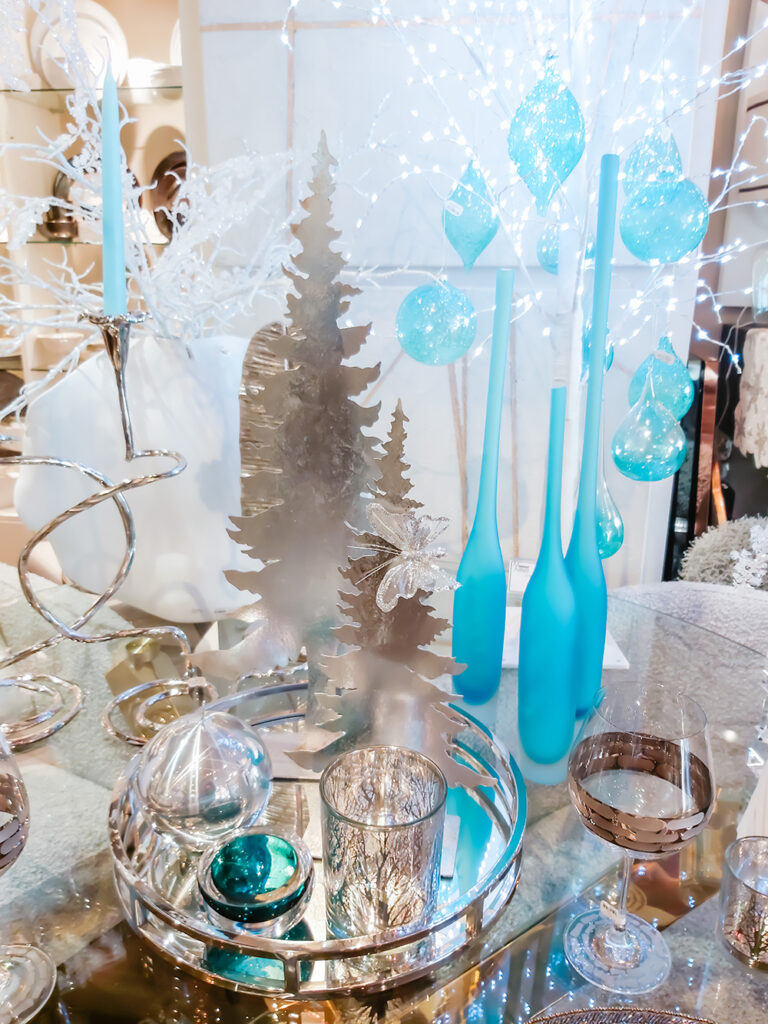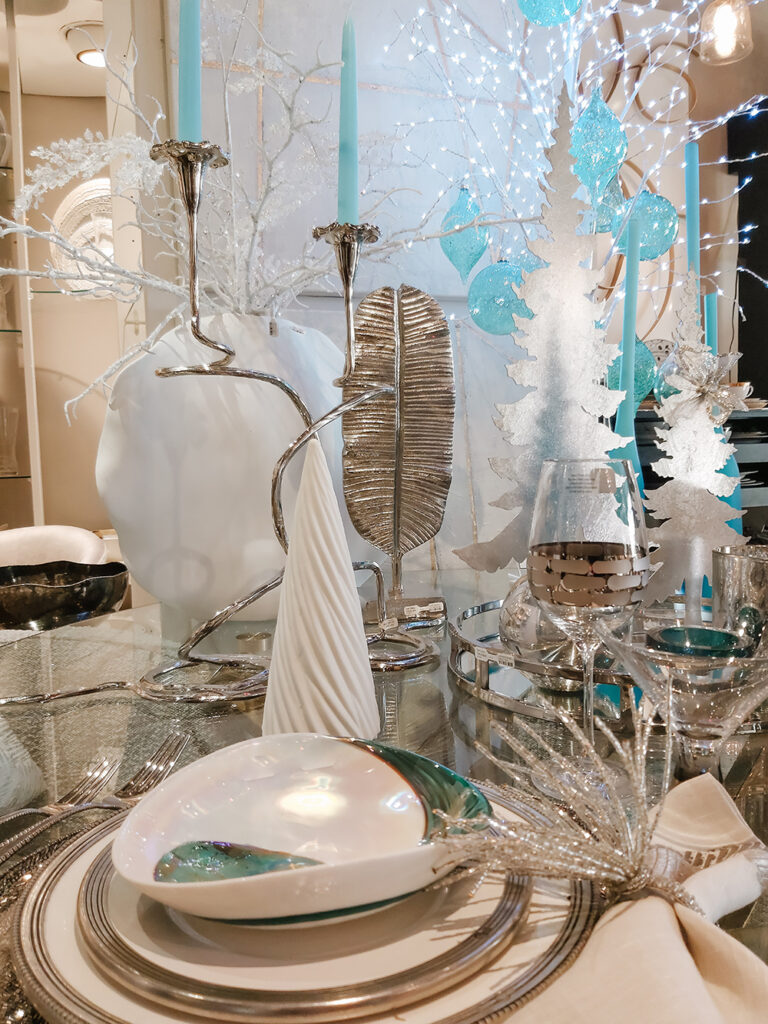 Black and White and a Pop of Holiday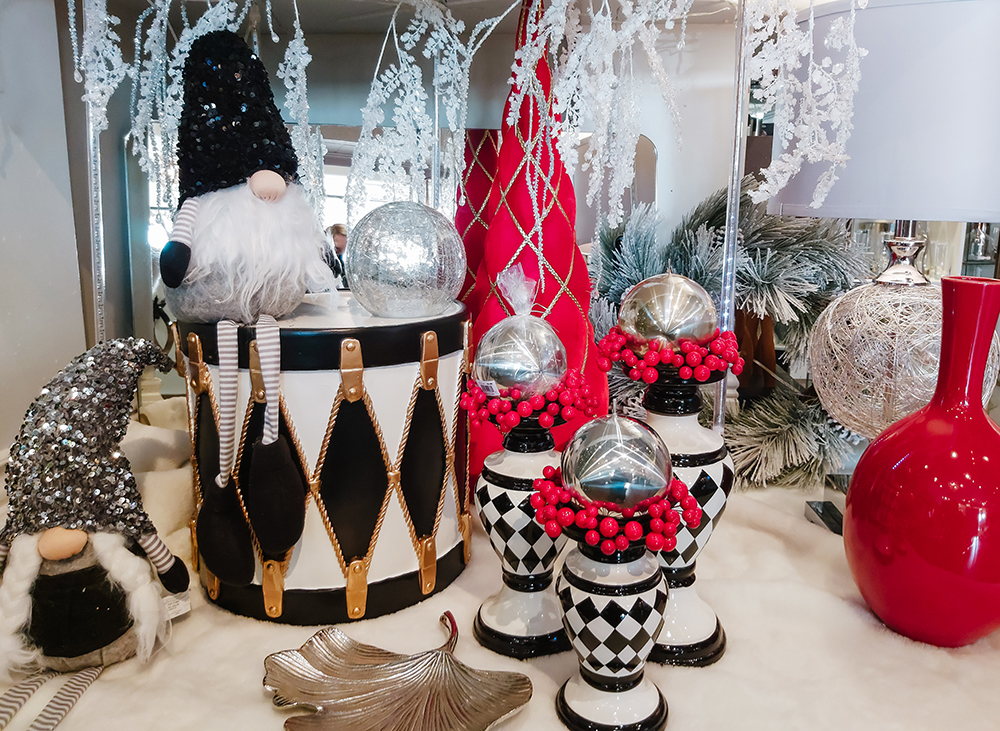 We love black and white decor so when it comes to decorating for the holidays finding a way to incorporate it into the festivities is a must. These little gnomes are certainly ready for the celebrations at your place and the pops of holiday red in the berry rings on the candlesticks, and the velvet tree and vase are just what this little vignette needed to transition these pieces for the season.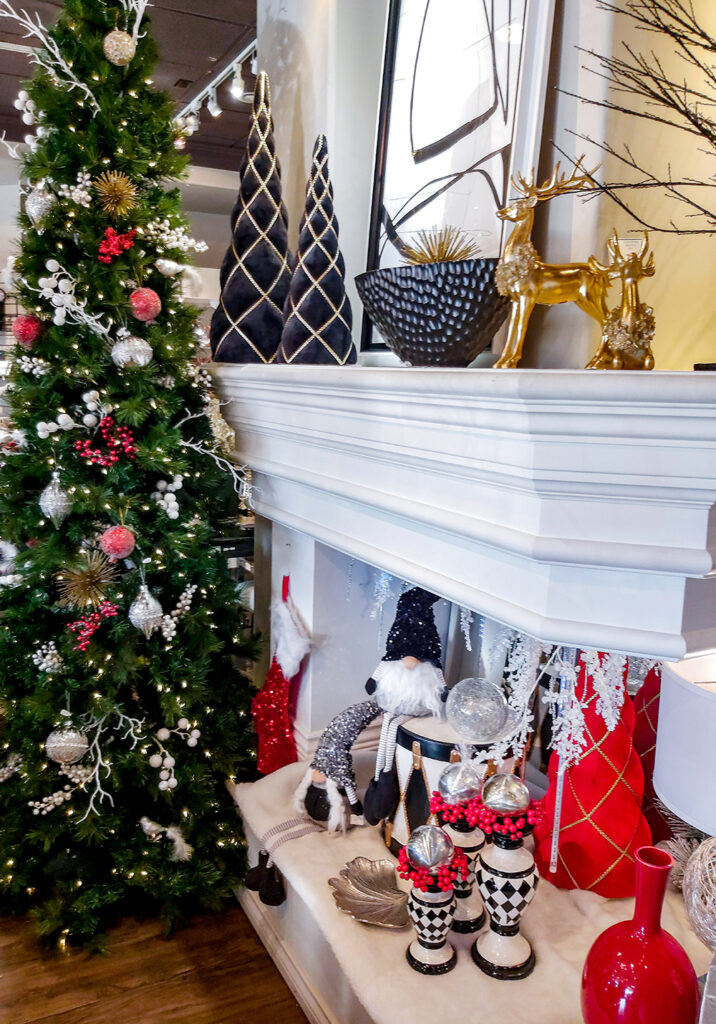 Pops of green and warm antique golds are a lovely contrast to the black and white dinnerware here. We also love the play of matte and shiny services in this tablescape. The holiday touches come in the rustic bells and various tree accents.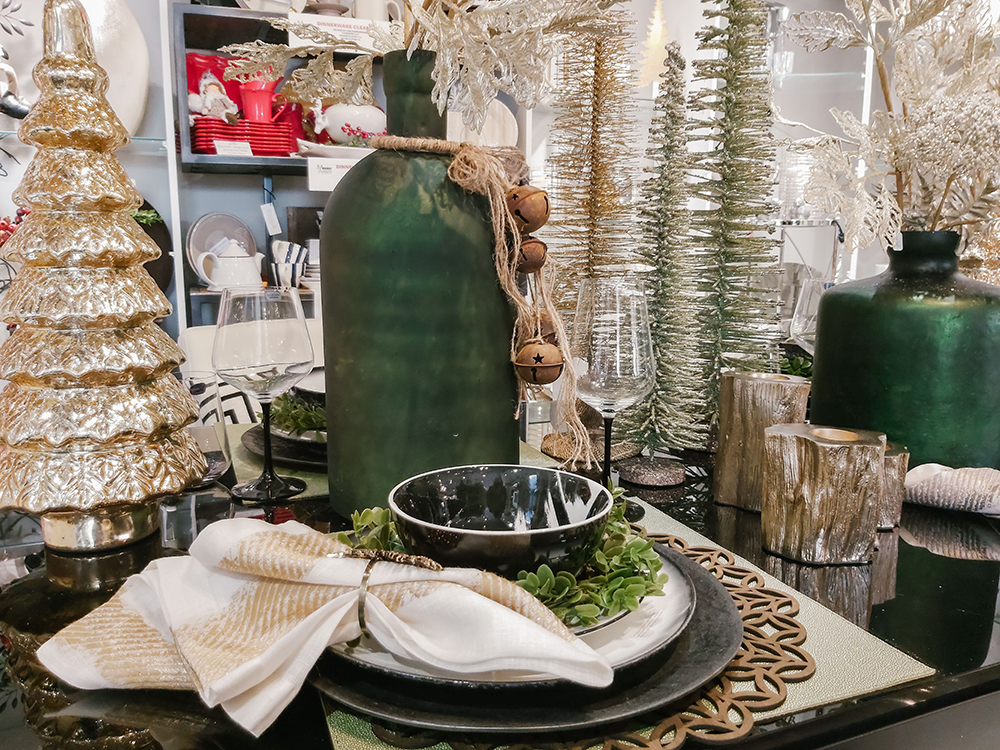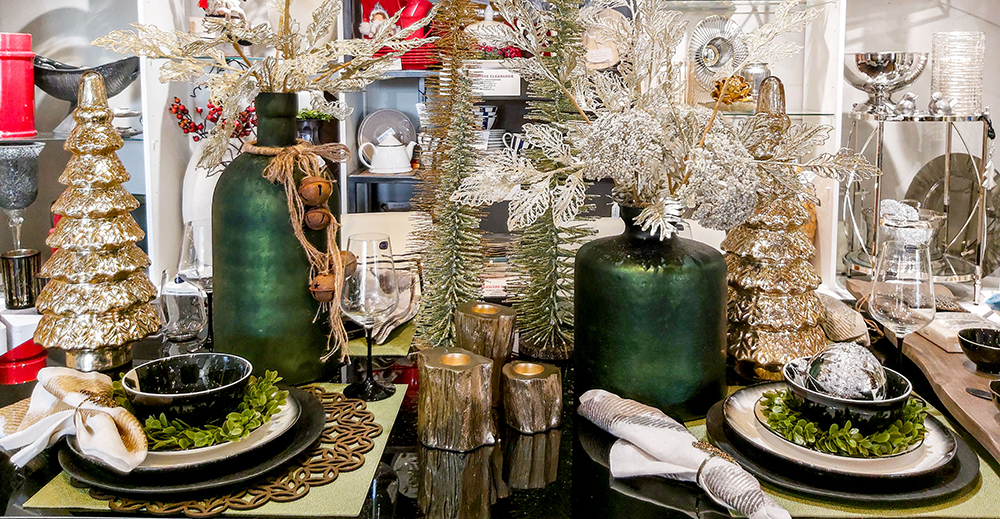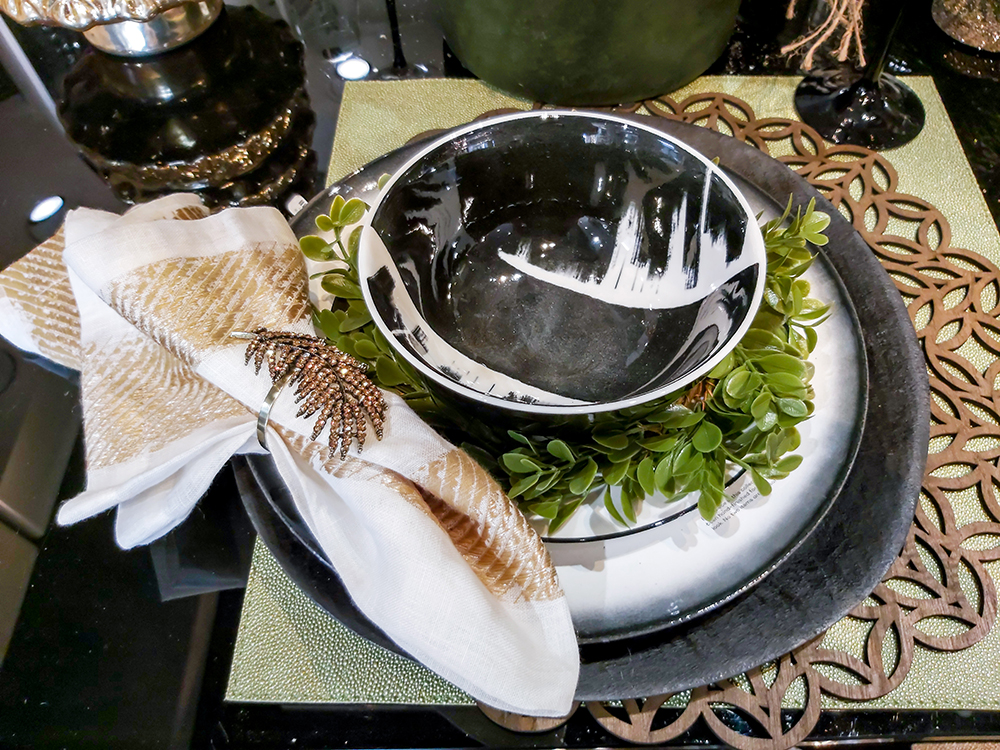 The rings of faux boxwood are a must for completing this table and you can enjoy the look of fresh holiday greens for all your dinner parties over the holiday season this year and next.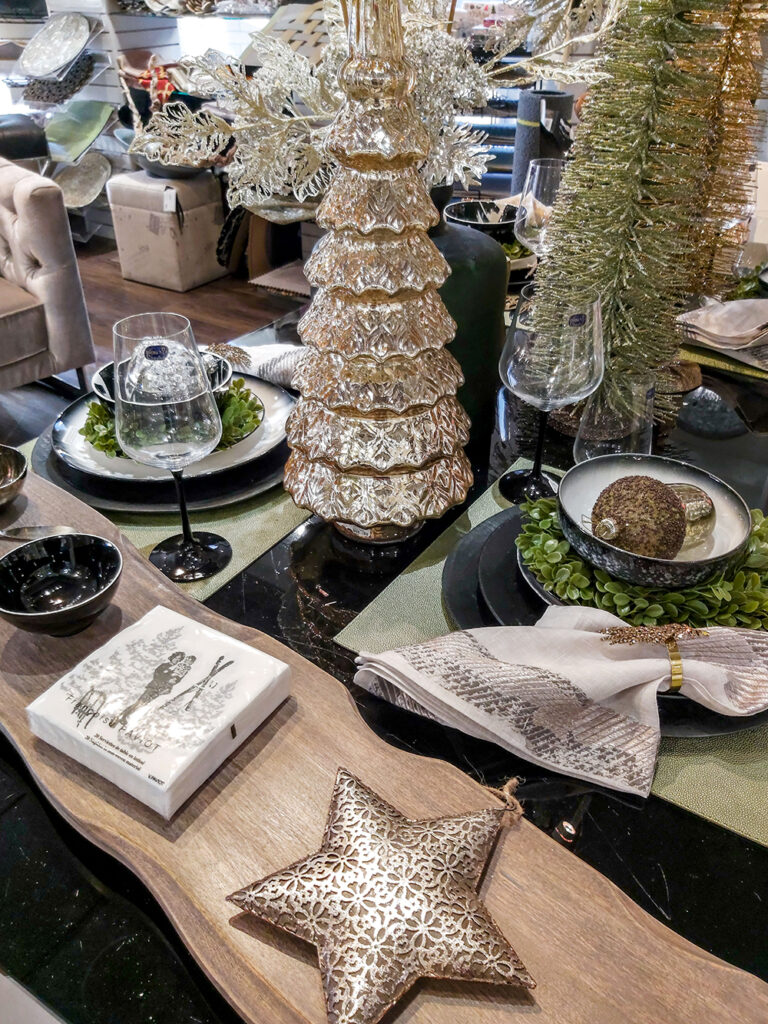 There are so many little details and holiday touches in store that we can't possibly mention them all. There is a little piece of the holidays here for everyone and we look forward to helping you style your home and tabletops for the holidays.