Exquisite Easter
Everything comes alive in the spring and we think your tables should too. Pops of colour, refreshing accents inspired by nature, touches of whimsy, and crisp dinnerware and linens will have you enjoying this amazing season of new beginnings and an Exquisite Easter.
BUNNY GUESTS
Achieving an Exquisite Easter will be guaranteed when you invite these whimsical and well-dressed bunnies to your Easter brunch spread, but we have tablescape ideas that work for whatever plans you have for Easter and even if your plan is just to celebrate the arrival of spring. If you just can't do the traditional pastel colours often associated with this holiday the crisp black and whites accented with gold are an elegant alternative.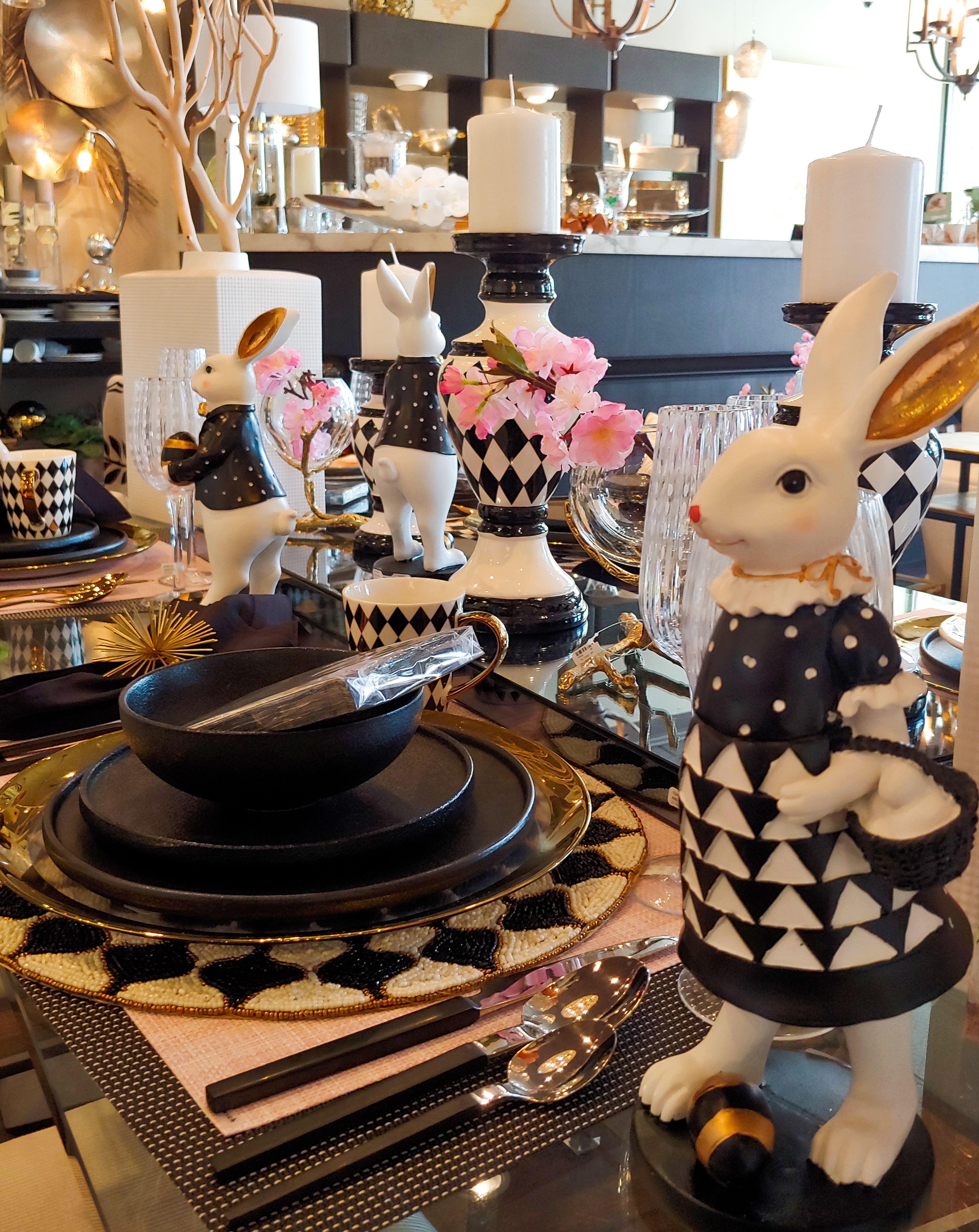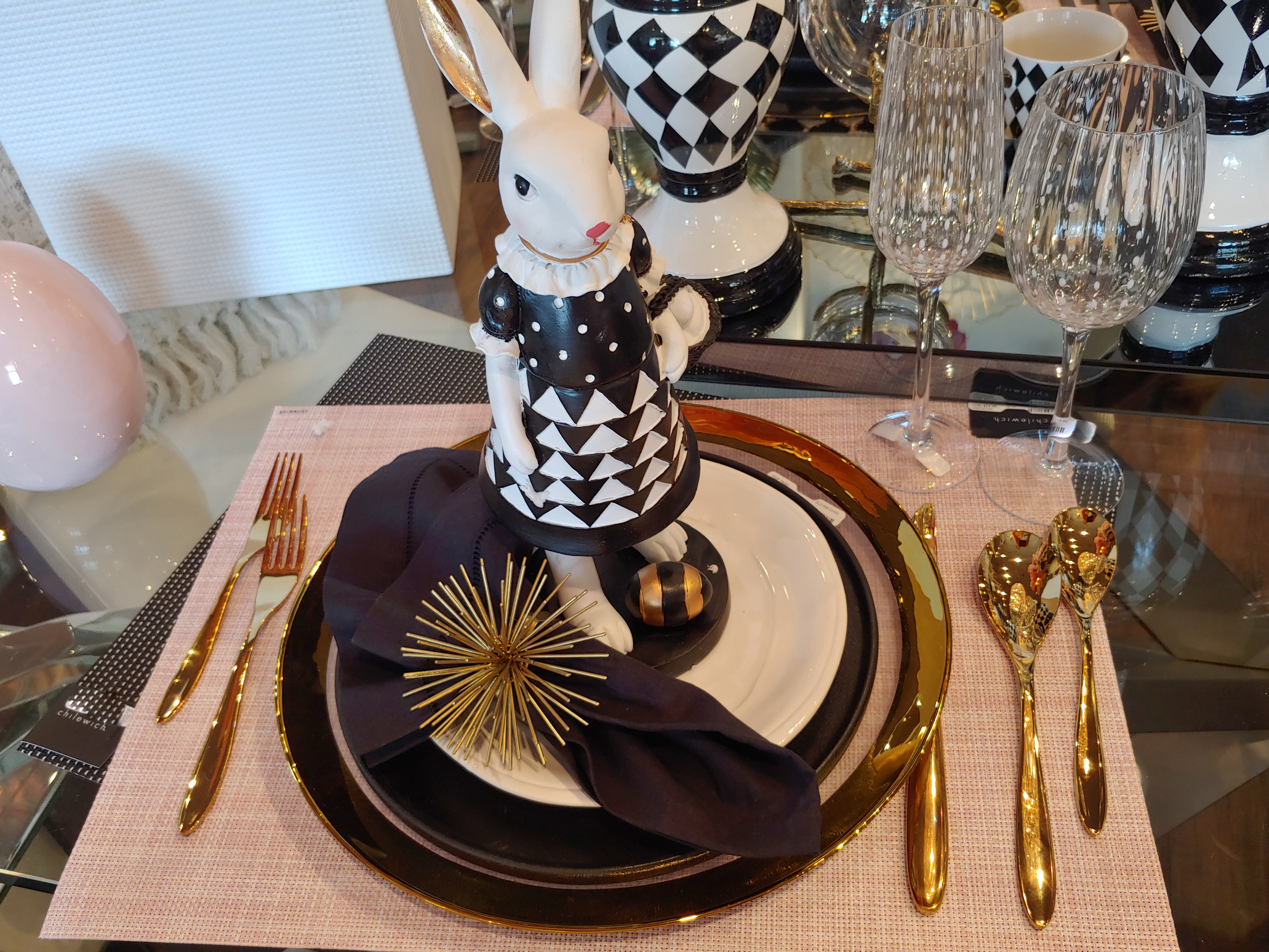 FLOWERS AND WATER
Your table will come alive with vibrant pops of colour and what says spring better than florals and these watery blues? Pink and blue create a beautiful combination that you won't have to put away when your Easter guests go home. This tablescape has staying power and will take you through spring and even into summer. We love that you can invest in these beautiful blue glass pieces and change a few accents like the florals or candlesticks to make them work for whatever season or occasion you are styling for.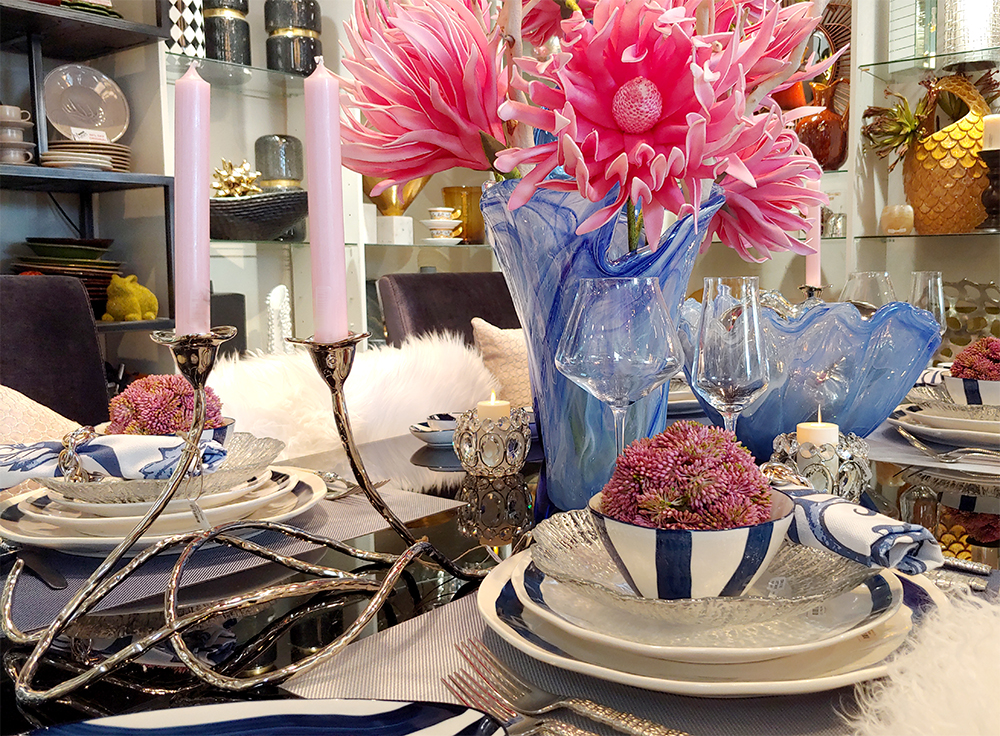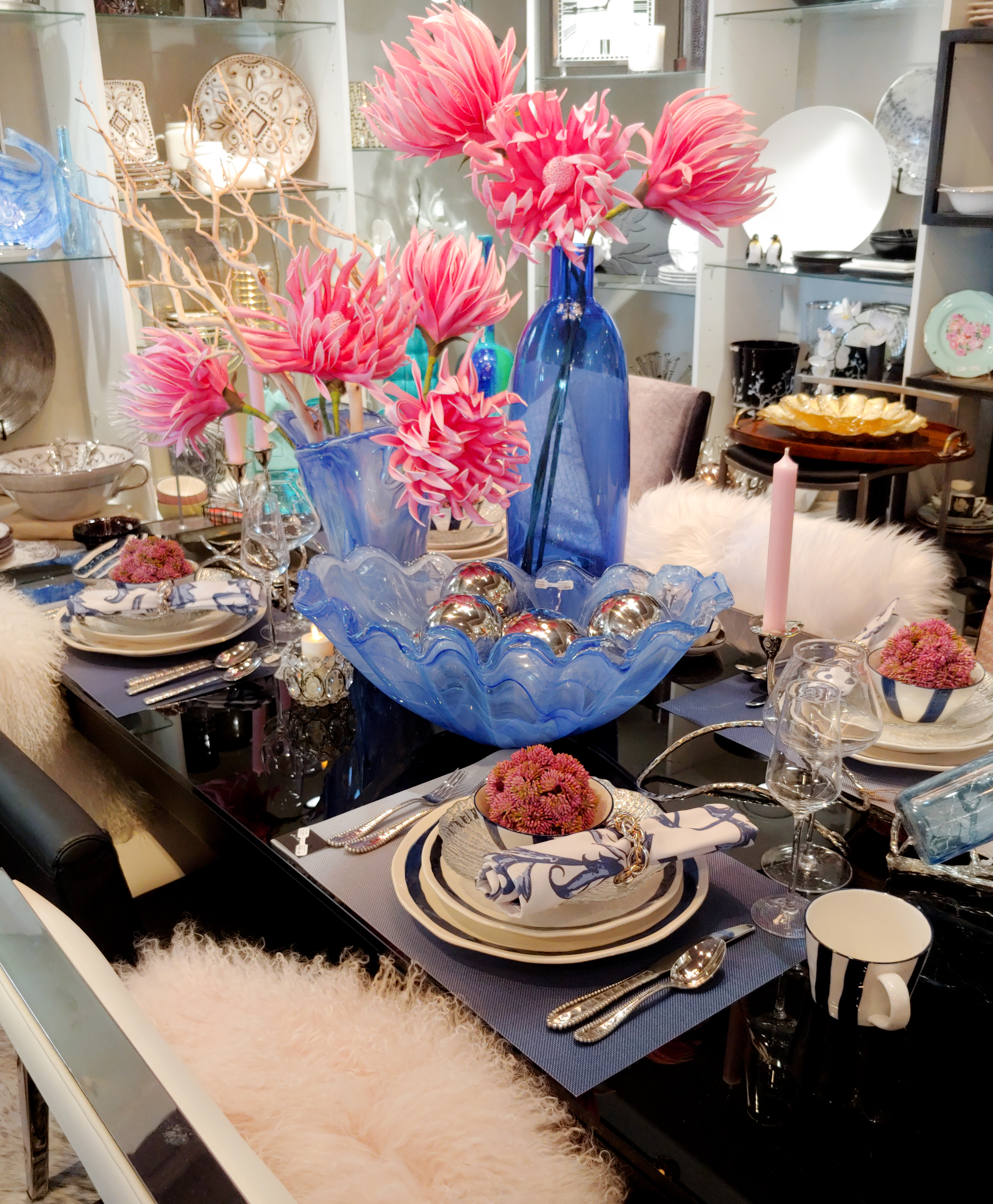 Look closely because the small details complete the drama of this tablesetting. The ombre placemats, crisp blue and white napkins and pink decorative floral balls are important layers that help this table achieve that exquisite factor.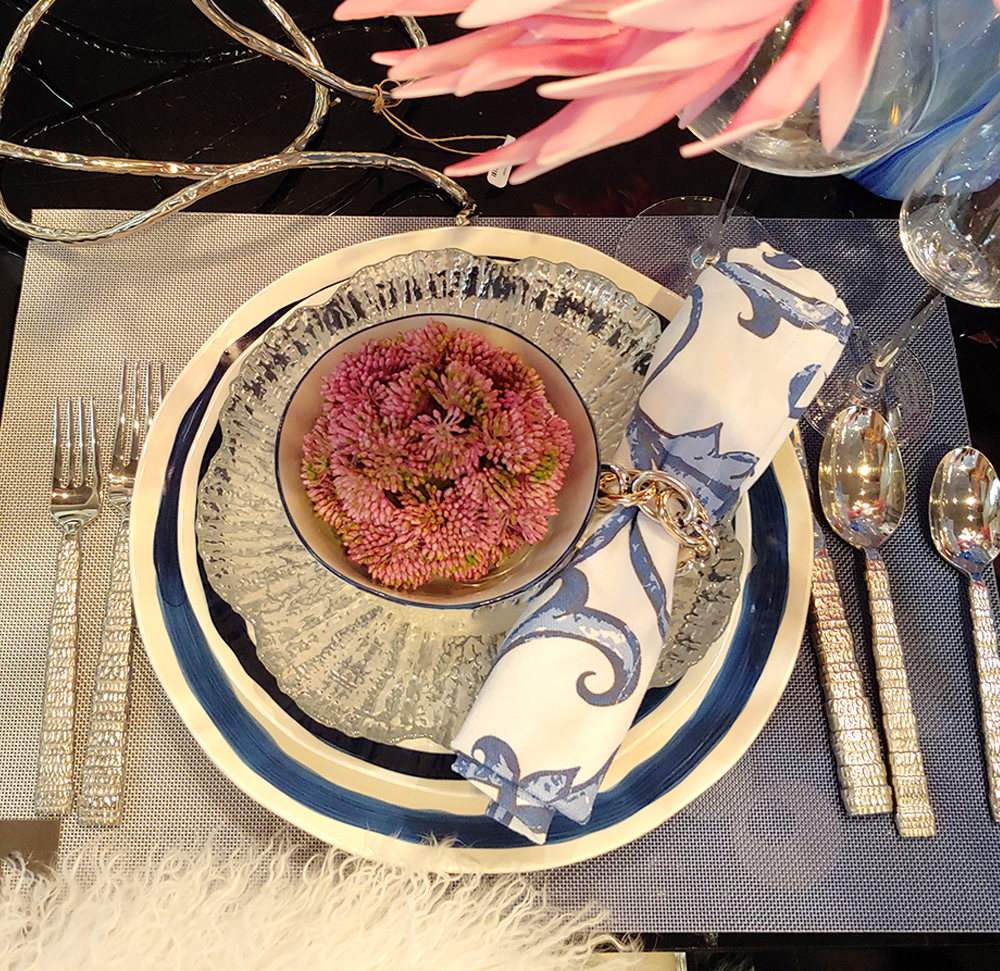 AN ENCHANTED FOREST
Why not create that feeling of having a picnic on the floor of an enchanted forest, but with all the comforts of home. Exchange the paperplates for this dream picnic with glass chargers and side plates and bowls accented with gold. The look is finished off with the rich navy dinnerware pieces from Costa Nova, and placemats and accents to match. Of course it wouldn't be a forest without a towering tree or in this case a statement vase arrangement.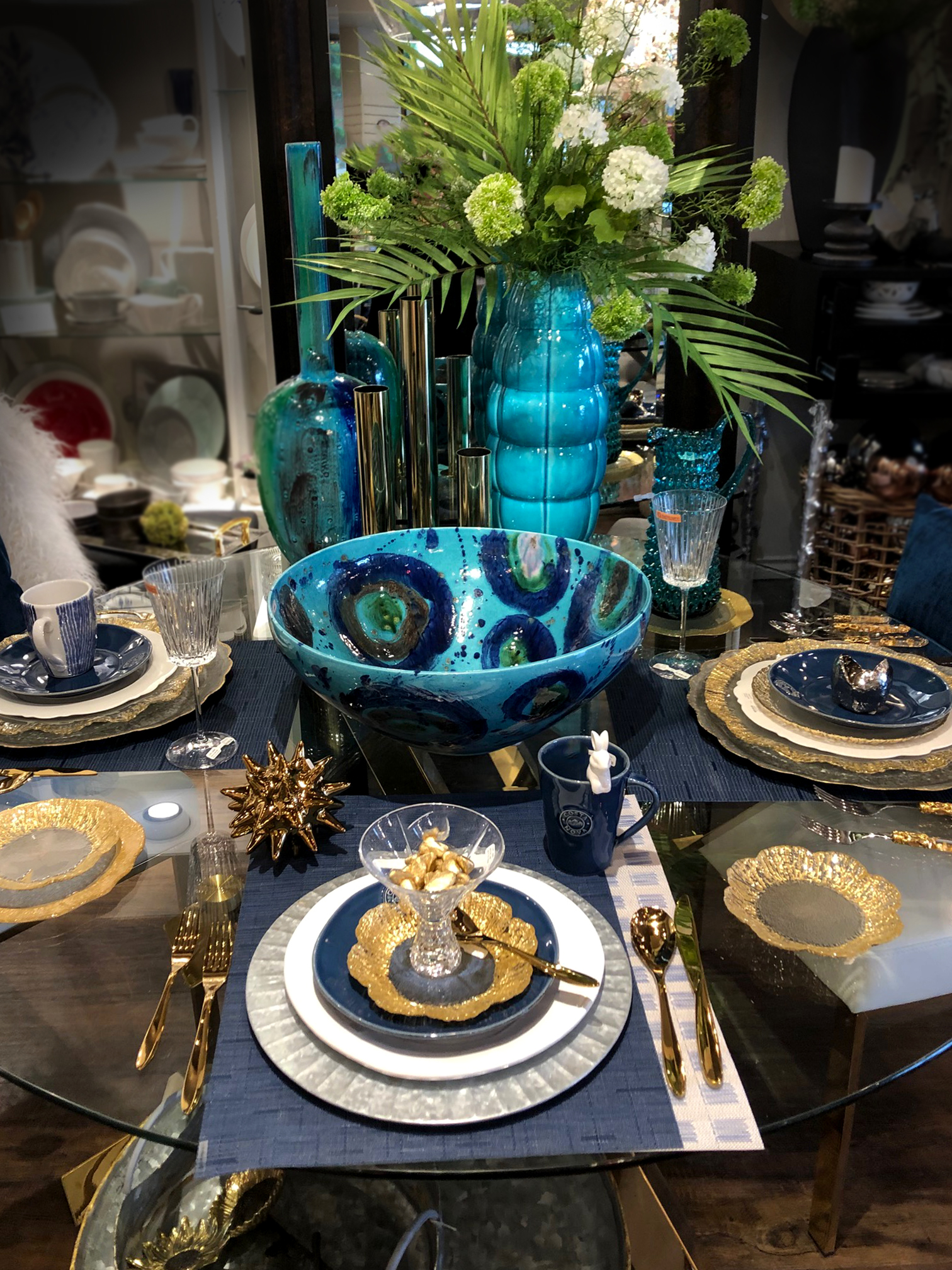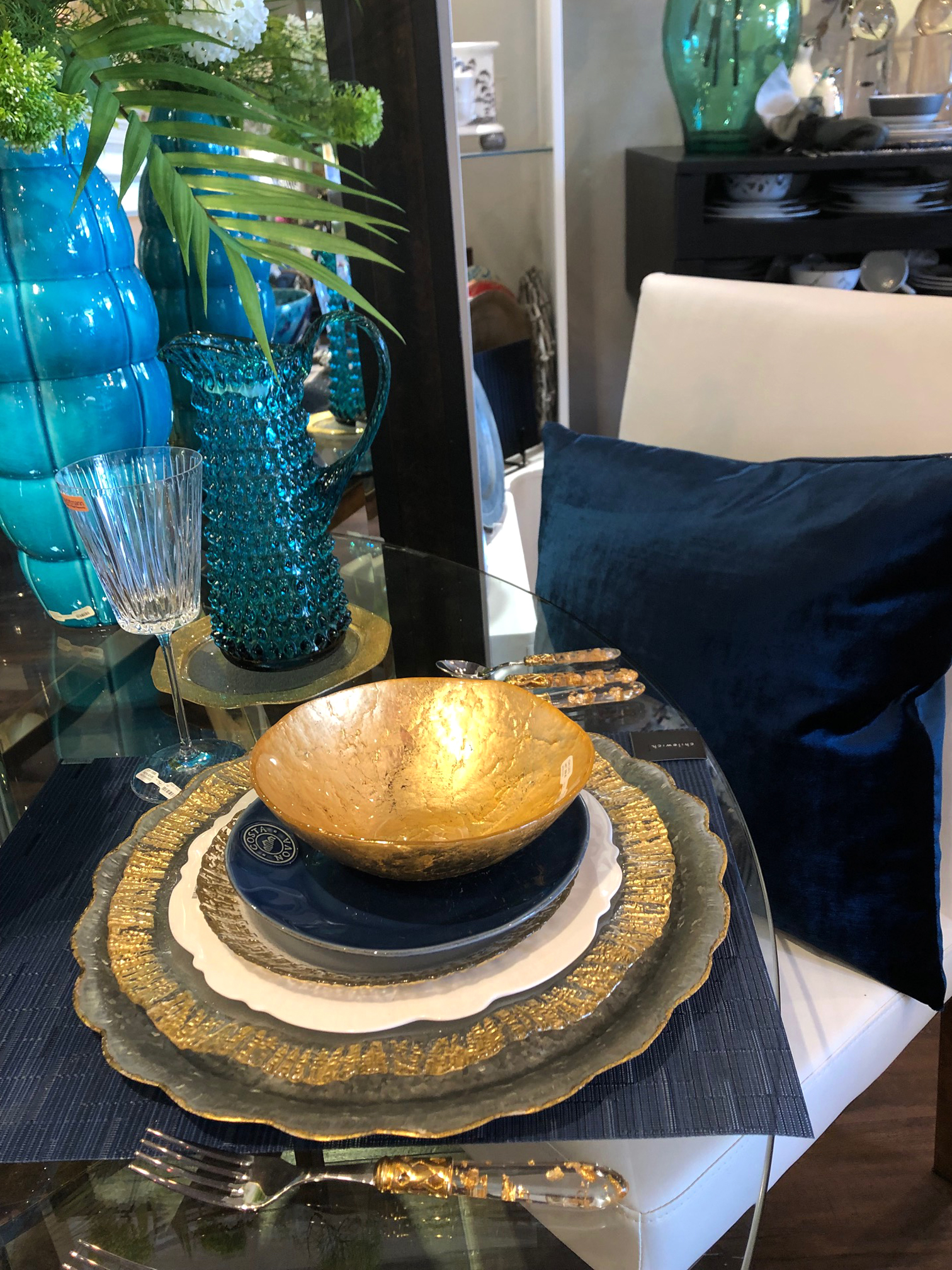 Simple gold stones, stunning flatware and glasses and even a little bunny stir spoon are the little details that tie everything together.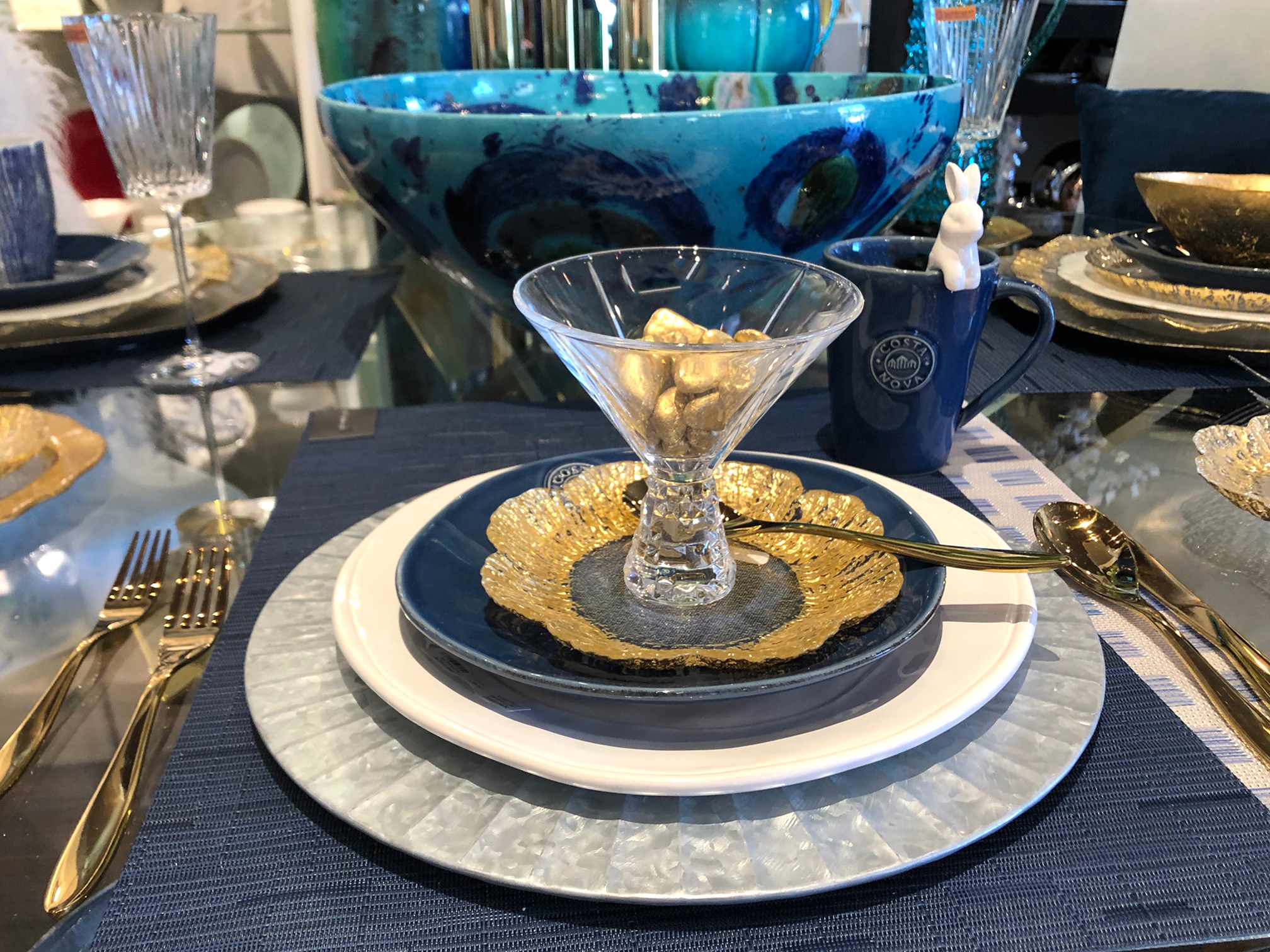 Don't be afraid to try layering placemats as a way to play with more colour or pattern for your placesetting. And notice we have oriented them vertically. These unexpected details will make your tablescape unique.
LIVING COLOUR
Spring brings colour and this tablescape idea does too. Memories of painting easter eggs comes to mind when you see the vibrant explosion of colour here. The colours are deliberate here though in a systematic layering of placemats, colourful dinnerware, linens and accent pieces, including the modern egg shapes. The stunning coloured glass vase created by Canadian artist ?  was the inspiration for this spread.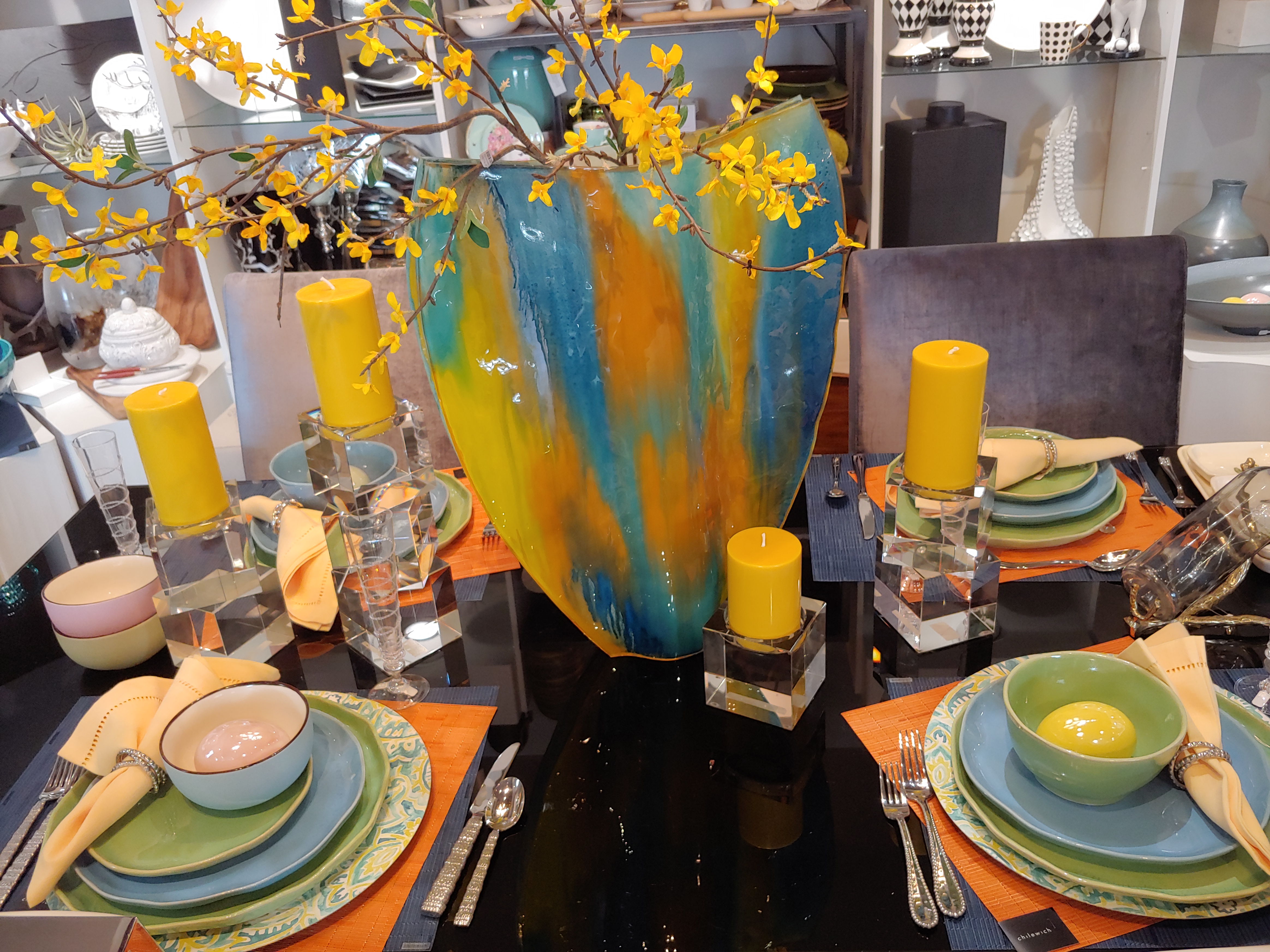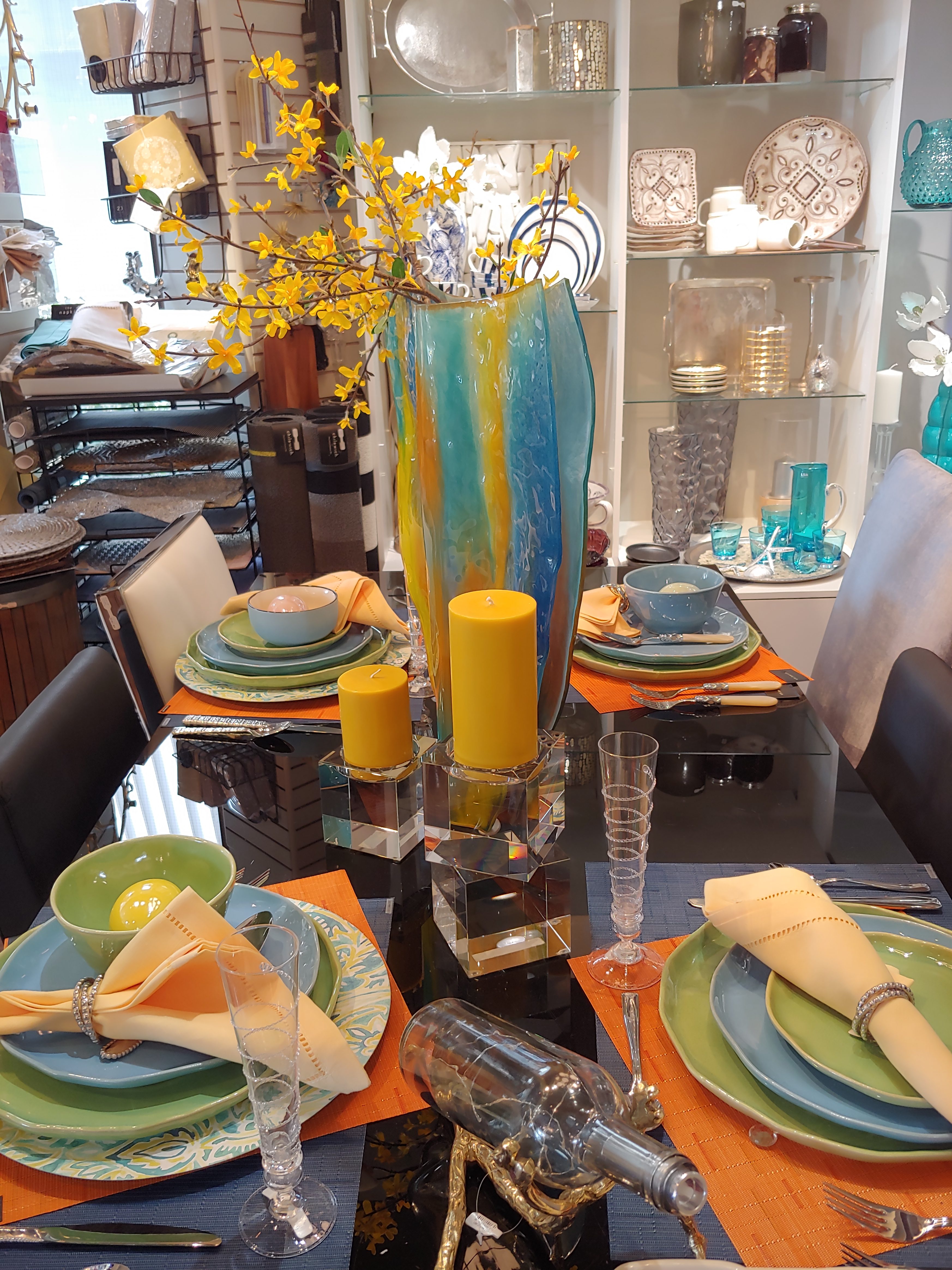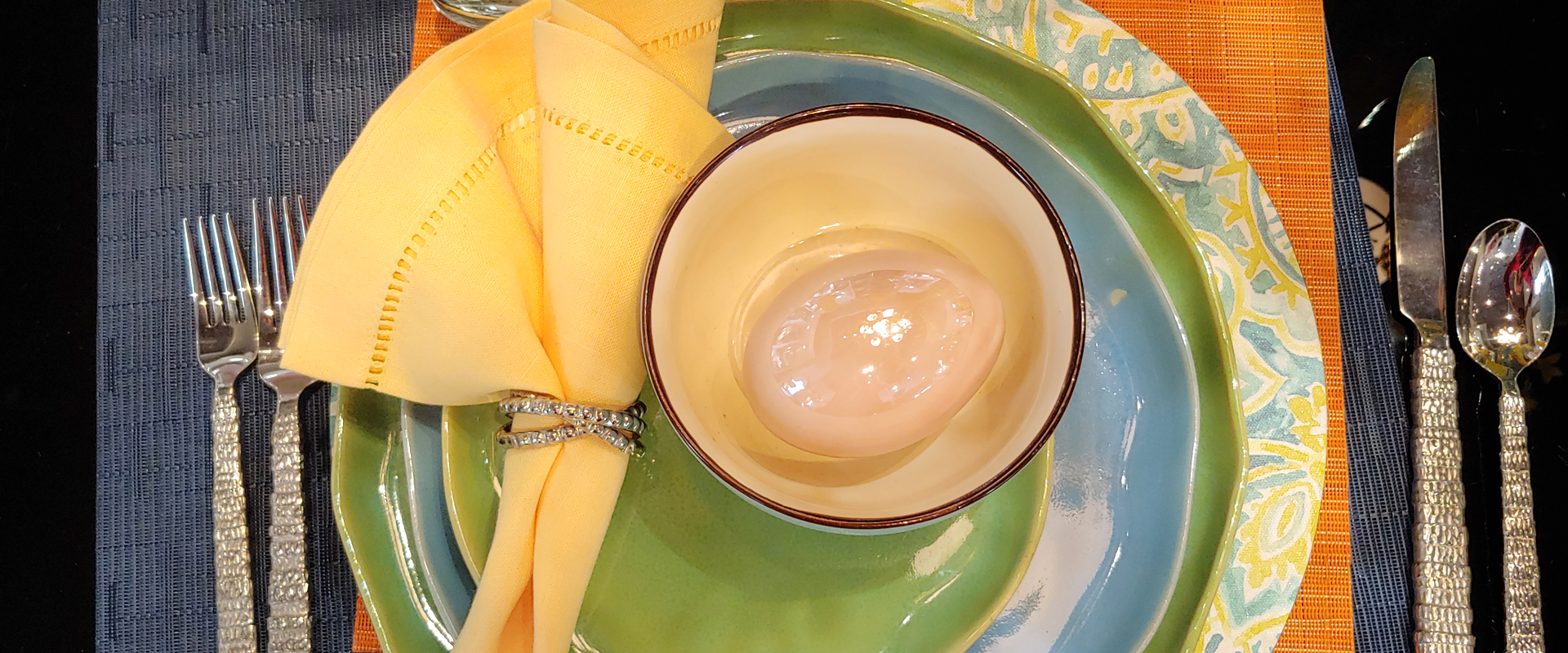 We wish you an Exquisite and Happy Easter!